9015 Views
While odds are strong that you have enjoyed at least one of Holland's most famous libations like Ketel One vodka, Heineken, or Amstel beer long before coming here, the country's most decorated donation to the world of drinks still remains slightly more elusive to most. The spirit of which we speak is called jenever (pronounced "yuh-nay-ver" here in Holland), the father of gin, and we think you should absolutely try some when you come to Amsterdam.
A Quick History of Jenever
Jenever gets its name from the Dutch translation of "juniper", the berry that gives the liquor its taste. Dutch pharmacists of the 1500s are credited with inventing jenever when they added the aromatic essence of the juniper berry – which was in plentiful supply due to Holland's domination of international trade – to their medicinal concoctions. These drinks were supposed to aid digestion and reduce internal inflammation. Whether the drinks cured any ailment is still unclear, but what isn't up for debate is the fact that jenever became an absolute sensation.
So much of a sensation, in fact, that jenever started to be distilled all over Holland, and at one point the tiny town of Schiedam near Rotterdam was home to nearly 400 distilleries. Around the time the Dutchman William of Orange became King of England, the liquor found its way across the pond and took a few recipe twists and turns – finally emerging as gin and gaining worldwide fame in the process.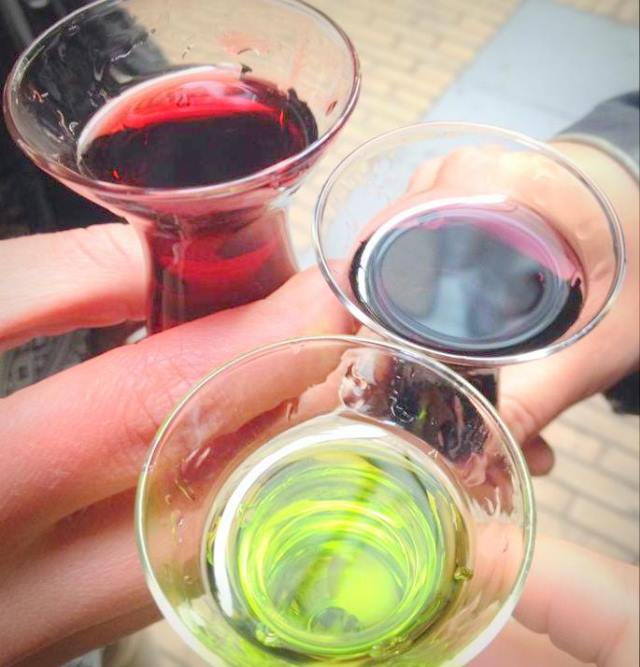 Where to Drink Jenever in Amsterdam
While gin certainly surpassed jenever on the worldwide stage, it never fell out of fashion here in Holland, and Amsterdam is home to several tasting rooms where you can get a great feel for the flavor of jenever. Before you taste, though, be aware that there are two main types of jenever: Jonge Jenever and Oude Jenever (young and old). Old jenever is not older in age, per se (even though some varieties are aged); it is made in an older style, and as a result is sweet and smoky, even comparable to a whisky. Young jenever was created later to appeal to a drinking public who craved a more neutral spirit that mixes well, and as a result you will find the taste of young jenever more like vodka and traditional gin.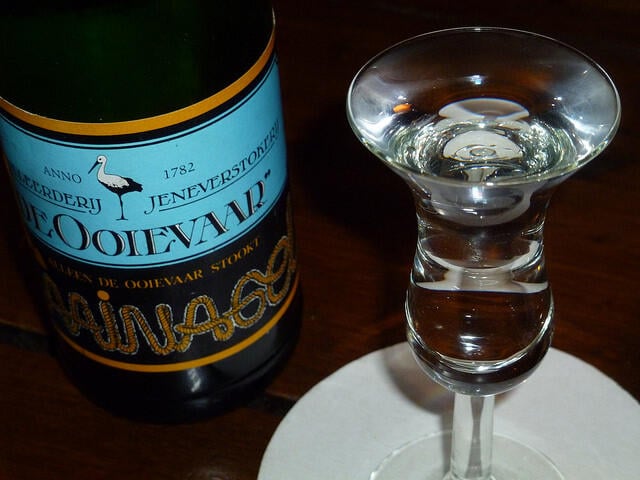 Here are some of the best places to try jenever in Amsterdam, both young and old:
De Admiraal
Located on the regal Herengracht canal, De Admiraal – as in Admiral Nelson – is a nautical-themed jenever-focused bar featuring old wooden jenever barrels and a decor that transports you straight back to the high seas of old. A tasting room for the legendary local A. Van Wees distillery, De Admiraal is the perfect place to get your introduction to old or young jenever, with the silky Loyaal old jenever a great place to start. The friendly bar staff are ready to answer any and all jenever questions.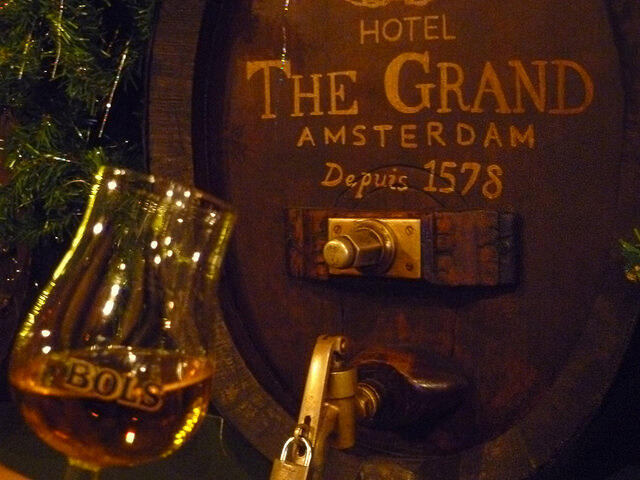 Herengracht 319
+31 (0)20 625 4334
proeflokaaldeadmiraal.nl
Open: Mon – Fri 4.30 pm – 12 midnight, Sat 5 pm – 12 midnight
De Drie Fleschjes (The Three Little Bottles)
Open since the 1600s and still retaining much of its original charm, De Drie Fleschjes is a tasting room for the Bols brand and resides in a classically gabled Old Amsterdam building. De Drie Fleschjes is not a typical bar, but a jenever tasting room instead, famous for its extensive range of spirits, and its fun mixes like the Boswandeling (Walk in the Woods), which is a mix of young jenever, citrus liqueur and bitters.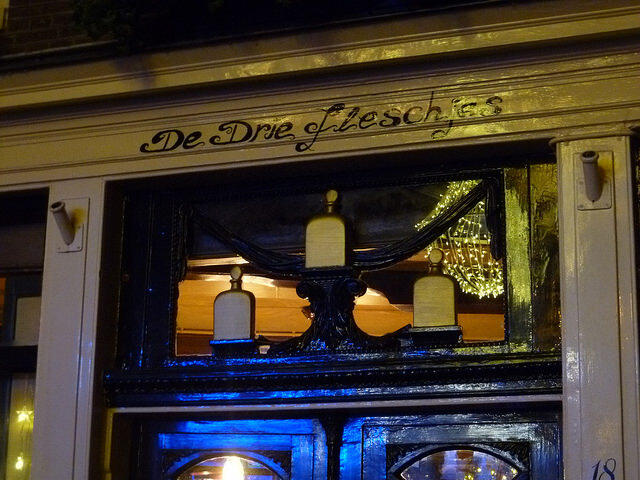 Gravenstraat 18
+31 (0)20 624 8443
dedriefleschjes.nl
Open: Mon – Sat 2 pm – 8.30 pm; Sun 2.30 pm – 7 pm
Wynand Fockink
On the fringes of the Red Light District, on the tiny Pijlsteeg, resides this classic tasting room which offers an intimate and festive atmosphere to go along with a large selection of their own house-made jenevers and liqueurs. All varieties of jenever are on offer here, in addition to creative mixes, and a strict adherence to the fun rule that in order to drink jenever correctly, one must bend over and sip the top of the tiny tulip-shaped glass first before being allowed to pick up the glass and tip it back the usual way. Wynand Fockink also offers distillery and tasting tours on the weekends, and we can think of no better way to get to know jenever.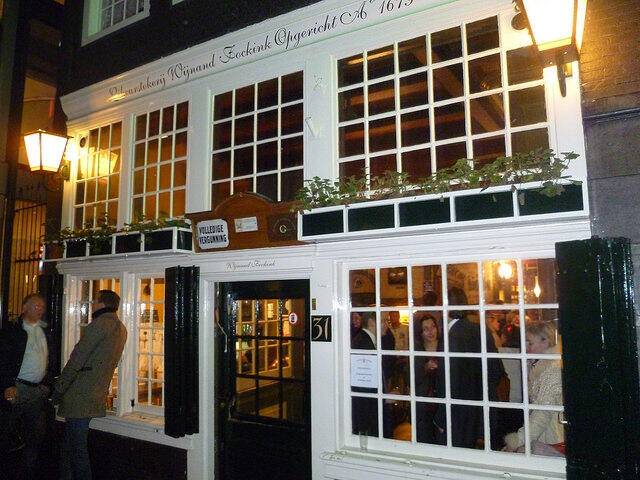 Pijlsteeg 31
+31 (0)20 639 2695
wynand-fockink.nl
Open: Daily 3 pm – 9 pm