19816 Views
We've shown you how to navigate the physical terrain of the London food scene, but what about the digital landscape? With the popularity of food blogs and Pinterest reaching a fever pitch, it's helpful to have a trusty list of food blogs that consistently deliver beautiful imagery, helpful reviews, and – most importantly – delicious recipes. We've put together the top 10 food blogs in London; they provide a mix of reviews, how-to's, and some serious eye candy.
Dig in!
10 Best London Food Blogs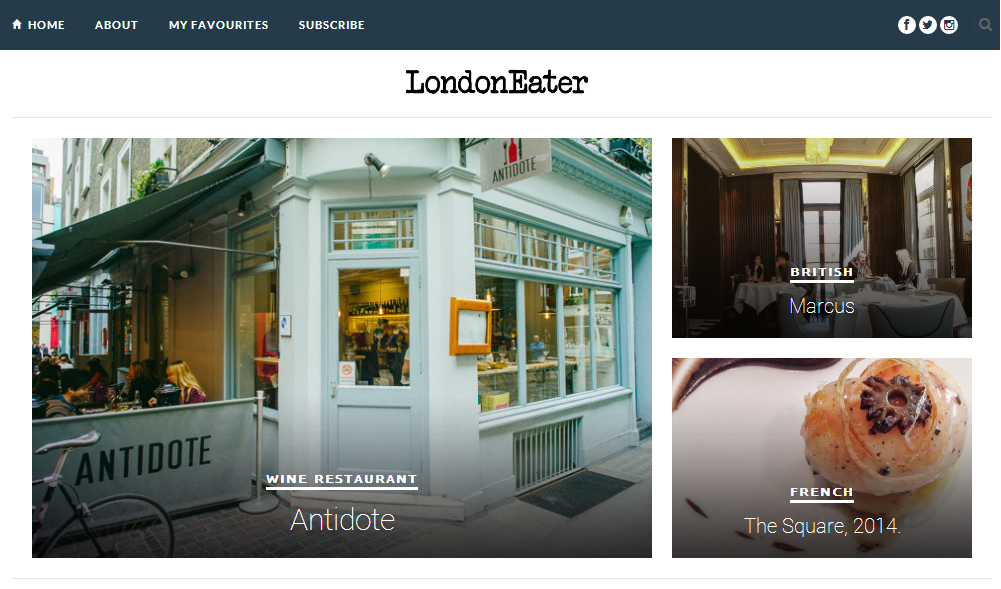 It's hard to get a good photo in many of London's trendy (and therefore dimly lit) dining establishments. You're either blinding people with your flash or conjuring up serious spy games imagery with furtive snaps between bites. So, we doubly admire Kang Leong's blog for its fabulous images coupled with refreshing and thorough restaurant reviews! (And, helpfully, prices.) Leong paints the scene brilliantly and his blog offers up a great guide to where to eat (and not eat) in London.
Favorite Post: The Square
With a cookbook and seemingly endless writing credits under her belt, we'd be surprised if you hadn't already encountered one of Niamh's recipes or articles out in the wild. Her blog, focusing mainly on recipes with her travels providing an exciting backdrop, is a treasure trove of cooking and adventure. By injecting personality and kindness into her writing, visiting Eat Like a Girl feels a bit like having a conversation with an old friend. Over scrumptious food.
Favorite Post: Roast Pork Belly, Cooked Simply
Chris Pople is well-known on the London food scene and for good reason: his honest (and sometimes cutting) reviews are sure to give you an accurate read on a restaurant and humor is generously sprinkled throughout his writing. His blog isn't adorned with the giant, slightly blown-out images that feed the Pinterest monster, but its lack of trimmings is by no means an indicator of how much enjoyment you'll get from reading it! When you think, "The person who writes this blog would be great fun to grab a pint with," you know you've hit upon a good one.
Favorite Post: BRGR.co, Soho
This blog provides a wealth of great reviews and advice on how to dine out in London on a budget! Answering questions like Would I want seconds? And Could I afford seconds?, Her Favorite Food slices its review subjects into helpful categories – Vegetarian, Michelin Star – and gives the reader a solid look at what they can expect (and afford) at some of the highest-rated restaurants in London.
Favorite Post: Cinnamon Kitchen

Written by chef and food writer Dominic Franks, Belleau Kitchen featured fantastic recipes made with ingredients that are often locally sourced. There's a vegetarian bent to many of his recipes, but when he ventures into meat, he smashes it. He also manages to make a bread loaf topped with cake sprinkles look appetizing, which is no small feat.
Favorite Post: Sous Vide Lamb Chops
With a tagline of "de-bunking the myths of English Cookery one recipe at a time," Marie packs her blog with tested recipes that she promises are both delicious and that work. She covers cookies to lamb dishes, icings to noodles with easy-to-follow recipes mixed in with personal anecdotes. The pictures are enough to make your mouth water, but the promise of recipes that will come out as promised make this a can't-miss blog to follow if you're ever in need of recipe ideas.
Favorite Post: Easy Lasagna
Newer on the blog scene, the eponymous writer of Food by Charlotte consistently delivers gorgeous photos and a wide variety of recipe options to choose from. The conversational writing style and personality infused through the blog make it a pleasant read. It's not been around long enough to gain the followings of some of the larger blogs on this list, but it's absolutely a one to watch.
Favorite Post: Sunshine Salad
Whether you're looking for something to serve the family or enjoy as a sweet treat, Helen's blog should have you sorted. Sharing her recipes as "everyday food for the everyday family", the recipes you can find on her blog are not only delicious, but sensible.
Favorite Post: Triple Layer Chocolate Fudge Caramel Cake
* * *
While these next two aren't dedicated food blogs, they've earned a spot on our list because when they do post about food, it's hard not to be blown away! You'll definitely want to bookmark their food indexes for the future.
* * *

Kate writes about travel and London life, but the highlights for us are her cooking and baking recipes! Always beautifully shot, sometimes her posts take us through the writer's first experiment with a dish or give us a glimpse of the foodie favorites that she's  admiring around the internet.
Favorite Post: Let's Talk About Dumplings
The photography alone is enough to make you want to read this blog forever, but the food. Oh, the food. There's a charming feel to every recipe that Cat, a solicitor by day and lifestyle blog writer by night, posts on her blog. Step-by-step photos and instructions truly make you feel that you can master her masterpieces (even if you might not be able to make them look quite so beautiful).
Favorite Post: Salted Caramel and Nectarine Layer Cake
* * *
For more about London food stories, make sure you follow our blog! We share recipes, restaurant guides and London dining tips on our London food blog.