15982 Views
Lately it seems like you can't walk around London without bumping into a food truck and, frankly, we're thrilled about it.  Gone are the days of heading to a "proper" restaurant with your friends.  Now, Londoners are flocking to street food markets around the city to sample global cuisine from London's most popular food trucks. Here of some food trucks in the city you should definitely be checking out this summer.
Bell & Brisket
Thought Beigel Bake was the only place to get a decent salt beef bagel in London? Think again. Bell & Brisket home cure their salt beef, load it onto Brick Lane bagels (or rye bread, if bagels aren't your bag), and top them with your choice of Japanese radish, beetroot, kimchi and honey gherkins. They'll even pop some blue cheese on it if you fancy (and we do!).
KERB, Cubitt Square, Stable Street, London N1C 4AA
thebrisket.wordpress.com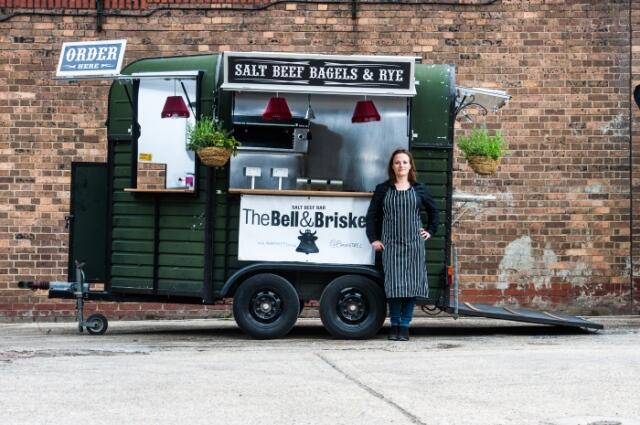 Fishdog
Brits love a good fish finger sandwich and, luckily, there's now a food truck in London where they can get one without lifting a finger. Created by the famous chef and restaurateur Mark Hix, Fishdog gives you the ultimate fish finger fix by throwing it in a hot dog bun and loading it with mushy peas and tartare sauce. It is, perhaps, as their Twitter profile suggests, "the rolls royce of fish finger sandwiches". And you don't get better than that, right?
Brockley Market, Lewisham College Car Park, Lewisham Way, London SE4 1UT
Fishdog on Twitter
Pizza Pilgrims
Owned by two brothers who, after moving to London, realized something had (in their words) "gone very wrong" when they found themselves with "proper jobs", the idea for Pizza Pilgrims came about in the way that most good ideas come about: after a couple of pints in the pub. They took a trip around Italy, bought a little 3-wheeled van, fitted a self-built pizza oven in the boot, and haven't looked back since. They've now got 2 of their very own pizzerias in London (Soho and Carnaby) but you can still find their pizza van at various events around the city too.
Trucks at various locations across London
Stores at 11 Dean Street, London W1D 3RP and 11 Kingly Street, London W1B 5PW
pizzapilgrims.co.uk
Rainbo
"Food for Freedom" is Rainbo's mantra and that's why 20p from every meal purchased from their Ford pick-up food goes directly towards the rescue and rehabilitation of child laborers. This London food truck's all about giving something back while you're tucking into delicious homemade gyoza dumplings and fresh Asian salads. Find them at various street food festivals around London this summer.
Various locations across London
rainbofood.com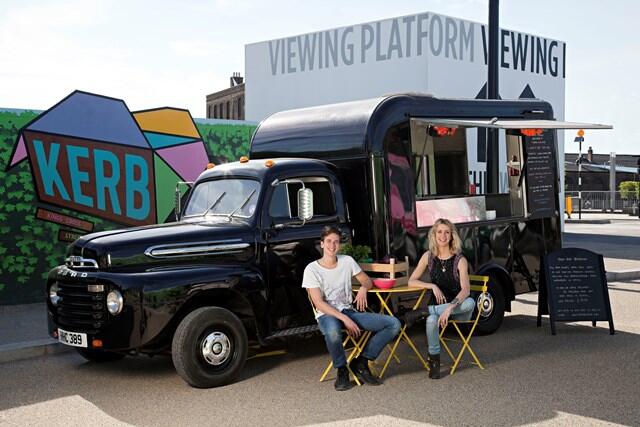 Mother Clucker
If you've visited Brick Lane's Truman Brewery recently, you'll probably have seen Mother Clucker's converted US Army ambulance parked up in Ely's Yard, just outside the brewery building itself serving up their signature tea-brined, buttermilk-soaked, twice-battered southern fried chicken alongside cajun fries, black-eyed peas, and mac 'n' cheese.  Don't forget to cover your chicken strips in their homemade hot sauces too!
Ely's Yard, Truman Brewery, 91 Brick Lane, London E1 6QL
motherclucker.co.uk
You Doughnut
So many food trucks in the city focus on savory street food that You Doughnut, with their handmade, bite-sized doughnuts, are a much-needed breath of fresh air. Whether you like your doughnuts full of your favorite filling or topped with delicious sauces and the kind of toppings that'll take you back to your childhood (hundreds and thousands anyone?) You Doughnut are sure to have something for those with a sweet tooth.
KERB, Cubitt Square, Stable Street, London N1C 4AA
youdoughnut.co.uk
Bhangra Burger
Combining one of the nation's most-loved dishes with the humble burger, Bhangra Burger offers up curry-infused burgers full of vibrant flavors that really pack a punch. Find them at KERB, King's Cross and try the "crazy lamb jalfrezi burger": lamb mince marinated in spices, served with mango chutney and lime pickle, and rolled in a Lebanese flatbread.
KERB, Cubitt Square, Stable Street, London N1C 4AA
bhangraburger.com
The Orange Buffalo
Why go all the way to the States when you can find New York-style free-range wings served with a range of homemade sauces right here in London? Orange Buffalo have got a permanent spot at Ely's Yard, Truman Brewery, where you'll find them serving up their award-winning crispy-fried chicken wings. But if you're heading to Street Feast at Dalston Yard, they've got a spot there this summer too. If you're feeling brave, try the "Viper" and take the heat off with a side of blue cheese and celery.
Ely's Yard, Truman Brewery, 91 Brick Lane, London E1 6QL
The Orange Buffalo on Twitter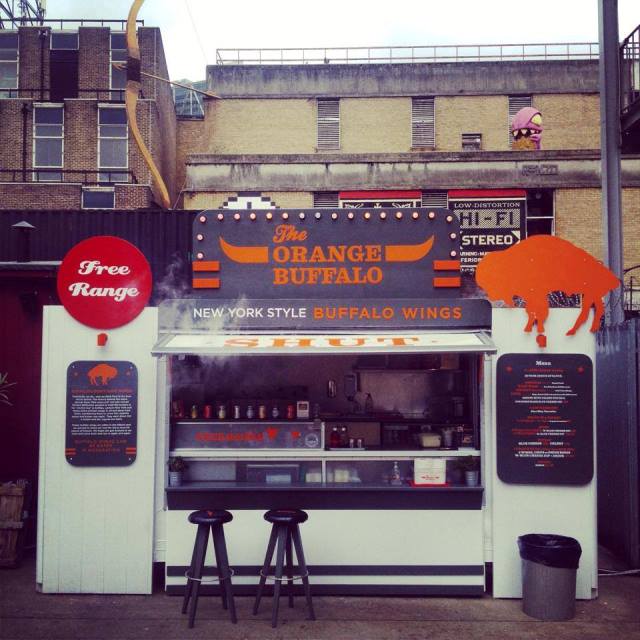 Healthy Yummies
If you want to check out the London food truck scene but don't want to overindulge, Healthy Yummies are right up your street. They pride themselves on offering "fresh produce with a nutritional conscience" so you can be sure that you'll feel great after feasting on their healthy but flavor-packed food.
3 Mills Film Studios, Three Mill Lane, London E3 3DU
healthyyummies.com
Anna Maes
If anything's going to make you reconsider how great the packet mac 'n' cheese from your childhood was, it's Anna Mae's. Find their 1950s style trailer at various London locations (check their site for updates) and tuck into the best mac 'n' cheese of your life, made fresh in giant cast iron skillets and topped with homemade BBQ sauce, crispy bacon, and even chilies. Southern street food at its best.
Various locations across London
anna-maes.com