4592 Views
Dining out with a group of friends can be an absolute treat, but there are not many among us who haven't had the odd nightmare experience when going for dinner with more than a few friends, family members or colleagues. There are the restaurants that insist any more than 8 people need separate tables or to eat in different parts of the venue… There are those where the food arrives over a 90-minute period (if it arrives at all), forgotten drinks, missed allergy requirements, and of course the rude staff who feel you're in the wrong for booking a table for 12!
Many restaurants will take larger bookings, despite not being well equipped to handle the numbers, and we can't really blame them for this. Sometimes honest mistakes are made and we can't expect establishments to turn down good business. What we can do, though, is encourage people to book eateries which are known to cater well for larger groups. Plus, if you're planning a group event or team-building activity, we also recommend booking a private tour of the East End or Soho – that way, you get to try not just one restaurant with your group, but several!
5 of the Best Restaurants in London for Group Dining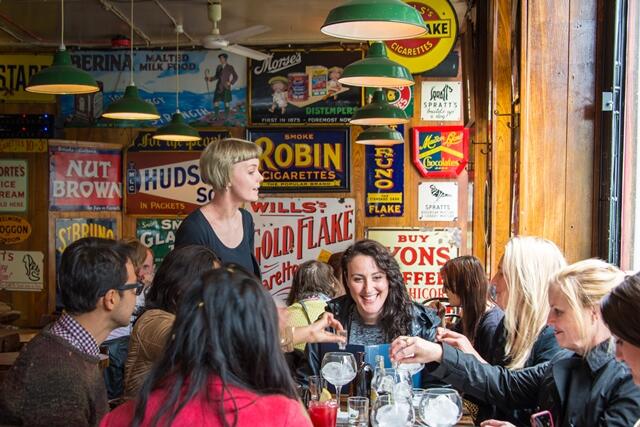 The Mango Tree
One of the only large Thai restaurants in London that serves food comparable to what you could expect on the streets of Bangkok. The staff at the restaurant are as friendly as can be and the service is fantastic, while the prices do not make this a prohibitive restaurant to visit even when on a budget. The Mango Tree caters perfectly for larger groups: you can even book for up to 50 people in on their website. Do be warned, though, it's a popular place for dinners so for larger numbers you are best to book well in advance.
46 Grosvenor place, Belgravia, SW1X 7EQ
+44 (0)20 7823 1888
mangotree.org.uk
Open: Mon – Wed 12 noon – 3 pm and 6 – 11 pm; Thu – Sat 12 noon – 3 pm and 6 – 11.30 pm; Sun 12 noon – 10.30 pm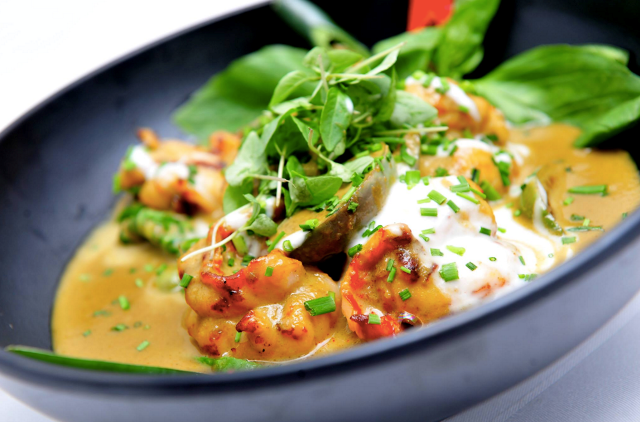 Souk Medina
If you're looking for North African cuisine at its finest, look no further than Souk. Based in Covent Garden, the whole venue sports a Moroccan theme and can cater for up to 300 people when hosting private parties. The Souk restaurants (there are 3 in London) also specialize in group bookings, not charging any extra or asking for a deposit when seating larger groups, and providing an optional menu which has been created especially for party-sized bookings.
1a Shorts Garden, London, WC2H 9AT
+44 (0)20 7240 1796
soukrestaurant.co.uk
Open: Mon – Sat 12 noon – 12 midnight; Sun 12 noon – 11 pm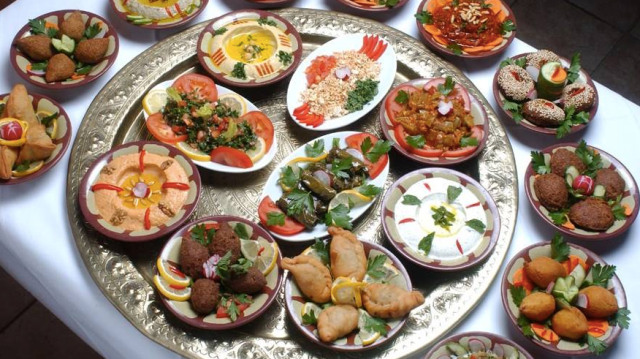 Señor Ceviche
Peruvian BBQ may not be the first thing that comes to mind when looking to book a meal out in London, but we'd be fools not to mention Señor Ceviche in this list of the best places to eat as a group. Aside from having one of the best websites of any London restaurant, Ceviche are also perfectly placed to cater for large group bookings, with the restaurant layout, friendly service and relaxed atmosphere all creating a great experience when dining in numbers. Most of the dishes are also served tapas-style, which can be perfect for a group dining experience with everyone sharing a variety of different dishes, and no doubt wines as well.
Kingly Court, Kingly St, London W1B 5PW
+44 (0)20 7842 8540
senor-ceviche.com
Open: Mon – Thu 12 noon – 12 midnight; Fri – Sat 12 noon – 12.30 am; Sun 12 noon – 11 pm 
Topolski
Set in the arches next to Waterloo Station, Topolski refers to itself as a "gallery-bar-café-venue" and it's easy to see why when you visit. You'll be struck as soon as you walk in by the fantastic design of the venue, with paintings on the wall and above a bar, which looks like it could have been taken right out of 1920s Paris. Topolski has also won a number of prestigious awards, including "Best London Bar" in the 2014 Restaurant and Bar Design Awards. The food menu is rather limited (check the website) with pizzas and pastas making up the bulk of the main dishes, and bar snacks making up the numbers. However, the food they do serve is well priced, generous in portion and, most importantly, delicious. The bar specializes in group bookings, so do call in advance to make sure you're well looked after when you visit.
150-152 Hungerford Arches, Concert Hall Approach, South Bank, London, SE1 8XU
+44 (0)20 7620 0627
bartopolski.co.uk
Open: Sun – Tue 12 noon – 11 pm; Wed – Thu 12 noon – 12 midnight; Fri – Sat 12 noon – 1 am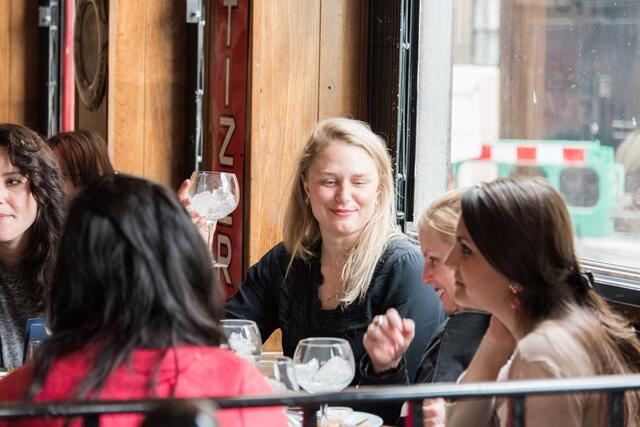 Tayyabs
BYOB – 4 letters that are music to the ears of anyone who likes a drink with their meal without breaking the bank in the process. London is in no way short of curry houses, such as the incredible Aladin, part of our East End Food Tour, so picking one to mention here was no mean feat. We have picked Tayyabs for a few reasons, chief among them being how great it is for dining in a large group; the food, like many of London's Punjabi establishments, is also superb. We would warn anyone thinking of booking Tayyabs, though: don't expect the friendliest of service or a calm atmosphere; the staff are in no way rude, but they have a job to do and that is what happens. For us though, this just adds to a fantastic dining experience. 
83-89 Fieldgate Street, London E1 1JU
+44 (0)20 7247 8521
tayyabs.co.uk
Open: Daily 12 noon – 11.30 pm
Looking for more group dining activities? Why not book a private food tour! We offer daytime tours of the East End, and evening tours of Soho…