6317 Views
Let's be honest. What is considered to be traditional Dutch food (mashed potatoes, raw herring, and incredibly thick pea soup) is not the most sophisticated cuisine on earth. It seems to be more about nutritious comfort food rather than spices and beautiful presentation on a plate. But there is more to Dutch food than meets the eye – mainly because for centuries, the eating habits of Dutch people have being shaped by foreign influences. Both colonial history and the recent immigration influx have contributed to the citizens of the Netherlands welcoming more exotic dishes, and in many cases modifying them to their own taste.
The best thing about such rich history is that you can now trace this legacy through visiting Amsterdam restaurants and cafés. You can literally embark on a historical field trip for your taste buds. Don't think that the abundance of Asian, Middle Eastern and North African restaurants in Amsterdam is here only to please the tourists. Take a closer look and you will see that they are intertwined with the Dutch history and can tell you a lot about how some of the "typically Dutch" dishes came into being.
Indonesia
Indonesia, back then known as the Dutch East Indies, became a Dutch colony in the 19th century, giving the colonizers access to a variety of exotic spices and rice dishes. Domestic help cooking for colonial households familiarized them with Indonesian meals featuring egg rolls, sateh (skewered and grilled meat served with a sauce), tempeh (a cake made from fermented soy beans), sambal (spicy sauce based on chili peppers), and serundeng (sautéed grated coconut). You can imagine that the Dutch were overwhelmed by the wealth of Indonesian side dishes, so in order to be able to try everything and celebrate the richness of Indonesian cuisine, they invented rijsttafel (literally, rice table), a celebratory meal consisting of many small side dishes accompanied by rice prepared in several different ways. Rijsttafel is not the only example of the fusion of Indonesian food with a new presentation method invented by the Dutch. Another example of such a joyous match is patat saté (potato fries with peanut sauce). It's not for everyone, but give it a try!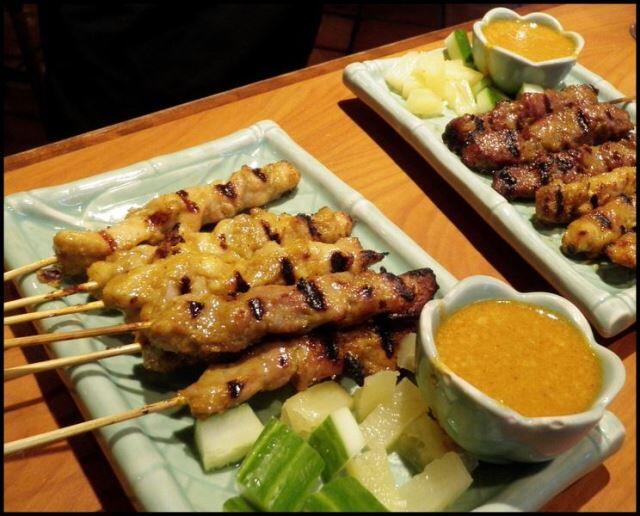 Nowadays, Indonesian cuisine is part of everyday Dutch eating habits. You can get kip satay (chicken skewers bathed in peanut sauce) in many Dutch bars, and don't be surprised if your Dutch host serves bami goreng (a dish based on fried noodles) as a typical Dutch dinner.
In Amsterdam, there are plenty of great Indonesian restaurants – these are two of my favorites:
Kantjil & de Tijger
Spuistraat 291-293
+31(0)206200994
kantjil.nl
Open: Fri – Wed 12 noon – 9 pm; Thu 12 noon – 10 pm
Sampurna 
Singel 498
+31(0)206253264
sampurna.com
Open: daily 12 noon till the last guests leave
Turkey & Morocco
Turkish and Moroccan cuisine came to the Netherlands a bit later than Indonesian. Lenient immigration laws led to a wave of immigrants and guest workers from Turkey and North Africa coming to the Netherlands in the second half of the 20th century. Many have settled here for good with their families, opening small shops and restaurants which became engraved in a typical Amsterdam landscape. And I'm not talking only about fast food Turkish kebab places most enthusiastically visited in the middle of a night. There are many elegant restaurants with exotic interior design that serve dishes with couscous, tajines, baba ganoush (smoked eggplant dip), hallal meat, hummus, and tabbouleh.
Bazar
Albert Cuypstraat 182
+31(0)206750544
bazaramsterdam.nl
Open: daily 10 am – 12 midnight
Maydanoz 
Ceintuurbaan 9
+31(0)204206289
restaurant.maydanoz-amsterdam.nl 
Open: Tue – Sun 5 pm – 10.30 pm
Surinam
Unfortunately, the former colonies of Surinam and the Netherlands Antilles have not had such a big influence on Dutch cuisine. Except for sporadic fast food places serving roti (flat bread with various toppings), there are not many restaurants in Amsterdam specializing in Surinamese food. Surinamese cuisine in itself is a mix of East Indian, African, Chinese, Jewish and Portuguese food, so it comes as no surprise that restaurants in Amsterdam offer specialties from that region mostly in combination with food from other parts of the world, e.g. Surinamese-Chinese or Surinamese-Hindu.
Wan Pipel
Albert Cuypstraat 140
+31(0)206718001 
wan-pipel.nl
Opening times unavailable
Warung Spang Makandra
Gerard Doustraat 39
+31(0)206705081
spangmakandra.nl
Open: Mon – Sat 11 am – 10 pm; Sun 1 pm – 10 pm
Japan
Of course not all foreign influences have to do with Dutch history. Some of them are simple outcomes of the fascination with exotic food and far away travel destinations. A great example is Japanese cuisine. The fashion for sushi has been here for quite some time now, and in the Netherlands it has an interesting twist to it: in no other country I know the sushi bars serve sushi on all–you–can–eat basis. Perhaps it's because of the unstoppable Dutch appetite, or perhaps because of the same reasoning as behind the rijsttafel: to simply try as many goodies as possible during one dinner. Personally I'm not a big fan of all–you–can–eat concept, because after a few plates the flavors of different fish types just melt into one. That's why I'd like to recommend a smaller, cozier restaurant Zen run by a Japanese woman.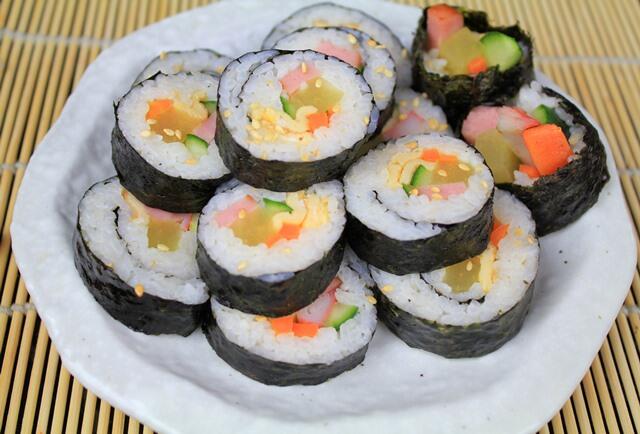 Zen
Frans Halsstraat 38
+31 (0)20 627 0607
facebook.com/pages/Zen-Japans-Delicatessenhuis/220938318029565
Open: Tue – Sat 6 pm – 11 pm
Thailand
Dutch people also travel a lot, and Thailand has been a very popular destination for years now. It comes as no surprise, then, that Thai restaurants have sprung up like mushrooms all over the city. That's why it's important to know the best from the rest, and restaurant Bird definitely deserves to be recommended as one of the best Thai restaurants in town. Its menu can be a bit overwhelming with the different varieties of curry dishes, but as long as you know what you feel like eating (chicken, fish, shrimps, beef or pork), you should be able to choose something to suit. Unfortunately, they don't serve the Thai version of rijsttafel… yet.
Bird
 Zeedijk 77
+31(0)204206289
thai-bird.nl
Open: daily 5 pm – 11 pm