5227 Views
Amsterdam is a beautiful city to be in, both during the day and at night. Tourists tend to stick to Leidseplein and the Red Light District, but if you're wondering how locals enjoy their time in the city, here is an example of what a regular Amsterdammer's night might look like…
5 pm: Afternoon Drink – "Borrel"
Because the weather in the Netherlands is rather unpredictable, Amsterdammers have learned to appreciate every ray of sun there is. If you're lucky enough to get some late summer sun, visit one of the best al fresco spots in town and enjoy a drink with a stunning view over the canals. To find more inspiration, take a look at Iamsterdam's list of the best terraces in Amsterdam. My favorite places for a pre-dinner drink are wine bars, especially Glou Glou in de Pijp. It doesn't have the view of the canal, but the wine and snacks definitely make up for it!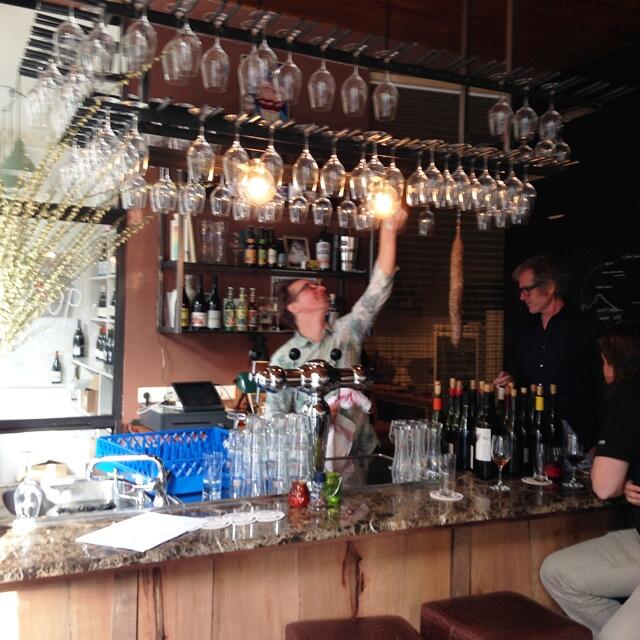 Glou Glou
Tweede van der Helststraat 3
+31 (0)20 233 8642
glouglou.nl
Open: Mon — Fri 4 pm — 12 midnight; Sat — Sun 3 pm — 12 midnight
7 pm: Dinnertime
Yes, Dutch people usually eat dinner around 7 pm. Don't come to a restaurant too late, because most places close their kitchens by 10 pm. There really are countless restaurants in Amsterdam to eat at (see our Top 10 here!), but please try to stay out of the areas directly surrounding Central Station, Dam Square and the Red Light District.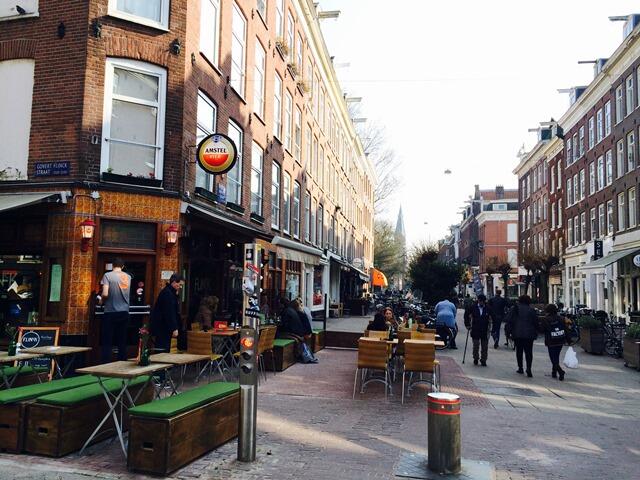 If you're overwhelmed by the abundance of choice, book a Twilight de Pijp Food Tour that will take you to some of the most original venues in the buzzing, cosmopolitan, hipster neighborhood of de Pijp. The tour takes place in the early evening (approx. 4.45 pm – 9 pm) and includes an Indonesian restaurant, a Parisian-style bakery, a famous slow-food vegetarian cafe, and a local brewery.
10 pm: Get in the Music Mood
After a satisfying meal it's nice to move to a more crowded place and enjoy live music. My two top choices are Jazz Café Alto, a tiny, dark café with live jazz music, and The Waterhole, a café with live rock music and a couple of pool tables. Fortunately, both of them are on the same street, so check them both out and see which one you prefer!
Jazz Café Alto
Korte Leidsedwarsstraat 115
+31 (0)20 626 3249
jazz-cafe-alto.nl
Open: Mon – Thu 9 pm – 3 am; Fri – Sat 9 pm – 4 am; Sun 9 pm – 3 am

The Waterhole
Korte Leidsedwarsstraat 49
+31 (0)20 620 8904
waterhole.nl
Open: Mon – Thu 2 pm – 3 am; Fri – Sat 2 pm – 4 am; Sun 2 pm – 3 am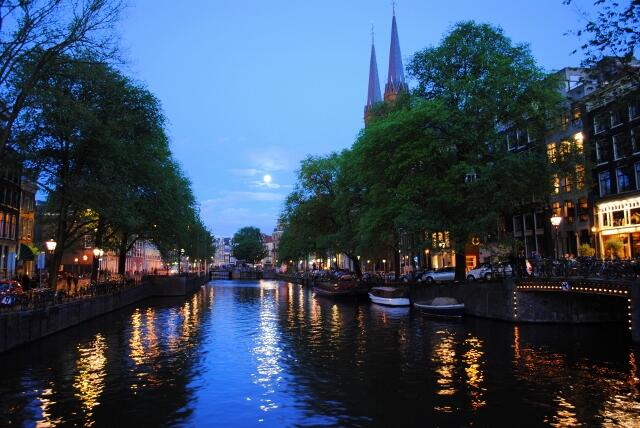 Midnight: Go Dancing!
I'm not a big fun of clubbing, but thankfully Amsterdam is full of other alternatives for people who love dancing (and I mean actual dancing, not moving your hands to the rhythm of the beat). I'm crazy about two music scenes in Amsterdam: salsa and tango. You can dance salsa at the Kroon every Wednesday and Sunday, but in the summertime don't miss the Summer Breeze Latin Nights organized by the Westergasfabriekterras.
De Kroon
Rembrandtplein 17
+31 (0)20 625 2011
dekroon.nl
Open: Mon – Thu 4 pm – 1 am; Fri – Sat 12 noon – 4 am; Sun 3 pm – 1 am
Westergasfabriekterras
Klönneplein 6
+31 (0)20 684 8496
westergasterras.nl
Summer Breeze Latin Night: Thu 7 pm – 2.30 am
If you're in a slightly more melancholic mood, drop by the Academia de Tango on a Friday night and see what a real tango salon looks like. Sometimes the venue organizes salons with live Argentinian music, so check their website for the agenda of upcoming events.
Academia de Tango
Korte Leidsedwarsstraat 12
+31 (0)6 14 52 94 34
academiadetango.nl
Tango salons: Fri 10 pm – 2 am
3 am: Late-night Snack
We've all been there. After a night out and dancing for a couple of hours, you find yourself hungry again. At this time of night there's no hope of anything healthy, so you have full permission to indulge in some greasy comfort food. Just walk around the Leidesplein area and choose from the selection of pizzas, fries, kebabs, cheeseburgers and kroketten, but be prepared to wait in line for your snack!