10071 Views
Of course, there are plenty of variations on the pancake. You've got the fluffy, sweet American pancake, filled with blueberries, bananas or chocolate chips and topped with plenty of butter and maple syrup. Or, you've got the paper-thin French crepes and galettes, which can go the sweet or savory route.
But we're here to tell you why Dutch pancakes are the best variation. Dutch pancakes, or pannenkoeken are much thinner than their American counterparts, and just a bit thicker than the crepe. What really differentiate these pancakes, though, are the size and toppings. Dutch pancakes are huge. One pancake will fill up your whole plate, measuring in at about one foot (30 cm) in diameter. A few classic variations that the Dutch love are with young cheese and bacon, apples, raisins, treacle (a variation on the well-known maple syrup made from sugar beets), or appelstroop (the Dutch version of apple butter).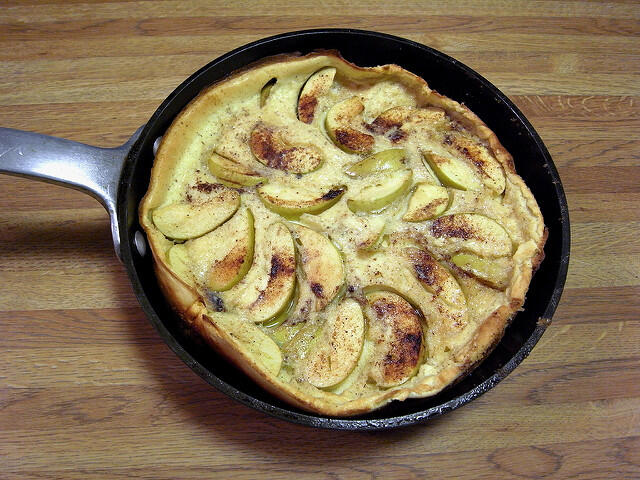 Luckily for us, as the pancake culture continues to grow in the Netherlands, so have the number of pancake restaurants and the creativity with which they're made. When you visit Amsterdam especially, you know you're in for a special treat when it comes to this Dutch classic. Here is where you can find Amsterdam's most deliciously inventive pancake joints, and Eating Amsterdam's Top 5.
Pancake Bakery
This is an all-time favorite for tourists and locals alike, and with good reason. Located in the Jordaan (a stone's throw from the Anne Frank house), you'll find some truly legendary pancakes here at the oldest pancake bakery in Amsterdam. Think: Indonesian Pancake with chicken saté and savory spices, Thai Pancake filled with red curry goodness, or the classic Dutch with bacon, cheese, and slathered with treacle. They've got anything and everything here. It's just one of those places you've got to try. Don't forget to top it off with a fresh cappuccino or ice-cold Heineken, and don't hit your head on the door when you're coming in and out (you'll see what we mean)!
Prinsengracht 191
+31 20 625 13 33
pancake.nl
Open: Daily 9 am – 9.30 pm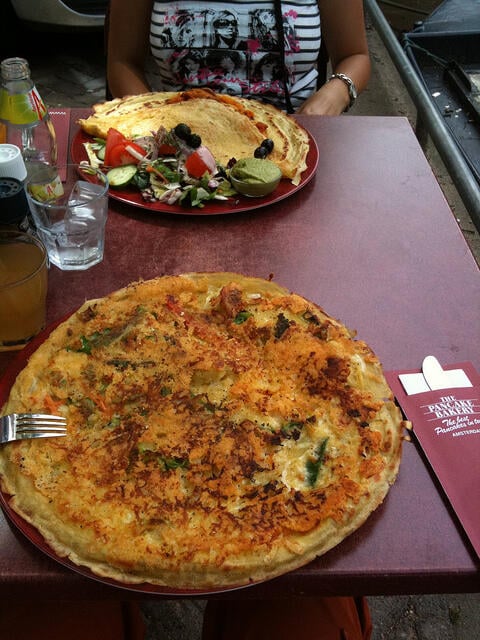 Pancakes! Amsterdam
While several of the pancake places on our top 5 have a deep history and "pancake experience" behind them, Pancakes! Amsterdam is relatively new (opening in 2007). Located on the Negen Straatjes (or the nine little streets) close to Amsterdam's Jordaan neighborhood, it's a great place to stop in after a day of shopping and canal-side exploring. Similar to other pancake restaurants, Pancakes! Amsterdam has got the sweet and savory sides covered, but in some very inventive ways that you won't see at the traditional places. Their strawberries, yogurt & lemon honey pancake is simple, sweet and delicious. The bacon, banana & chili pepper pancake is unexpectedly incredible. The camembert, chicory, ham & raspberry sauce will leave your taste buds tingling. The smoked salmon, crème fraîche, guacamole & chives is just perfect. Basically, you can't go wrong here.
Berenstraat 38 and Prins Hendrikkade 48
+31 (0)20 528 97 97 / +31(0)20 820 42040
pancakesamsterdam.com
Open: Daily 9 am – 6 pm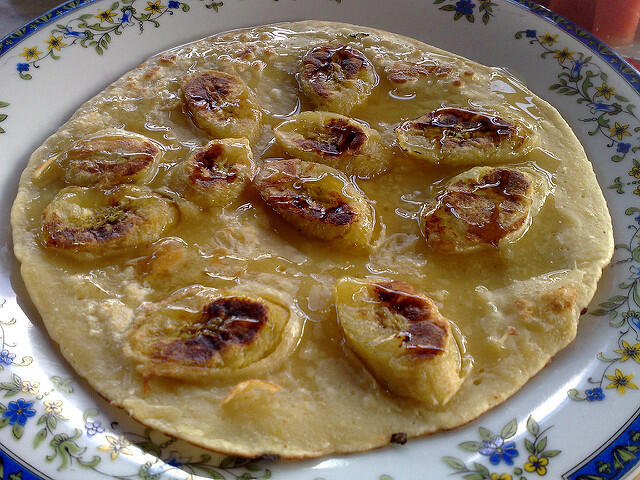 Pannenkoekenhuis Upstairs
This teeny tiny pancake restaurant is on the very top floor of an old Amsterdam house, as the name suggests. Be careful – the stairs are truly tricky to navigate! But once you're up there, it's worth the climb. Pannenkoekenhuis Upstairs is actually known as the smallest restaurant in Europe, with only 4 tables. The ceiling is covered in hanging teapots, and the walls are all adorned with portraits of Dutch royalty. The owners are always there to greet you. Try a Cointreau or Grand Marnier pancake; bacon, cheese & ginger; apple, cinnamon & sugar; or the lovely pear, eggnog, chocolate sauce & cream (known as the Miranda). This is one of those places where it's a really good idea to call in advance to book a table!
Grimburgwal 2
+31 (0)20 626 56 03
upstairspannenkoeken.nl
Open: Tue – Sat 12 noon – 6 pm, Sun 12 noon – 5 pm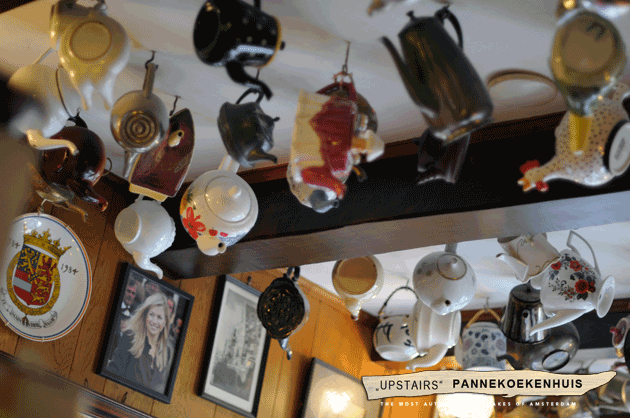 Albert Cuypmarkt for Poffertjes
Poffertjes are mini Dutch pancakes that are loaded with butter and sugar, and at the Albert Cuypmarkt in Amsterdam's De Pijp neighborhood, you can make them yourself. Trust us, a plate of poffertjes is like a plate of pure, sugary, heaven. Head over to the poffertjes stand and you'll find its owners standing happily behind a massive poffertjes pan, supervising the excited guests spooning the sweet batter into each little circle. They take a few minutes to cook, and flipping them is the best part (the kids will love this)! Once they're done, you'll end up with somewhere around 10 poffertjes, covered in butter and powdered sugar. If you're really craving a sugar rush, go ahead and get some fudge on there, too.
Albert Cuypstraat 61
+31 (0)6 304 56 122
poffertjesalbertcuyp.nl
Open: Mon – Sat 9 am – 5 pm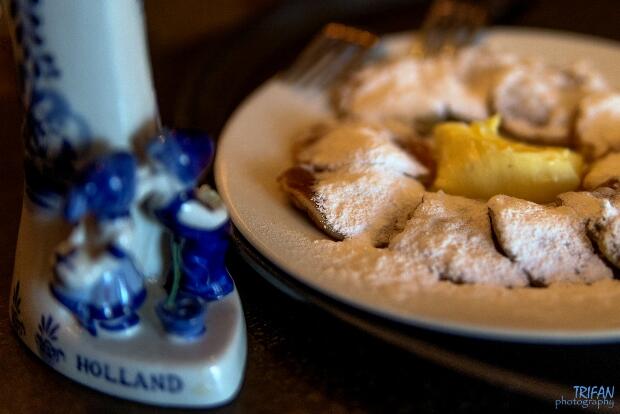 De Pannekoekkelder
Again, this pancake place is sure to have something for everyone, with 70 + items on the menu. It's rather large and open, and located right next to the busy shopping street, Kalverstraat. They've also got some nice seating outside when it's sunny. A unique find here would have to be the pizza pancake, but they're always up for making you something off-menu. This is the place to be adventurous!
Sint Luciënsteeg 9-11
+31 (0)20 622 64 11
pannekoekkelder.nl (website currently under maintenance)
Open: Daily 8.30 am – 7 pm