77302 Views
This post was originally published on August 21, 2014 and was updated on October 18, 2016.
When you hear Amsterdam, you probably think: canals, cannabis and the Red Light District. Not surprisingly, as you're wandering the streets of the Oudezijds Voorburgwal and Oudezijds Achterburgwal, you're likely to have a lot of questions about the Red Light District (RLD), feeling a mixture of curiosity and embarrassment. Don't worry, we've got it covered. Read on to find out everything you need to know about the RLD…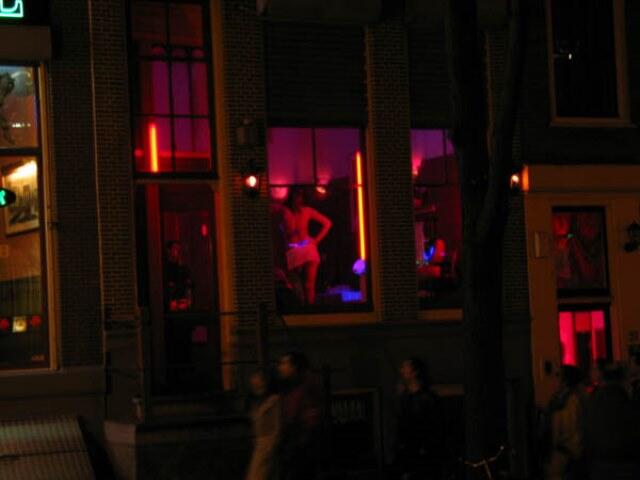 How does it work?
When you're walking down the narrow streets of the RLD (also known as De Wallen), you will already notice women appearing behind their windows in the early afternoon, but the busiest and most interesting time to go "window shopping" is from around 11 pm onward. The red light above the windows indicates that a woman is currently available. You will also see some windows with curtains shut and the red light turned off: it sort of speaks for itself, doesn't it? You might also notice windows with a blue light instead of a red one. This means that the person behind the glass is transgender or transvestite.
There are around 400 such vitrines in Amsterdam, so you can imagine that the competition is fierce.  Some of the women try to attract customers by wearing outfits that are more sophisticated than lingerie (sexy nurses, police women, cats and bunnies seem to be the most popular costumes), while some of them adopt a more proactive approach by knocking on the glass, waving and encouraging the passers-by to come closer.
Once a man is interested, he knocks on the door and that's where the negotiation part begins. Most of the women work independently, so they have the freedom to choose what they offer, for how long, and how much they charge. Usually it costs around €50 for 15-20 minutes of pleasure, but this can differ per individual. What if someone is interested in something more than the standard offer? It is not unusual in a service industry such as this that more demanding customers need to pay extra if they wish to have their demands met.
**********************
Like this? Check out Eating Europe on social media!
With Dutch travel ideas, foodie pics and much more, we're on…
Facebook | Twitter | Pinterest | Instagram
**********************
Is prostitution legal?
It is in the Netherlands. Prostitution became legal in this country in 1811, and the ban on brothels (entrepreneurial organization of prostitution, also colloquially known as pimping) was ended 14 years ago.
In fact, sex workers are officially recognized in the Netherlands just as any other profession. They have their own union, can access medical care, and have to pay taxes; although, as you can imagine, the nature of the job makes it difficult to inspect the truthfulness of their income declarations…
The sex industry in the Netherlands is heavily regulated and is generally considered fairly safe, especially in comparison to the same industry that goes on underground in other countries. Brothels need to have permits; plenty of policemen patrol the Red Light District to ensure the safety of both clients and prostitutes, and the latter need to take frequent health tests. The two things that are illegal and closely monitored are forced prostitution and underage prostitution.
Any tips for first-time visitors?
When visiting the RLD, do remember that taking photos of the women is strictly forbidden! Bear in mind that this is usually not the women's day job and you should always respect their privacy.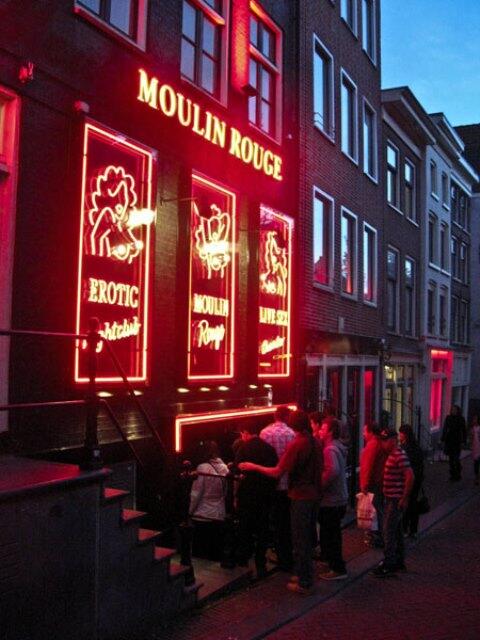 Is it all about sex?
Although de Wallen is full of red-lit windows, sex clubs, brothels, sex shops, peep shows, condom shops, and even has a sex museum, it is not only about sex. Being one of the oldest parts of Amsterdam, it has a lot to offer for foodies, enthusiasts of beautiful architecture and (amateur) photographers. If you visit this picturesque area during the day, you will find many unique shops as well as great cafes and restaurants offering cuisines from all over the world. The area is also home to the beautiful gothic Oude Kerk (Old Church), nearby vibrant Chinatown, and a fresh produce market on Nieuwmarkt square every Sunday.
Erotic Museum in Amsterdam 
Oudezijds Achterburgwal 54
janot.com
Open: Sun – Thu 11 am – 1 am, Fri & Sat 11 am – 2 am
Nieuwmarkt Market
Nieuwmarkt
amsterdam.info/nieuwmarkt-market
Open: Sat 9 am – 5 pm
Want to know more?
You don't need to knock on one of the women's windows if you want to know more about her work in the Red Light District. If you're curious, you can drop by the Prostitution Information Center founded by former prostitute Mariska Majoor. Now, she runs tours around the area telling stories about her past and her role in changing Dutch regulations and attitudes toward the sex industry. The foundation attempts to inform the public (local as well as international) about the social conditions of prostitutes by offering books, leaflets, brochures, and even lectures about sex-related services in Amsterdam.
Prostitution Information Center
Enge Kerksteeg 3
pic-amsterdam.com
Open: Wed – Sat 10 am – 5 pm, Sat 10 am – 7 pm
Planning your trip to Amsterdam? Explore the city's culture, history, and food by taking our food and canals tour or our walking-only food tour in the stunning Jordaan neighborhood!