3368 Views
Immaculate white columned houses, leafy green streets, a palace, a park and some of the world's greatest museums… welcome to life in Kensington, one of London's most affluent boroughs and a place perfect for window shopping, aspirational visiting, and eating in style. The diplomatic cars and designer shops might be plentiful, but thankfully, so is the variety of places in which to enjoy a casual lunch, a celebratory dinner or an indulgent afternoon tea treat if you know where to look…
Best for British pub food
Ever tried to find a decent pub in which to enjoy classic British food at its very best? If you have, you'll know that it can be tricky with sad dishes, harassed staff and tired buildings often resulting in a disappointing dinner. Thankfully, tucked away down a quiet side street barely 5 minutes' walk from Notting Hill Gate underground station, you'll find the Mall Tavern and bid farewell to your fears of an unsatisfying supper. Although tables fill up quickly, you won't feel rushed to finish; instead, you'll feel as comfortable here with friends beside you and one of over 40 local and international beers in front of you as you would sat in your own living room.
Pop in for a relaxed mid-week dinner or a legendary Sunday roast, both served in a traditional but stylish setting. Friendly but delightfully low-key staff are quick to offer suggestions, solve any issues and deliver superb food prepared with a generous hand. The menu is seasonal but undeniably British, with golden pastry-topped pies and seaside favorite fish & chips sitting alongside steak, chops and a frankly phenomenal "Blue Monday" mac'n'cheese; one taste of this beauty and you'll be planning a return visit based solely around its cheesy, oozy goodness.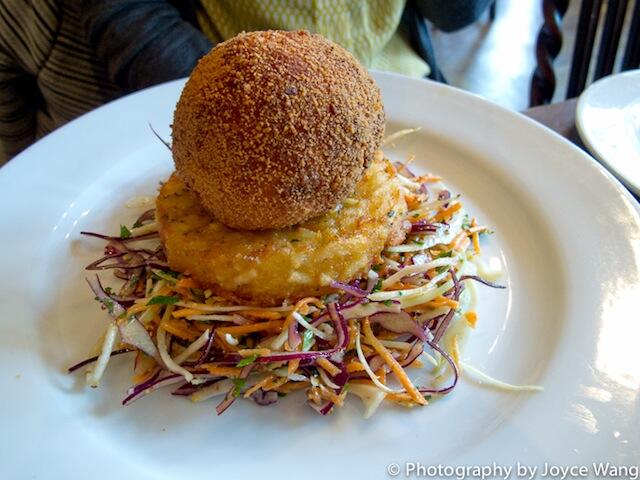 The Mall Tavern
71 Palace Gardens Terrace, London W8 4RU
+44 (0)20 7229 3374
themallw8.com
Open: Mon – Sat 12 noon – 12 midnight; Sun 12 noon – 10.30 pm
Best for Italian food
If you're looking for authentic, home-made Italian food in London, the sort that induces you to eat your own body weight in fresh, tomato slicked pasta and then roll home, basking in the satisfied glow of garlic, Brutti e Boni, a small but perfectly formed deli/restaurant is exactly what you need.
A brisk 10-minute walk from Gloucester Road underground station brings you to both a warmly affable and unmistakably Italian welcome. With its array of meats, cheeses, oils and breads, you'll be unable to keep yourself from ogling in a rather greedy fashion. A row of stools sit opposite the counter if you choose to eat in; otherwise a menu of pasta dishes, freshly baked breads and crisp-based pizzas is yours to pick from for a simple and honest dinner to take away and enjoy.
If, like me, you are a lover of game meats, home-made pasta with wild boar ragu is every bit as delicious as it sounds. At less than £7 for a generous portion of silky penne covered with deep, rich, glossy, meaty sauce, it's also as excellent in value as it is in flavor; in short, this is Italian food worth spattering your clothes and staining your face for.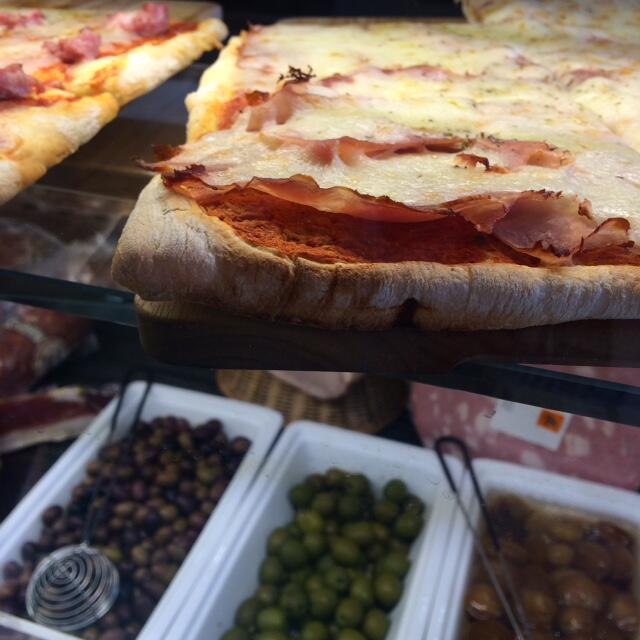 Brutti e Boni
14 Gloucester Road, London SW7 4RB
+44 (0)20 7589 2260
bruttiandboni.com
Open: Mon – Thu 8 am – 7 pm; Fri 8 am – 9 pm; Sat 9 am – 9 pm; Sun 10 am – 5 pm
Best for 24-hour food
Fluffy buttermilk pancakes dressed with maple syrup and crispy bacon. Fragrant kedgeree with spiced rice and a golden-yolked, soft-poached egg. Chorizo-stuffed omelets, ribeye steak sandwiches, chili, meatballs or that staple of the 5 years old's birthday party: jelly and ice-cream. These, my friends, are but a snapshot of the 24-hour VQ Diner menu. So if you find yourself with a rumbling tummy at 3 am, then trot off to Fulham Road and satisfy that hunger with an extensive menu that combines the best of British food and all the goodies synonymous with American diner culture, literally anytime you fancy. Win. Win. Win.
Go with friends, bag a comfy booth and enjoy sharing dishes like the Merguez Sausages with Harissa and Truffled Potato Chips with Blue Cheese Dip. Or have a low-key date night dinner at the counter and plump for the piled high Cobb Salad, followed by a total indulgence of your inner child with the rainbow-esque Knickerbocker Glory. Whether you're piling out of the nearest pub, searching for something to nibble on after a late-night movie, or simply looking for someone else to do the cooking, you'd be hard pressed to find a better pick for your midnight appetite.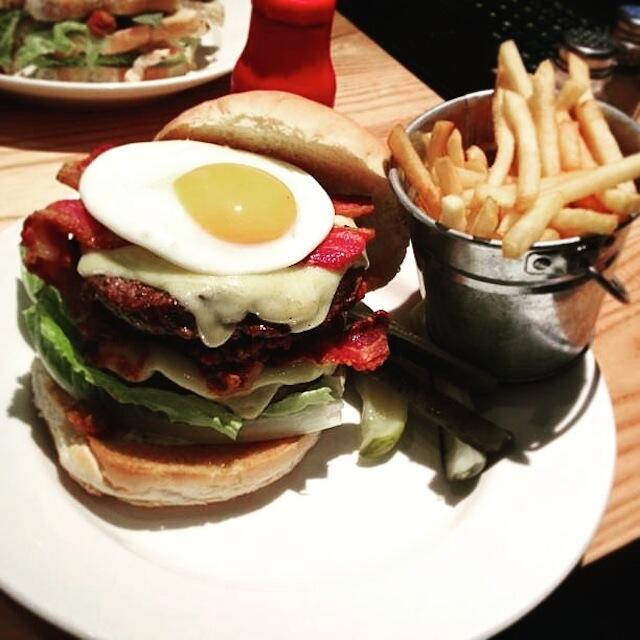 VQ Diner
325 Fulham Road, London SW10 9QL
+44 (0)20 7376 7224
vq24hours.com
Open: Mon – Sun 24 hours
Best for healthy food
Warning: Roots & Bulbs is the sort of place that will make you want to take up yoga and drink green juice by the gallon. Resistance is futile. You simply cannot visit and leave feeling anything other than springy, bouncy and fabulous from the inside out. Not only that, but the staff are friendly, the portions are generous and oh yeah, the food is scrumptious. Whether you want to dine in and take a seat in the perfect-for-people-watching-sunshine outside, or choose something to take away and feel virtuous with later, there's a great choice of healthy, organic baked goods. How about green tea bars and mocha rice cakes to accompany one of 10 smoothies, 4 green juices, or 6 other seasonal juices and waters?
For superb value for money though, you can't beat the DIY seasonal salad; pick your base (quinoa, lentils and beetroot have all been on offer recently); up your protein intake with fish, steak or chicken; and then finish with any number of healthy toppings to create a substantial and delicious dish… Congratulate yourself on your good fortune if the paprika hummus is on offer during your visit because it's ridiculously good. With a price tag of £7 to £10 for a hefty, hearty bowlful, if you've over indulged elsewhere, this is the place to head to for damage control that's kind to both your body and your wallet.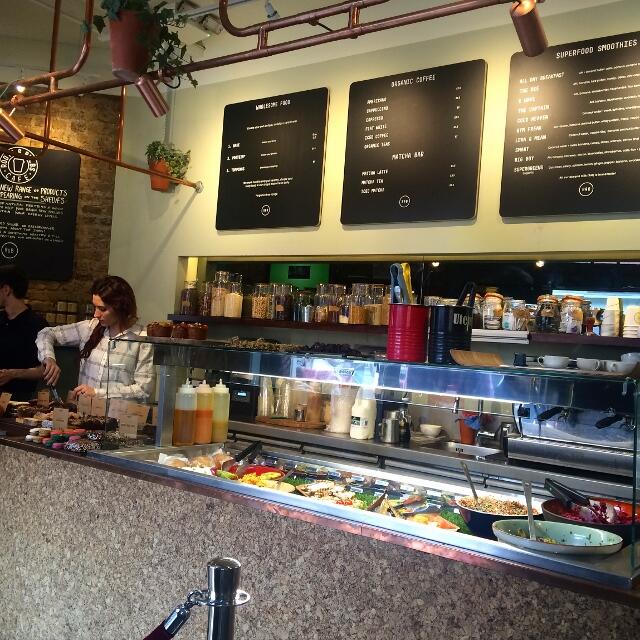 Roots & Bulbs
10 – 12 Exhibition Road, London SW7 2HF
+44 (0)20 7584 0019
rootsandbulbs.com
Open: Mon – Fri 8 am – 7.30 pm; Sat – Sun 9 am – 7 pm
Best for American food
There are times in life when fine china, linen napkins and hushed voices are called for… and then there are times when what's called for are immense, drippy burgers; juicy, pickle-smothered hot dogs; and stacks of bourbon and marshmallow sauced chicken balanced as precariously on a crispy waffle as your willpower against such a feast.
Make no mistake, London is a city enamored with pimped-up, poshed-out fast food, and Dirty Bones knows exactly how to cater to this love affair. Offering "New York inspired comfort food", they boast resident DJs to soundtrack your Friday and Saturday nights as well as brunch with bottomless prosecco – please try the Milk & Frosties – on the weekends and deals guaranteed to make your Mon-Fri a little tastier. Dark and cozy with leather banquets and a pinball machine that you'll be convinced you're awesome at after the third "101 Dalmatians" cocktail, this is such a brilliant place to head to with friends at the end of a long week for the ultimate in treat food.
Special mention goes to the Mac Daddy – a pulled short rib and macaroni cheese monster – and the Asian Dog with kimchi ketchup and wasabi mayo for sheer creative genius. Sides of Deep Fried Mac Balls and Collard Greens let you tap into your inner Southerner, and with the top-priced main only £15, it's competitively priced despite its highbrow location.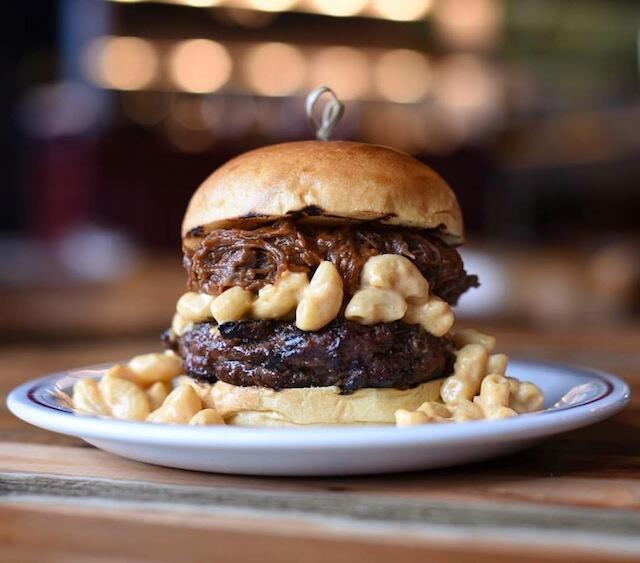 Dirty Bones
20 Kensington Church St, London W8 4EP
+44 (0)20 7920 6434
dirty-bones.com
Open: Tue – Fri 5 pm – 12 midnight; Sat 12 noon – 12 midnight; Sun 12 noon – 9 pm
Best for cake & coffee
Entering Patisserie des Reves is a little like stepping into a cotton candy cloud of eye widening beauty and flawlessly minimal design. Large glass domes protect delicate mille feuille, towering brioche and luscious cheesecakes, while marshmallow pink and white tables and chairs practically beg you to sit down, rest your weary feet and order deliciously soothing tea, revitalizing coffee or creamy hot chocolate. The chocolate éclair filled with luscious chocolate crème pâtissière and wrapped in a dark chocolate cylinder is rich and decadent, while the green tea and red fruit Charlotte is light and zingy. Either would be the perfect reward for hours spent touring the local museums and galleries.
Yummy mummies, grandmothers and their charges and excitable tourists congregate at the front door seating area while inside, staff charmingly explain what each pretty-as-a-picture cake is. Although the price points are not petite – averaging £6 per pastry – they are created, presented and sold so beautifully that as a gift for yourself, they're absolutely worth splashing out on.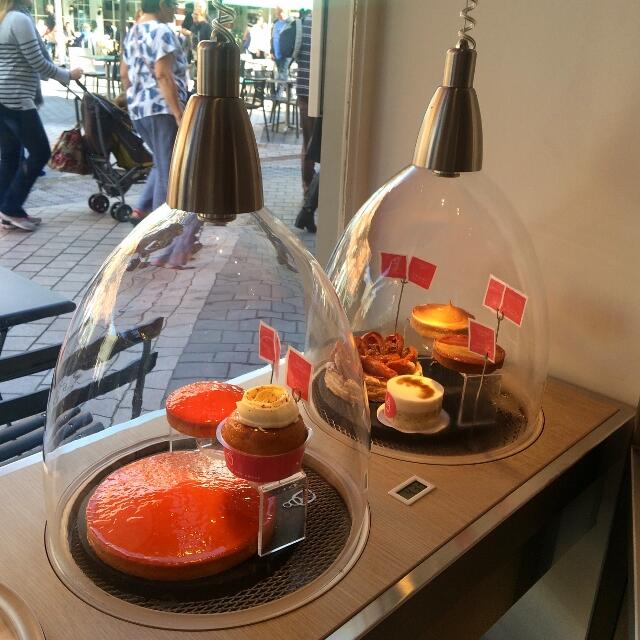 Patisserie des Reves
13 Exhibition Road, South Kensington, London SW7 2HE
+44 (0)20 3603 8233
lapatisseriedesreves.com
Open: Mon – Fri 8 am – 7 pm; Sat – Sun 9 am – 7 pm
Best for food on the go
If you're a visitor to these shores from across the pond, the behemoth that is Wholefoods will not be new to you. If, however, you've yet to experience one of their stores in all its spectacle, take my advice and allocate at least an hour to take full advantage of it here on Kensington High Street. I say an hour but in reality, you could spend all day here and not see the same thing twice, with 13 departments and 6 different restaurant options under the one roof, as well as a multitude of beauty and health products. If you've a hankering for BBQ, ramen and Mexican food or the slightly more virtuous dairy-free smoothies, omelets and vegan pizza, all are on offer here.
My advice, though, would be to grab a basket and stock up with enough exciting, "ooh-I-didn't-know-that-was-a-thing" products to take to the lush, leafy and local Kensington Gardens, an ideal spot for picnicking. With more healthy breads, cheeses, salads, crackers and juices than you'll ever have seen before, I defy you to depart empty handed. If you're a carb-loving carnivore who happens to be out for the day with a sugar-free, dairy-free, wheat-free vegan, I guarantee you'll both leave happy.
A word of warning: little here is cheap, so if you're on a strict budget, head somewhere else. That said, the food is excellent, the sheer size of what's on offer is immense, and the whole atmosphere is one of positivity – points you can't deny the appeal of.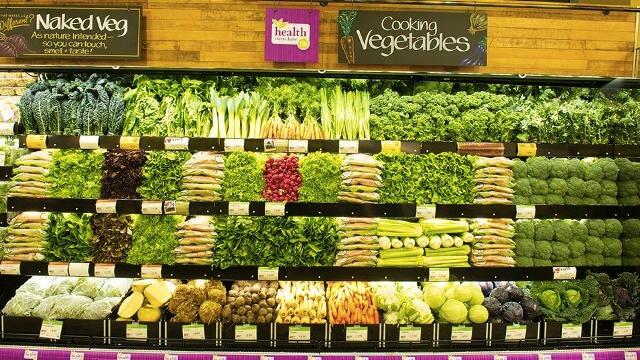 Wholefoods
63-97 Barkers Building, Kensington High Street, London W8 5SE
+44 (0)20 7368 4500
wholefoodsmarket.com
Open: Mon – Sat 8 am – 10 pm (restaurants close 30 minutes before shop); Sun 10 am – 5.30 pm restaurants; Sun 12 noon – 6 pm shop
Best for Lebanese food
There are few things more gratifying than gathering together a group of friends and enjoying a long, laid-back lunch dipping into a selection of small plates from an expansive, authoritative and delectable menu of Middle Eastern flavors. That is exactly the experience you'll have at Randa by Maroush. Statuesque and dressed with bright floral blooms, Randa is located moments from High Street Kensington underground station, and boasts a spacious dining room and the sense that this is something of a local secret. Ask for a table on the first floor and take a seat on the balcony overlooking the restaurant below; then ask for a menu and prepare to feast.
Fattet Hommos B'Laban is a gorgeous, pine nut-strewn dish of yoghurt, chickpeas, bread and garlic – the perfect cooling accompaniment to spicy slices of Soujok home-made sausage and deep-fried, crisply squidgy Sambousek feta-stuffed pastries. Dishes are substantial with 6-8 from the mezza and bakery sections of the menu proving the ideal size for 4 hungry adults to graze on. Don't forget to leave room for a shared portion of Ossmallieh, baked vermicelli noodles stuffed with cream cheese and lavished with rosewater syrup and pistachio nuts.
While it might not be the cheapest spot in town, the quality of food is great, made with expertise and served with pride. So if you're looking for somewhere relaxed and fun to spend a few hours enjoying the culinary culture of a faraway part of the world, this is it.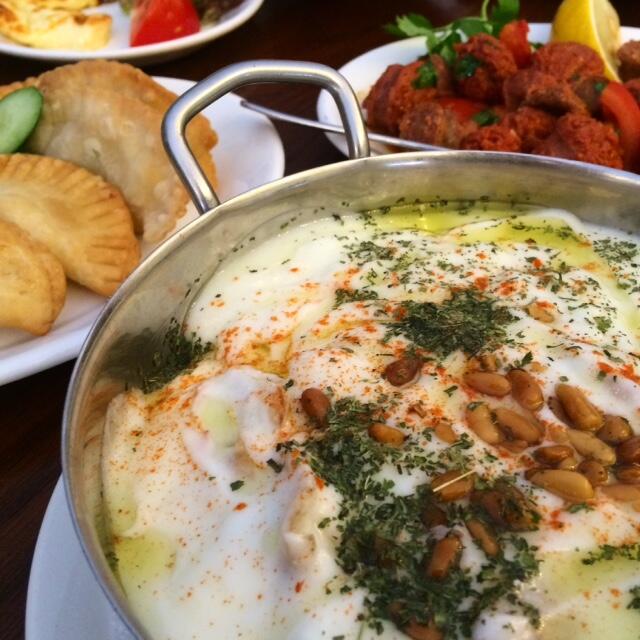 Randa by Maroush
23 Kensington Church Street, London W8 4LF
+44 (0)20 7937 5363
randa-restaurant.com
Open: Mon – Sun 12 noon – 12.30 am
Best for Japanese food
Bone Daddies is a restaurant family encompassing 3 separate identities: Bone Daddies, the original home of ramen; Flesh & Buns, purveyor of pillowy steamed buns; and Shackfuyu, the pop-up responsible for making green tea ice-cream one of London's most Instagrammed dishes this year.
Following an appreciative reception in Soho, this fairly new branch of Bone Daddies is simple and streamlined with a vaguely industrialized edge to the décor. Loud and vibrant with personable staff, it's absolutely the place to go to for modern and impressive Japanese food. Yellowtail Sashimi with Chili & Coriander tastes impeccably fresh and clean, while pristinely pale steamed hirata buns are soft, squidgy and eye-wideningly wonderful when packed with succulent meat. Tonkotsu Ramen is guilt-inducingly fatty but full of flavor, with velvety smooth noodles and shreds of fall-apart-at-the-touch-of-a-fork pork.
This is not a place for a quiet intimate dinner, nor a spot of lunch with your grandmother. However, it very much is a place for people who love food, who love to try something new, and who love a hip but not intimidating environment where the talents of the chef and a contemporary twist on food are allowed to shine through the rock'n'roll music and the buzz of very happy customers.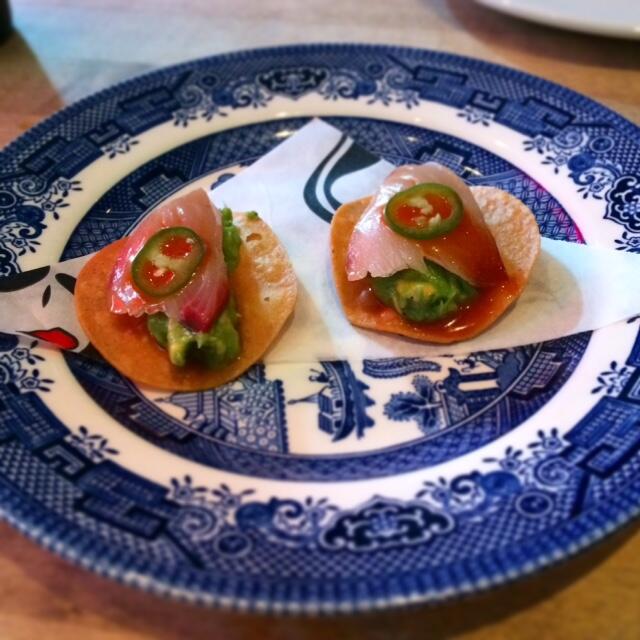 Bone Daddies
63-65 Kensington High Street, London W8 5SE
+44 (0)20 7368 4575
bonedaddies.com
Open: Mon – Sat 11 am – 9.30 pm; Sun and National Holidays 12 noon – 5.30 pm
Best for food with a view
London is a city in love with a rooftop view. Be it a fruity, floral cocktail under the summer sun or spiked hot chocolate held in gloved hands as the snow falls, we adore any reason to stand on top of a building and fall even more in love with our capital. Babylon on the 7th floor at the Kensington Roof Gardens is the prettiest of places in which to do either of these things, and if you're after somewhere special with an undoubted wow factor, you've found it.
The gardens themselves are utterly gorgeous; an abundantly green oasis with pink stucco, shaded courtyards and casually wandering flamingos, it's like stepping onto a movie set. Set lunch menus give you the opportunity to dine in affordable style and are on offer every day, as well as an a la carte version for dinner, a group menu for parties of 8+, and even a kids menu for diners under 12.
Cocktails hit the £11-12 mark so aren't cheap, but sipping a champagne, cherry and violet liqueur-laden Skye High while overlooking the skyline of London is an unforgettable experience well worth the splurge. There will always be a new venue perched high above the streets of London vying for your time and money, but I'd put Babylon up there with the very best of them.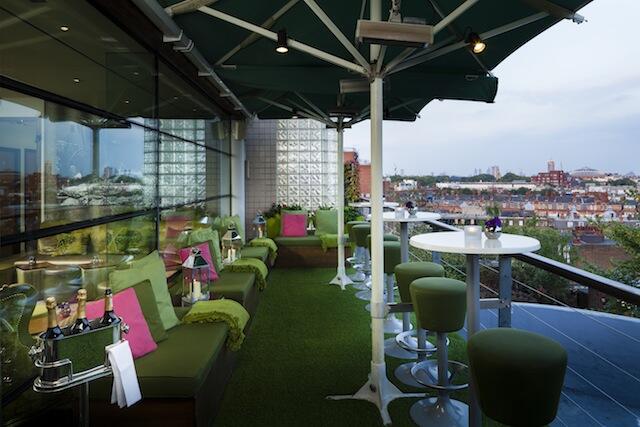 Babylon, Kensington Roof Gardens
99 Kensington High Street, London W8 5SA
+44 (0)20 7937 7994
virginlimitededition.com
Open: Mon – Sat 12 noon – 12 midnight; Sun 12 noon – 7pm