23370 Views
As the sun sets a little earlier each day… as the chill in the air produces cold beads of condensation on your bicycle saddle in the morning… and as the leaves start to turn shades of the Dutch favorite color (orange, of course), it's clear that fall is well and truly in the air. But fear not! While Amsterdam's ice cream days may be over for another year, there are many benefits of the changing season – including good old Dutch comfort food. And you can't get much more comforting than stamppot: potatoes roughly mashed with pretty much whatever you like (although purists would probably beg to differ!), often served with rookworst, a smoky Dutch sausage.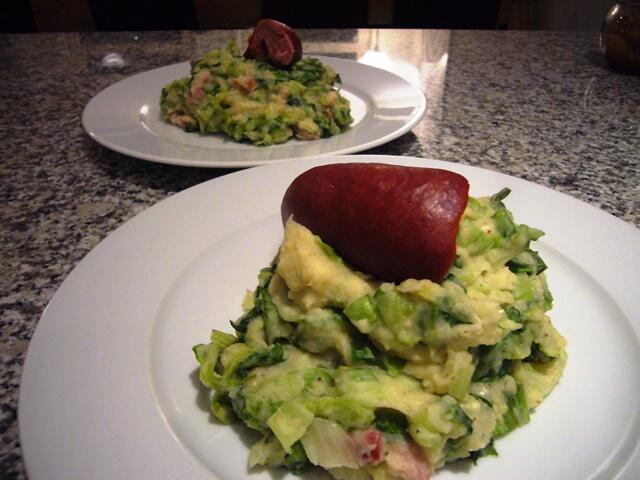 Our recipe for the perfect stamppot
1½ lb (700 g) potatoes, peeled and cut into large chunks
½ lb (225 g) smoked bacon, diced
2 onions, diced
1 lb (450 g) andijvie, roughly chopped (otherwise known as endive, but kale can also make a good substitute)
1 tablespoon whole-grain mustard
1 large knob butter
1 splash milk
Salt and pepper
½-1 rookworst or other smoked sausage per person (depending how hungry you are!)
Procedure:
Boil the potatoes in salted water in a large pot until cooked through; drain and return to the pot. While the potatoes are cooking, fry off the bacon and onion in a little oil until lightly browned.
Add the andijvie to the still steaming-hot potatoes and roughly mash everything together – the steam from the potatoes will wilt the greens. (If you are using kale instead, you may want to boil it for a few minutes before adding it to the potatoes as it takes longer to cook.) Then add in the fried bacon and onions, mustard, butter, milk and a good pinch of salt and pepper to taste.
Cook the rookworst according to the packet instructions and serve with the stamppot. One of the best ways to do it is simply to boil it in its bag with the potatoes!
Dutch comfort food to a T.