5576 Views
In addition to canals, museums and coffee shops, Amsterdam is also known for its bars. Primarily, the city's iconic and historic brown bars. Brown bars are cozy, full of character and usually packed with a cast of characters. But lately, there has been a different type of bar that has been growing in popularity; the cocktail bar. Sometimes housed in a secret location, sometimes situated on a busy street, the old fashioned cocktail bar has officially made a comeback. Here's our roundup of the best cocktail bars in Amsterdam.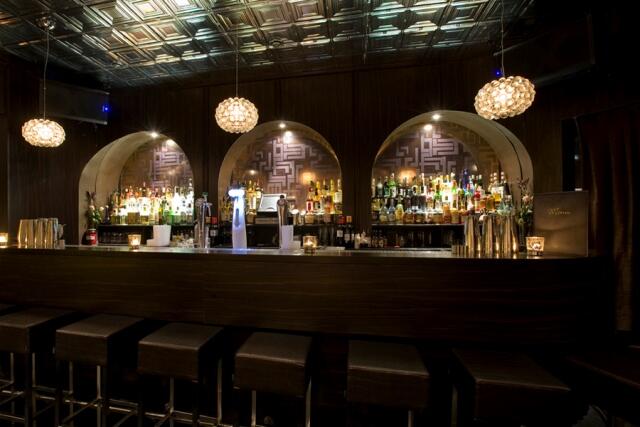 Door 74
The bar that really helped kick-start the cocktail comeback, Door 74 speakeasy is still a standard bearer. Door 74 meticulously recreates the atmosphere of an underground American speakeasy during Prohibition, complete with a clandestine system for entry. Prohibition was an era when you had to whisper about where you were going to have your next drink and, in-keeping with that tradition, Door 74 asks that you call them ahead of time to find out where the bar is located (near Rembrandtplein) and to make a reservation. Once inside, an intimate atmosphere full of vintage cocktails, bow-tied bartenders and antique barware will entertain you for hours.
Address available on reservation: 06 34 04 51 22
door-74.com
Open: Sun – Thu  8 pm – 3 am; Fri and Sat 8 pm – 4 am
Henry's Bar
Inspired by the eccentric and notorious carouser/writer/poet Henry Charles Bukowski, Henry's Bar comes to life three nights a week to serve refreshing and creative cocktails in the eastern part of Amsterdam. Most of the drinks are inspired by the writer's personality and work; in addition to signature cocktails, the menu is full of classic whiskey and gin drinks. Henry's Bar is adjoined to Bar Bukowski, which is open every night of the week.
Oosterpark 10
henrysbar.nl
Open: Thu 8 pm – 1 am; Fri 6 pm – 3 am; Sat 8 pm – 3 am
Hiding in Plain Sight
The other retro spot on our list, Hiding in Plain Sight unassumingly serves new-school cocktails in an old-school atmosphere in a quiet spot close to the Nieuwmarkt. Hiding in Plain Sight features an international crew of bartenders bringing their own unique inspirations to the beautifully put-together cocktail menu. While they take their cocktails seriously, the theme here is fun and it certainly shines through in the service and recipes.
Rapenburg 18
hpsamsterdam.com
Open: Mon – Thu 6 pm – 1 am; Fri and Sat 6 pm – 3 am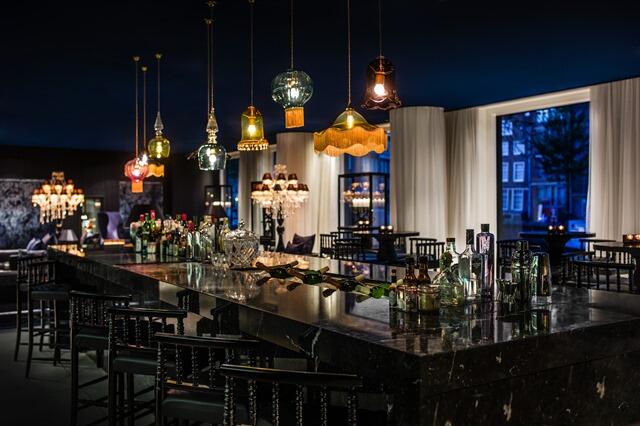 Bluespoon Bar at Andaz Hotel
It simply wouldn't be a compilation of cocktail bars without at least one spot inside a swanky hotel, and the Bluespoon Bar in the Andaz Hotel is just that. Located on Prinsengracht in the middle of Amsterdam's world-heritage canal ring, the Bluespoon Bar may take its name from simple Dutch pottery, but the cocktails they serve are deliciously complex. Their menu is divided into different eras, allowing you to drink your way through the decades while you overlook the canals… And wasn't that on your list of things to do in Amsterdam, anyway?
Prinsengracht 587
andaz.hyatt.com
Open: Sun – Thu 12 pm – 1 am; Fri and Sat 12 pm – 2 am
Golden Brown Bar
Located on a quiet corner in Oud West, the Golden Brown Bar may not have as extensive a menu as some of the other bars on this list, but it more than makes up for it with a plush atmosphere and classy cocktails. The chilled-out bar is decked out with leather couches and art adorns the wall, while the bar rotates specialty cocktails based on the season. The scene is "see and be seen" meets neighborhood bar.
Jan Pieter Heijestraat 146
goldenbrownbar.nl
Open: Sun – Thu 11 am – 1 am; Fri and Sat 11 am – 3 am
*Photo credit Door 74: Paul vd Linde