10430 Views
The Jordaan is a neighbourhood of Amsterdam packed with history, not the least of which being food. It is home to Amsterdam's oldest bruincafé (brown café), Café Chris, which opened its doors to the Jordaan's working class in 1624. Today there remain many of these traditional watering holes which owe their name to the dark interior and the walls yellowed from cigarette smoke. If you find yourself in the Jordaan at borrel time, which is in the early evening when a biertje and snack are in order, take yourself to Café Papeneiland, Café t'Smalle or one of the other countless brown cafés and treat yourself to a beer and the quintessential bitterballen. Apart from the traditional brown cafés, Jordaan has now become home to some of the best restaurants in Amsterdam, with many international dining options.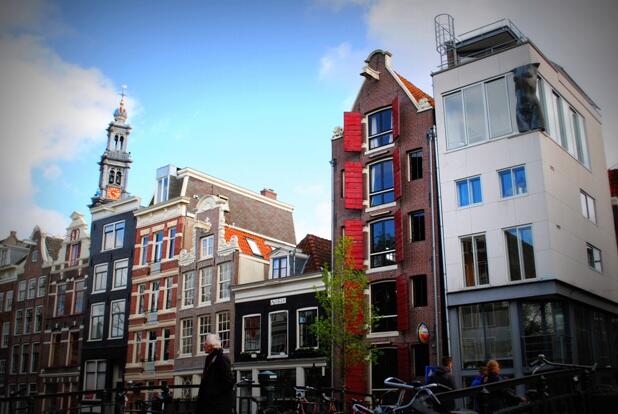 Hang around for dinner and you won't be disappointed. Here's our round-up of the best restaurants in the Jordaan.
5 Best Restaurants in the Jordaan in 2023
1. Toscanini
Probably the restaurant in the Jordaan, Toscanini offers a 6-course tasting menu of authentic Italian fare.  You can also order à la carte, but keep in mind that their menu changes quite often. Everything is home-made, from the Italian bread to the pasta to the cotechino sausages. The best part is that you can watch the chefs at work in their open kitchen.
Make sure to book a table by calling +31 20 6232813 or reserve directly on their website.
Open: Friday – Saturday, 12 pm – 3:00 pm & 6 pm – 1:00 AM, Monday – Thursday, 6:00 pm – 1:00 AM
Lindengracht 75
restauranttoscanini.nl
2. De Belhamel
Set in a picturesque spot on the edge of the Jordaan, De Belhamel is certainly the restaurant with the best view. In winter, the Art Nouveau dining room is the perfect setting for a romantic dinner. In summer, the terrace beckons you to spend a long evening with a nice glass of wine and a crab salad. De Belhamel serves seasonal French-European dishes for lunch and dinner.
Open: Thursday – Sunday, 12 pm – 4:30 pm & 5:30 pm – 10 pm
Brouwersgracht 60
+31 20 622 1095
belhamel.nl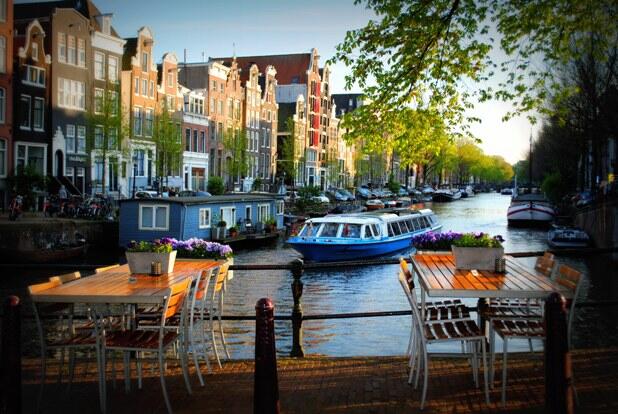 3. Chez George's
George's successor and his small team serve up classic French  cuisine in this cozy restaurant on the Herenstraat. The quirky baroque style might not be everyone's taste but what is agreed on is the quality of this restaurant! Chez George is a small restaurant that can only seat about 30-35 people. Each table is only sat once a night. The experience is intimate, relaxed, & special. The servers are personable, the wine list is excellent and the portions are substantial. Fish lovers will especially enjoy Chez George's menu, which offers delicacies like lobster bisque, cod fillet with tarragon sauce and scallops with sweet potato cream.
Open: Wednesday – Sunday, 6:00 pm – 9:30 pm
      Herenstraat 3
    +31 20 626 33 32
      chez-georges.nl
4. The Pancake Bakery 
As the name suggests, The Pancake Bakery serves up massive sweet & savory pancakes. This 17th century warehouse was restored to be the home of the famous and tasty traditional Dutch delicacy. Stop by for breakfast, lunch or dinner! The Pancake Bakery is open all day long. They have an open-style kitchen so that you can watch the pancakes being made. Choose from a wide variety of toppings or create your own!
Open: Everyday, 9:00 am – 9:00 pm
Prinsengracht 191
+31 20 625 13 33
pancake.nl
5. La Oliva
La Oliva is a cozy, Spanish restaurant that specializes in traditional pintxos, paella, seafood, & more. Enjoy a variety of Spanish wines and sherries. All of the food and drink is inspired by Northern-Spanish specialties transported to Amsterdam's dining scene. Stop by at noon for a round of pintxos (small & tasty crostini decorated with toppings), home-made tortillas or Pata Negra. Or enjoy a Northern-Spanish main dish for dinner.
Open: Everyday, 12:00 pm – 10:00 pm
La Egelantiersstraat 122-124
+ 31 20 3204316
laoliva.nl
Not familiar with the Jordaan? Take a look at our Beginner's Guide to the Neighborhood. For the best way to experience the area's food scene and discover Amsterdam's food scene, join us on our Jordaan Food Tour!