42061 Views
In the past decade, Danish foods have grown increasingly associated with so-called New Nordic cuisine, a movement born with the 2003 opening of Noma in Copenhagen and characterized by its modern spin on ultra-local, seasonal ingredients. This is not a bad thing, of course, but it paints an uneven picture to the casual onlooker interested in what actually constitutes true Danish food in Denmark.
To find that, save a little money and peek instead inside an old-school Danish eatery—where the sandwiches are artfully piled, meat and potatoes rule, and portions tend to run large and hearty. Here are 10 very Danish foods that will inspire you to give tradition a chance the next time you're in Copenhagen.
Smørrebrød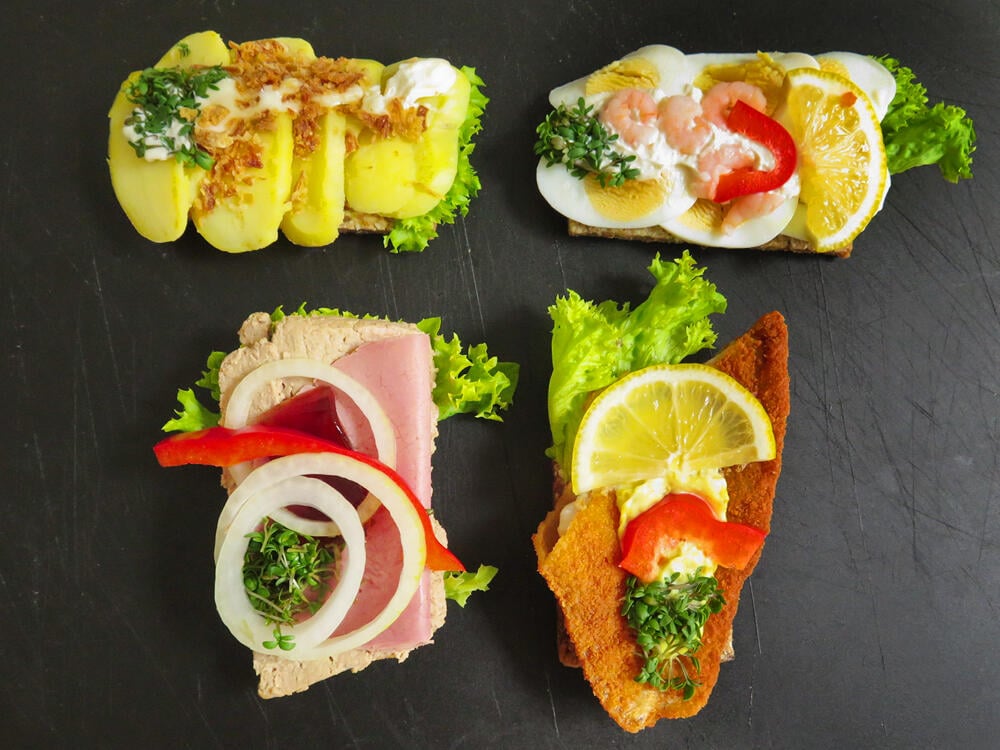 The term for a huge class of open-faced sandwiches, smørrebrød comprise the ultimate Danish lunch: a thin slice of buttered rugbrød (Denmark's ubiquitous dense rye bread) topped with some combination of protein, vegetable, and garnish. The concept likely dates to the packed lunches of farm laborers back in the 1840s. Today you'll find smørrebrød on lunch menus across the country, from casual takeout counters to fancy sit-down restaurants, and also in hundreds of varieties.
Look for the simple kartoffelmad (boiled potato with mayo and chives), the easy-to-love fiskefilet (pan-fried fish with remoulade and lettuce)—both pictured above—the wonderful smoked eel with scrambled eggs and chives, and countless others. Smørrebrød is ordered by the piece, allowing you to sample many, but three to six pieces should be more than sufficient (depending on size). In Copenhagen, the iconic, century-old eatery Ida Davidsen offers some 250 varieties to choose from, with a particularly good leverpostej, indulgently topped with pork liver, bacon, mushrooms, and crispy-fried parsley.
Wienerbrød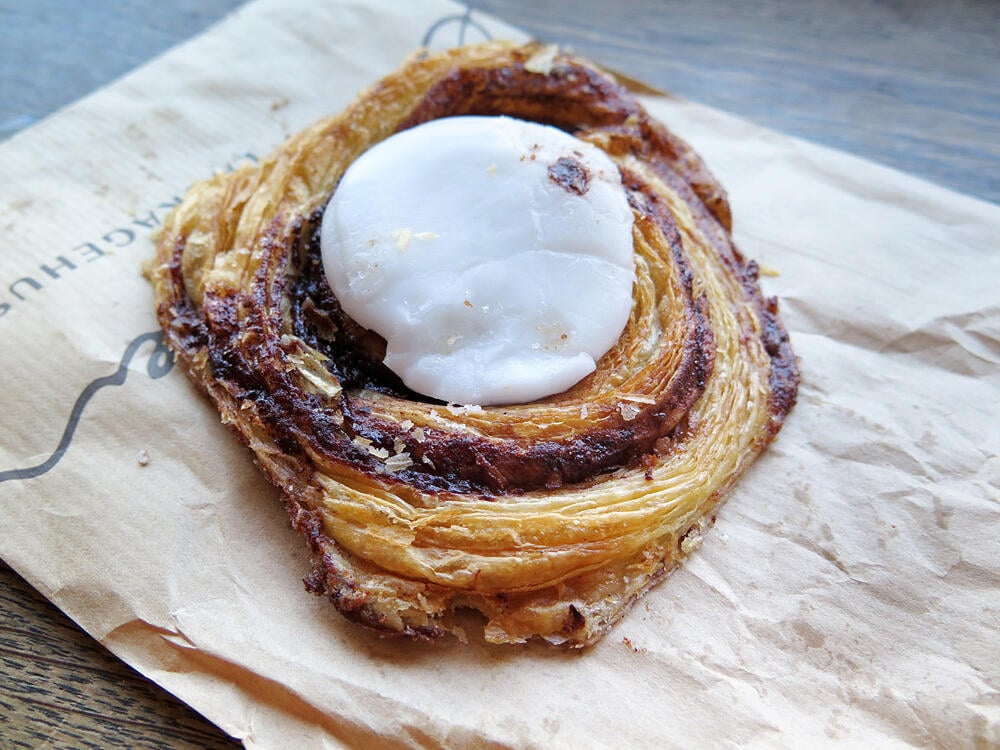 Forget what you know about the bakery "Danishes." The real deal, a class of pastries known broadly as wienerbrød, are blow-your-mind delicious, and definitely, the best way to start a day in Denmark. (Think flaky texture, buttery taste, creamy fillings, sweet icing.) The name means "Viennese bread," but while the style hails from Austria, the Danes have fully adopted it and made it their own. There are many different kinds of wienerbrød, but you can't go wrong with a classic snegle ("snail") pastry, elegant spirals of cinnamon, butter, and iced sugar; or a hearty brunsviger, similar to coffee cake, topped with butter and brown sugar. In Copenhagen, the chain called Lagkagehuset is great for sampling all manner of wienerbrød.
Tarteletter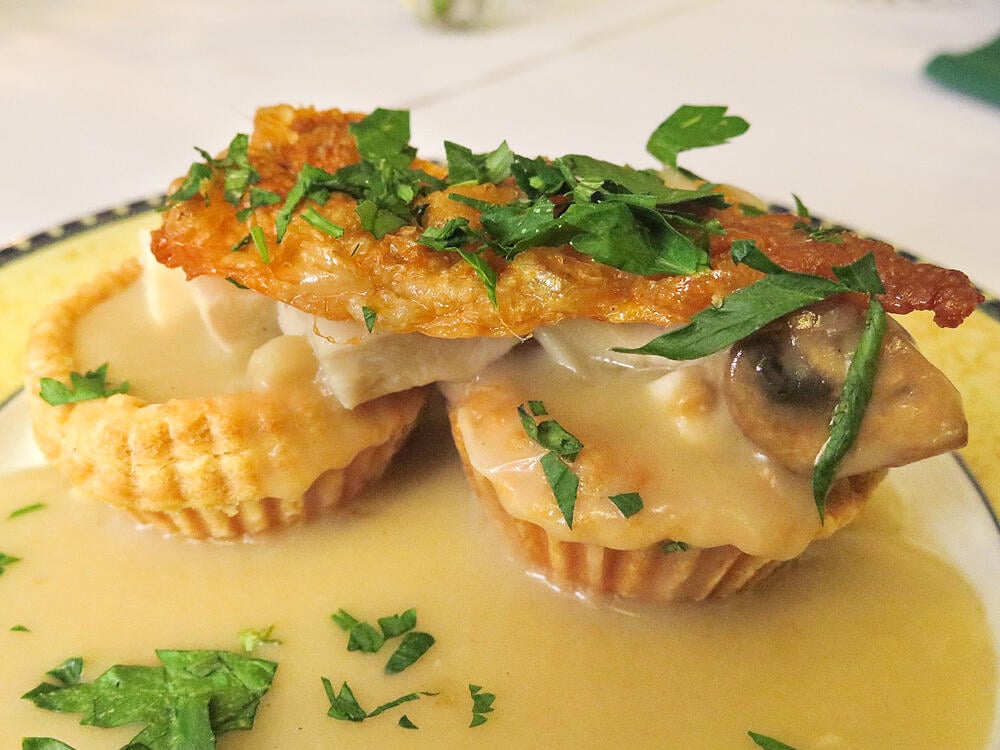 Puff-pastry tart shells with savory fillings are hard not to like, and Denmark's tarteletter is no exception. In particular, there are the beloved "tarteletter med Hons I asparagus," filled with chicken and asparagus, with a simple white sauce made of butter, flour, and milk. Once upon a time this was common fare, but now it's become something of an old-school rarity, more often spotted at special-occasion brunches. At least one Copenhagen restaurant usually offers it, and that's Told Og Snaps, where the tarts are draped with sheets of fried chicken skin for added (delicious) effect.
Porridge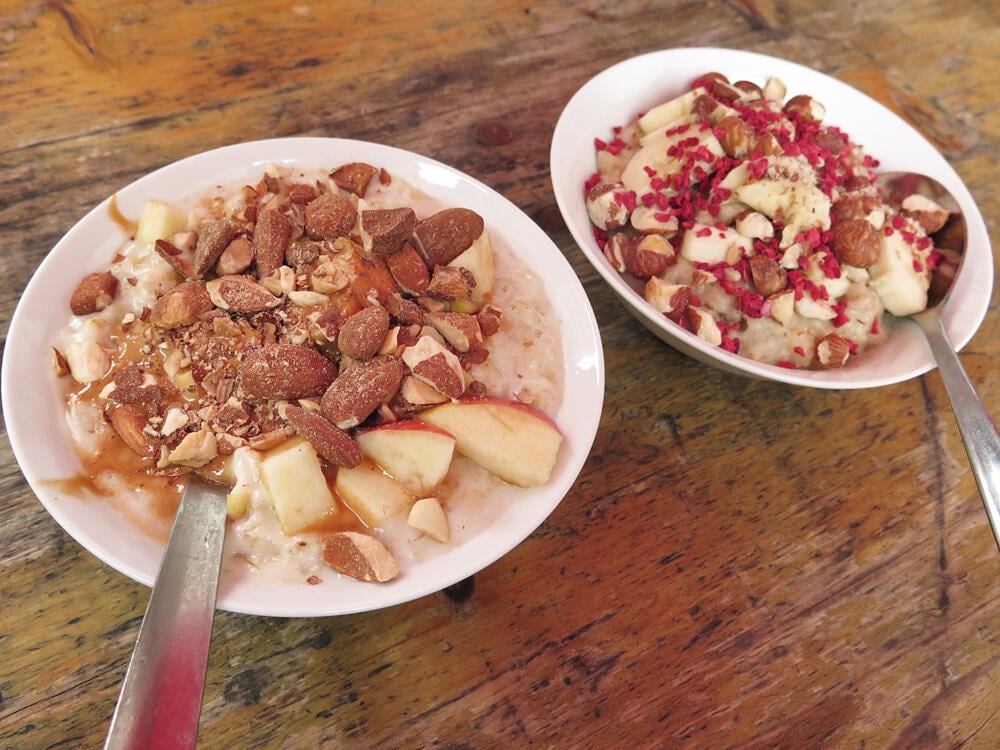 Nutritious and cheap, porridge has long been a traditional hot breakfast in Denmark, as in much of the world. Here it typically involves grains like rye, oats, and barley; for instance, there's øllebrød, made with leftover rye bread and beer, and risengrød, a traditional Christmas porridge made with rice. In Copenhagen, porridge got a whole lot hipper when porridge-bar Grød opened up in 2011, dedicated to raising gruel to high art. It's an excellent spot to breakfast on havregrød, an oat porridge, here topped with homemade dulce de leche, fresh apple, and roasted almonds; or spelt porridge (speltgrød), or any of the restaurant's other monthly-changing offerings.
Frikadeller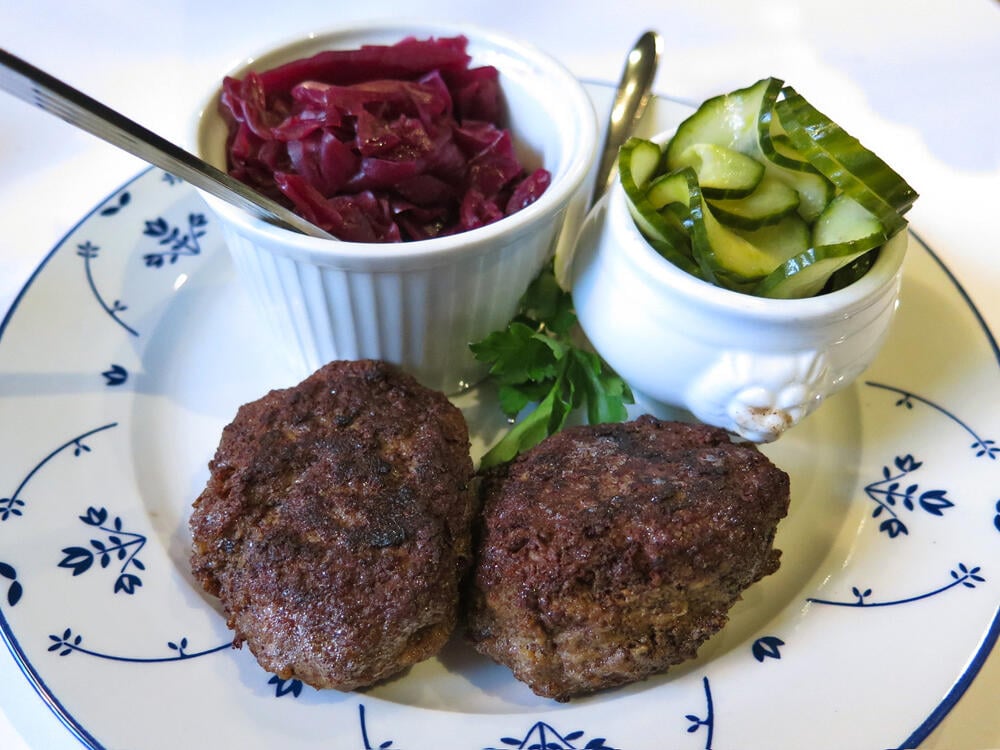 Neighboring Sweden might be more celebrated for its meatballs, but Denmark's got some good ones too. Meet frikadeller, a centuries-old dish of pan-fried pork meatballs, usually eaten with sides like brown gravy, boiled potatoes, red cabbage, beets, and pickles, depending on whether you're having lunch or dinner (in general lunch portions will be lighter, and accompanied by rye bread). Any old-school traditional restaurant worth its salt in Copenhagen, like Restaurant Schønnemann or Restaurant Klubben, will have this on the menu.
Krebinetter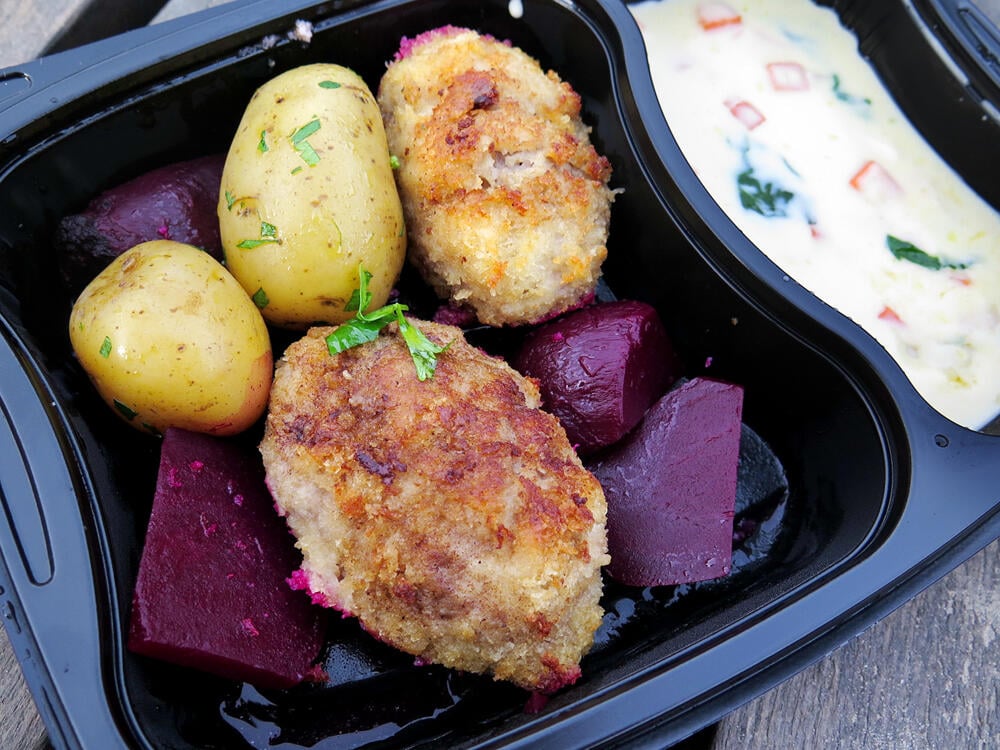 Krebinetter is fat, oval-shaped pork patties, breaded and pan-fried till crispy, and typically served with potatoes and a host of other boiled vegetables—kind of like the bigger, breaded sister to frikadeller, above. They're incredibly easy to love, and yet they're hard to find in the Danish capital. One spot that offers it occasionally as a daily special is Meyers Deli, where you can also pick up a fabulous loaf of rugbrød (rye bread).
Flæskesteg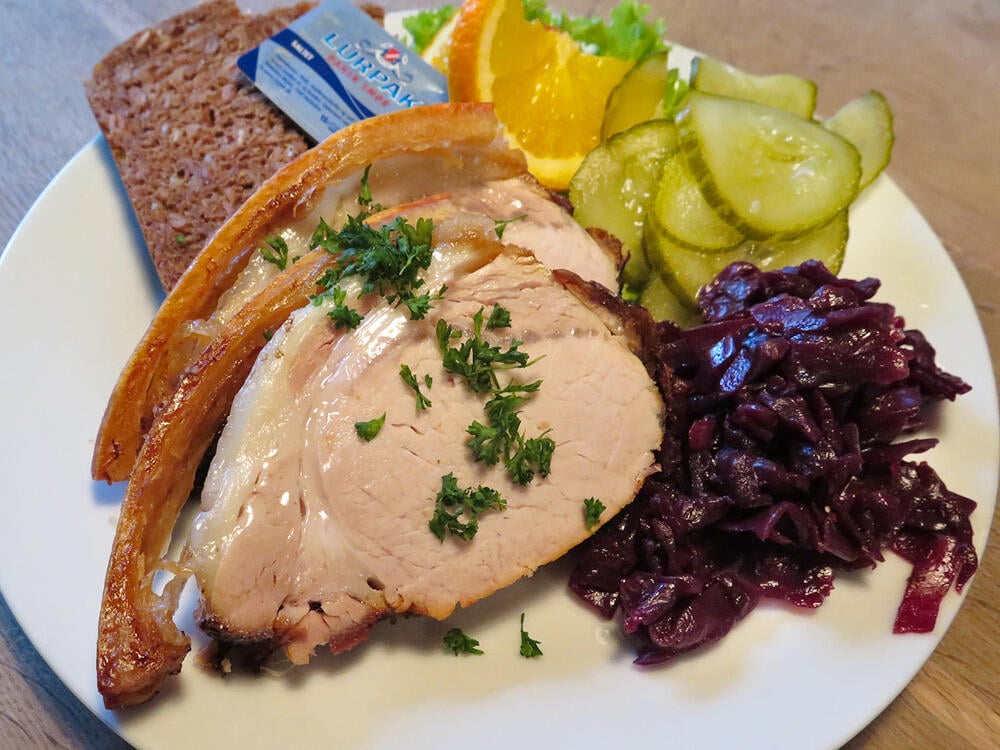 A very traditional dish of thinly sliced, tender roasted pork, crunchy pork rinds, and tart red cabbage, flæskesteg is served at just about every classic Danish restaurant in Denmark. Thankfully, it's a delicious, easily loved plate of food, whether for lunch—when it's given the smørrebrød treatment, with rye bread and pickles—or for dinner, when potatoes and gravy join the party. Good bets for old-school dining in Copenhagen include Restaurant Skindbuksen and Københavner Cafeen, both of which offer this dish.
Stegt flæsk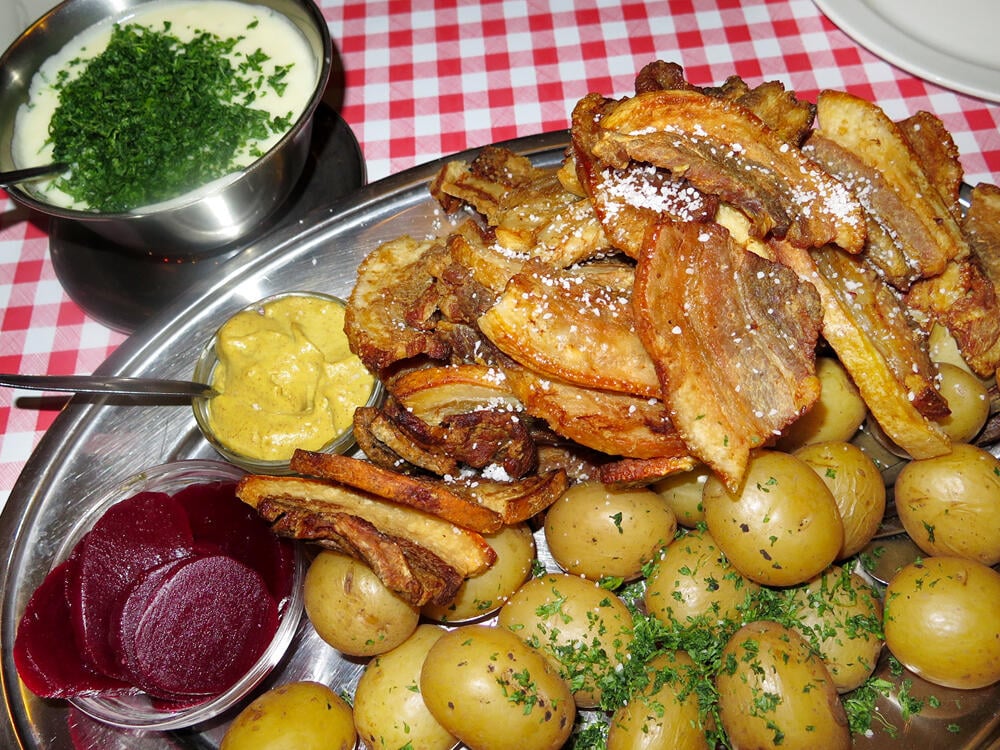 Voted the national dish by Danes in 2014, this rustic plate of crispy-fried pork belly is usually offered "med persillesovs og kartofler," or with creamy parsley sauce and boiled potatoes (the former is poured over the latter). The pork is thickly sliced and fried to a crisp—diet food this is not! But it is very tasty and hearty, absolutely ideal on a cold Nordic night. In Copenhagen, look for it at traditional eateries like Restaurant Klubben and Café Petersborg.
Herring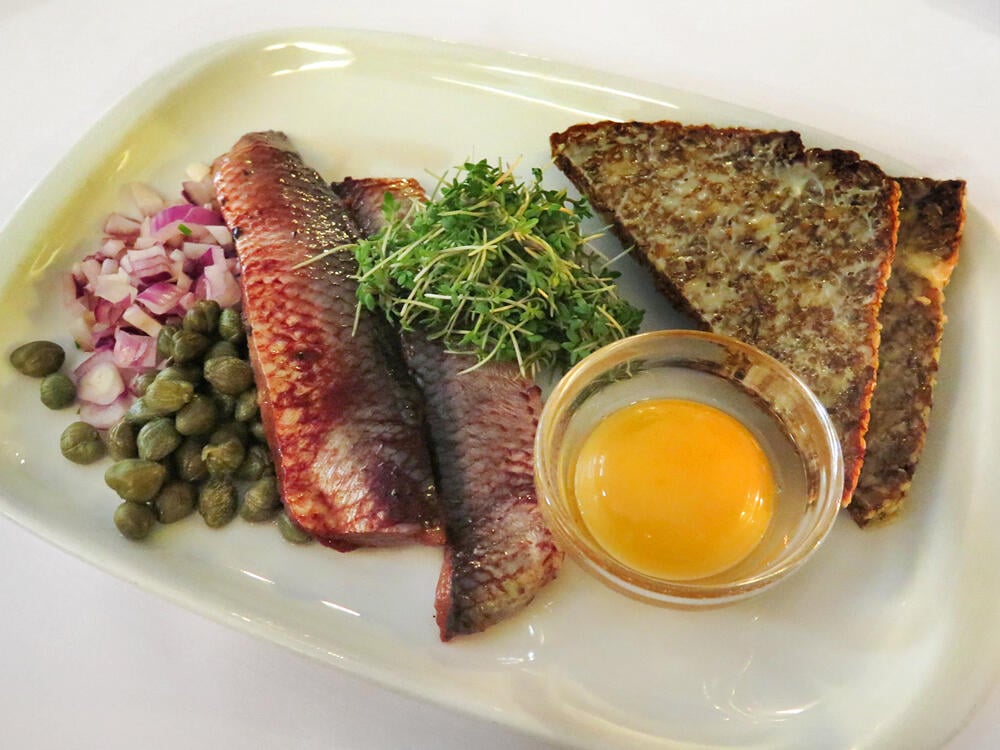 The people of Denmark, today as a thousand years ago, enjoy their pickled herring, or sild. They also love it marinated, curried, dressed in mustard, smoked, fried, breaded, and a few other ways—though not all at once, of course. Most Danish restaurants will list a selection of herring as a first course, particularly those old-school lunch eateries known for their smørrebrød and snaps, the locally distilled spirit (like aquavit). One common lunchtime preparation, like this dish pictured from Told Og Snaps in Copenhagen, is for the vinegary fish to be presented alongside red onions, capers, egg (either boiled or just the raw yolk, to be poured over top), and, of course, buttered rye bread.
Pølse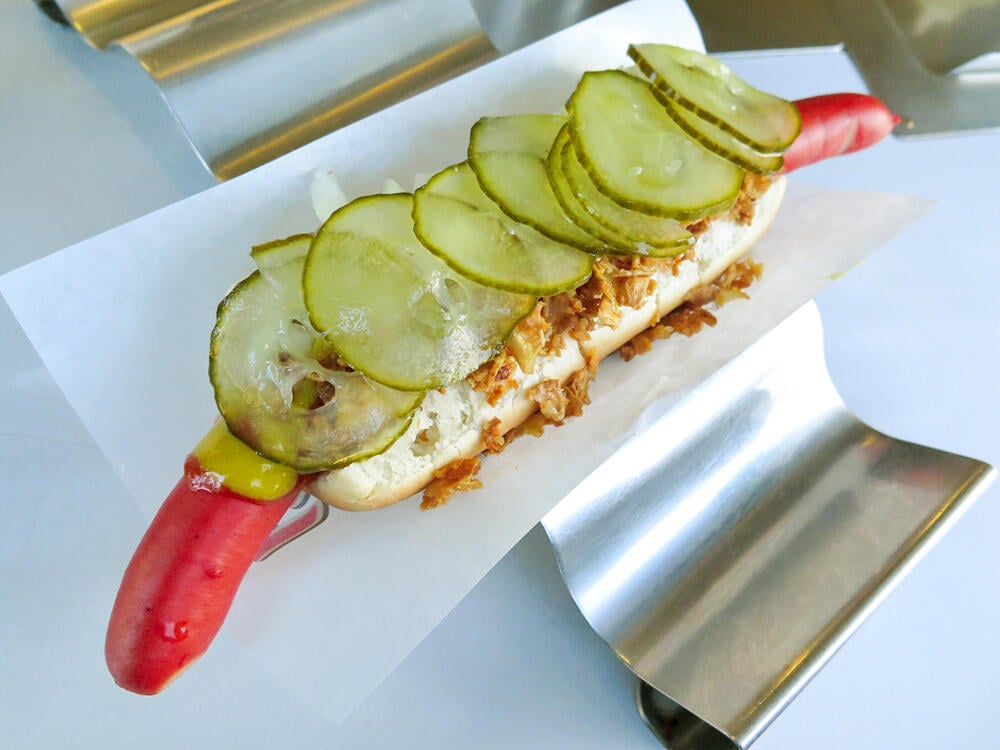 For the past century, Copenhagen has been a big hot-dog-on-the-street kind of town, and pølse is the name of the game. Especially popular are the long, skinny red-dyed pork hot dogs called rødpølser, prepared any number of ways at your local pølsevogn, or hot dog stand. You can't go wrong with a boiled or grilled (ristet) hot dog, traditionally topped—that means mustard, ketchup, remoulade, pickles, and raw and crispy onions—or a beloved Fransk dog, stuffed into a hollowed-out baguette with a creamy herb dressing (or your choice of condiment) on top. The classic drink pairing? Chocolate milk.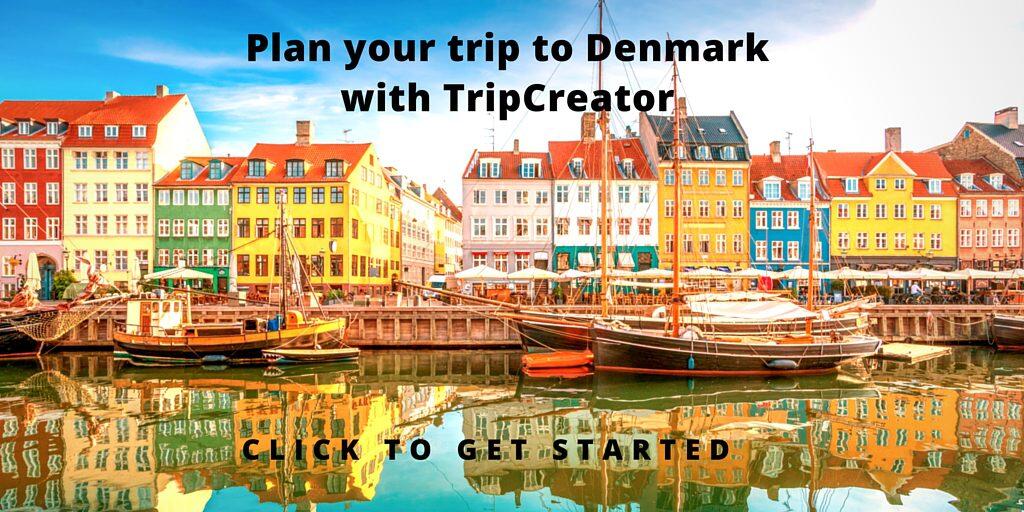 Photos and text courtesy of TripCreator.com