2378 Views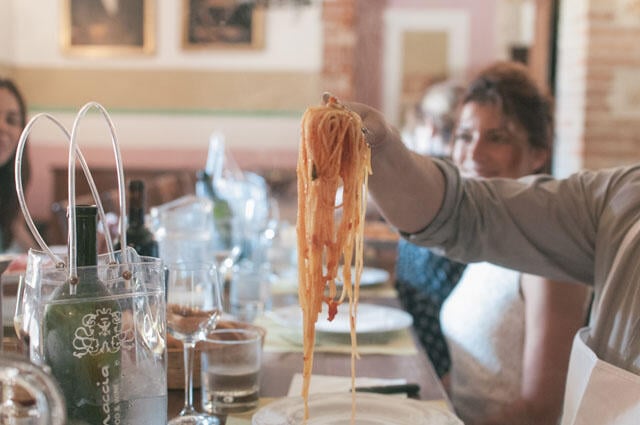 Come cook and eat with us in Tuscany!
Because we combined a perfect location, skilled chef and day trips to meet the locals, Eating Italy's very own weekend-long cooking school is an experience you just can't miss. In our new Tuscan Cooking School, we'll take you to the rolling, green heart of Tuscany to teach you some of the delicious traditions and recipes that make up what Italians eat and drink every day. And in addition to all that cooking and eating and wine drinking, there will be plenty of time and space for unwinding in an idyllic setting.
The perfect location is Villa Ferraia, nestled into the Tuscan hills. The villa was first built in the 11th century, and since then has accumulated everything you could want for a serious escape. There's the amazing organic garden from which you'll pick the fruit and vegetables that you'll use in the kitchen. There are swimming pools, a variety of activities available—like horseback riding and stargazing—and comfortable, elegant bedrooms. You'll also get to know Villa Ferraia's owner, Vittorio, who will answer the needs of your stay.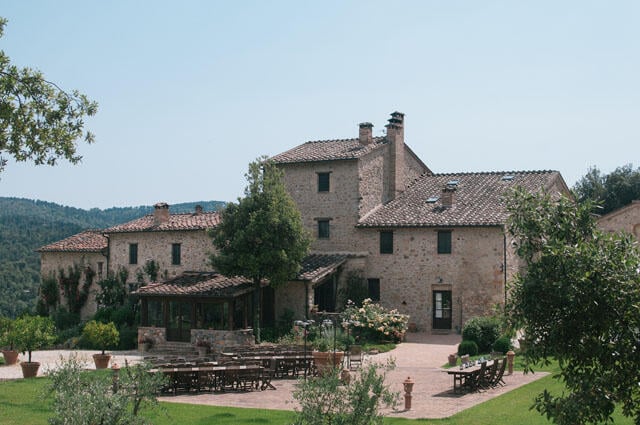 All of Villa Ferraia's amenities are just some of the extras that will make a weekend in Tuscany more enjoyable. But the main reason to come and join us is to learn the ins and outs of cooking Italian food from a great Italian chef. Chef Stefano will guide you in learning this priceless skill. He'll take you into the garden and help you choose the ripest tomatoes and then show you how to make the ultimate Italian tomato sauce. He'll teach you how to make pasta dough then slice and cook it, how to throw pizza dough, and how to make a list of starters (or antipasti). Chef Stefano will also take you through the steps and recipes required to cook an impressive full-course Italian meal.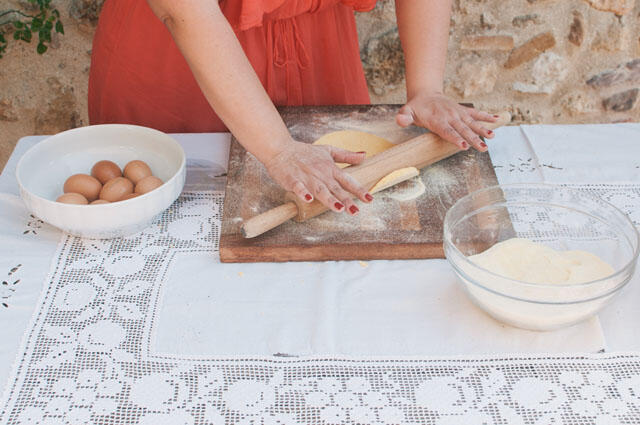 In addition to the recipes, Chef Stefano will teach the basics of Italian food so that all students walk away with the knowledge of how to make a recipe that actually tastes like it was made in Italy. And of course, one of the best parts is eating what you make—if the weather is good, we'll sit outside with views of the sunset—and washing it down with some world-famous Tuscan wines.
Our cooking class in Tuscany couldn't be complete without some trips to the surrounding countryside, villages and cities to meet the locals. We will take you to visit local artisans in the nearby village of Tocchi, and our four-night itinerary includes an afternoon in the amazing city of Siena. But the best day-trip is when we head out to a local sheep farmer who will show you how his family has been making sheep cheese for generations. This is really one of those truly once-in-a-lifetime experiences where you'll get to see and taste some of the best of life in Tuscany.
So if you're looking for a holiday that is both an escape and an immersion, then this is the cooking school for you. We hope to see you in Tuscany! More details about our newest tour in Italy can be found here: Tuscan Cooking School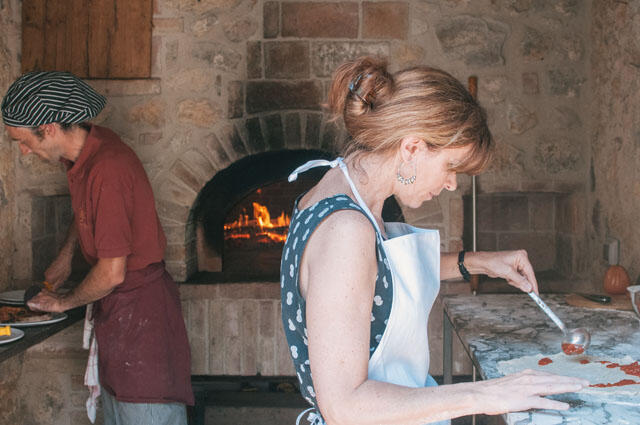 * * *
Contact us with Blog Enquiry in the subject title for any feedback or requests. Voted one of the best things to do in Rome, Eating Italy Food Tours offer Rome food and walking tours, and now a cooking school in Tuscany.