5258 Views
When you think of Italy, pizza probably comes to mind (along with pasta, amazing coffee, and fresh pastries). The city of Florence in particular is known for many things, from world-famous artworks to stunning architecture, but the food is definitely a highlight – at least for us! Mix up your usual pizza order the next time you're in Firenze with one of these unique pies.
Gustarium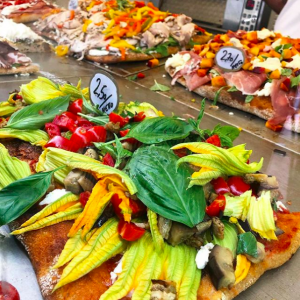 This unique pizzeria has quite the following (check out all of the positive TripAdvisor reviews), thanks to uncommon toppings like squash blossoms and smoked salmon. The pies at Gustarium have a thick crust, similar to focaccia, and the slices are sold by weight. Sample a little bit of everything, or get one big slice – you really can't go wrong here!
24/r Firenze, Via dei Cimatori, 50122 Firenze FI, Italy
SimBIOsi
This organic pizzeria is known for unique flavour combinations and natural ingredients – but the most surprising pie on their menu is topped with pea hummus, shrimp, organic walnuts, and plenty of cheese. Their "Pizza e Mortazza" also has a unique twist with pistachios and a little orange cream.
Via de' Ginori, 58/red, 50123 Firenze FI, Italy
Berbere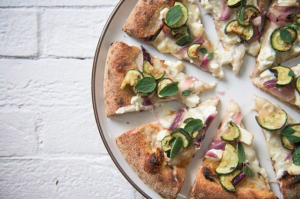 Have you ever had pizza with sourdough crust before? Try it at Berbere, an eatery that uses high quality, organic ingredients. Their menu changes every season, so you can enjoy a unique pie no matter what time of year you're travelling to Florence. Keep an eye out for locally sourced, seasonal ingredients!
Piazza dei Nerli, 1, 50124 Firenze FI, Italy
Santarpia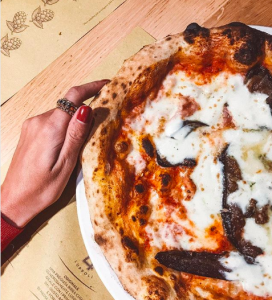 Enjoy innovative pizzas, including one topped with lampredotto, a typical Florentine dish made from cow stomach. Santarpia also uses toppings like pumpkin if you're feeling imaginative, and their staff has a reputation for being friendly and helpful.
Largo Pietro Annigoni, 9, 50122 Firenze FI, Italy
Ristorante Ciro & Sons
Get the best of both worlds at this ristorante – classic pizza topped with beef bresaola (dried, salted beef). It's the perfect marriage of two essential Italian dishes, and proof that some things are better together! This pie also has Italian chicory, blue cheese, and mozzarella. Bonus: Ristorante Ciro & Sons offers gluten-free pizzas, so everyone can enjoy.
Via del Giglio, 28, 50123 Firenze FI, Italy
Obica Firenze
The dough at Obica is made with stone-ground flour and rises for 48 hours – they offer a whole wheat version, too. Enjoy all kinds of pizza topped with Florentian ingredients like artichokes and black truffles. Obica has several locations, so keep an eye out during all of your travels through Italy.
Via de' Tornabuoni, 16, 50123 Firenze FI, Italy
Want to get a more personal look at some of the best pizza in Firenze? Check out our Florence Artisan Food Tour for an inside look at everything that goes into making some of the city's most famous foods, or enjoy our Sunset Food Tour, complete with plenty of local wine.