3997 Views
Let's face it, many of Holland's favorite meals are on the meaty side of things. From the famous frikhandel and its mystery mix of ingredients to ossenworst and stamppot, the carnivore is definitely king here. If you prefer eating vegetarian though, don't let that discourage you one bit, as Amsterdam is home to a great selection of vegetarian places to eat. Call it the city's alternative streak shining through, or call it Amsterdam's former reputation as a hippie haven; either way, you'll find it delicious.
Whether you are a lifelong vegetarian or someone who is just looking for a healthy option after a weekend of bingeing, Amsterdam's vegetarian restaurants and vege-friendly venues have you covered, and here are some of the best places to eat and things to do for vegetarians in Amsterdam.
Places to Eat Vegetarian in Amsterdam
Vegabond
Located on arguably the prettiest stretch of streets in Amsterdam – the Negen Straatjes (9 Little Streets) – and offering canal views, Vegabond is the perfect spot to pop in for lunch or take something home for dinner. Vegabond is home to a small cafe which serves up vegan and vegetarian snacks and sweet treats in addition to an entire selection of prepared food to take home. Vegabond is the perfect place to rest your feet after walking the famous canals.
Leliegracht 16
+31 (0)20 846 8927
vegabond.nl
Open: Tue – Sat 11 am – 7 pm; Sun 12 noon – 5 pm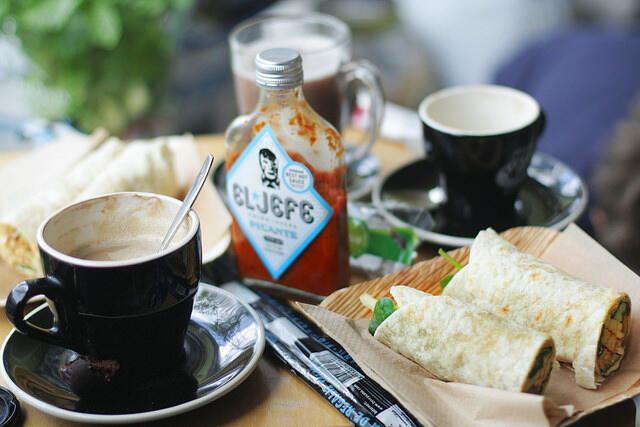 Sonny
Right around the corner from the Heineken Experience, Sonny is one man's vegetarian response to the ubiquitous street-corner kebab stand. Open since 1992, the namesake of the restaurant, Sonny, uses his previous experience cooking in India to craft hot, fresh and fast falafel by hand. Sonny serves all his falafel with an "all-you-can-fit-on-your-pita" selection of salads and sauces, featuring tasty tidbits like mixed pickles and carrots in a spicy Indian sauce. Ask for your falafel with Sonny's signature grilled eggplant – you're sure to love it.
Eerste van der Helststraat 43
+31 (0)20 676 7612
sonnyfalafel.nl
Open: Daily 11 am – 9 pm (till 11 pm in the summer months)
De Peper
Proudly declaring "we are not a restaurant" may not be the best way to drum up business for a dining establishment, but at de Peper, that's precisely the point. De Peper is a non-profit cultural kitchen, strictly serving organic vegetarian meals by volunteers 4 nights a week. De Peper has truly carved out a unique niche in the Amsterdam vegetarian food scene, by featuring 2-course set meals which are self-service and priced on a sliding scale – you only pay what you can afford – between €7 and €10.
Beethovenstraat 153-4
+31 (0)20 670 4560
depeper.org
Open: Tue, Thu and Sun 6 pm – 1 am; Fri 6 pm – 3 am. Food is served from 7 pm – 8.30 pm and reservations are strongly recommended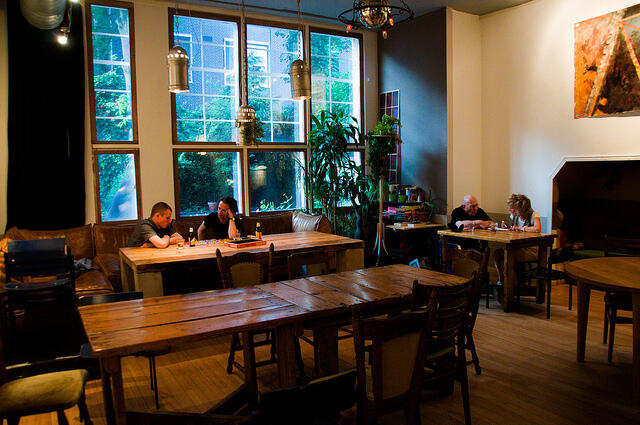 Bolenius
A slightly more dressed-up side of the spectrum is Bolenius, a bastion of creative fine dining in Amsterdam's bustling Zuidas district. Bolenius is the brainchild of Chef Luc Kusters and partner Xavier Giesen and focuses on stunningly presented "New Amsterdam" cuisine. Mixing fresh local ingredients from their onsite garden with old-fashioned spices from the far flung locales of the former Dutch empire, Bolenius always offers a delectable vegetarian menu.
George Gershwinlaan 30
+31 (0)20 404 4411
bolenius-restaurant.nl
Open: Mon – Fri 12 noon – 3 pm and 6 pm – 10 pm; Sat 12 noon – 4 pm and 7 pm – 10 pm
Voldaan
Only a few minutes west of the Leidseplein on the hip Jan Pieter Heijestraat, Voldaan is the "soup man" of Amsterdam, and he always has vegetarian-friendly fare on offer. Once inside the steamed windows of this stylish spot, you will find lentil soups accompanied by "veggie balls" made up of ingredients like lentils and eggplant, which are perfect when you need a warm-up. Voldaan is a cozy spot to relax away from the hustle and bustle of the center and to see a different side of Amsterdam.
Jan Pieter Heijestraat 121
+31 (0)6 20586553
facebook.com/voldaan.amsterdam
Open: Tue – Sun 12 noon – 8.30 pm
Vegetarian-Friendly Things to Do in Amsterdam
Take a Vegetarian-Friendly Food Tour
Instead of pounding the pavement or cycling the streets in search of vegetarian places to eat, why not let us do the work for you? Yes, that's right, all of Eating Amsterdam's Food Tours are vegetarian-friendly, as we work tirelessly to ensure that all of our stops include tasty vegetarian bites from local vendors. Dietary requirements should be specified at time of booking.
+31 (0)6 1785 8398
eatingamsterdamtours.com
Jordaan Food & Canals Tour runs Tue, Thu and Sat at 11 am
Jordaan Food Tour runs Wed and Fri at 11 am
Twilight de Pijp Food Tour runs Tue and Thu at 4.45 pm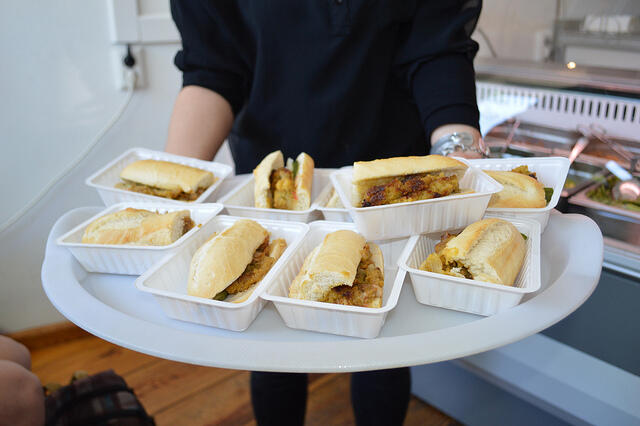 Snack at a Street Market
Amsterdam's bustling street food markets are a fun and tasty way to spend an hour or two of your day while getting a real insight into how locals shop and snack. Markets like Albert Cuypmarkt, Ten Katemarkt, and Waterlooplein all feature a vegetarian snack or two in addition to captivating scenes of bartering and haggling. Typically, frites, Dutch cheese, Vietnamese spring rolls, and poffertjes (tiny pancake-like treats) are available – all vegetarian.
Albert Cuypmarkt is on Albert Cuypstraat and is open Mon – Sat 9 am – 5 pm
Ten Katemarkt is on Ten Katestraat and is open Mon – Sat 9 am – 5 pm
Waterlooplein market is on Waterlooplein (square) and is open Mon – Sat 9 am – 6 pm