25604 Views
This post was originally published on June 24, 2014 and was updated on October 18, 2016.
What is the best way to get around Amsterdam? The chances are, most people would be quick to answer "bicycle." And while that's definitely not wrong, you may not know that there is just as good a case to be made for walking – yes walking – as the best way to see Amsterdam. While it's true that walking might not have quite the same romantic flair as pedaling down the street on one of our beloved old-school Dutch bicycles does, walking allows you to fully take in parts of the city that can be all too easily overlooked when you're whizzing down the bike lane. Here are some of the best places for walking in Amsterdam; and it should probably go without saying, but be sure to mind the bikes!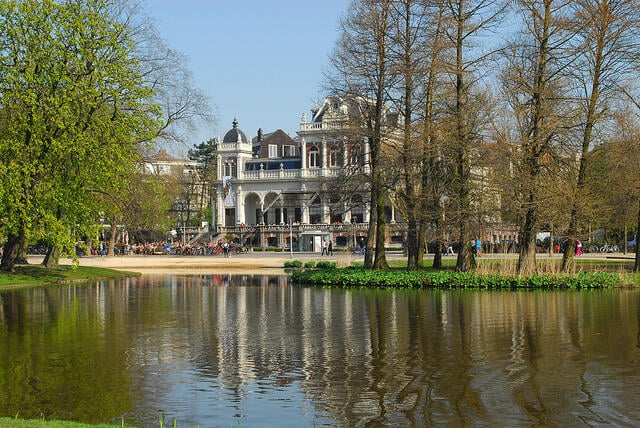 Best Walking Spots in Amsterdam
The Vondelpark
Located a mere five minutes' walk from the busy Canal Belt in the city center, the Vondelpark is the epitome of an Amsterdam urban oasis. Perfectly flat and suited for a scenic stroll, a walk in the Vondelpark can be all types of walks to all types of people. Whether you stick to the tranquil leafy side paths to count romantic bridges or stay on the main walkways surrounded by barbecues and friendly stick-chasing dogs, a walk through the Vondelpark offers an insight into the real Amsterdam.
Keep an eye out for: Pablo Picasso's wild abstract sculpture The Fish.
Best place to rest your feet: 't Blauwe Teehuis (the Blue Teahouse) – its flying saucer design will catch your eye, and its huge terrace will keep you around for a while.
Vondelpark 5
blauwetheehuis.nl
Open daily 9 am – 10 pm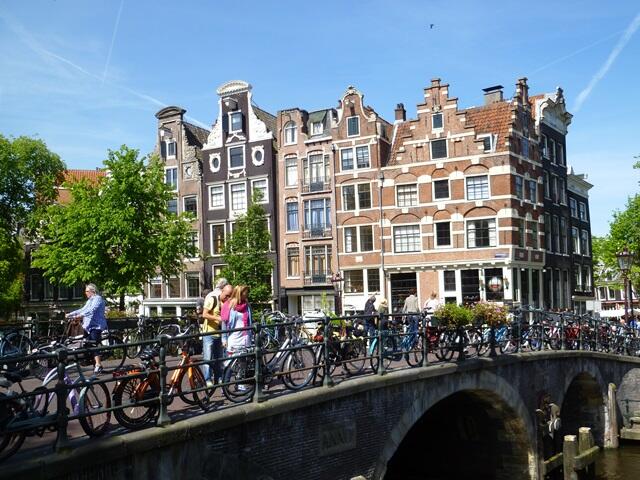 The Brouwersgracht
While this walk falls under the short-but-sweet category, it more than makes up for its lack of length with its looks. Often voted the most beautiful canal in Amsterdam, walking along this small but scenic canal is like stepping into a postcard. Houseboats of every color combined with centuries-old humpback bridges create a display that will often have you reaching for your camera. In fact, you might just want to go ahead and keep it out the entire time.
Keep an eye out for: The soaring gables on the canal homes and warehouses; everything from green deer to old trades are represented here.
Best place to rest your feet: On a weathered wooden chair at the venerable Cafe Papeneiland (the first stop on our Jordaan Food Tour!) with a slice of their famous appeltaart.
Prinsengracht 2
papeneiland.nl
Open Sun – Fri 11 am – 1 am, Sat 11 am – 2 am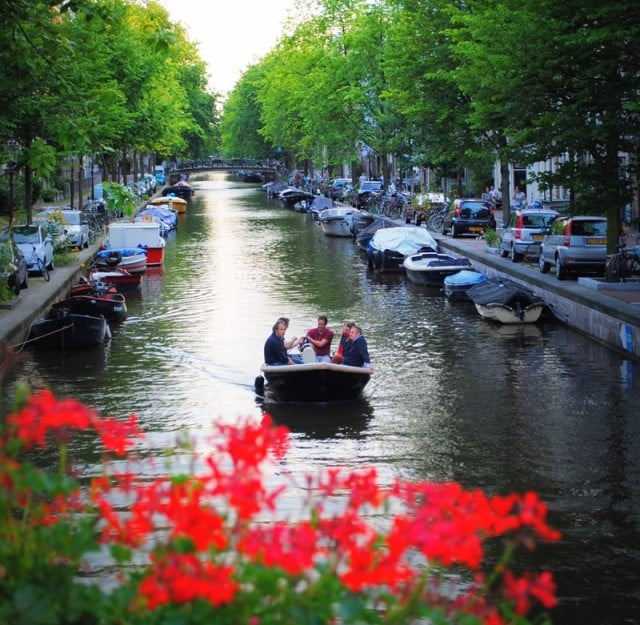 The Jordaan
Arguably Amsterdam's most picturesque neighborhood, the Jordaan's quiet streets make it the perfect place for a stroll. And what better way to see this beautiful part of the city than via a walking tour? From the picturesque Brouwersgracht (above) down to the Negen Straatjes (nine little streets), there are boutique shops, gourmet restaurants and typically Dutch cafes on every corner.
Keep an eye out for: The stone placards above buildings that designate their original usage. Spot a pair of scissors? Chances are you're standing outside a former tailor's shop.
Best place to rest your feet: Overlooking the Prinsengracht canal at Cafe de Prins (the final stop on our Jordaan Food & Canals Tour!) with a plate of poffertjes – you'll have to join our tour to find out what those are!
Prinsengracht 124
deprins.nl
Open Sun – Thu 10 am – 1 am, Fri & Sat 10 am – 3 am
The Museum Quarter
Located south of the Vondelpark, the Museum Quarter oozes art, class and culture on every corner. Home to the most famous of Amsterdam's museums – the Rijksmusuem and the Van Gogh Museum – along with the Royal Concert Hall, walking through the Museum Quarter is an elegant experience. With the Rijksmuseum behind you, stroll past the pond with a pit stop to pose in front of the "IAMsterdam" sign. In the leafy streets ahead, you'll find an atmosphere that feels like a mixture of Paris and Amsterdam. With world-class shopping, dining and sidewalk cafes, strolling here can fill an afternoon.
Keep an eye out for: Celebrities.
Best place to rest your feet: A bench on the Cornelis Schuytplein, with a gourmet ice cream in hand from the nearby Ijsboutique.
Johannes Verhulststraat 107h
ijsboutique.nl
Open daily 12 noon – 10 pm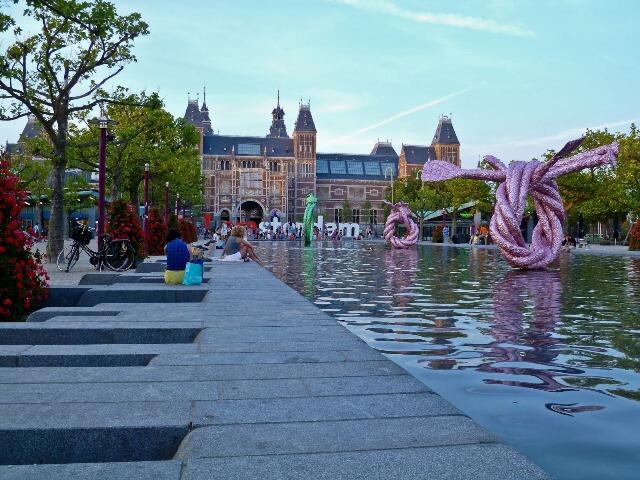 The Noord
Behind Centraal Station lies a hidden world waiting for those brave enough to cross the water. While the secret may be out and the free ferries have turned crossing the water into a breeze, there is still something adventurous about going to Amsterdam Noord. I recommend catching the NDSM ferry, and after you arrive on the dock, just lose yourself walking around the old industrial shipyards-turned-cultural hotspots.
Keep an eye out for: The half-sunken submarine near the ferry terminal.
Best place to rest your feet: With old shipping containers serving as design inspiration, Pllek exemplifies the Noord's unique mix of industrial and modern creativity, and dishes up a tasty lunch and dinner menu.
TT Neveritaweg 59
pllek.nl
Open daily 9.30 am – late 
Planning your trip to Amsterdam? Explore the city's culture, history, and food by taking our food and canals tour or our walking-only food tour in the stunning Jordaan neighborhood!
Like this? Check out Eating Europe on social media! We're on…
With more Dutch foodie ideas, mouthwatering pics and much more.