6467 Views
Like much of London, Soho is an area where you don't just hear about the history of the area, you experience it. Today, Soho is a place that divides opinion. It seems everyone has their own thoughts about the place: is it London's seedy red light district? Maybe it's the heart of the capital's music scene? Or the center of media for the city? It can be the best place for authentic and exotic food, or just a tourist trap full of overpriced designer shops and poor street food. What's great about Soho, though, is that if you go back 50 or even 100 years, people would still have been just as divided in their thoughts, and that is reflected not just in the history books, but on the streets today.
Soho is not a huge area, but there are loads of historical pubs and bars where you can have a drink and soak in a bit of London's past while you're at it. Here are a few of the best; we've kept the number low, so you can check them all out during a little self-guided pub-based walking tour (a historic bar crawl, if you will?!) next time you find yourself in central London.
The French House
One of the finest bars in Soho, this establishment has a rich history dating back to before the First World War.  Owned by Herr Schmidt (nobody now knows his first name), the now French House operated as The Wine House from 1910. Schmidt was deported at the outbreak of the First World War in 1914, and the establishment was taken over by the Berlemonts, a French family who owned another local business.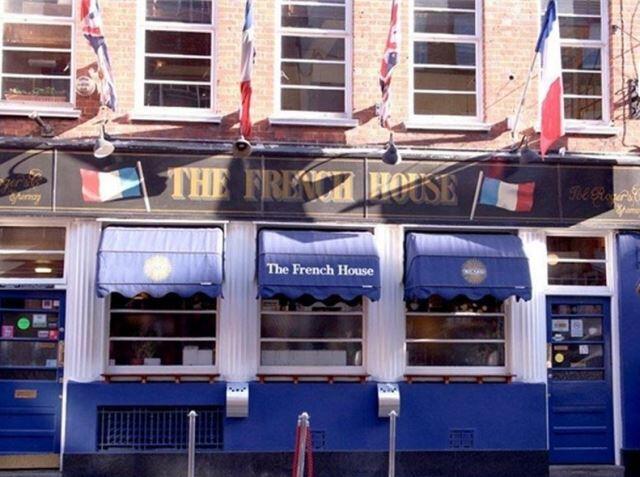 When France fell in the Second World War, the bar became a meeting place for the French resistance and the base for none other than Charles de Gaulle.  The association with France began over 100 years ago now, and though it was at its most prominent in the early to mid-1940s, it was only in 1989 that the bar officially adopted the name "The French House". To this day, they serve drinks in French measures only, and the bar itself has an undeniably French feel to it. The fact that mobile phones are banned, and there is no TV, only adds to this feeling.
49 Dean Street, London W1D 5BG
+44 (0)20 7437 2477
Open: Mon – Sat 12 noon – 11 pm; Sun 12 noon – 10.30 pm
The John Snow
Way back in 1854, over 160 years before the name John Snow became associated with the (spoiler alert) leader of the Night's Watch from Game of Thrones, there was a major outbreak of cholera in London. For ages, nobody could determine what was causing the disease and people were dying in their hundreds. That is until a local doctor by the name of John Snow came up with a theory that the disease was being spread through the water; in those days it was not as clean and safe as we know it to be now. John Snow had the local water pump at Broadwick Street shut off, and very soon afterwards the deadly cholera virus began to dissipate and the outbreak was stemmed. Soon after, a pub on the Broadwick Street was named after the local doctor who saved so many lives, and it stands today where it did then. You can enjoy a drink at The John Snow, and it's now part of the Sam Smith's range of pubs, popular across London.
39 Broadwick Street, London W1F 9QJ
+44 (0)20 7437 1344
Open: Mon – Sat 12 noon – 11 pm; Sun 1 pm – 10.30 pm
De Hems
Ok, I have a bit of a confession to make here: this is my favorite pub in London, and I was not aware of its historical significance until just a few days ago. The pub has always been a place for the Dutch in London, originally for sailors missing the tulips and windmills of home. Back in 1914, with the outbreak of the First World War, then-manager Papa De Hem gave each of his patrons £50, a hell of a lot of money in those days, to return to their homeland, feeling it was desperately in need. When Holland fell to the Germans in the Second World War, the pub became the meeting place for the exiled Dutch Resistance fighters, and remained their unofficial meeting point right through the war. Nowadays, you feel like you're in Holland the moment you step in, with beers such as Fruli on tap and bitterballen on the menu. Just don't expect to be able to get a table when there's a Holland game on TV!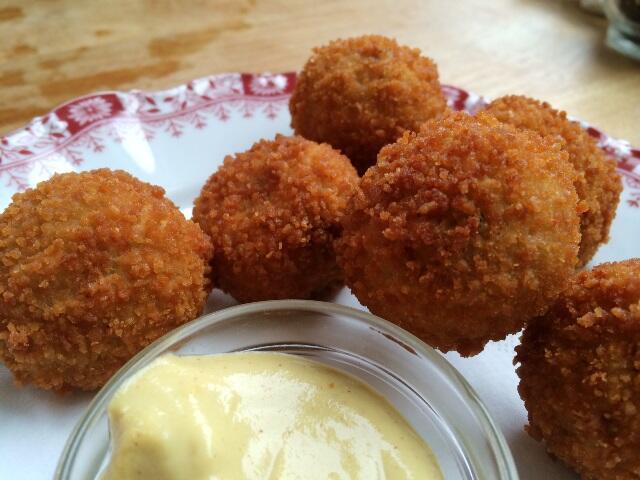 11 Macclesfield Street, London W1D 5BW
+44 (0)20 7437 2494
Open: Mon – Sat 11 am – 12 midnight; Sun 12 noon – 10.30 pm
The Dog and Duck
This is the first and only pub on this short list not to be associated with death, disease or war! The Dog and Duck is one for the literary fans, as it was the favorite watering hole of George Orwell. To this day it remains a stunning place to go for a drink, with incredible mirrors and tiling right the way around. On top of Orwell, it's said that John Constable, possibly the most famous British artist of all time, was a regular, as was Dante Gabriel Rossetti. More recently, Madonna has frequented the pub, although that shouldn't put you off – it's been a few years since she's been there!

18 Bateman Street, London W1D 3AJ
+44 (0)20 7494 0697
Open: Daily 10 am – 11 pm
We've looked specifically at pubs here, but there is so much more to Soho, not least the wonderful food from all around the world. The best way to experience this is with a food tour around the area, and Eating London have just launched their brand new Twilight Soho Food Tour, make sure to check it out!