10478 Views
Itching to find out what the locals eat in Amsterdam? If you're reading this blog, I wager you're the kind of traveler that dives tastebuds first into a new city. You're always looking three meals ahead, planning out your visit make sure you get all of the must-eats checked off before your plane leaves.  
Well, let me make the logistics a little easier on you. In addition to knowing what to look for, I've tried to steer you in the right direction, and away from some of the touristy pitfalls. Here's a list of some of what I consider the peak of the best food in Amsterdam.
What to eat in Amsterdam if you have a sweet tooth….
Oliebollen
They don't call them "oil buns" for nothing. These traditional year-end treats, deep-fried and topped with powdered sugar, pack a serious calorie punch. Though some dub them the Dutch equivalent of a donut, I find the texture much more satisfying than their ringy cousin. Maybe it's the shape that does it?
They traditionally come plain or filled with raisins, though some stands also stock overly sweet cousins filled with Nutella, cherries and the like. I'd avoid the latter if I were you.
Anyway, they are available at most supermarkets and bakeries, but the most satisfying way to eat one is right at a roadside stand, which dot the canals starting around November. Scarf one down while you try not to spill powdered sugar all over your scarf. Ah, the holidays.
Stroopwafels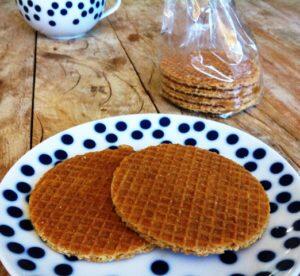 Once somewhat of a rarity outside of the Netherlands, it seems that stroopwafels have really made a go of it in the wider world recently. They were even featured on the Great British Bake Off! Still, they really are better here! If you're not familiar with them, stroopwafels are deceptively simple – a very thin wafel, sliced open and filled with caramel.
They're buttery and gooey, and it's hard to eat just one. If you can manage a market visit, they are completely delectable when warm. If you pick them up from a supermarket, go for ones that say "roomboter" on the package – you don't want to skrimp with margarine!
And if you walk by a very touristy looking shop where they're covered in chocolate and little candy bits –  stay clear! Want to learn more? Check out our blog about how to make your own stroopwafels!
What to eat in Amsterdam if you're craving savory…
Bitterballen
If you're out and about, sampling local beer or something a little stronger, nothing will keep your hunger at bay quite like a portion of bitterballen. These little mini croquettes are served with mustard and maybe a kitschy Dutch flag toothpick or two.
This deep-fried staple is traditionally made with beef ragout, but you might get lucky to land at a bar that serves more modern varieties with shrimp, mushrooms, goat cheese or duck. Dying to hear more?  You're in luck! We've got an entire blog post devoted exclusively to bitterballen.
Bara
Surinamese foods are some of my favorite discoveries after moving here. This super flavorful fried snack is made with mung bean flour and packed with herbs and spices. I still remember with relish my first time eating bara at a festival, cut open like a sandwich and stuffed with bakkeljauw, preserved salted cod. So scrumptious!
Pom
Another heavy hitter of the Surinamese kitchen, pom is a really unique blend of flavors. This Jewish-Creole dish combines chicken, cured beef, and pomtayer, the root of the arrowleaf elephant's ear plant.
The result is a slightly sweet, tangy and totally delicious dish. You can get it as a sandwich, or as a main course with rice. Definitely something to try – maybe at one of our favorite places in Amsterdam to eat Surinamese?
What to eat in Amsterdam if you need something hearty and fulfilling…
Snert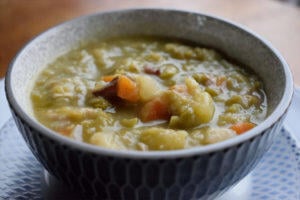 The name might not sound the most appetizing, but a good old bowl of pea soup is just the right ticket to warm your bones after a cold, wet day in the Netherlands. Also called erwtensoep, you can find this thick and hearty treat at most low-key neighborhood pubs all autumn and winter.
It's usually chock full of smoked sausage and served alongside a hearty slice of rye bread with bacon on top. But Amsterdam being as it is, many places also serve a vegetarian version.
Stamppot
There are as many variations of stamppot as there are vegetables. All you need is a base of potatoes, into which you mash (or stamp) any vegetable you want: carrots and onion (hutspot), kale, endive, sauerkraut, and more. Protein beefs it up, either in the form of bacon bits, smoked sausage, or cheese.
Top it off with gravy and you've got the mother of all comfort foods. While it's something that the Dutch usually make at home, there are a few restaurants around Amsterdam who serve it up, like Moeders on the Rozengracht.
What to eat in Amsterdam if you're daring…
Drop
You might have had licorice before, but the Dutch version is definitely at the top of the list of foods to try in Amsterdam – if only to say you did it. While it might not be your favorite candy ever, there is an impressively wide variety of flavor and texture combinations.
From salty and chewy, to soft and sweet, combined with fruity gummies or dusted with salmiak, you'll definitely find something that will intrigue you. Who knows, maybe it's the thing that you've always been missing! While drop isn't something I would ever crave, I do enjoy a few bites now and then, and it is an interesting look into the Dutch candy culture.
Hungry for more?
Still haven't had enough?  Check out another blog I wrote about some of my other favorite foods to try in Amsterdam. And if you'd love to try these foods, but don't want to deal with the hassle of planning it all yourself, maybe one of our Amsterdam food tours would be a smart choice!