5248 Views
It is widely known that we have the Dutch to thank for cassette tapes, orange-colored carrots and the word "Yankee," but did you know that they also gave us gin?
In the Netherlands, it's known as Jenever, the Dutch word for juniper berry, and it was first distilled in the 16th Century to be used for medicinal purposes. Rotterdam quickly became the center of Jenever production as distilleries took advantage of the abundance of spices that arrived in the port from the Dutch colonies.  Jenever outlasted a distilling ban in the 17th Century and was introduced to England when Willem van Oranje became king.
For your authentic Jenever experience in Amsterdam, you want to head to a proeflokaal – essentially a tasting room that belongs to a Jenever distillery. You'll find oude (old) and jonge (young) Jenever, and despite what the names suggest, the differentiation is not a matter of aging, but refers to the traditional or new method of distillation.  Today's Jenevers come in a whole host of flavors and colors, and are generally drunk neat.
When you visit a proeflokaal you will find everyone with their hands behind their backs, leaning over the bar to take their first sip from the filled-to-the-brim glasses. Just watch and copy.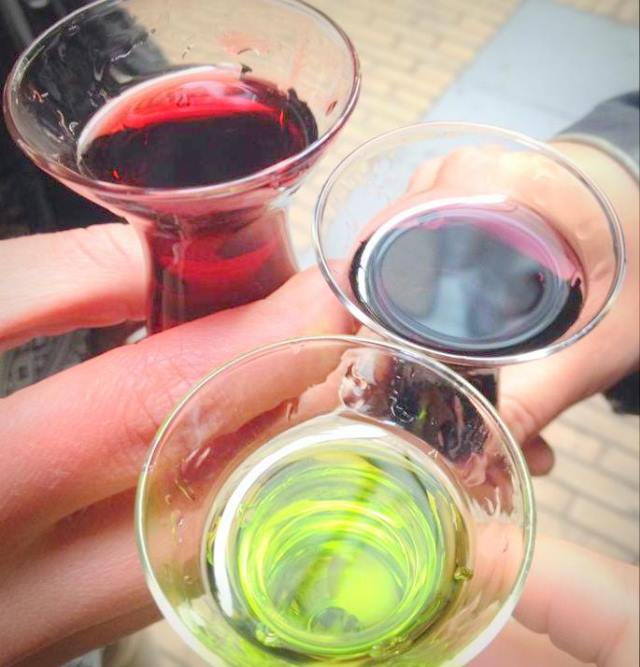 "So where can we try this fine Jenever of which you speak?" I hear you ask… Why, at these places, of course:
Best Bars & Restaurants for Jenever in Amsterdam
Wynand Fockink
A trip to Wynand Fockink is akin to a Harry Potter experience. Firstly, you need to know how to get there, and that alone is a bit like knowing where the secret wall is that will dissemble and grant you access into Hogsmeade. In this case, you want to head to Dam Square and find the alley to the left of Hotel Krasnapolsky. Walk down that alley, through the shopping mall and at the end a glass door will grant you access to the past: 1679 to be exact. That is when this distillery first opened its doors to the public, and not much seems to have changed since then. There's standing room only at Wynand Fockink, and the shelves are precariously bent under their alcoholic load.
Jenever is pretty much all you can get here but there is no shortage of that. More than 60 kinds of Jenever are on offer with classic flavors such as Crème Brûlee and Bitterkoekjes (the Dutch equivalent to Amaretti biscuits) as well as a host of magical concoctions with names to match. Why not try a glass of Grandma's perfume or the naked belly button?
You can also watch the Jenever wizards at work during a tour of the distillery, which takes places every Saturday between 2 and 3 pm. And finally, don't go to Wynand Fockink if you're in a hurry. The friendly servers refuse to be rushed, no matter how long the queues.
Pijlsteeg 31
wynand-fockink.nl
Open: Daily 3 pm – 9 pm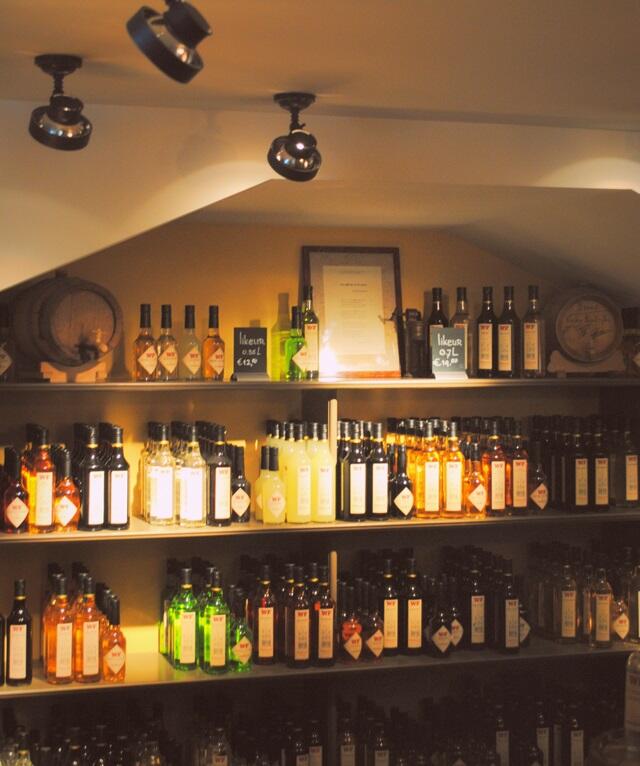 De Drie Flesjes
Another quirky proeflokaal steeped in history, De Drie Flesjes has been around since 1650 and to this day they have even retained the traditional sand covering on the floor.  They offer a slightly smaller selection of Jenevers than Wynand Fockink, but they have a few nibbles on offer as well as outdoor seating.
Inside you'll find a wall lined with locked barrels engraved with names of individuals or companies. This is the old-fashioned way of having a tab at your regular hang-out where the drink is ready to be poured for those in possession of the key. Also check out the collection of bottles with portraits of Amsterdam's past mayors…
Gravenstraat 18
dedriefleschjes.nl
Open: Mon – Sat 2 pm – 8.30 pm; Sun 2.30 pm – 7 pm
De Ooievaar
A stone's throw away from Central Station is the tiny De Ooievaar tasting room. Like the others, it offers rustic charm galore as well as "The very old van Wees":  a 20 year-old Jenever ripened in oak barrels. It's the Rolls Royce of Jenevers and certainly worth a try.
Sint Olofspoort 1
proeflokaaldeooievaar.nl
Open: daily from 12 pm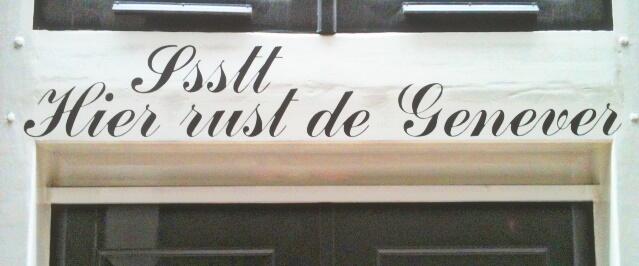 Distilleerderij 't Nieuwe Diep
If you fancy a bit of a cycle or happen to be staying around Amsterdam Oost (East), you might like to try this slightly more leisurely Jenever experience. Tucked away in Flevopark lies the distillery Nieuwe Diep. Much more modern than the other options, this distillery is in the middle of a serene park and offers outdoor seating overlooking the pond.
Flevopark 13
nwediep.nl
Summer opening hours: Tue – Sun 3 pm – 8 pm
Want to find out yet more about Jenever? How about a day trip to the Jenever Museum in Schiedam?