2661 Views
Amsterdam's historical architecture may make for one of the most charming cities in the world but the wonky houses and steep stairs are not ideal when trying to navigate around with a pram. Thus, a lot of the small cafes in the center are not too well suited when looking for a spot where you can lunch with your little ones. If you do find yourself in need of a café to retreat to with your kids while in the center of town, you'll be best of with one of the Bagels and Beans cafes that are dotted around. All their cafes have a basket with toys and offer child-friendly service, and the branch inside the Scheltema Bookstore (Koningsplein 20) has a large playing corner to boot.
If, however, you've got time to wander just a little bit outside of the Grachtengordel (that is, beyond the canal ring), you'll find a number of eateries that offer great food for you and plenty of playing opportunities for your kids.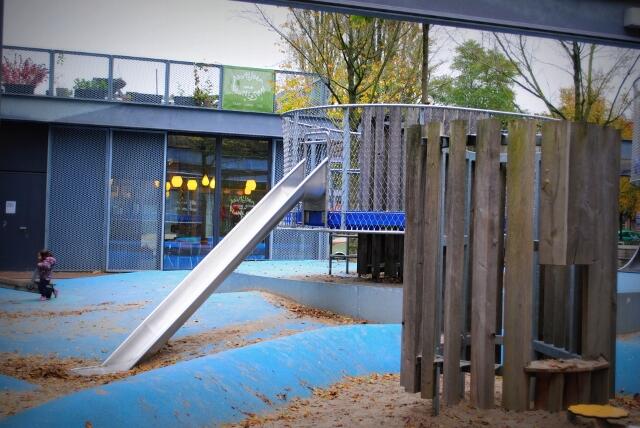 A Guide to Child-Friendly Cafes in Amsterdam
Paviljoen van Beuningen
Situated just a short stroll from Westerpark (which in itself is a paradise for kids, offering wide open spaces, a petting zoo and paddling pool), the Paviljoen van Beuningen will leave you and your children smiling. Nestled between a basketball/ football pitch and a playground with climbing frames, sandpit and water features, the Paviljoen van Beuningen is the perfect place for eating out with little ones.
Fresh juices are served in colorful plastic cups, alongside a variety of toasties and sandwiches made with fresh sourdough handmade by the owner. Small snacks like raisins and fresh fruit are also available. And for grown-ups, there is the delicious shakshuka, a Middle Eastern dish of eggs poached in an aromatic sauce of tomato and peppers, as well as other seasonal goodies made with ingredients fresh from the roof top garden.
When the weather requires you to move indoors, your children will find entertainment in the kids' corner that offers books and toys. Be aware though that there is not a lot of space for prams inside.
Van Beuningenplein 21
020 486 91 24
paviljoenvanbeuningen.nl
Open: Tue – Sun 10 am – 6 pm
Café Flinders
On the square across the road from this modern lunchroom, you'll find a small playground perfect for working up an appetite.
Café Flinders prides itself on serving "friendly food" and that friendliness certainly extends itself to the little customers. Flinders offers the most extensive kids menu in Amsterdam, from the usual toasties and sandwiches to ravioli, grilled chicken and fish and chips. For grown-ups, there is a large selection of salads on offer as well as burgers, sandwiches and a weekly changing menu of main courses.
Frederik Hendrikplantsoen 36
020 223 1583
flinderscafe.nl
Open: Daily 10.30 am – 11 pm
Café Nel
Playgrounds and cafes are a match made in parent-heaven, and it comes as no surprise then that the third café on our list also offers this excellent pairing.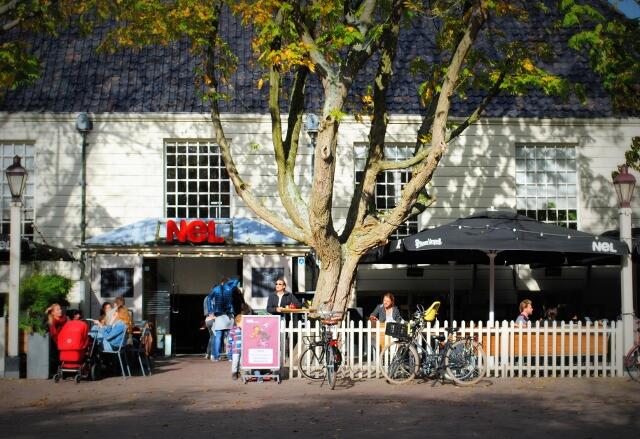 Café Nel is located on Amstelveld, a large canal-side square still within the boundaries of the city center. There's plenty of space to kick a ball around or take the slide by storm. And you can sip your latte on Nel's terrace while the kids get their first lessons in water management at the provided pump and sandpit. Or they could just join you for a bite.
Amstelveld 12
020 626 11 99
nelamstelveld.nl
Open: Mon – Thu 10 am – 1 am; Fri and Sat 10 am – 3 am; Sun 10 am – 1 am
Het Groot Melkhuis
Right in the middle of Vondelpark, you'll find Het Groot Melkhuis, a lake-side café with a large terrace and… you might have guessed it… a playground! But it doesn't stop there. On Wednesdays, Het Groote Melkhuis organizes a kids' atelier between 2 pm and 4 pm, where your children can get crafty. And afterwards, they surely deserve a portion of poffertjes (bite-sized pancakes).
Vondelpark 2
020 612 9674
grootmelkhuis.nl
Open: Wed – Sun from 10 am