9162 Views
I've heard tell that of every neighborhood in Amsterdam, de Pijp has the most restaurants. It wouldn't surprise me either; take even a short stroll around the darling little streets and you'll come across terrace after terrace of hungry Amsterdammers. So whether you're temporarily settled in a hotel in de Pijp or are just happen to be walking through, you definitely won't want to pass up the wonderful diversity of food you can find here. And if your mouth is totally watering by the end, you should definitely sign up for one of our Amsterdam tours!
1. Café Par Hasard
One of the marks of a true Amsterdammer is a tried and true list of your favorite places to get fries in the city. For some reason, all my favorite fries places are located mysteriously close to my favorite beer bars… Anyway, while I don't go out drinking in De Pijp that often, Café Par Hasard doesn't seem to be missing my patronage much. This Belgian cafe/snack bar has blown up all over the Dutch blogging scene and has been praised for its delicious simplicity and authentic homey-ness. They seem to have tapped into a unique corner of the market that appreciates well-made snack foods, from homemade mayonnaise and croquettes to their staple: crispy fries, which you can order either by the sack or in a novelty 1-meter increment (which would be 8 sacks). They even deliver!
Ceintuurbaan 113-115
+31 (020) 471 4052
cafeparhasard.nl
Open: Sun – Wed 12 noon – 10 pm, Thu – Sat 12 noon – 11 pm
(They also note on their website that if you want to come after closing time, you can call to ask if the snackbar is still open. Now that's service!)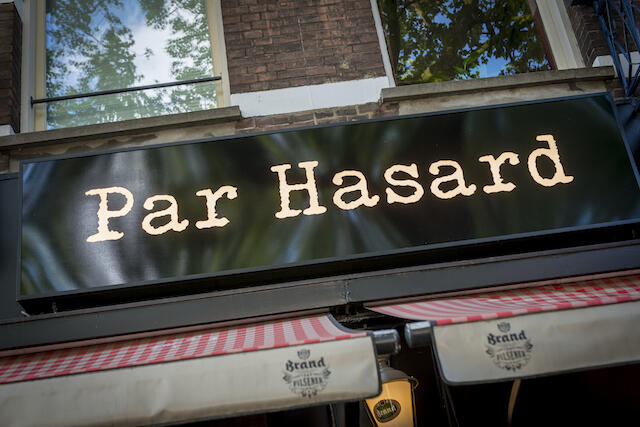 2. CT Coffee & Coconuts
CT Coffee and Coconuts is one of those places Amsterdammers go to see and be seen. And with an exterior this opulent, it's no wonder. Built in the 1920s, this former Art-Deco cinema (with the dubious nickname "The Little Stinker", an apparent reference to the not-so-chic crowd that frequented it), was renovated and restored for CT, which opened last year and has been a hotspot ever since. Spread out over 3 floors, the open spaces and abundance of plant life give it a loft feeling.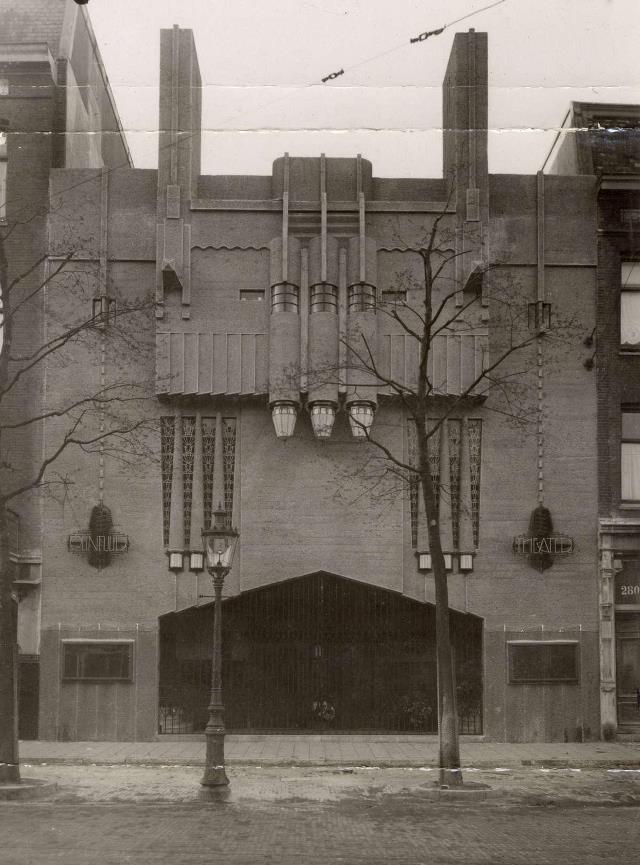 CT is open all day, but I would definitely recommend it for a late brunch or lunch. And don't forget to pair your shakshuka or beet and sheep's cheese burger with a Dodo: this sort of ale, sort of lager was created especially for the restaurant by Oedipus, everyone's favorite out-there brewer in Amsterdam.
Ceintuurbaan 282-284
+31 (020) 354 1104
ctamsterdam.nl
Open: Mon – Fri 7 am – 11 pm, Sat & Sun 8 am – 11 pm
3. Brouwerij Troost
In the short 1.5 years since they first opened in a former monastery in de Pijp, the Troost Brewery was dealing with so much demand that they expanded from 3 beers to 10, and even opened up a second location in the popular Westergasfabriek area in Amsterdam West. Even though the second location is bigger (and you can even rent their kettles to brew your own concoctions!), their base in de Pijp still remains a great place to try one of their brews.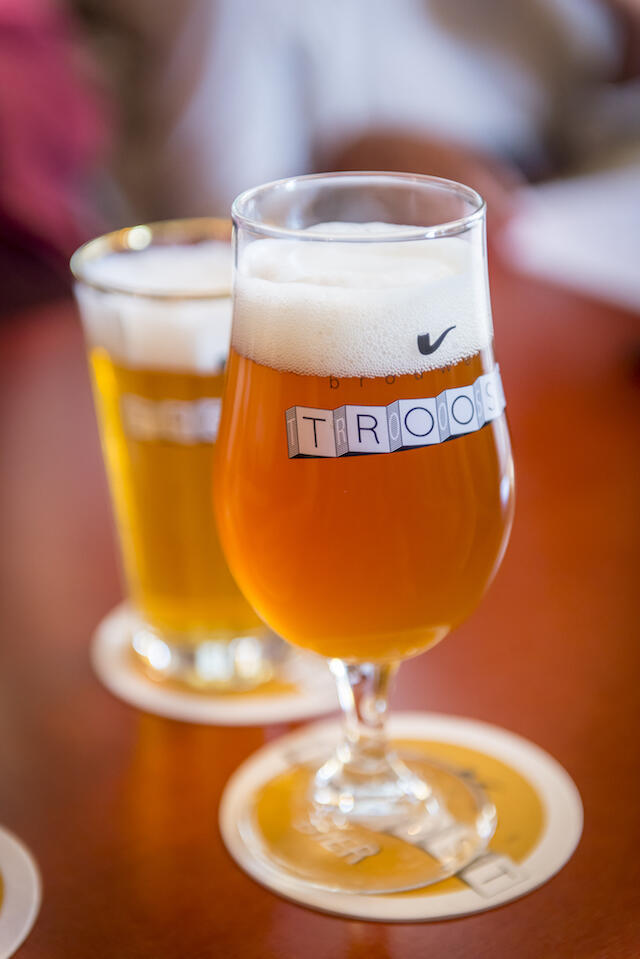 From old standbys like their house lager to more adventurous options—Honey Blond, an Imperial IPA or even gin made out of their beer(?!)—Troost has more than enough drinks to wet your whistle for an evening. And when your stomach inevitably starts to rumble, they've got all the fare you'll probably be craving: burgers, steaks, and all that good stuff.
Cornelis Troostplein 21
+31 (020) 737 1028
brouwerijtroost.nl
Open: Mon – Thu 4 pm – 1 am, Fri 4 pm – 3 am, Sat 2 pm – 3 am, Sun 2 pm – 12 midnight
4. Taverna Barcelona
Tucked away on a quiet corner away from the busy Ferdinand Bolstraat, the Taverna Barcelona has some of the best tapas I've eaten in Amsterdam. I went here for a dinner with my colleagues, one of whom exclaimed of the tomatoes: "I forgot they were supposed to be this flavorful!" Seriously delicious warm dishes like sautéed rabbit liver and old standbys like toasted bread rubbed with tomatoes go nicely with Mortiz, a light and herby Catalan bier, or a pitcher of Sangria. The menu is really good value, and my group ate and drank into the night, only to be so surprised by the modest bill that we ordered another round. If you're in luck, Barça will be playing and you can catch a game on the big screen (they were very proud about this fact on their website). Reserving is a good idea, as the small interior fills up fast in the evening.
Saenredamstraat 37
+31 (020) 664 0066
tavernabarcelona.nl
Open: Tue – Thu 5 pm – 11 pm, Fri & Sat 5 pm – 12 midnight, Sun 5 – 11 pm (kitchen closes at 10.30 pm)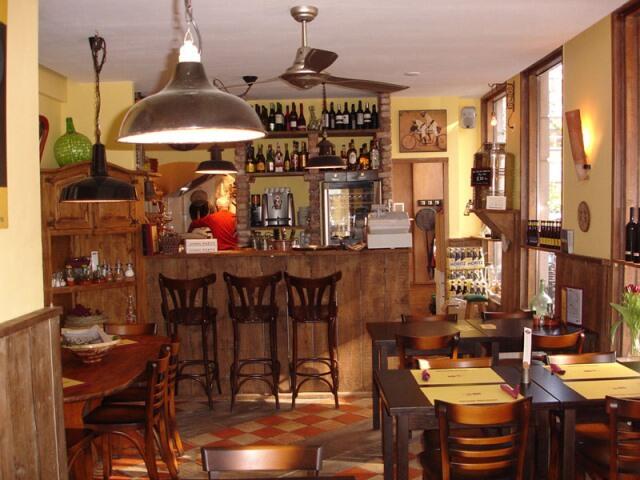 5. Juuls
While I often lament the safe, bland approach that many restaurants seem to take to food in the Netherlands, just one look at Juuls' menu and my curiosity was already piqued: steak tartare with kimchi… pear with black pepper… it seems that Chef Danny Mouthaan isn't afraid to take a few risks. The cuisine here changes seasonally and is French/international, but the décor is all old Dutch, with a stunning harbor scene spanning the wall.
Albert Cuypstraat 19
+31 (020) 471 0711
restaurantjuuls.nl
Open: Mon – Sun 6 – 10 pm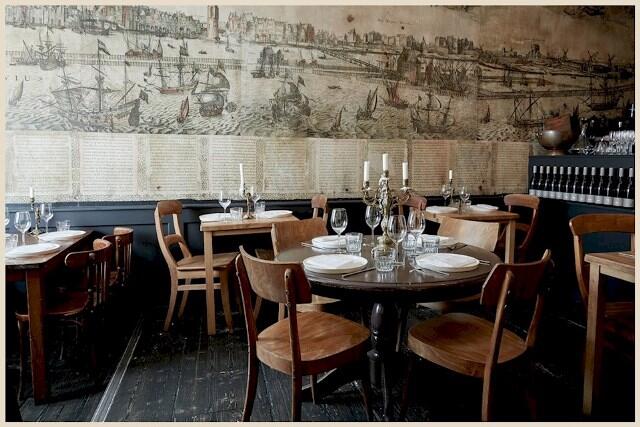 6. Oolong
In a country known for its beer, you know it's saying something if one of your colleagues swears by a cocktail bar and dim sum restaurant. Oolong's drinks menu is sure to have something for everyone. It's really wide ranging and goes from inventive, with drinks like Le Buddhist (absinthe paired with condensed milk, lemon, and seltzer) and Miss Shanghai (gin, strawberry and basil), to pleasantly thematic, with the Li Na (vodka, Lillet Blanc, cranberry ginger syrup, lychee and sage). Their dim sum variety is great, and it's all around €5 a piece, but they've also got set menus if you can't decide.
Ferdinand Bolstraat 13-15
+31 (020) 663 3223
oolong.kitchen
Open: Tue – Thu 5 pm – 12 midnight, Fri 5 pm – 2 am, Sat 1 pm – 2 am, Sun 1 pm – 12 midnight
7. Pekelhaaring
With a motto like "Eat what you want," it doesn't seem like you can really go wrong. Unlike many Dutch restaurants, which underwhelm you with the country's notoriously humble sandwiches for lunch, Pekelhaaring serves up everything on their menu in the afternoon: from sandwiches like Philly Cheese Steak to shareable tapas and curious-sounding pastas (gnocchi with duck liver and roasted duck leg, anyone?). The brainchild of brothers Lennard en Matthias van der Nagel, well known for their other restaurants like the gorgeous Fa. Speijkervet in Amsterdam West, this is a great place to have a low-key yet impressive bite to eat at any time of the day.
Van Woustraat 127-129
+31 (020) 679 0460
pekelhaaring.nl
Open: Daily 10 am – 12 midnight
8. Olive & Cookie
Like any good hipster haven worth its salt, Amsterdam has its share of vegetarian and vegan restaurants. But unlike Olive & Cookie, it seems unlikely that many of them have such a universal appeal. In researching reviews of this restaurant online, time and time again I came across happy customers who mentioned that they found the food delicious even though they weren't vegetarian (slightly sarcastic italics mine). And all you need to do is peruse their photos on Instagram to see why: their unabashedly decadent desserts like dark chocolate cake filled with mascarpone, and savory options like polenta tart topped with vibrant veggies, are a feast for the senses. This is the only restaurant I've heard of in Amsterdam that serves Istrian cuisine… and if you've never had it, you're in for a real treat. They're so popular they've even written a cookbook (though, perhaps unfortunately for you, it's in Dutch). Stop by and check out their latest additions to the menu!
Saenredamstraat 67
+31 (020) 470 7190
oliveandcookie.com
Open: Tue – Fri 1 – 9 pm, Sat 11 am – 4 pm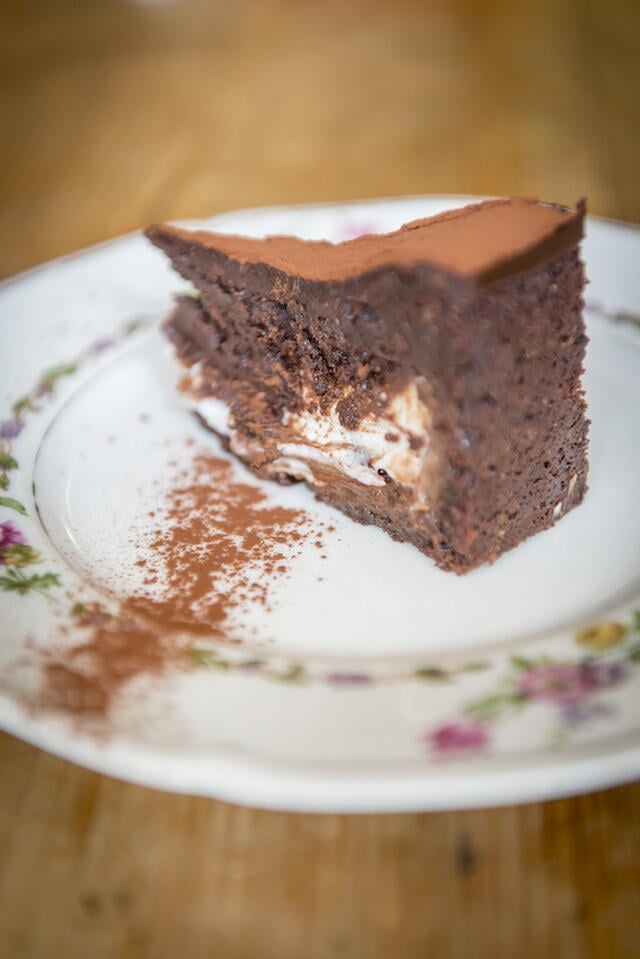 9. My Little Patisserie
I bet you thought I'd forgotten dessert, didn't you? I never do! And if you're like me, you definitely won't want to pass up visiting My Little Patisserie, one of the few places in Amsterdam that serves authentic French pastries. Audrey Krief, a true Parisian herself, whips up everything from croissants and pain au chocolat to charming and colorful cheesecakes and mousses. She even incorporates traditional Dutch flavors when the occasion calls for it: speculaas creme pastry for Sinterklaas, for example. You can indulge in one of her creations right on the spot with a cup of coffee… but as it's right around the corner from Sarphatipark, why not take a few to go and enjoy them there if it's sunny?
Eerste Van der Helststraat 63
+31 (020) 470 6949
mylittlepatisserie.nl
Open: Tue – Sat 9 am – 6 pm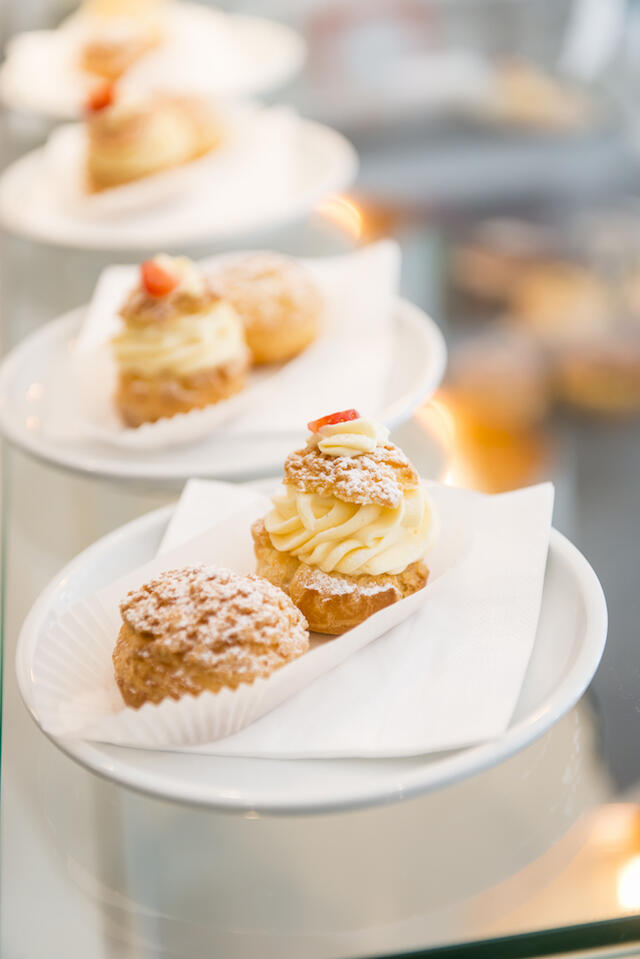 10. Bazar Amsterdam
Of all the places on this list, Bazar Amsterdam is definitely the most lively. Unlike most small, unassuming Dutch restaurants, it's totally in your face: a two-story courtyard-like interior covered in colorful tiles and filled with buzzing tables and energetic music. This is a great place for dinner with a really large group: they have massive portions, numerous sharing platters, and no one will give you a second look if you get a little rambunctious. But my favorite part of the meal unquestionably comes when you order baklava, which comes with a sort of caramel-flavored cotton candy in long strings that looks kind of uncannily like… blonde hair? Whatever, it tastes fantastic.
Albert Cuypstraat 182
+31 (020) 675 0544
bazaramsterdam.nl
Open: Mon – Thu 11 am – 12 midnight, Fri 11 am – 1 am, Sat 9 am – 1 am, Sun 9 am – 12 midnight