16468 Views
Amsterdam is famous for having a laid back attitude to things that might be frowned on in other places. There is one thing in particular that is available on almost every street corner here in Amsterdam, which you might be hard-pressed finding elsewhere. Sure, people might partake behind closed doors in other cities, but here in Amsterdam, we enjoy it right out in the open for all to see.
We're talking about herring, of course.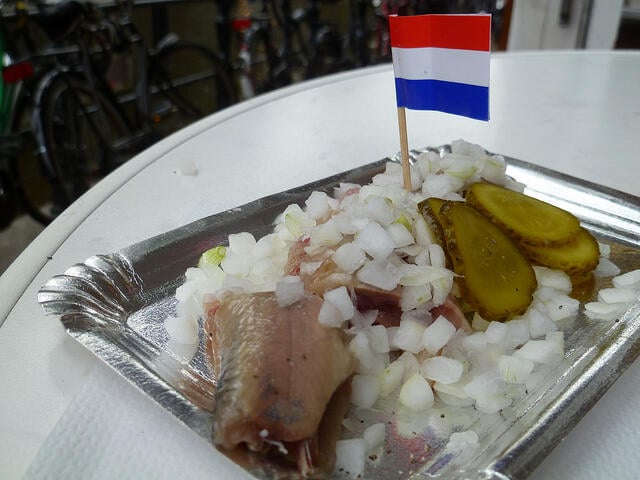 Herring, the salty fish specialty straight from the North Sea, is one of (if not THE) signature foods of the Netherlands. And when in Amsterdam, you simply have to do as the locals do and try it at least once. Whether you eat it on bread – in a sandwich – or on its own is up to you, but here is our list of some of the best places in Amsterdam to eat herring.
Stubbe's Haring
Perched on a canal right near Central Station, Stubbe's is probably the most famous herring spot in town, and is definitely a great place to try herring for the first time. For over a century, the Stubbe family has presided over their fish stand in their signature pinstriped uniforms serving herring and other delicacies with a smile to generations of Amsterdammers and visitors alike. Since Stubbe's is right by the train station, it is the perfect spot for your first or last taste of Amsterdam.
Singel Haarlingersluis, 1013 
Vishuisje Herengracht
In a prime central canal-side location but still a bit removed from the hyper hustle-and-bustle of the inner center, Vishuisje Herengracht is renowned for delicious herring, friendly service, and putting its own tasty twist on things. Herring broodjes (sandwiches) are finished with a custom blend of seasonings, and the herring is always prepared fresh to order. If you can resist eating it right away, I recommend walking a few minutes to the Frederiksplein and enjoying your herring in the shady spot next to the water fountain.
Herengracht 560
facebook.com/vishuisjeherengracht
Open: Mon – Wed and Fri 9 am – 6 pm; Thu 9 am – 9 pm; Sat 9 am – 5 pm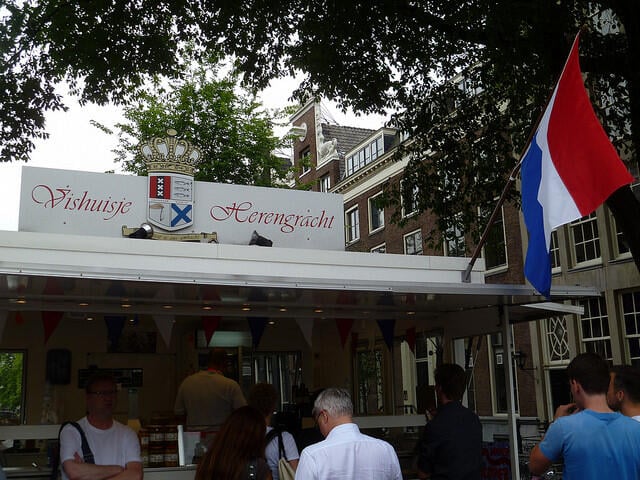 Haringhandel Kees Tol
In a quiet spot at the far end of the Vondelpark, Haringhandel Kees Tol backs up to a large canal and is run by a friendly couple who has been in the business for years. This is a great place to visit after a long walk through the Vondelpark. Be sure to keep an eye out for the large barges passing by that force the nearby bridge to be raised to give them clearance.
Overtoom 578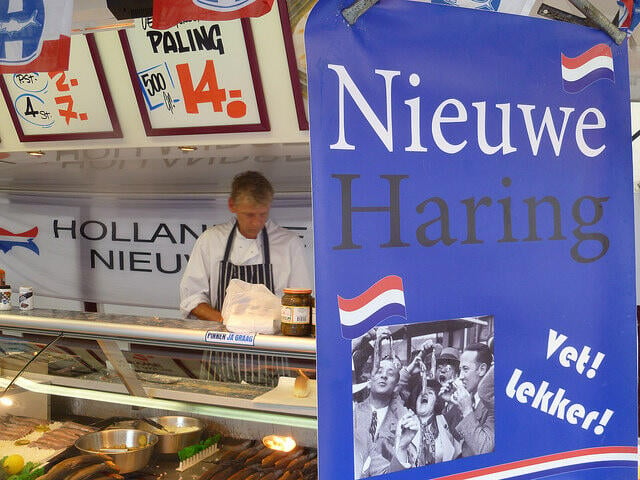 Meer dan Vis
Unlike the stands we have mentioned so far where you will have no choice but to stand to eat your herring, Meer dan Vis is a place to take your time and savor your seafood. Located in our favorite neighborhood, the Jordaan, Meer dan Vis isn't your typical herring stand; it is a full-service seafood shop. Famous for perfectly fried fish and chips and of course tasty herring that they source from small sustainable fishing boats, we like them so much they even a part of our Jordaan Food Tour!
Tweede Egelantiersdwarsstraat 13
facebook.com/MeerDanVis
Open Tue – Fri 11.30 am – 6.30 pm; Sat 11 am – 5.30 pm