3155 Views
As wide and diverse as London is, Soho is arguably the very hub for entertainment in London. The area also has more than its fair share of restaurants, so deciding where to eat in Soho can be challenging.
Soho covers around 2.6 kilometres of the heart of the West End. A diverse area renowned for its outstanding nightlife and dining venues, atmospheric Soho attracts a wide mix of people. It is a neighbourhood comprised of the quirky, the opulent, and the colourful. It also contains some of London's most interesting independent boutiques. There are the trend-setting shops of Carnaby Street, risqué lingerie of Agent Provocateur, and divine chocolates at paul.a.young.
Until the 1980s Soho had a reputation as one of London's red light districts. Since then it has undergone a transformation and is now a hot, fashionable area of upmarket restaurants and the head offices of some of Britain's trendiest media companies. It is also, by turns, the outlandish yet relaxed heart of London's gay community and a hub for Pride London, a festival celebrating gay, lesbian, bisexual, and transgender culture.
Given the abundant opportunities for shopping, entertainment and nights out, plus the hedonistic cool that is heaped upon the area, you'll need to know where to eat in Soho!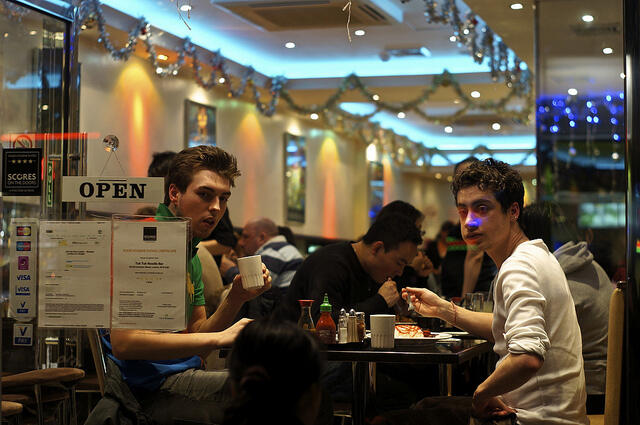 Where to eat in Soho for a bit of theatre
Soho borders London's Theatreland, and indeed there are four theatres which actually fall within Soho: the Dominion Theatre, Gielgud Theatre, London Palladium, and Prince Edward Theatre. Its easy walking distance to nearly every hit show in town makes it an ideal area in which to have a pre-or post-theatre meal. Most restaurants serve a special reduced-rate theatre menu. Hawksmoor Seven Dials, in Langley Street, for example has an express menu offering great food at good value either before or after your show.
Renowned for delectable Indian dishes such as lucknowi murgh (French corn-fed chicken in a spicy sauce), salmon tikka, and Hydrabadi bhuna gosht (lamb in a ginger, coriander seed, and red chilli sauce) The Red Fort, in Dean Street, bases its food style on that of the imperial kitchens of India's Mughal Empire.
Where to eat like an internationalist
London's cultural melting pot and outward looking perspective on the world has meant it is home to an ever-growing range of international flavours. Reinforcing the truly international mealtime options in London is the Swiss cuisine on the menu at St Moritz, in Wardour Street.
Opened in 1974, this is London's oldest Swiss eatery. It has a distinctive menu of traditional dishes including fondues, emince de veau zurichoise (veal in a white wine and mushroom sauce), traditional sausages, and rosti.
Switzerland is not known for its wines, but the St Moritz serves a large selection, giving you plenty to yodel about.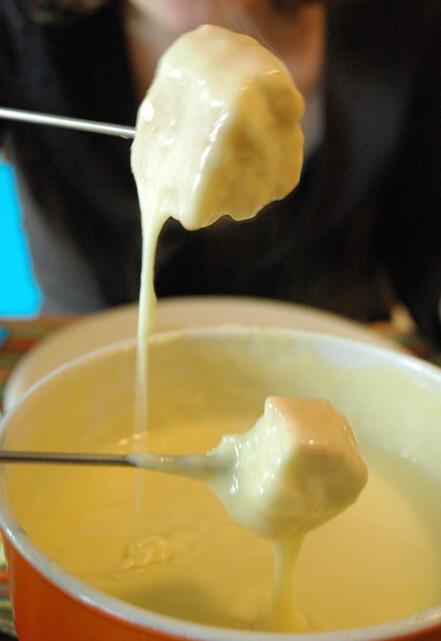 Where to eat with the stars
If you like your food to come with Michelin stars, Yauatcha, in Broadwick Street, is your kind of place. It's an informal dim sum teahouse, with an authentic selection of dim sum, wok dishes, and an exceptional range of Chinese and Indian teas.
The budget conscious should try Taste of Yauatcha, a dim sum menu for two people for £28.88 on offer between 2pm and 6pm Monday to Thursday. Alternately, hit Yauatcha's bar for cocktails and small dishes at any time of the day.
Where to eat like Tarzan
For a somewhat different dining experience, the Rainforest Cafe, in Shaftsbury Avenue, ticks all the boxes. This Amazon-themed restaurant, which supports environmental causes around the world, is a great choice for a family meal. Diners are transported to the Amazon jungle as the restaurant comes alive with gorillas, elephants, jaguars, and crocodiles. There are indoor waterfalls, tropical fish tanks, and a thunderstorm every 29 minutes for those who really want to feel at one with nature.
Where to have a midnight feast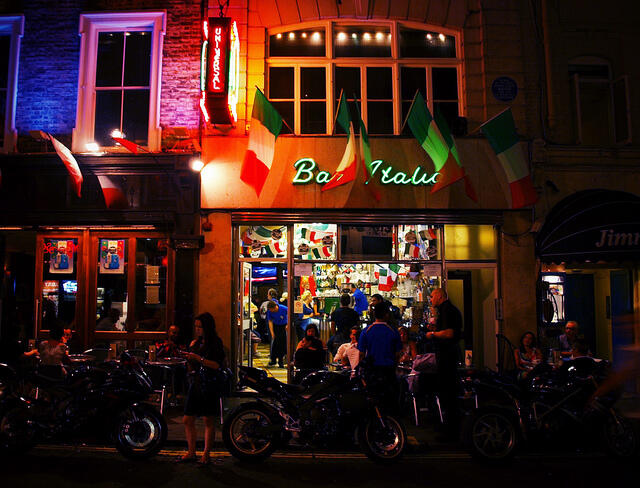 Bar Italia, in Frith Street, has been serving sublime authentic Italian coffee since 1949 – making it one of the founder fathers of London's café culture. It's also handy for a bit of people watching as you can sit either outside or inside. Added to that, as it opens from 7am to 5am, it's a great place to go for a late night snack after leaving a bar or club. It's perfectly located just down the road from some of Soho's most famous venues like Madame Jo Jo's and the world famous Ronnie Scott's Jazz Club.
Where to eat with the cool kids
Who doesn't love truly Italian-style gelato? At Gelupo, in Archer St, you can sample some of the best in London with traditional gelatos, sorbets, and granitas (a semi-frozen treat of water, sugar, and flavourings).
Their tempting blends include chocolate and black pepper or vanilla and saffron gelato, avocado and honey sorbet, and blood orange granita. There's even a 'gelato burger' – the frozen treat housed in a home-baked brioche bun.
Soho is a must-see area of London, and during your visit there you won't be short of great places to eat. There are hundreds of places where you can dine in the area and hopefully the tips here have given you plenty of food for thought!
***
Like Soho but ready to explore another one of London's fascinating neighbourhoods? Come explore Spitalfields with us as we indulge in the foodie delights of the East End!