13408 Views
Amsterdam's Red Light District certainly has a reputation that precedes it. In fact, for many of us, sordid stories about the neighborhood are some of the very first tales we end up hearing about the city. While the Amsterdam Red Light District is certainly misunderstood in many ways – it is, after all, home to some of the city's most scenic canals, oldest churches, and most historic buildings – most of what you have heard is true.
Of all the things said about the Red Light District, the fact that you can get some pretty good food there is usually overlooked. While there is no doubt that the area is littered with tourist traps and all sorts of tacky dining diversions, if you find yourself there and you happen to be hungry, all hope isn't lost, as there are a few gems hidden among the buzzing red lights and tourist throngs. Here are 10 of our favorites.
Thai Bird Snackbar
Legendary small and spicy venue that serves up Thai food on par with what you would get in Bangkok. Lines are often out the door, but the wait is well worth it. If you can't afford the time, across the street there is a larger and slightly more polished restaurant, simply called The Bird, with the same owners and nearly identical menu.
Zeedijk 77
+31 (0)20 420 6289
thai-bird.nl
Open: Mon – Fri 4 – 11 pm, Sat – Sun 1 – 10 pm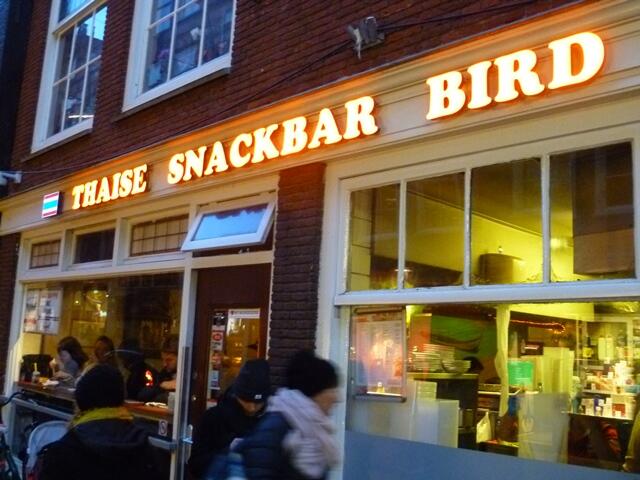 Amsterdamsche Vishandel Anno 1938
Open since the early part of last century, Amsterdamsche Vishandel Anno 1938 is a fine example of a friendly old-school Amsterdam fish shop. Everything is vintage about this place, and it is the perfect place to stop in for some Dutch specialties like herring or crispy fried kibbeling.
Zeedijk 129
+31 (0)20 624 2070
zeedijk129.nl
Open: Tue – Sat 9 am – 5 .30 pm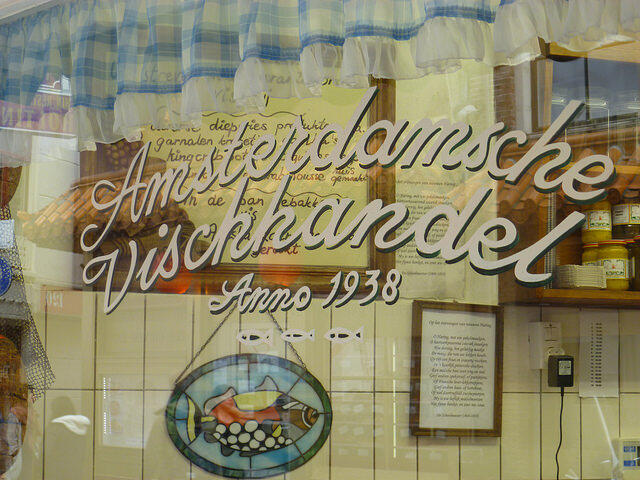 Blauw aan de Wal
A tranquil escape hidden away in a courtyard, Blauw aan de Waal is consistently one of the highest rated restaurants in all of Amsterdam, and for good reason. Offering 3- and 4-course dinners of seasonal ingredients blending the best flavors of the Mediterranean with Dutch delights, dining here is truly special.
Oudezijds Achterburgwal 99
+31 (0)20 330 2257
blauwaandewal.com
Open: Tue – Sat 6 – 11.30 pm
Stach
A refreshing change of pace from the hustle-and-bustle of the Red Light District, Stach is a quirky place home to delicious baked pastries, fresh smoothies, colorful juices, and a wide range of unique snacks and main meals. After you grab your snack or coffee, pop upstairs for a seat on one of Amsterdam's smallest – yet cutest – mezzanines.
Nieuwe Hoogstraat 1a
+31 (0)20 737 1640
stach-food.nl
Open: Mon – Sat 8 am – 10 pm, Sun 9 am – 9 pm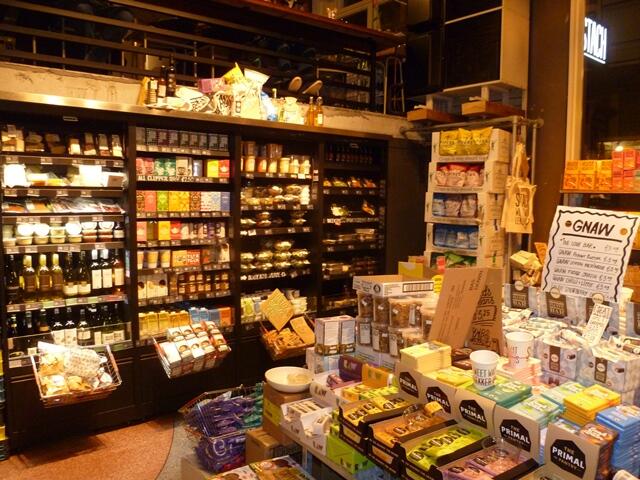 Pancakes!
You have to try some Dutch pancakes once when you are in town, and Pancakes! is the perfect place to get some gourmet versions of the classic. Bacon, banana, and chili pepper is one of the more fun flavor combinations on offer, alongside all the classics you would expect like sugar-dusted and fruit-topped.
Prins Hendrikkade 48
+31 (0)20 820 4240
pancakesamsterdam.com
Open: Daily 9 am – 5 pm
Hoi Tin Chinese Bakery & Restaurant
The sign outside Hoi Tin brags that this is "the place where the Chinese eat", and with a restaurant that is busy every time I cycle by, I believe them. The adjoining bakery is a star here too, as it serves delicious bites like spring onion bread and custard tarts at extremely budget-friendly prices.
Zeedijk 122
+31 (0)20 625 6451
restauranthoitin.com
Open: Daily 10 am – 10 pm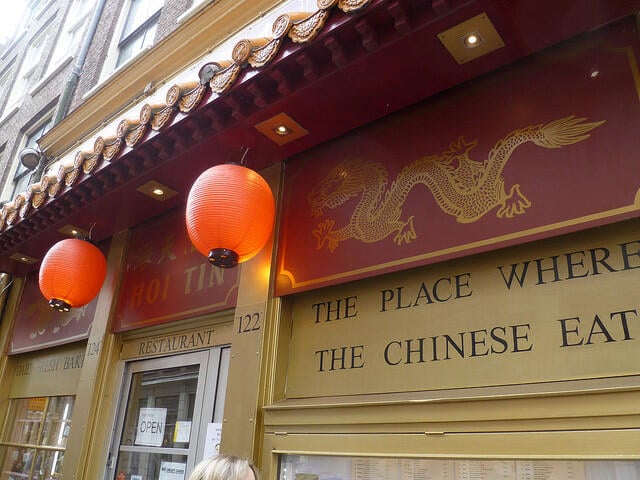 Omelegg
Perfect for breakfast lovers or those who may have just slept in a little too late, Omelegg serves up dozens of delicious omelets and great coffee. Stars of the menu include Spicy Mariachi – jalapenos, peppers, mushrooms, and sun-dried tomatoes – and The Dutchie – Dutch-spiced bacon, onion, mushrooms, peppers, and Dutch farmer cheese.
Nieuwebrugsteeg 24
+31 (0)20 233 2406
omelegg.com
Open: Mon – Fri 7 am – 4 pm, Sat – Sun 8 am – 4 pm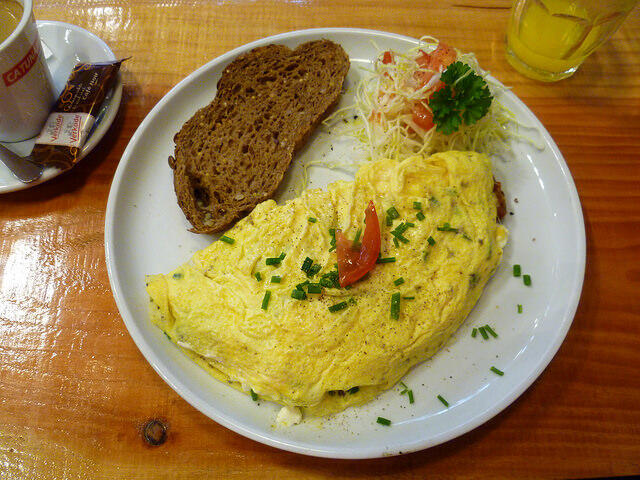 Little Saigon
The final of our 3 Asian recommendations for food in the Red Light District, Little Saigon was opened by pho lovers who bring their passion for Vietnamese food to their menu. In addition to the beefy and broth-filled soup, fare like banh mi, fresh spring rolls, and authentic and refreshing iced teas are favorites.
Zeedijk 88-90
+31 (0)20 737 2491
littlesaigon.nl
Open: Daily 12 noon – 10.30 pm
Burger Bar
An institution in Amsterdam and pioneer of the still-going-strong gourmet burger trend, Burger Bar serves up creatively-topped fresh and hot Irish, Black Angus, and Wagyu beef burgers in their latest location in the Red Light District. Toppings run the gamut from fried eggs and avocados to assorted cheeses, all complimented by a heaped portion of crispy French fries.
Warmoesstraat 21
+31 (0)20 774 0300
burgerbar.nl
Open: Sun – Thu 9 am – 1 am, Fri – Sat 9 am – 3 am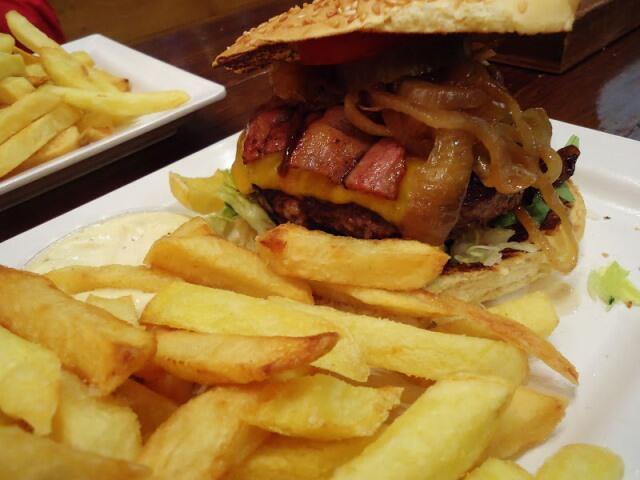 Dabka
Directly on a scenic canal, Dabka serves up light and tasty Lebanese food in the heart of the Red Light District. Baba ganoush, hummus, falafel, and kebabs are all handmade at this slightly hidden spot that will make you happy you found it – especially if you're vegetarian.
Oudezijds Kolk 69
+31 (0)20 420 0111
dabka.nl
Open: Daily 12 noon – 11 pm