34437 Views
Amsterdam is an enthralling city at any hour, but there is something truly special about it at night. Even though daylight is nowhere to be found, Amsterdam shines the brightest when darkness falls upon her historic streets and curvy canals. In order to keep you busy well into the wee hours, here is our collection of the best things to do at night in Amsterdam.
The 11 Best Ways to Experience Amsterdam at Night
1. Reflect on Our Canals
The Canal Belt is without a doubt the city's crown jewel, and seeing it in Amsterdam at night completes the love affair. Many of the canal bridges are illuminated, which creates reflections and ripples of twinkling lights in the water below – perfect for admiring during an evening stroll or from one of the many canal-side benches.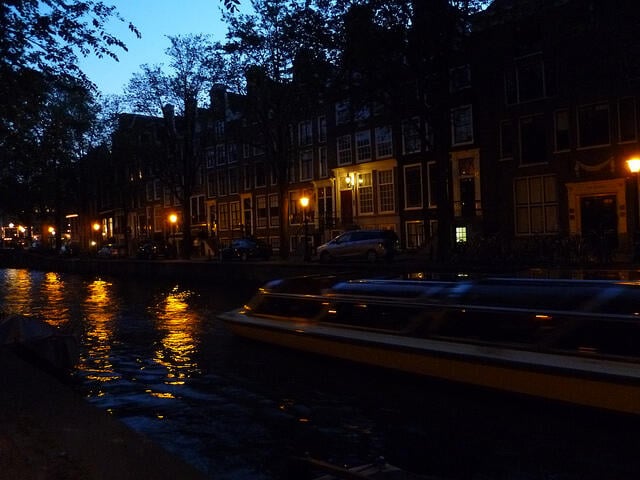 2. Dance to Dutch DJs
The epicenter of the current craze for electronic dance music sweeping the world is Holland. Many of the world's top DJs are Dutch and many clubs here in Amsterdam, stay open until the break of dawn cranking out the dance music beats and showcasing up-and-coming DJs.
Read more about Amsterdam's nightclubs.
3. Enjoy the Silence
Compared to other cities, Amsterdam at night is surprisingly quiet. Especially in the aforementioned canal belt, things become almost completely silent except for the faint ding of a distant bike bell. Take a second and enjoy it.
4. See a Concert in Style at the Concertgebouw
Located at the foot of the Museumplein, the beautiful and stately Concertgebouw is home to the Royal Orchestra and is regarded as a Dutch national treasure. Designed in the neoclassical style and regarded as having some of the best acoustics anywhere in the world, the Concertgebouw plays hosts to elegant concerts by orchestras, vocalists, and Jazz sets, and something is sure to be playing when you are in town.
Concertgebouwplein 10
+31 (0)20 573 05 73
concertgebouw.nl
Box office open Mon – Fri 1 pm – 7 pm; Sat and Sun 10 am – 7 pm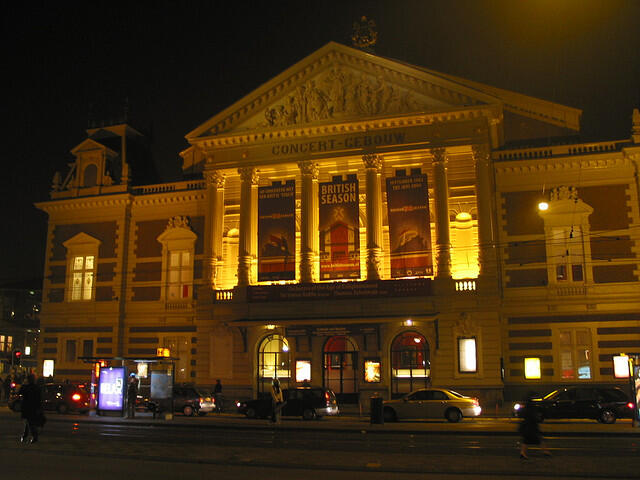 5. Experience the Buzz of the Red Light District
Some love it, some hate it, but almost everyone is curious to see what the Red Light District is all about. As a result, seeing the Red Light District is without a doubt one of the best things to do at night in Amsterdam. In the evening, the Red Light District is home to the dim glow of neon lights and ladies plying their trade, along with a carnival-like atmosphere full of packed bars, clubs and adult-themed shops. You will never be alone in the Red Light District, as the area is awash at night with tourist groups, lovers strolling along hand-in-hand, and groups of friends having the time of their lives. The atmosphere is definitely more fun than seedy. Ducking down one of the side streets for a drink or a bite of some wonderful Asian food is a great way to reflect on the experience afterwards.
6. Look for Lights
When night falls on Amsterdam, the city is kept illuminated by romantic street lights that look like they are from a bygone era. Be sure to pay attention as you walk or cycle by, as they emphasize the city's unique atmosphere. If you happen to be in Amsterdam during the winter, your trip may coincide with the Amsterdam Light Festival, which is a series of outdoor art installations that illuminate the city during the darkest days of the year.
7. Find Paradise in the Milky Way
Amsterdam is home to many bars and clubs, but only two have been legendary for many decades now: the Paradiso and the Melkweg. These two offer a jaw-dropping mix of concerts and performances from underground artists to well-known stars every night of the week.
Melkweg, Lijnbaansgracht 234a
+31 (0)20 531 8181
melkweg.nl
Opening hours vary according to concert and movie schedule
Paradiso, Weteringschans 6-8
+31 (0)20 626 4521
paradiso.nl
Opening hours vary according to concert and music schedule
8. Tuck into a Movie at Tuschinski
Amsterdam's most famous movie theater is a sight to behold, and takes all the pressure off worrying whether the movie you are about to see will be a flop or a best picture candidate, because the theater is an award winner in itself. Located right off the Rembrandtplein and designed in a combination of compelling and eye-catching architectural styles on the outside, the inside of the Tuschinski is as elegant as it is eclectic.
Reguliersbreestraat 26-34
+31 (0)20 625 8581
pathe.nl/bioscoop/tuschinski
Open daily from 11.30 am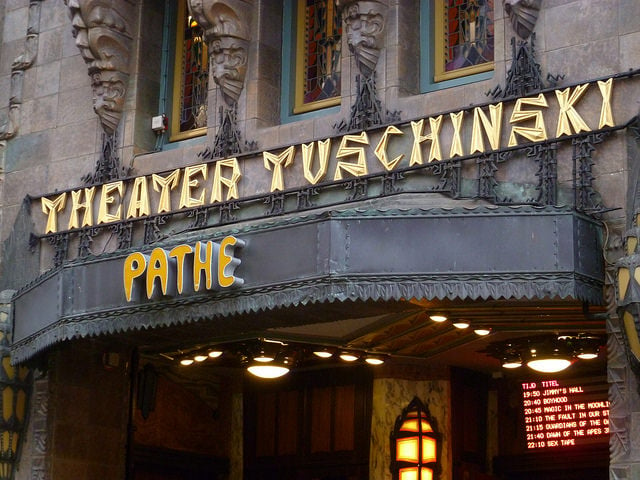 9. Have a Killer Cocktail
Our classy canals go perfectly with a cocktail, and Amsterdam is home to a host of cocktail bars with expert mixologists to take care of you. From hotel bars to underground speakeasies, Amsterdam's cocktail scene has you covered.
10. Take a Canal Cruise
When the sun starts setting, the canal cruises just start setting off from their docks here in Amsterdam. Many canal cruise outlets offer a sunset cruise and a nighttime dinner cruise, both of which are memorable ways to spend a couple hours under the stars.
11. Bask in the Candlelight in a Brown Cafe
Amsterdam's venerable brown cafes offer a refuge from the dark outside by often times being candlelit and always being home to a cozy atmosphere of gezelligheid. Come in for one round, and you will probably end up feeling so at home that you'll stay for a few.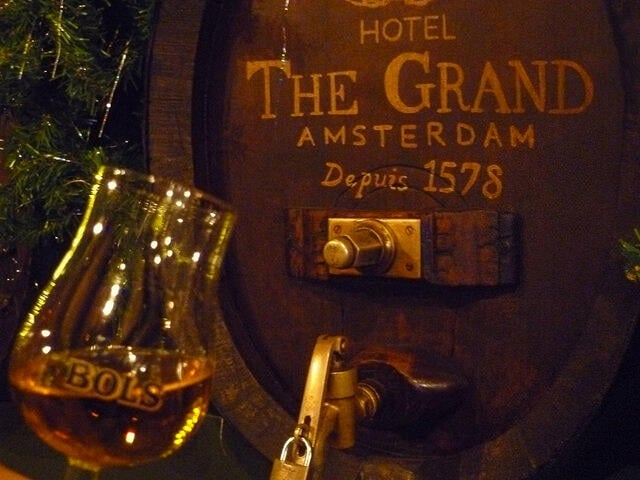 Want to experience all that Amsterdam's nightlife has to offer?
Get the Amsterdam Nightlife Ticket for access to all kinds of clubs, experiences, drinks and benefits in Amsterdam – 7 days unlimited use for just €10.