7561 Views
Amsterdam is one of those European cities that one would consider very "manageable" (especially when you compare it to cities like London or Paris). That is to say that it's easy to get around; the city is not too big and public transportation is plentiful and reliable. But really, you should be traveling around Amsterdam by bike, in which case you can move from neighborhood to neighborhood in no more than 30 minutes. Amsterdam is special in that, even with its smaller size and relatively small number of neighborhoods, each one has a unique flavor (you can check this out literally on one of our Eating Amsterdam Tours). It's just something you can feel – the overall vibe is distinctive. Of course, there are plenty of neighborhoods that fall a bit outside of Amsterdam's central area, but for now we're going to take you through a simple run-down of the 8 main ones: the Jordaan, Canal Belt, Red Light District, De Pijp, West, Oost (East), Noord (North), and Zuid (South).
De Jordaan
Quintessential central Amsterdam. You'll find teeny tiny shops, restaurants and bars, brown cafes where older and younger Dutch patrons like to sip on their beers, and impressive canals and bridges with bicycles lining the edges. It is host to some of the best and oldest establishments in town. This traditionally working class neighborhood has become one of the most expensive places to live in Amsterdam, but you still see the "old-school" Jordaan running through the side streets. We can help you taste and see the Jordaan like a local on the Jordaan Food Tour, or take it all in from the water on our Jordaan Food & Canal Tour.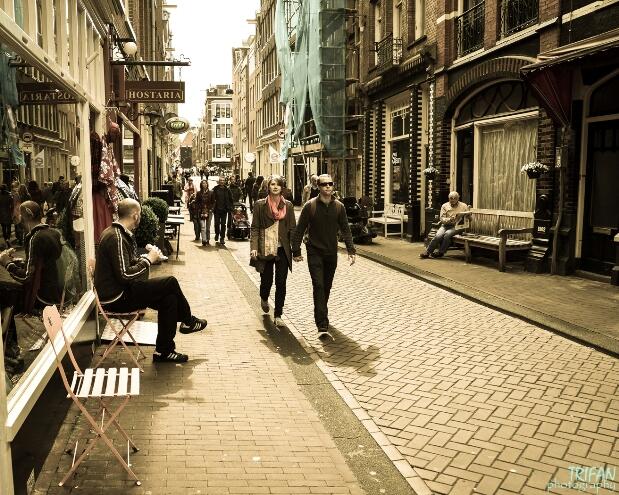 Canal Belt
In the western portion of Centrum (center), you'll find the picturesque "Canal Belt", where you will undoubtedly pose for your first Amsterdam travel picture. The Canal Belt was built in the 17th century, and includes the Herengracht, Keizersgracht, Prinsengracht, Singelgracht, and Brouwersgracht (try saying those three times fast). Some fondly refer to it as the "Venice of the North". Like the Jordaan, the Canal Belt is full of restaurants, cafes, bars and pubs, and is a great place to grab a few drinks in the sun, on a crowded terrace, and do some people-watching. Another thing you'll see plenty of? Houseboats! There are many houseboats that tourists can inhabit during their travels, but if you're not so lucky, you've still got to admire that Dutch water ingenuity.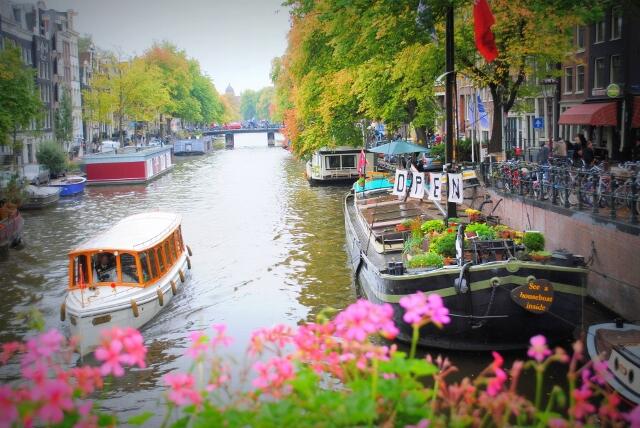 Red Light District
Ah, the Red Light District. This is a neighborhood that often springs to mind when you think of Amsterdam, although it's just one small sliver of what this city is all about. If you've never been to Amsterdam, we know you probably have tons of questions you'd like to ask, but for now we'll stick with the basics. This is a tourist hotspot with a never-ending supply of nightlife. Yes, this nightlife includes prostitutes hanging around in large, red-lit windows. However, there are many more sights to take in while strolling through this beautiful Rossebuurt (pink or red neighborhood). Enjoy the architecture, canals, tiny streets, beautiful churches and Amsterdam's very own Chinatown.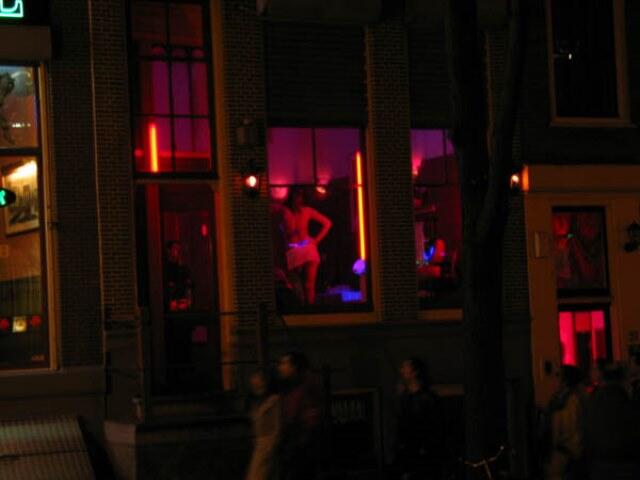 De Pijp
The bohemian "Latin Quarter" of town is named after the narrow streets and houses that fill it. Boutique shopping, unique eateries, and streets named after famous painters are abundant. The Albert Cuypmarkt will entertain for hours, and you'll find all walks of life here – from Czech to Dutch to Surinamese and back again. De Pijp is most enjoyable at night, as this is the Dutch neighborhood that rarely sleeps. Find out why on our Twilight de Pijp Food Tour.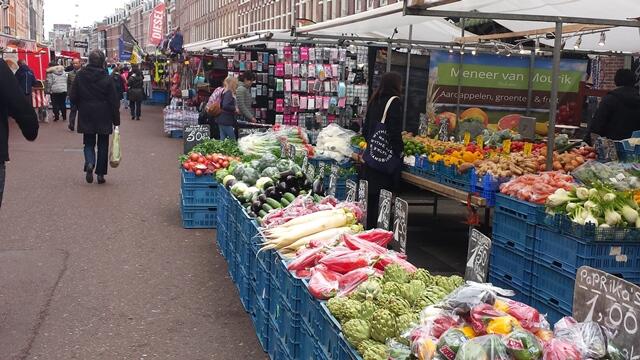 Amsterdam West
Split into 2 parts, new and old west are up-and-coming. A largely residential area that's seeing scores of new restaurant and bar openings every week, Amsterdam West is sure to entertain. Special weekend events are always popping up, in one of the city's finest parks: Westerpark. Filled with green open spaces, couples relaxing in the sun, and plenty of bars and restaurants to try, Westerpark is a defining characteristic of what makes Amsterdam West so special.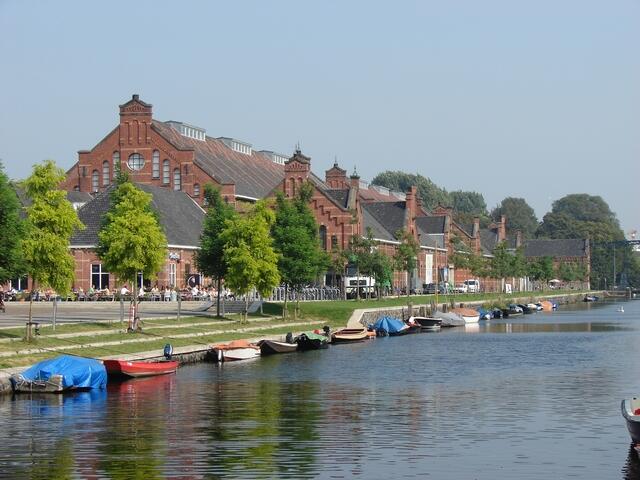 Amsterdam Oost
The multicultural hub of Amsterdam. A defining characteristic of Amsterdam Oost is the Javastraat, with seemingly endless Turkish butchers, Surinamese holes-in-the-wall, and markets selling everything from Caribbean produce to knock-off clothing. Artis Zoo, Hortus Botanical Gardens, and Brouwerij't IJ (some of the best beer you'll find in Amsterdam) reside in the East. Stroll through the markets, eat something new you never thought you'd try, and grab a beer (or several). This is how Amsterdam Oost is best enjoyed.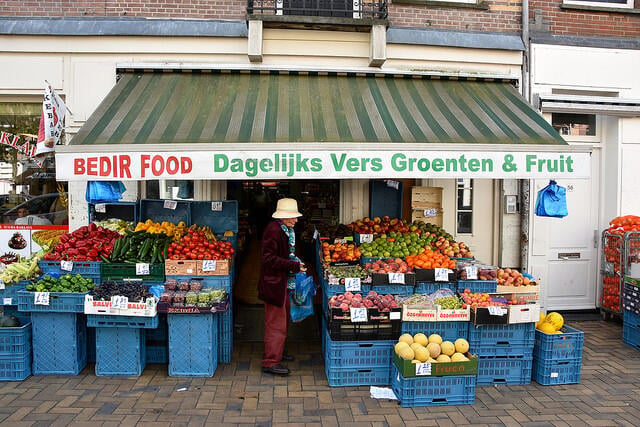 Amsterdam Noord
Certainly the newest thing here in Amsterdam. Hipsters, massive markets (the IJ Hallen flea market is not to be missed), an endless waterfront on the IJ River, restaurants and bars on boats, the iconic Eye Film Museum, the soon-to-open A'DAM (a mix of offices, cafés, restaurants, a hotel, an observation point and a revolving restaurant opening in spring 2016), open spaces and modern architecture. It isn't your typical Amsterdam, but it's made for those who crave something new. North is growing fast and doesn't show any signs of stopping.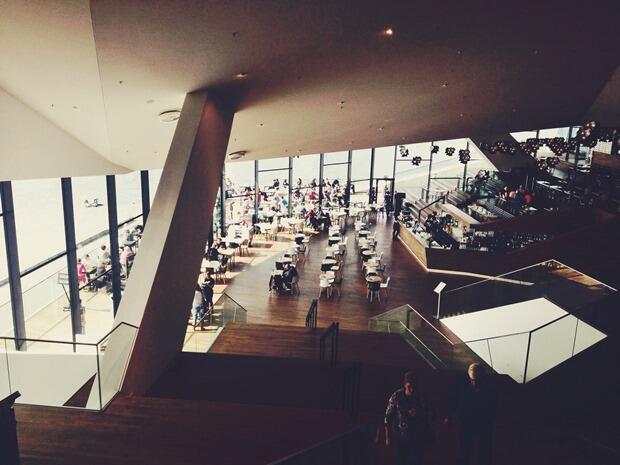 Amsterdam Zuid/Museum Quarter
Like Amsterdam's very own Upper East Side, Amsterdam Zuid is chic, classy, and full of history. Expect to find the most expensive houses, bars, restaurants, hotels, and shopping in town here. Amsterdam Zuid is also home to the Museum Quarter, where most of Amsterdam's major museums, including the world-renowned Rijksmuseum and Van Gogh Museum have stood for centuries. You'll find not only your fill of art and ancient artifacts, but music and dance as well at the famous Concertgebouw. Try one of their free concerts every Wednesday at lunchtime – it won't disappoint.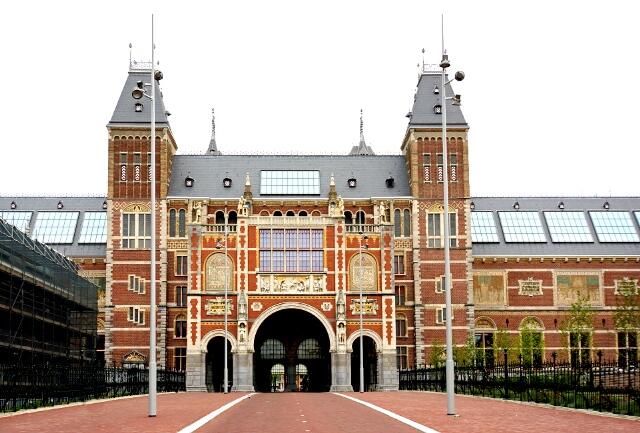 And there you have it – each of Amsterdam's 8 neighborhoods in a quick, go-to nutshell. Which one is your style? Where will you stay on your trip to Amsterdam? We hope we've helped you decide, but think you'll want to frequent them all. Happy exploring!