4973 Views
Looking for the best beer in Amsterdam? There's no easier way to try many at once than by going to a classic beer bar. Read on as I share my top picks for Amsterdam beer bars!
In de Wildeman
Our first stop is In de Wildeman. If you ask me, it's the best beer bar in Amsterdam. You might be wary of it, given it's smack dab in the center, off of the very touristy Nieuwendijk. But once you step inside, you'll know you've made it to the right place. It has a very cozy, almost neighborhood feel to it, with wood painted a kitschy green and your requisite beer paraphernalia but with a slightly vintage vibe.
They have stacks upon stacks of board games and books in the corner to help you while away the hours. The building is 300 years old, and used to house a distillery – which you'll see evidenced today by the stacks of huge barrels in the back. 
At any given time, In de Wildeman has 18 beers on tap, and a whopping 250 in the bottle, offering a wide range of flavors from light and refreshing to quirky and strong. They also serve real ales from the cask, which you almost never see in Amsterdam. Keep an eye on the measurement of the beer listed next to the price – sometimes stronger ones will be sold in smaller glasses. Though the bartenders have almost always pointed this out to me. In fact, the bar staff is one of the most knowledgeable and helpful you'll find in Amsterdam, willing to offer recommendations. Don't be afraid to ask questions, especially if you're more uninitiated. If you're friendly they might even let you try a sip of something before you order.
The current bar has been here about 30 years, and is a real institution in the beer community of Amsterdam. They often host speciality beer events and tastings, such as Dutch Beer Week, the Carnival Brettanomyces (dedicated to funky beers brewed with wild yeast) and parties to launch new beers.
It's not just beer here. They also serve some top-notch snacks: artisanal cheese, hearty sausages and the like. And if that isn't enough to keep you in the game, you can always pop out quickly for a burger at one of the nearby purveyors before joining your friends for the next round.
Go here for: a cozy afternoon warming up next to the radiator
Beer to try: they have an impressive list of beers with spontaneous fermentation: kriek, geuze and the like. This beer gets its yeast from the air, which can lead to some interesting flavors. Try a couple to taste the whole range of possibilities!
Brouwerij 't IJ Vondelpark
If you know anything about beer in Amsterdam, you'll recognize the name of the longest running craft brewer in the city. Started in the 80s in the East, it's called a defunct public bathhouse next to the iconic windmill home – until now! In spring 2019, it opened a second location in the middle of Vondelpark, the bustling green space just between the West and Zuid neighborhoods. 
Hidden among the trees you'll find Het Blauwe Theehuis, a cute little blue affair that's been in the park almost a century. You'll understand the appeal as soon as you turn up; their terrace is extensive and lively, retaining the cheerful atmosphere of their original location. It's the kind of place where you can pull up a chair and easily get to know a stranger.
So, on to the beer! As it's their tap room, you'll find all of Brouwerij 't IJ's tried and tested brews available, like Natte, a sweet Dubbel. They also brew special seasonal beers, like PaasIJ, a fresh bok that comes around every spring.  They also brew a special Pilsner you can only get at this location. The bar is small and quite busy, but as the options are straightforward any line usually moves pretty quickly. 
If you're feeling peckish, they've got you covered for food as well. Renato's, a pizza place hailing from De Pijp, has set up shop here and serves up some lovely pizzas perfect for sharing.
Go here for: a lazy afternoon in the sun with a big group. If you have a picnic somewhere else in the park, stop by afterwards: as an initiative to keep the park looking fresh and clean, Het Blauwe Theehuis will give you a free beer for every bag of trash you turn in!
Beer to try: it's hard to pick among so many classics! I usually pick whatever the special edition beer at the moment is, with the recurring Ciel Bleu IPA being my absolute favorite.
Craft and Draft
The last stop on our tours of the best beer bars in Amsterdam is just around the corner at Craft and Draft. This bar on Overtoom is home to a whopping 40 taps, hailing from around the world, and 100 more bottles. Compared to the other bars on this list, they tend to have more experimental and out-there flavor combinations.
Long story short, pretty much any beer type you want at a given moment, they've probably got. The bar staff is super knowledgeable here, and aren't hesitant to give honest reviews or steer you away from beers that might not be up your alley.
One other really cool part of this bar is that they also sell growlers, which isn't usually done in the Netherlands, even though it's quite common in the United States. They also have a fridge full of bottles that you can take with you. Both of these make excellent options for a sunny day in the park. But if you don't want to go too far, they also have quite a large terrace out front.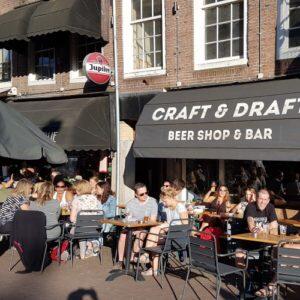 Go here for: the start of a lively night. If you're up for a pub crawl, the owner of this bar has three others: Beer Temple, Het Arendsnest and Beer Loves Food. Drink a beer at each one and you'll get a free T-shirt!
Beer to try: The house beer, The Big Fat Double 5 IPA, was originally brewed for the 5th anniversary of the Beer Temple by local brewery Het Uiltje. Everybody liked it so much they decided to keep it around! It's super flavorful, and was even given the Gold medal in the Dutch beer challenge for best Imperial IPA of the Netherlands.
Still thirsty for more? Check out this article we wrote about craft beer in Amsterdam.