3337 Views
Lisbon has a pretty historical and impressive drinking culture, hosting a wide range of bars located throughout the city. In terms of staples, the Portuguese love their local beer. There are the two most famous brands Sagres and Super Bock, and of course, the country produces some absolutely fabulous wine (check out our article on Lisbon wine for more information).
However, the cosmopolitan capital is a haven for unique bars serving delicious and innovative cocktails so during your stay you can have a memorable night out in one (or all) of our choice of the best Lisbon bars.
Bairro Alto
Rather than being a bar, this is an entire neighbourhood: the most infamous one in Lisbon, in fact. Formerly the city's business district, it is now notorious for having over 200 bars. You won't quickly forget a night out exploring the criss-crossing streets of this historic quarter, where all the bars have a 2am curfew to allow the older ladies living in the rambling buildings' higher floors to get some rest.
The drink of choice is beer (served ice-cold in a 20cl serving) or caipirinha, a Brazilian export consisting of cachaça alcohol, lime and sugar. Most of the bars are very small and serve drinks in plastic cups, so you can happily wander along the cobbled streets and meet other late-night revellers along your path. Join Eating Europe's Night Out in Bairro Alto for an unforgettable evening of the best nightlife spots in this neighborhood!
Pavilhão chinês
Opened in 1986 in a former 20th century grocery store set across five rooms, the Chinese Pavillion has become a firm favourite among locals and tourists. Home to the owner's enormous private art collection, it strikes a unique chord somewhere between bar and museum.
The impressive-looking entrance is found on Rua Dom Pedro V, one of the outer streets of Bairro Alto, but the front door is always closed and visitors must ring a bell in order to get inside. Snuggle up in one of the booths with one of their iconic cocktails and a snack if you're hungry, or pick your way carefully through the rooms, admiring the wonderful and wacky artefacts on display, ranging from memorabilia from the World Wars to works from national artists.
Pensão Amor
Halfway down Lisbon's famous Pink Street (Rua Nova do Carvalho) is a nondescript door opening onto a staircase, at the top of which is a different world. Far removed from the blaring pop music and plastic cups of beer found on the street below, Pensão Amor has a distinct aura of old-school elegance. Ironic, considering it used to be a brothel, (the name loosely translates to "Love Hotel").
In the early evening, visitors enjoy a signature cocktail in the main bar to a soundtrack of light jazz, whereas in the evening you'll find burlesque shows and an eclectic mix of DJs across the other rooms. Dance until dawn, or recline across a leopard-print sofa under the mirrored ceiling in the back room; there's even an erotic shop hidden in the back that stays open until late.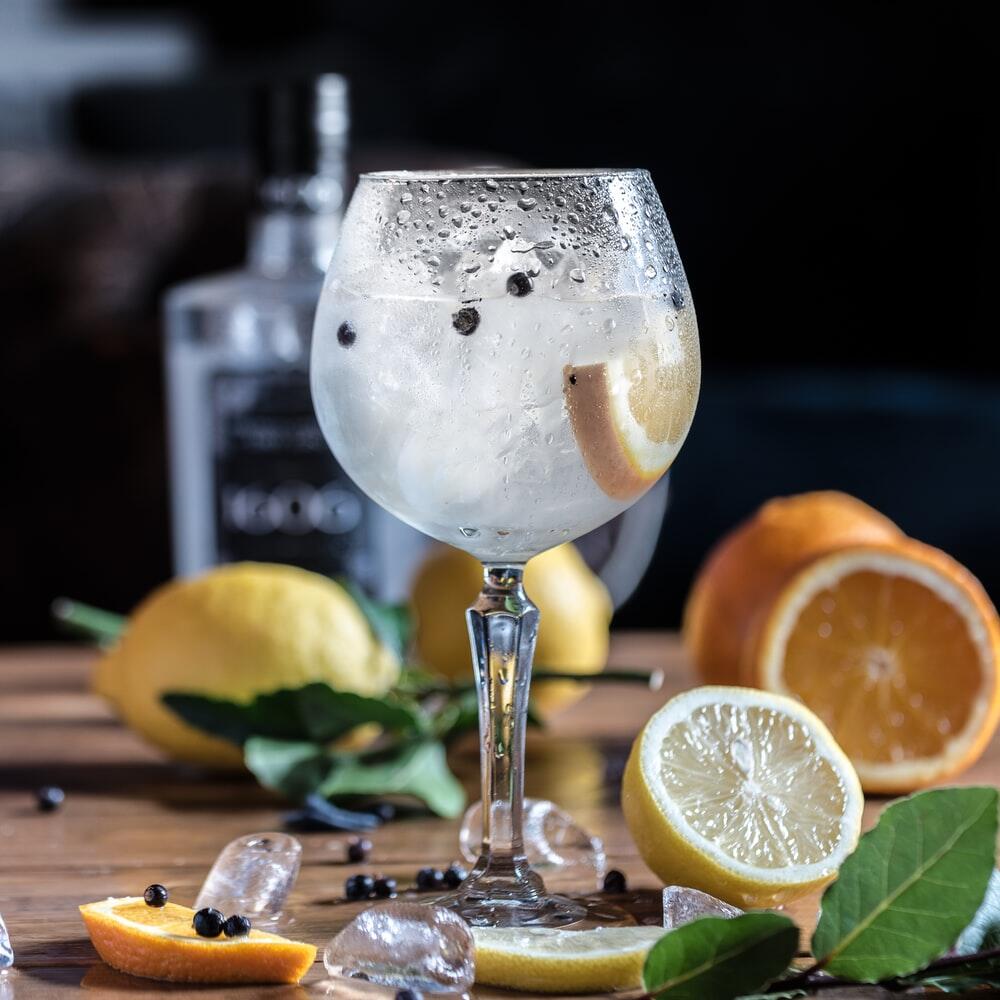 Gin Lovers
As the name suggests, this is a destination for those looking for an extensive and comprehensive menu of gins, gin and tonics and gin cocktails. Mentioned in our article on best Lisbon fado bars, the setting of this Lisbon bar is truly unique: the interior courtyard of a Moorish inspired former palace turned concept restaurant and shopping space, known as Embaixada.
There's even a beautiful outside garden and terrace that shares a wall with the Botanical Gardens, open during the summer months. Boasting over 60 different gins, both local and international, the capable and charming bartenders prepare masterful creations guaranteed to please any gin connoisseur!
Topo Chiado
Tucked away between two iconic Lisbon monuments: the Carmo Convent (a 14th-century building whose roof caved in during the 1755 earthquake) and the Santa Justa Elevator (a magnificent 20th century masterpiece offering a dynamic city centre view), Topo Chiado is a must-visit on this list of best Lisbon bars.
In which other place can you sip a cocktail while listening to some of the city's best DJs and gazing out at a spectacular view of the castle, all the while surrounded by two architectural masterpieces? This bar is separated into two areas: the lower lounging part where drinks are served, and the upper restaurant area where you can have a light meal. In the summer, this unforgettable site is even the location for open-air cinema events, hosted by Cinesociety.
PARK
No round-up of Lisbon's best bars is complete without a mention of PARK. First-time visitors will delight in its location on top of a multi-story car park, seemingly nondescript when viewed from street level. Passing the barriers and ticket machines, curious wanderers ascend in the elevator to the 6th floor and after crossing the last section of the car park, turn the corner to find an irreverently cool rooftop bar with a jaw-dropping view over the city.
Open from 5pm, it starts to get busy around sunset and remains crowded until closing time at 2am, after which party-goers descend back to reality, tired out from dancing to R&B and hip-hop, the music genres of choice. Until late evening, you can order food from the recently revamped menu and accompany it with one of the tasty house cocktails.
---
Lisbon is truly a city that comes alive at night and with our pick of the city's best bars, you can truly make the most of it! Whether you want a casual night sipping beer or a glamorous evening in an elegant cocktail bar, the diverse range of places guarantees something for everyone's taste.