27987 Views
This post was originally published in 2016 and was updated in November, 2017.
The Netherlands' colonial history means that its Indonesian and Surinamese cuisine scene is arguably more vibrant than its traditional Dutch food roots (although the latter, too, are enjoying a bit of a comeback lately). Holland's long and strong background in trade brought exotic spices over several oceans (including, most importantly, over the North Sea) – and it's a jolly good thing too, as we'd otherwise no doubt be subsisting off mashed potato and several varieties of cabbage.
But for now, let's focus on Indonesian food in Amsterdam, and what to expect from Indonesian restaurants here. There's a magic word in Indonesian restaurants: Rijsttafel. Literally meaning "rice table," it's a great option for people like me who get food envy whenever anyone else at their table orders a dish that looks interesting. And that's because it comes with about 70 different dishes to share. Ok, I exaggerate, but you get the idea: lots of small dishes, you get to try everything, everyone's a winner.
So what can you expect on your rijsttafel? There'll be things you've probably heard of like beef rendang and chicken satay. Then there'll be lots of things with peanuts and eggs, which sounds like a bit of an odd combination, but is strangely savory and moreish. Plus, you can expect feisty sweet-hot-sour vege salads, and fish marinated in oodles of spices and sweet, sticky chili jam. Keep an open mind, stick to my motto of "try everything once," and you'll have the time of your life!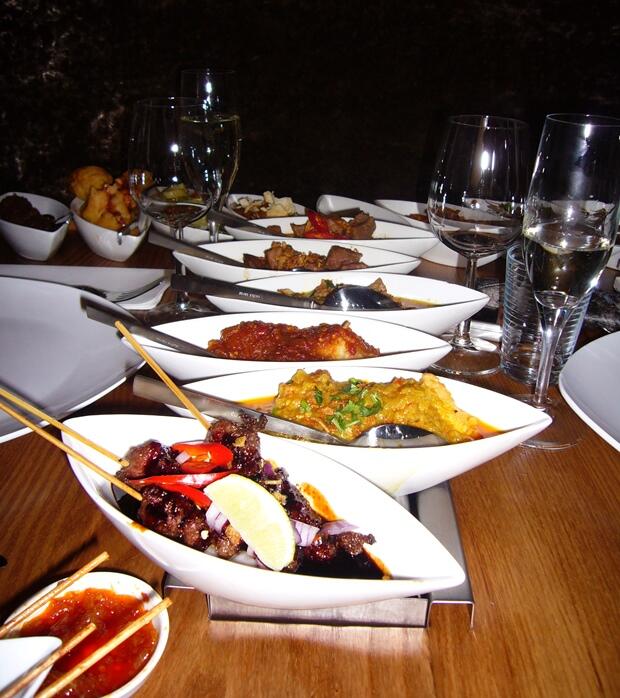 The Best Indonesian Restaurants in Amsterdam
Blauw
With its refreshingly modern, split-level interior and out-of-town location, Blauw is the most off-the-beaten-path restaurant on the list. That means it's packed with local clientele and is a great excuse to escape the tourist crowds in the city center. The restaurant also has its own digital "Polaroid Guy" who'll take your photo during the evening – you can download it for free from the website the next day. A cute touch!
Amstelveenseweg 158
+31 20 675 5000
restaurantblauw.nl
Open: Mon-Thu 6-10.30 pm, Fri 6-11 pm, Sat 5-11 pm, Sun 5-10.30 pm
Sampurna
In contrast, Sampurna is right in the center of town, just off the bustling flower market and a great option after a hard day's shopping. There may be a few more tourists, but the food is still good and not as pricey as you might expect for the location. It's been in business for 25 years – so they must be doing something right!
Singel 498
+31 20 625 3264
sampurna.com
Open: Daily from 12 noon
Tempo Doeloe
Things can get a little frenetic at Tempo Doeloe, but that's all part of its charm. Do book a table, and do expect to wait despite having done so. You'll be rewarded for your patience: the food is great quality and the atmosphere is fun too. Just make sure you have a glass of water at hand – the chilies they use are fiercely hot and not for the faint-hearted! You have been warned…
Utrechtsestraat 75
+31 20 625 6718
tempodoeloerestaurant.nl
Open: Mon-Sat 6-11.30 pm
Jun
A relative newcomer on the Indonesian food scene, Jun is a little west of center, which makes it a handy option if you're staying in the Jordaan area for one of our Jordaan Food Tours. It's also run by the sweetest proprietor I've ever come across. Ask for extra chili if you like it super-spicy!
Frederik Hendrikstraat 98
+31 20 785 9185
restaurantjun.nl
Open: Wed-Sat 6-10.30 pm, Sun 5.30-10.30 pm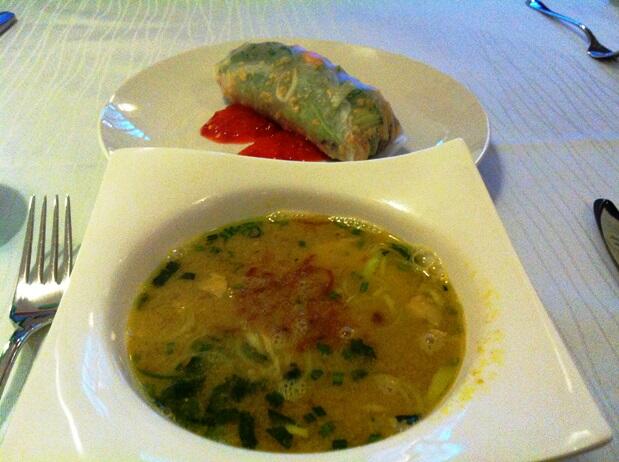 Sari Citra
"Sari Citra" means authenticity in Indonesian – and that's evidenced everywhere at this small, informal restaurant that's been serving locals since 1996. Dina and her team serve up everything from small Indonesian snacks (try their spekkoek – an Indonesian layer cake) to a full rijsttafel running the full gamut of savory dishes from mild to super-spicy.
Ferdinand Bolstraat 52
+31 20 675 4102
saricitra.nl
Open: Mon-Sat 2-9 pm, Sun 3-9 pm
* * * * * * * * * *
Interested to learn more about the Netherlands through its food? Join one of our Amsterdam food tours to sample the best cuisine the city has to offer!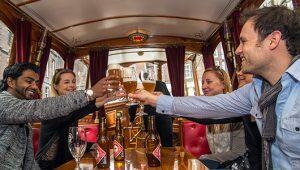 * * * * * * * * * *
Like this? Check out Eating Europe on social media!
We're on…
With more Dutch foodie ideas, mouthwatering pics and much more.