33195 Views
This blog post was first published in October 2016, updated September 2017.
I'll admit it from the outset: I'm not good with spicy food. As my friends can vouch for me, if I am presented with a chili-saturated bowl of food, I will turn into a red, weeping mess. That said, my embarrassing table manners have not stopped me from being a massive fan of Indian cuisine. For me, it's all about the delicate combination of flavors. There's nothing more comforting than a big bowl of curry laced with spices like turmeric, ginger and coriander, accompanied by tender pieces of meat or vegetables.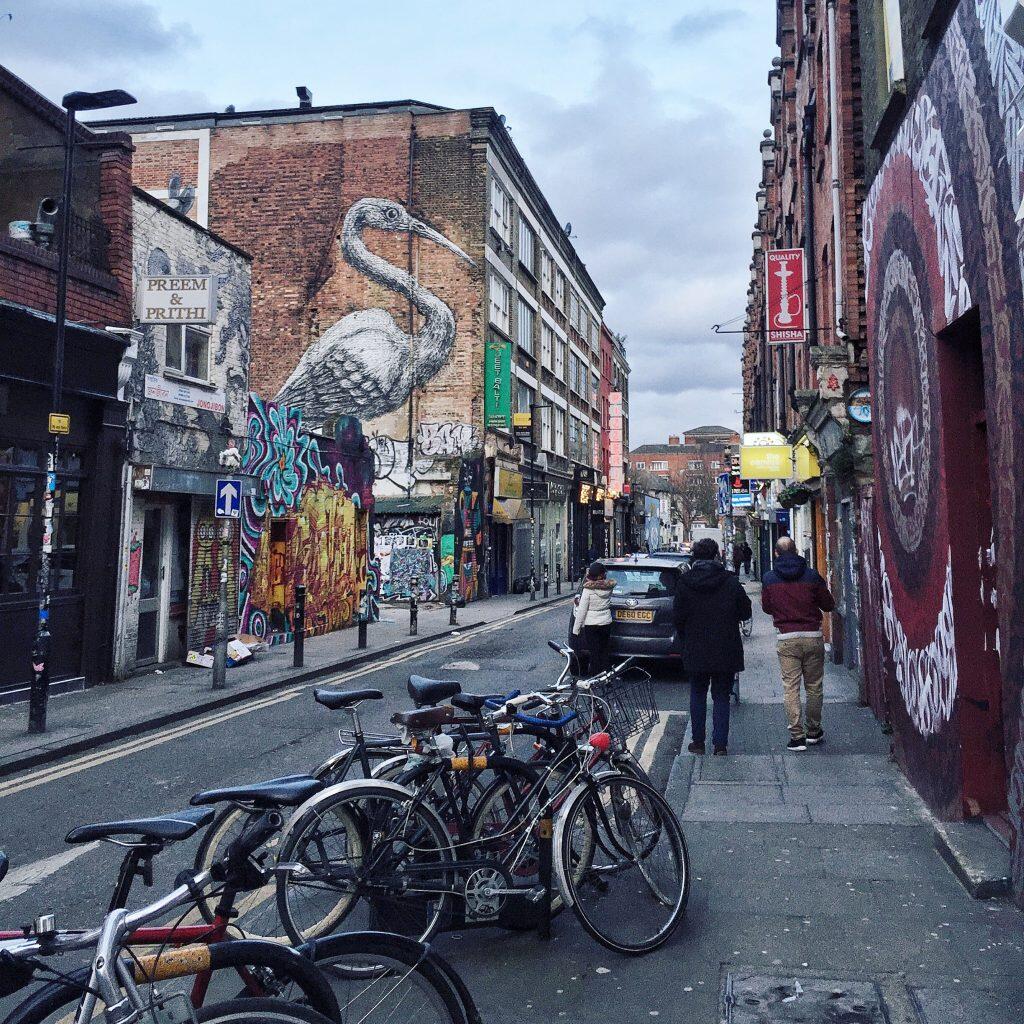 Luckily for me and other enthusiasts, nearby Brick Lane has long been considered the home of London's best curry. This part of the city experienced an influx of Bangladeshi migrant workers in the 1970s, and, by the end of that decade, Brick Lane had become home to numerous Indian and Bangladeshi and Indian restaurants. As with many sections of London, this street's restaurant scene has fallen in and out of favor with food critics over the years. A few years back, it was suggested that Brick Lane's restaurants had let standards drop and, with all of the restaurant fronts claiming some food award or other, dining in Brick Lane fell out of fashion.
All of this has changed now – East London and Brick Lane have made a culinary comeback, and people are once again venturing to the area as a first choice for dining out. This is definitely the place I head to when I need an Indian foodie fix. Always remembering to order the mild version of my chosen dish, these are five of my favorite Indian restaurants in Brick Lane.
5 Best Indian Curry Restaurants on Brick Lane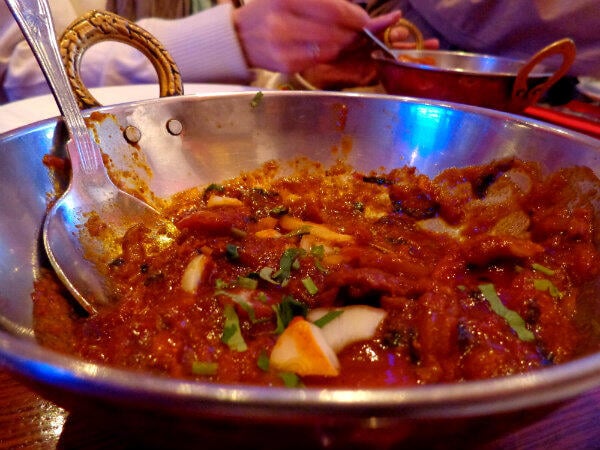 Aladin, 132 Brick Lane
Aladin has been serving food in Brick Lane since 1979, with its head chef at the helm for more than 25 years. The restaurant always seems to be full, so I'd definitely recommend making a booking (you also get a discount if you pre-book!). Aladin's menu is massive, laden with many options for meat eaters and vegetarians alike. Not only that, but numerous regional cooking styles are covered too, with specialties from Bombay, Kashmir and Ceylon making their appearances. I try to sample something new every time I come here, but I especially love the chicken curry and vegetable biryani. Extending beyond the food, the atmosphere and service are both very good at Aladin; I always seem to leave the establishment feeling utterly full and totally satisfied!
Pro tip! Eating London visits Aladin on its East End Food Tour – allowing you to taste several different curries or varying degrees of spiciness!
Sheba, 136 Brick Lane
A few doors down, Sheba is another well-established name in the Indian cuisine scene. Founded in 1974 and set over two floors, Sheba's décor is rather chic, but that doesn't mean that the prices are exorbitant. The food here is affordable and hearty, and the specials afforded to group bookings make this a great place for a dinner party. As with most restaurants on Brick Lane, the menu is large and Sheba even offers the opportunity for diners to create their own dishes. Apart from some excellent prawn starters, my favorite dish here is the Shafri Ghusth, or Bengal Pumpkin, which is a sweet slow-cooked dish of lamb and pumpkin.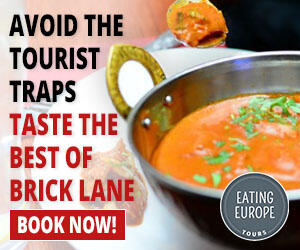 **********************

**********************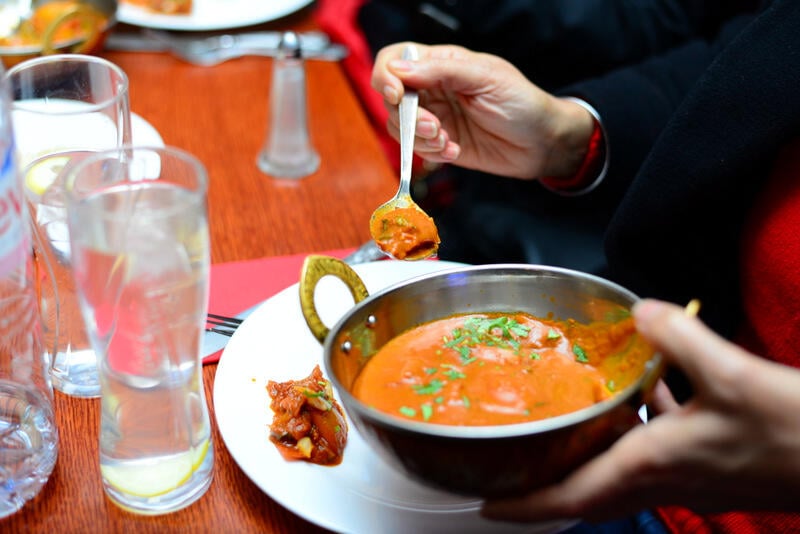 I first heard about Bengal Village when a friend mentioned that this restaurant attempts to serve the hottest curry in Brick Lane. Unperturbed by this prospect, I made my way over to this establishment to try out the food. Bengal Village couples its relaxed, comfortable atmosphere with a contemporary menu blending Indian and British dishes. I would recommend the working lunch menu, which includes a set menu and drinks. Off the a la carte menu, the vegetarian dishes are delicious, as is the makhani, a mild chicken tikka cooked in a sauce of yogurt, fresh cream and nuts.
Cinnamon is another busy Brick Lane establishment, so booking in advance is definitely recommended. This restaurant has been nominated for numerous awards, and is quite affordable due to great deals on lunch- and dinner-time set menus. This restaurant is especially well known for its grilled meats, but I really enjoy Cinnamon's lamb royale, where tender meat is cooked with chunks of mango, coconut and cream.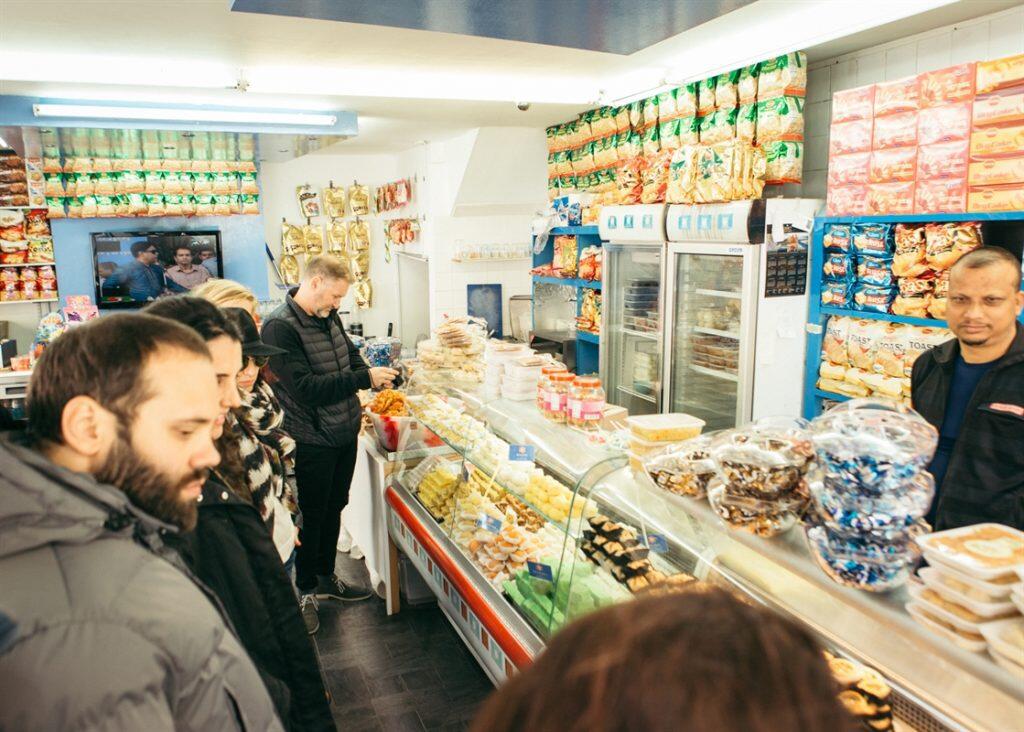 Rajmahal Sweets, 57 Brick Lane
You can't have dinner without rounding it off with something sweet, right? Although this is definitely not a restaurant in its own right, Rajmahal Sweets is the place to go if you're looking for authentic Indian dessert items. Since I have an incorrigible sweet-tooth, I love coming here to stare at the many temptations on offer. Apart from the boxes of cakes and biscuits, I love buying the store's jalebis, which are deep-fried orange sugar spirals. With so many amazing options on my doorstep, it seems apt that I set out to reverse my fear of spicy food. If that means frequenting Brick Lane's many excellent Indian restaurants on a more regular basis, then I think I'm up to the challenge!
Pro tip! Eating London visits Rajmahal Sweets on its Brick Lane — Flavours of India & Beyond food tour. You'll learn a bit more about Indian sweets and get to choose one to taste!
**********************
Like this? Check out Eating Europe on social media!
With more British foodie ideas, mouthwatering pics and much more, follow us on…