21458 Views
There aren't many things more British than 'the pub'. A focal point for communities, work colleagues and friends to meet and put the world to rights, but how did the pub as we know and love it, come to be?
We can start with our good friends the Romans. As their road network sprung up so did 'tabernae', these retail units (often at the front of domestic dwellings) sold all manner of lovely things including books, food and wine to people passing through. Fast forward to the 5th Century and the Anglo-Saxons – inspired by the 'taberna' idea, many established alehouses out of their homes. These soon evolved into meeting places where the public would congregate, gossip and discuss important community matters, and so the public house or 'pub' (as it's more commonly known) was born!
So many pubs sprung up in such a short time that in 965 King Edgar decreed that there should be no more than one alehouse per village. In 1577 there were 14,202 alehouses, 1,631 inns and 329 taverns in England and Wales. That's one pub for every 187 people! Today, England alone is home to 48,000 pubs.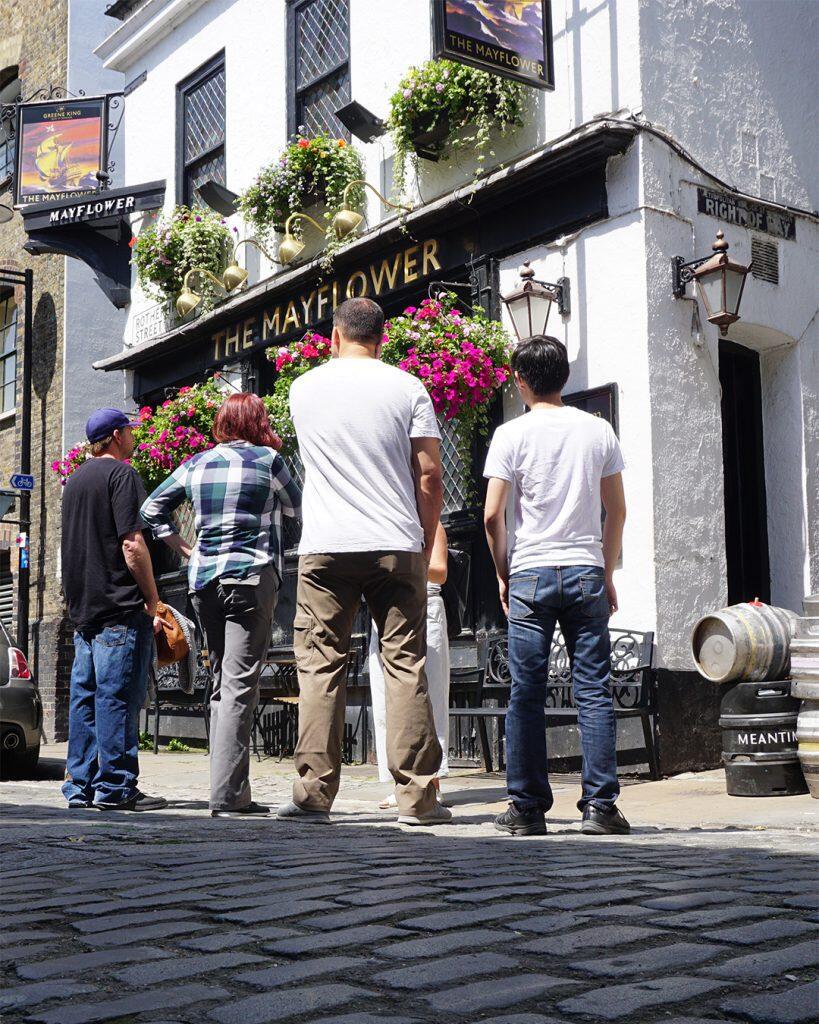 British pub names and signs
One of the first things you'll notice about most pubs are their colorful signs or their interesting names. The signs date back to 1393 and King Richard II of England, who ruled that landlords must clearly indicate that ale was sold on their premises or risk being shut down. This meant that pubs were visible to inspectors who could check the quality of their ale. Little fact: William Shakespeare's dad was an ale inspector!
The most common pub name in Britain is the 'Red Lion'; it's thought this is related to when James VI of Scotland became James I of England and insisted that public buildings display the 'Lion Rampant'– the Scottish royal coat of arms. Names often relate to heraldry, coats of arms or they are a way of pledging allegiance to the King – thus 'The Crown' remains the second most popular pub name. Names such as Angel, Bell, Cross Keys or Lamb and Flag all remain popular and indicate the pub's proximity to a church.
The Mayflower, which we visit on our London Old Docks – Historic Pubs, Food & Beer Tour, takes its name from the ship that started its journey from London's docks in 1620, taking the first English pilgrims to Cape Cod, America.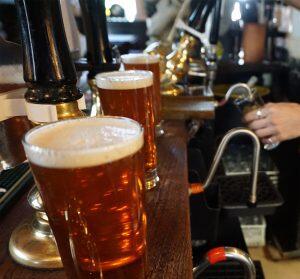 British pub etiquette
"Experienced native pubgoers obey the unspoken rules, but without being conscious of doing so. Regulars will mutter and grumble when an uninitiated tourist commits a breach of pub etiquette, but may well be unable to tell him exactly what rule he has broken."
– From the Brewers and Licensed Retailers Association's 1996 publication, Passport to the Pub
How to order beer in an English pub
As tempting as it is to pull up a chair, make yourself comfortable and wait for a waiter to take your order – you'll end up very thirsty. Instead, get your group a table, find out what everyone wants and then head to the bar to place your order. Don't take everyone to the bar with you – you do not want to block locals from being able to get to the bar. Wait for your turn to be served and never wave money around or yell for attention, that's just plain rude. The only people you may see giving the server some cheeky attitude will definitely be regulars or, you know, rude people.
What to order in a pub
"What can I get you?" asks the bartender.
"A beer, please." you respond.
Uh oh, things could go horribly wrong here. In many countries, a 'beer' refers to a 'lager' but in the U.K. 'beer' is an umbrella term that can include lagers, ales, stouts, pale ales, IPAs, wheat beers… you get the picture. If you like the look of one of the draft, hand-pulled ales on display most pubs will let you try a small amount before you decide to buy.
When you've decided on the type of beer you want you'll be served a pint. To many non-Brits a pint can seem like a lot – it's just over half a litre – but you can also ask for a half pint. If you're buying wine a large glass tends to be 250ml which is a third of a bottle, then it goes down to 125ml.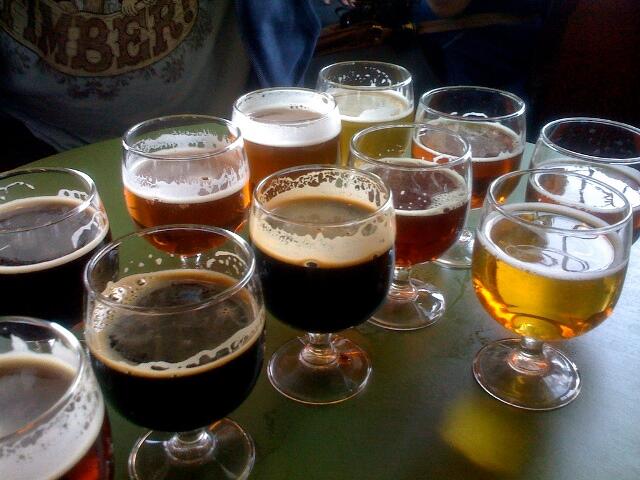 British pub slang: 'Getting a round in'
If you're drinking with British people this is IMPORTANT! Buying a round of drinks – a drink for everyone in your party – is an unspoken social contract. If someone has 'got a round in' it is expected that you'll reciprocate!
Tipping in a British pub – what's the rule?
It's not expected of you to tip the bartender, however, if you spot a tip jar you're always welcome to stick a pound in.
When do British pubs close?
The sound of a bell or flashing lights means that it's last orders, after which time you've got twenty minutes to finish up and they mean twenty minutes!
• • •
If that seems like a lot to navigate, one of the easiest (and most fun) ways to get to know some of London's oldest pubs is by joining our London Old Docks – Historic Pubs, Food & Beer Tour. Enjoy some of London's best brews from traditional ales, craft ales and ciders in the historical pubs along the docks of old London town! Cheers to that!
Let us take you on tour of London's historic pubs
Taste the best of British pub food on the London Old Docks – Historic Pubs, Food & Beer Tour