10427 Views
The significance of fairy tales in Czech culture cannot be underestimated. You only need to tune into local television around the holidays to catch the flood of live action pohádky that are almost as much of a treat as the traditional Christmas carp and potato salad. While the national passion for these tales, many of them filmed in the 1950s and 60s, can be explained as a colorful form of escapism during the grey communist era, stories of fairies, water spirits, and woodsmen have long been present in this Slavic culture which places great importance on the deep magic of the natural world. Traditional Czech fairytales include "Katcha and the Devil", "The Girl with the Golden Gizzard" and "Prince Bayaya" as well as standards from Grimm with a Slavic twist—in Little Red Riding Hood (Červená Karkulka), for example, the wolf meets a watery demise! For a brief introduction to Czech fairy tales, read a selection of them online.
Visiting Prague with children (or just a big kid at heart)? There are many ways to explore this intriguing aspect of Czech culture during your stay.
Start with a trip to the bookstore…
Recommended reading: Czech Fairytales: A Selection of the Most Beautiful Folktales by 19th-century poet Karel Jaromír Erben and his contemporary, beloved Czech author Božena Němcová; for more mature readers, Erben's collection of ballads, "A Bouquet" is based on classic Czech fairy tales. Czechoslovak Fairytales by Parker Fillmore is a compilation of popular Czech fairy tales translated and adapted for Western audiences. The Disobedient Kids and Other Czecho-Slovak Fairy Tales, also by Božena Němcová, features the astonishing artwork of Czech painter Artuš Scheiner.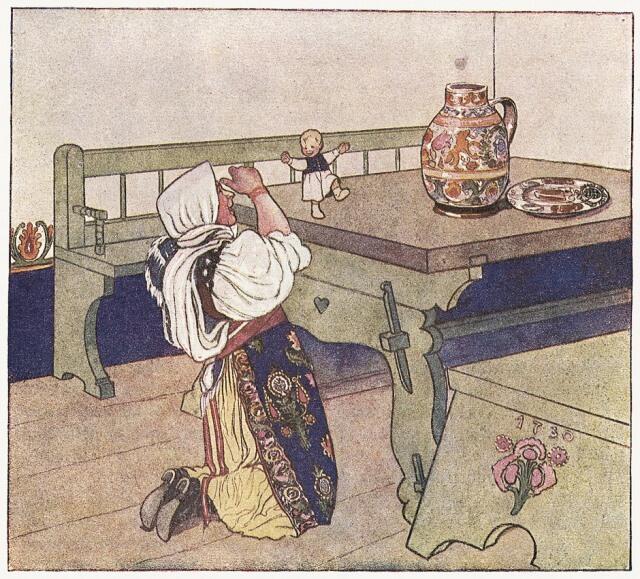 Also keep an eye out for the illustrated fairy tales of Czech artist Josef Lada, whose distinct style of folk art vividly colors the shelves of the children's section. While his work is not widely available in translation, these beautiful picture books are still worth a browse. Serious Lada fans can visit his summerhouse in Hrusice, a small village outside of Prague, which has been converted to a museum devoted to his life and work.
The Neoluxor bookstore and its smaller neighboring Academia bookshop, both on Wenceslas Square, both carry a selection of traditional Czech tales in English translation and—major bonus—each store has its own cozy cafe.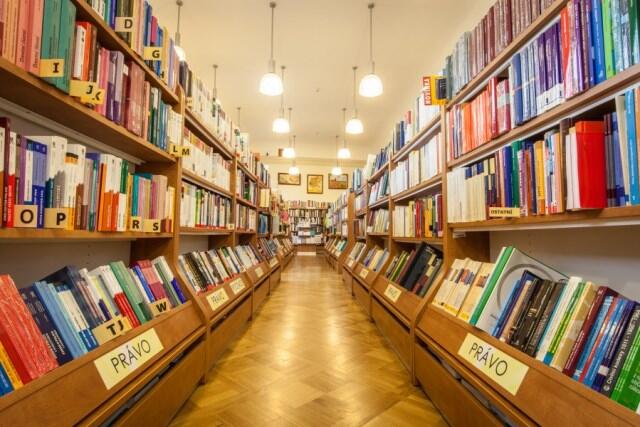 Pop into a puppet shop
The Czech fairy tale tradition carries over into another hallmark of Czech culture, puppetry. Pop into any number of puppet or marionette shops around town with their intricately carved fantastical creatures on display to see just how puppet artistry is influenced by fairy tale tradition. One of the finest puppet shops, Truhlář Marionety, specializes in hand-crafted marionettes—you can even buy a DIY marionette kit there.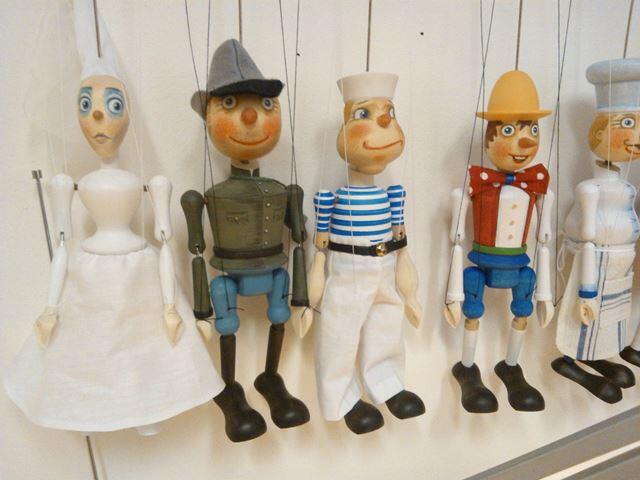 Go for a little enchanted entertainment
Audiences of all ages will enjoy a performance of The National Marionette Theater in Prague or, for smaller show goers, the Fairy Tale theater, with three different locations around Prague, stages a repertoire of Czech fairy tales.
Prague's classical music offerings will please fairy tale fans; the most renowned of Czech composers Antonín Dvořák's opera Rusalka tells the tale of a Slavic water nymph. Regular performances take place at Prague's National Theatre and State Opera House. Children will also enjoy the Prague Philharmonia's weekend concert series at the Rudolfinum, which brings fairy tales to life via the compositions of Smetana, Dvořák, Janáček and Martinů.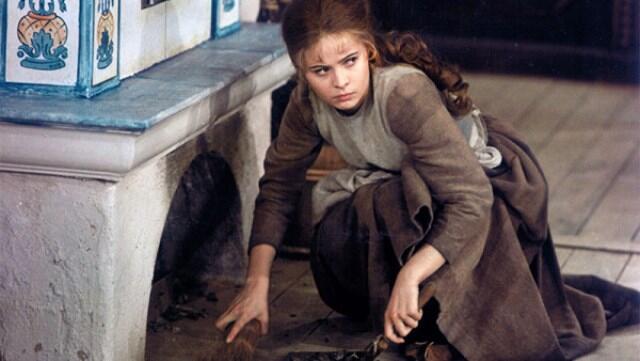 Explore fairy tale castles, secret gardens, and magical mazes
If you need further proof of the magic that is Prague and the country at large, consider this: the Czech Republic is the second-most castle-dense country in Europe.
You can find plenty of fairy tale castles in the capital, starting, of course, with Prague Castle. A number of its monuments are steeped in legend and myth including Dalibor's Tower, where the Knight Dalibor of Kozojedy was imprisoned, and Golden Lane where alchemists once tried to invent gold.
Not far from Prague Castle, stroll the wide boulevards and forested paths of Prague's secret fairy tale palace: Obora Hvězda. Meaning "star preserve" in Czech, this six-sided, star-shaped chateau surrounded by a 210-acre Renaissance forest park was formerly a royal summer residence.
UNESCO-listed Průhonice Chateau is a short bus ride from Prague. Many live-action fairy tales are filmed here and once you catch a glimpse of its Neo-Renaissance towers and magnificent park—one of the largest landscaped parks in Europe—you will see why. We recommend nearby Babiččina Zahrada for lunch or dinner.
Beyond Prague, medieval Křivoklát Castle in Central Bohemia gives off such a fairy tale vibe that the 2005 movie The Brothers Grimm was filmed there! It doesn't get more enchanted than Castle Loučeň, remarkable for its pristine castle park and series of labyrinths and mazes. Also on offer: a princess-led tour.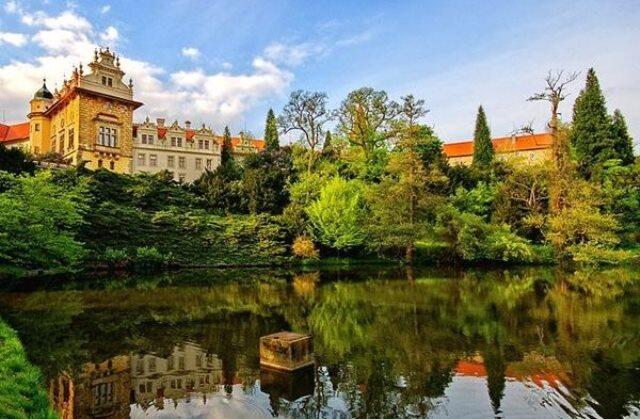 Try some fabled food
For a taste of old times, medieval Czech taverns, krčma, promise a dimly-lit meal of flame-roasted meats at rough-hewn benches with the requisite goblets of mead—some, like Tavern U krále Brabantského in the castle district, entertain diners with accompanying performances for a true Game of Thrones experience. In Old Town, medieval banquet hall U Sádlů promises a feast of storied proportions: venison pate, boar goulash and rabbit leg.
Adventurous foodies who trek to the Gingerbread Museum near Pardubice, about an hour from Prague, can explore an actual gingerbread house while tasting the honey gingerbread (perník) treats that are specialities of the region. Take the tour for a run-down of the different international versions of Hansel and Gretel.
In Prague, you can buy ornately decorated honey gingerbread hearts at just about any street market, especially around the holidays, or slices of traditional gingerbread cake at cafes and the farmers' markets.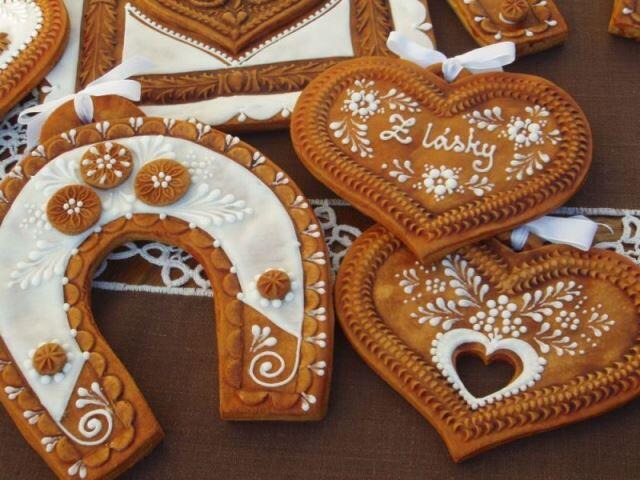 Slip into something fantastical
Finally, very devoted fans of fairy stories will be excited to learn that in Prague, one of the largest sound stages in Europe, recently opened its costume and props departments to the public for tours—visitors can actually try on the costumes used in many of the famous Czech fairy tale productions. Additionally, original costumes from televised Czech fairy tales will be on display at Strahov Monastery from November 21 to December 31.