5348 Views
In the eighteenth-century, the production of unlicensed gin in London was legal. The city was slum-ridden, the streets were crowded. The price of it in comparison to other spirits was extremely low. So low, in fact, that the poorest people in London could afford it, and turned to it in an attempt to escape the cold and hunger they faced on a daily basis. Such was the popularity of gin. At this time, of the 15,000 drinking establishments in London, over half were gin shops.
Updated for accuracy in September 2020
But what were the effects of this period of time known as the 'Gin Craze'? At the time, consumption of gin was blamed for the rise in crime, misery, death rates, and falling birth rates. It wasn't until 1736 when the Government started passing specific Acts to control who could sell gin and the price of grain went up after a few bad harvests that things started to improve.
In the 1820s the column sill was invented. This lead to the distillation of neutral spirits becoming practical and lead to the creation of London gin later that century. Since then, London gin has become one of the most popular forms of spirit. It's enjoyed in bars and homes not just in London, but around the world. However, if you want to enjoy the best London gin around, then you could do worse than trying it in the city where it all started.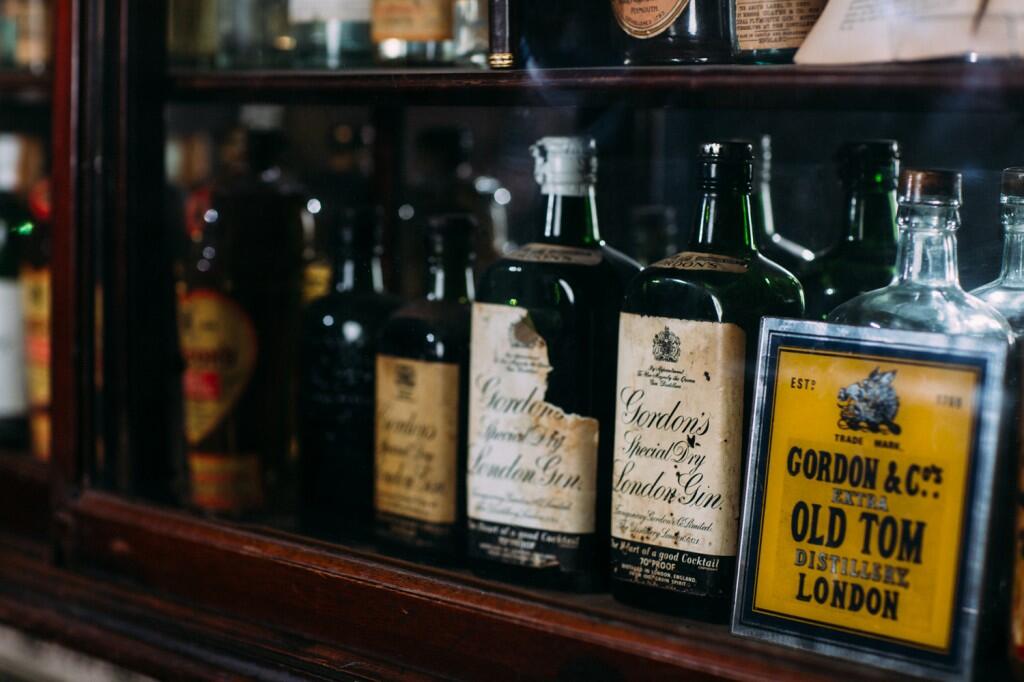 Nowadays, Londoner's consumption of Gin is thankfully a little more sophisticated, and if it's your tipple of choice you definitely won't have a hard time finding somewhere to drink gin in London.
Here is our pick of the best:
The Ginstitute
Fancy learning a bit more about gin? Even creating your very own bespoke bottle of gin to take home with you? You can, at The Ginstitute on Portobello Road! You'll start your London gin journey inside a re-creation of a Victorian gin palace. One of the resident gin instructors will show you their collection of vintage gin posters, and gin-related artifacts, then it's time for a tutored tasting in The Still Room. This is also where you'll make your bespoke bottle of London Gin (the recipe of which will be kept on file so you can order it again in the future) before being presented with a bottle of Portobello Road No. 171 gin to take home with you as well. Sound good? You can purchase tickets on their website for £100 per person.
The Ginstitute, The Portobello Star, 171 Portobello Road, Notting Hill, London, W11 2DY

Sipsmith
Curious about how to actually make gin? The Sipsmith are responsible for opening the first gin distillery to open in London. In almost 200 years! They offer regular tours of their Chiswick-based distillery. The Sipsmiths (as they call themselves) are a small team of gin-enthusiasts. They have been independently producing their dry gin by hand in small batches since 2009.
So what can you expect from the tour? Well, on arrival they'll hand you a Sipsmith G&T. Then you will learn about the history and how to make London gin. Eventually, you will be happy to taste their award-winning gins. All for the bargain price of £15!
Sipsmith Distillery, 83 Cranbrook Road, Chiswick, W4 2LJ
Dukes Bar
Did you bring your glad rags with you to London? Then you'll definitely want to give this swish Mayfair bar a visit. This place was a regular haunt of James Bond author Ian Fleming. Legend has it that the inspiration for the famous line 'shaken, not stirred' came from his visits to Dukes Bar.
But the real reason you need to visit this bar if you're into your gin is because Dukes is internationally renowned for its famous martinis. Sure, it'll set you back about £20, but sipping a quality martini in a bar where Ian Fleming used to drink is totally worth it, right?
Dukes Bar, St James' Place, London, SW1A 1NY
214 Bermondsey
This tiny but cozy gin joint is hidden under an Italian restaurant and it's well worth scouting out, especially during happy hour. Whatever your gin of choice (there are over 100 on offer), pair it with the BTW tonic – the bar's own small-batch tonic made with naturally occurring quinine from Cinchona tree bark. Oh, and while you're in the area head to Jensen's Distillery and try their hot gin!
214 Bermondsey St, SE1 3TQ
It's always best to drink on a full stomach. At least, this is what they say! If you want to have food, fun, and learn more about London, come join us on our amazing London Food Tours!