3857 Views
Forget the days of mother's ruin, because gin has had a revival and recently become one of the coolest spirits on the London scene. From the legendary Martini to the bubbly Gin Fizz, there's sure to be a gin-based drink for everyone. But for the ultimate in sophistication, the classic Gin & Tonic is the only drink of choice! So next time you're visiting the capital, be sure to check out one of these popular gin joints and prepare to experience some of the tastiest G&Ts in London…
The London Gin Club
Located at The Star in the heart of Soho, The London Gin Club is the coolest place to be for lovers of the G&T. It's home to a selection of over 200 delicious gins from around the world and has a huge cocktail list, but this charming little bar takes great pride in serving one of the best Gin & Tonics in London. You'll find that everything from the glass to the hand-cracked ice has been specially selected to ensure the perfect drink, and for optimum taste they even individually pair the garnish to your gin of choice. But just a small word of advice: the bar gets pretty busy in the evenings so remember to book a table well in advance.
We also stop by The London Gin Club on our new Twilight Soho Food Tour, so book your tour today and enjoy one of our favorite G&Ts in London!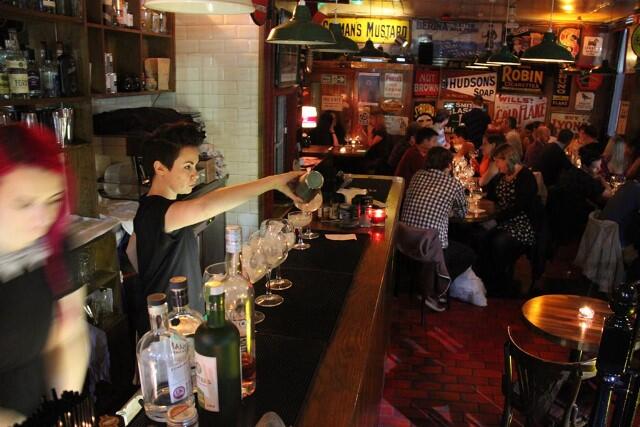 22 Great Chapel Street, London W1F 8FR
+44 (0)207 494 2488
thelondonginclub.com
Open: Tue – Fri 4 pm – 11 pm, Sat 12 noon – 11 pm
COLD Bar at the City of London Distillery
To enjoy a one-of-a-kind G&T, head to COLD Bar at the City of London Distillery. Boasting plenty of character and an impressive array of artisan gins, this subterranean venue is definitely one of London's best kept secrets. On arrival expect to find a speakeasy-style bar overlooking the distillery's dazzling copper stills and a drinks menu packed full of refreshing G&Ts, plus their award-winning City of London Dry Gin. But it doesn't end there, because visitors can also enjoy a guided tour of the distillery or take part in the Gin Lab Experience, where you'll learn how to distill your very own personalized bottle of gin – it's gintastic!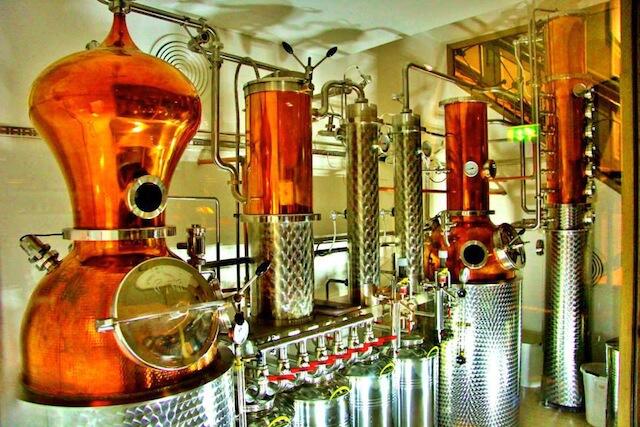 22-24 Bride Lane, London EC4Y 8DT
+44 (0)207 936 3636
cityoflondondistillery.com
Open: Mon – Fri 12 noon – 11 pm, Sat 4 pm – 11 pm
Graphic
A lively atmosphere, super-cool art installations and the largest collection of gin in the UK, makes Graphic one of the best places in London to enjoy gin o'clock. You can indulge in plenty of delicious disco drinks and their trademark paint tin punches, but for the ultimate gin experience at Graphic there's only one tipple of choice – the G&T. Their Perfect Serves G&Ts showcase some of the bar's favorite gins and are packed full of unusual flavor combinations. Be sure to try the delectably aromatic Gin Mare – it's simply out of this world. And if you're feeling peckish, don't fear because they also have a scrumptious food menu that is hard to resist.
Like the sound of that? Then check out their Gin Social: an exciting monthly get-together showcasing all things gin; entry is free but places are limited so act quickly.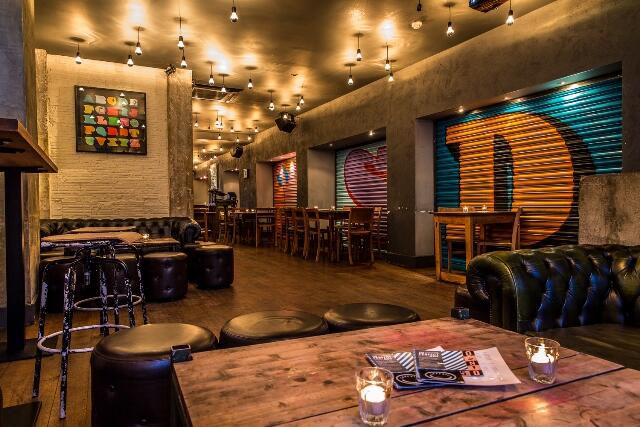 4 Golden Square, London W1F 9HT
+44 (0)207 287 9241
graphicbar.com
Open: Mon – Sat 12 noon – 12 midnight
214 Bermondsey
214 Bermondsey is a haven for G&T enthusiasts. Found nestled beneath Antico Restaurant, this much-loved bar has a collection of over 80 gins and offers detailed gin tasting notes to help visitors select their perfect spirit. If you're not quite sure where to start, then experiment with an uber-exciting Gin & Tonic Tasting Flight – you'll be challenged to blind-taste 3 mini G&Ts and decipher each individual gin. What's better yet? 214 Bermondsey adore gin so much that they've even designed their own tonic water. Named BTW, it's subtle and refreshing, but most importantly designed to let the gin really take the spotlight… and I love it!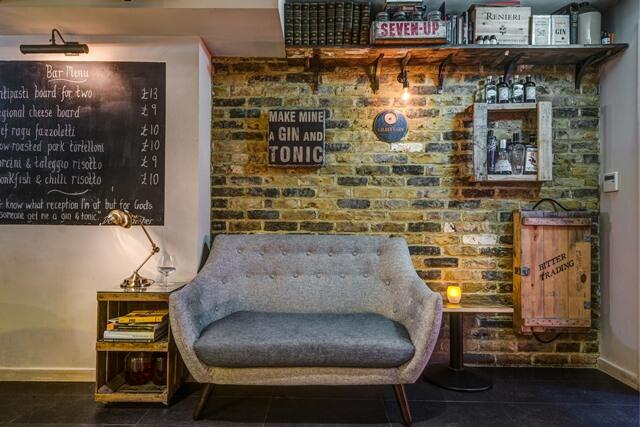 214 Bermondsey Street, London SE1 3TQ
+44 (020) 7403 6875
214-bermondsey.co.uk
Open: Tue & Wed 5 pm – 11 pm, Thu 5 pm – 12 midnight, Fri & Sat 5 pm – 1.30 am, Sun 4 pm – 10.30 pm
The Viaduct Tavern
Full of history and an abundance of charm, The Viaduct Tavern is one of my favorite places in London to enjoy an evening of gin. Located just a stone's throw away from St Paul's Cathedral, it's a little known fact that this period pub is the capital's last surviving Victorian gin palace. At The Viaduct Tavern you'll not only find a large selection of gins but of course, there's also a good variety of signature G&Ts featured on their gin-centric menu. And finally just a small tip from me: be sure to head to the rear of the bar and check out the original booth where the pub's Victorian landlady used to sell gin tokens to punters – it'll take you a step back in time!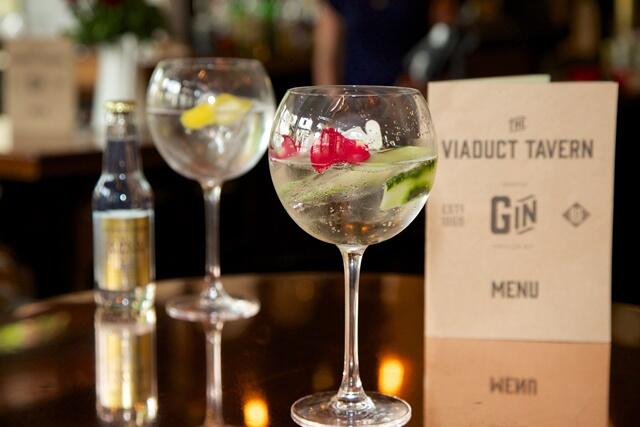 126 Newgate Street, London EC1A 7AA
+44 (0)20 7600 1863
viaducttavern.co.uk
Open: Mon – Fri 8.30 am – 11 pm
So next time you're in London and looking for that perfect G&T, be sure to stop by one of these incredible modern-day gin palaces! And as always, remember to let us know your favorites…