3698 Views
German food is one of those cuisines that doesn't seem to get any coverage at all outside of its homeland. Much like English, Scandinavian, Dutch and many more cuisines, however, it can be absolutely delicious. There are a surprising number of places in London that serve and sell German food and drinks. Here are some of the best places to get some bratwurst and sauerkraut this side of Berlin… Prost!
Bierschenke
If you're after some authentic German food and drink in the rowdy atmosphere of a traditional Munich beer hall, then Bierschenke is the place for you. Located right in the middle of London, between Liverpool Street and Moorgate, it couldn't be better placed for an after-work event if you're based in town, although travelling in from outside the city is hardly difficult either. Bierschenke is open from 11 am each weekday and from noon on Saturdays, so you can enjoy a stein (German beer mug) and bratwurst for lunch or dinner. But be warned, it does get busy on Thursdays, Fridays and Sundays, so you'd be best off booking a table in advance for any of those evenings.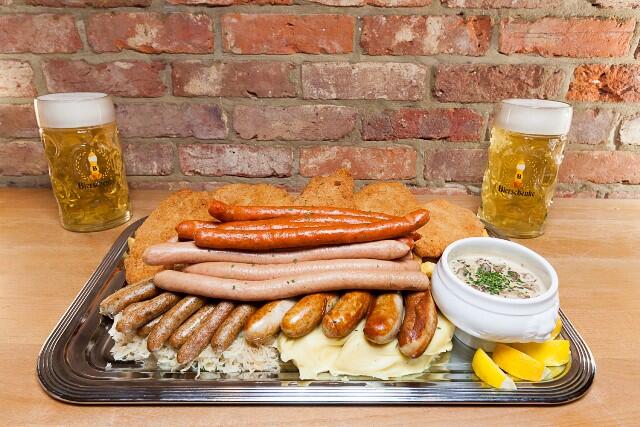 4 London Wall Buildings, Blomfield Street, London EC2M 5NT
+44 (0)20 7100 2500
bierschenke.co.uk
Open: Mon – Fri 11 am – 11 pm; Sat 12 noon – 12 midnight
Fischers
When you're looking for an authentic and relaxed German restaurant, Fischers may just be the perfect place for you. It's ranked top out of all the German places in London, and for a good reason: it serves German (and Austrian) food that would not seem out of place in the finest Hamburg eatery. The restaurant is styled in the fashion of a Viennese coffeehouse, but boasts a full menu selling fine and filling German cuisine. We would highly recommend trying lunch or dinner at Fischers, but be prepared to add a new restaurant to your list of regular haunts, it is that good.
50 Marylebone High Street, London W1U 5HN
+44 (0)20 7466 5501
fischers.co.uk
Open: Mon – Sat 8 am – 11 pm; Sun 8 am – 10 pm
Bavarian Beerhouse
The most famous of the UK's German restaurants and bars, the Bavarian Beerhouse has two London locations in Tower Hill and Old Street. You don't head to these places expecting a quiet meal or relaxed night; what you can expect is a full restaurant and bar, waitresses and waiters in traditional dress, large tables in rows and some fantastic (and maybe not too traditional) oompah music. We'd recommend booking if you've got any kind of a group as the bar gets busy at all times. The beers are not too cheap, but you don't head to the Bavarian Beerhouse on a budget, so grab a stein or two, order a Vienna-style schnitzel and sing and dance the night away.
Old Street location: 190 City Road, London EC1V 2QH
Tower Hill location: The Arches, 9 Crutched Friars, London EC3N 2AU
+44 (0)800 530 0016
bavarian-beerhouse.co.uk/london
Opening times vary depending on location – see website for details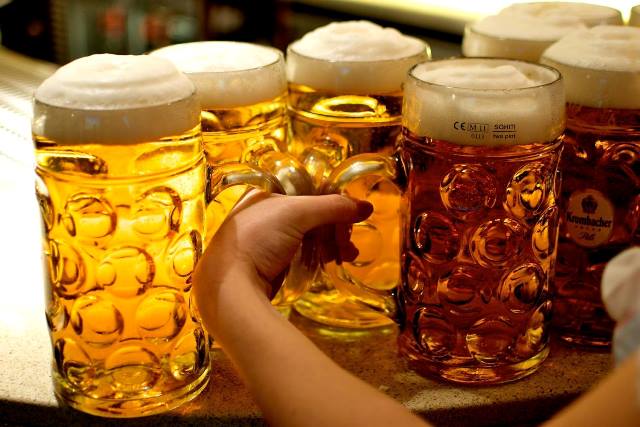 Author's note – I recently went to the Bavarian Beerhouse to celebrate a 31st birthday; my own mother had to leave at 10 pm after too many schnapps, most of which were on the house!
Backhaus
The first of two bakeries on this list. Backhaus specialises in hand-baked German breads, cakes and pastries. What makes Backhaus such a special place is the way all their food is made, strictly in accordance with the old-fashioned methods and original recipes, as well as all being created onsite daily. As well as all of the traditional breads and cakes, they also serve some fantastic cheesecakes and other deserts that stray away from their core products in being some of the only foods they sell that are not vegan. Backhaus also has a bakery van that stops at various points around London (all listed on their website) including the German embassy, so if their Richmond location isn't convenient for you, there is sure to be a time in the week when they are close by.
175 Ashburnham Road, Richmond TW10 7NR
+44 (0)20 8948 6040
backhaus.co.uk
Open: Mon – Fri 7.30 am – 5 pm; Sat 7.30 am – 4 pm; Sun 7.30 am – 2 pm
Kamps
Kamps is a popular German chain of bakeries that has recently opened two new locations in London (their first in the UK) based in Tottenham Court Road and Kensington. Kamps sports a large and varied menu which includes a large selection of cold and hot sandwiches, flatbreads, pastries (of course!), cakes, salads and breakfasts, as well as the fantastic freshly baked loaves. They even have traditional, and delicious, German hot dogs, as if you needed any more reason to pop in. As well as all of the delicious food, Kamps also makes sure that each visit is an experience in itself, with the bakers preparing the bread in front of the customers, and you can witness every aspect of the preparation and baking of the delicious food you're tucking into.
Tottenham Court Road location: 154/155 Tottenham Court Road, London W1T 7NQ
Kensington location: High Street Kensington 125, Kensington Arcade / Unit 8
Tottenham Court Road location: +44 (0)20 7383 4333
Kensington location: +44 (0)20 7368 0074
kamps.co.uk
Opening times vary depending on location – see website for details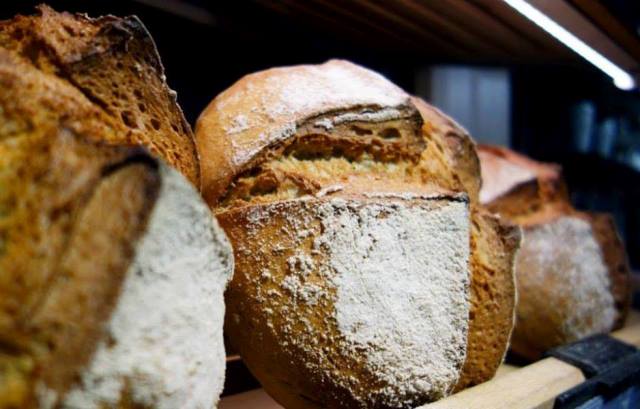 Eating London has just launched its East End Food Tour in German – with German-speaking guides especially for German visitors to London!
Find out more and book here
.