8037 Views
With views of the Colosseum from its many vine-covered, cobbled streets, the pretty residential area of Monti is fast becoming a tourist stop in its own right. Get off the B-line metro (the blue one) at Cavour and enjoy getting lost amongst its many winding alleyways. And with all that wandering, you're going to need some sustenance.
Every time I visit, new eateries and restaurants seem to have sprung up out of nowhere. So much so, it's difficult to keep up and the options in Monti can be overwhelming. Try out some of my favorites and save the more pleasurable dithering and deciding for the menu. Booking is always a good idea, at least a couple of hours before you want to eat.
Map of Monti's Best Restaurants
La Taverna dei Fori Imperiali
This cozy and traditional trattoria remains popular with many locals. Starters of crostini with chicken livers (slightly Tuscan, but I'm not complaining) or the more Roman bruschetta with porchetta (roast pork) or guanciale (pig cheek) are recommended. The pastas here are deliciously different: I remember that I ate one with Calabrian spicy 'nduja on one visit. It must have been one of the daily specials, so be sure to ask what's on the menu that day!
Via della Madonna dei Monti, 9
Tel: 06 679 8643
latavernadeiforiimperiali.com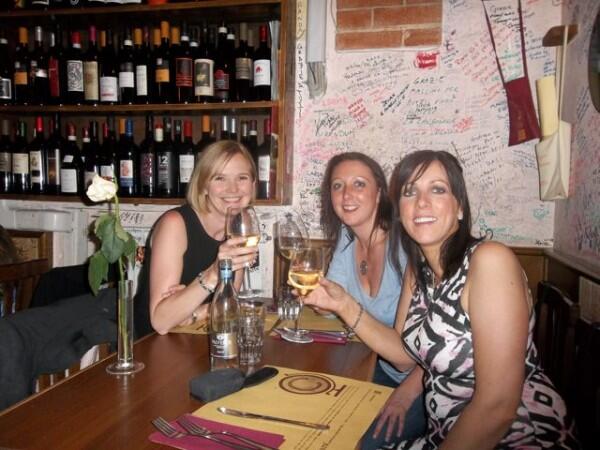 La Carbonara
It's lively, busy atmosphere and friendly, flirty staff make this a good place for dinner with friends. Pastas are very good and the steaks plentiful. Without booking you will have to wait, but with a glass or two of wine at the bar we didn't seem to mind.
Via Panisperna, 214
Tel: 06 4825176
lacarbonara.it
Osteria da Valentino (otherwise known as Peroni)
Known as Peroni by most people due to the 1920s painted advertisement above the door, this old-fashioned eatery offers a limited menu, which is no bad thing as it gives it more room to concentrate on the things it does well. With no pasta on the menu, try the scamorza instead (a grilled, chewy cheese with a wide range of toppings to choose from). A French friend even praises the food here – no finer recommendation as far as I am concerned.
Via del Boschetto, 37
Tel: 06 4880643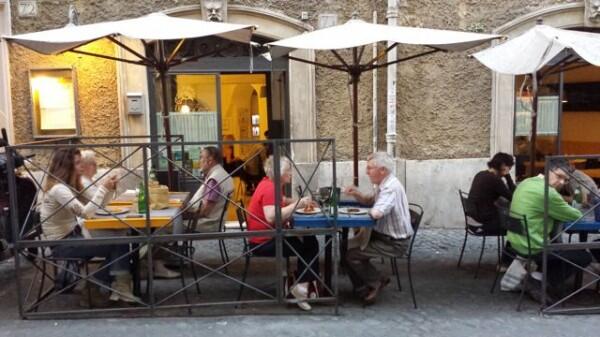 L'Asino D'oro
More Umbrian restaurant than Roman trattoria, I had heard a lot about "The Golden Donkey", but at first glance, it seemed far too trendy and minimalist for my taste. Finally, I ventured in and I was so pleased I did. The food is extraordinary, fresh and subtle after all that lovely, heavy Roman fare. Starters are expensive, but worth a splurge – the guinea-fowl salad (more a terrine) is a particular favorite. Main courses are priced more reasonably: the pork with burnt onions is some of the best pork I've ever eaten. And the outdoor seating during the summer is very much to my liking.
Via del Boschetto, 73
Tel: 06 4891 3832 
La Barrique
Not only a wine bar (and a great wine bar it is), La Barrique serves an interesting range of pastas and meat courses in its homely, yet stylish surroundings. Try to get the little, almost private room, off to the left as you pass the bar, if it's a quiet drink you're after.
Via del Boschetto, 41
Tel: 06 4782 5953
Osteria della Suburra
Just outside the metro stop, ignore the strange paintings on the wall of this restaurant and dive into the buffet style antipasti of roasted vegetables. Then, the pastas are the dishes to order here. Last time, I had the fettucine with ragu al cinghiale (wild boar sauce). It was very good, but I still spent most of the meal being very jealous of my companion's spaghetti carbonara. Another one of the many tough choices you will have to face on any visit to Monti!
Via Urbana, 67
Tel: 06 486531
osteriadellasuburra.com