5518 Views
There's nothing quite as beautiful or breathtaking as Prague by day as Prague by night. And there's certainly no shortage of entertainment. Whether Czech pubs, late night parties, music, culture, wine or food tug your night strings, when the sun sets in the Golden City, we've got you covered with these top tips on what to do in Prague at night…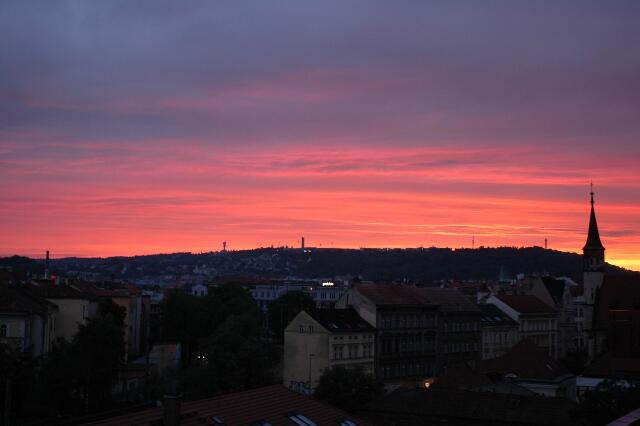 Cross Club
Gadgets and widgets, cranks and crannies galore adorn this industrial and legendary music club. Tucked in Prague's Holešovice neighborhood, it's well worth the journey out of the city center to see (and stay the night). Check out the in-house café serving coffee, sandwiches and pizzas (daily until midnight and 1 am on Fridays and Saturdays). When weather permits, hit up the garden!
Plynární 23
+420 775 541 430
crossclub.cz
Open: daily 6 pm – 4 am; Fri and Sat till 6 am 
St. Vitus Cathedral
The gothic, royal cathedral within the Prague Castle complex is breathtaking, particularly at night when the grounds are quiet, presumably at rest before the next day's hustle and bustle.
Prague Castle
+420 224 373 368
katedralasvatehovita.cz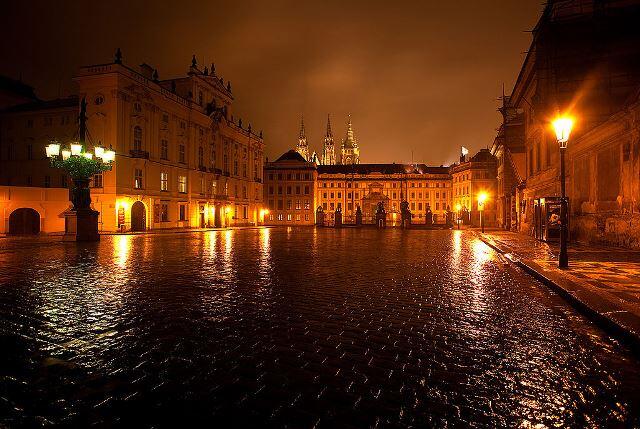 Bar and Books
For a night of sophistication (and cigars), head to "the world's most refreshingly civilized places to meet" and enjoy regular events such as live music, burlesque and Whiskey Tuesdays. Cheese platters, salads and burgers too.
Mánesova Bar and Books
Mánesova 64
+420 222 724 581
barandbooks.cz/manesova
Open: Sun – Wed 5 pm – 3 am; Thu – Sat 5 pm – 4 am
Týnská Bar and Books
Týnská 19
+420 224 815 122
barandbooks.cz/tynska
Open: Sun – Wed 5 pm – 3 am; Thu – Sat 5 pm – 4 am
Prague Museum Night
Spend a summer night (and not a dime) capturing the rich culture and history of Prague, the Czech Republic and beyond. Prague Museum Night is an annual event held in mid-June when many of Prague's museums and institutions open their doors to the public for free!
Various locations
prazskamuzejninoc.cz
June 13 from 7 pm – 1 am
U Zlatého tygra
If sharing elbow space with the locals in a smoky, noisy Czech pub drinking the best Pilsner Urquell in town is your idea of a good night in Prague, the "Golden Tiger" is your place. Order the pivní sýr and be sure to mix it with the ingredients provided and a splash of beer!
Husova 17
+420 222 221 111
uzlatehotygra.cz
Open: Mon – Sun 3 pm – 11 pm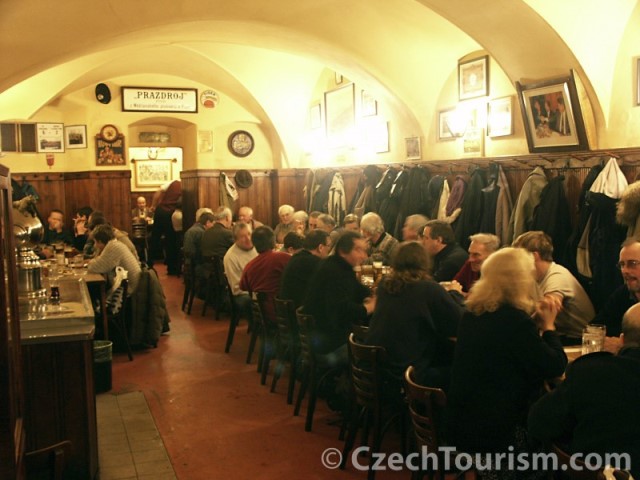 Lucerna
Lucerna's not necessarily a place we visit on a weekly basis. But when the urge to dance our hearts out to 80s and 90s flashback videos all night long strikes, we imbibe. Tip: Conveniently located around the corner from Wenceslas Square's late night fast food stalls where post-Lucerna smažený sýr (fried cheese sandwiches) are always a good idea.
Vodičkova 36
+420 224 217 108
musicbar.cz
Open: Mon – Sun 8 pm – 3 am
Jazz Dock – Jazz Blues Bar & Café
Live soul, funk and blues until the wee morning hours, a near-perfect location (just a hop, skip and a jump away from Kampa, literally on the banks of the Vltava) and rooftop seating when the weather fares, if we had 3 thumbs, we'd give them! Standard admission is 150 CZK. Serving a full menu.
Janáčkovo nábřeží 2
+420 774 058 838
jazzdock.cz
Open (April – September): Mon – Thu 5 pm – 4 am; Fri – Sat 3 pm – 4 am; Sun 3 pm – 2 am
Open (October – March): Mon – Thu 3 pm – 4 am; Fri – Sat 1 pm – 4 am; Sun 1 pm – 2 am
Jazz Boat
If catching jazz (and top notch views) from the middle of the Vltava River intrigues you, book a night on the Jazz Boat.
Vltava River Gate 5, Čechův most (Czech bridge)
+420 731 183 180
jazzboat.cz
Open: daily 8 pm – 11 pm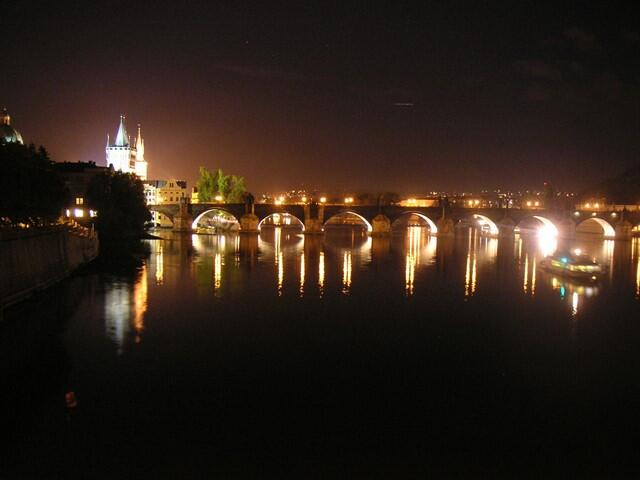 McGee's Ghost Tours of Prague
Prague's legends, ghosts and mysteries are something to be explored. And no better time to do so than at night. Allow these guys to be your trustworthy guides. On one of their tours, they'll even take you to the underground chambers beneath the Astrological Clock!
Týnská 7
+420 222 315 258
mcgeesghosttours.com
Check website for tour days and times
Čarodějnice
If you happen to be in Prague at the end of April and have kids to entertain, burn the Winter Witch in celebration of the chilly weather's end and the forthcoming planting season. Čarodějnice is an annual event reminiscent of Halloween in the Czech Republic, Central Europe and Scandinavia.
Ladronka Park (Prague 6)
+420 233 350 378
carodejnicenaladronce.cz
Open: April 30 from 2 pm – 10 pm
Vinograf
Local wines deck the walls and friendly employees help guide the night's selections at Vinograf, one of our top recommendations when wine's on the mind. Food to pair served too.
Malý Vinograf (near the Charles Bridge)
Míšenská 8‬‬
+420 604 705 730
vinograf.cz
Open: Mon – Sat 4 pm – 12 midnight; Sun 2 pm – 10 pm
Velký Vinograf
Senovážné náměstí 23
+420 224 142 050
Open: Mon – Sat 11.30 am – 12 midnight
Kozička
In search of late night restaurants near Old Town Square? (It's been known to happen.) Cozy up in this brick cellar pub/restaurant with a hearty meat dish…and more pivo.
Kozí 1
+420 224 818 308
kozicka.cz
Open: Mon – Fri 12 noon – 4 am; Sat 6 pm – 4 am; Sun 6 pm – 3 am (orders taken until 1.45 am)