9785 Views
No one can deny that Prague is an ideal destination for beer lovers. Its combination of excellent quality and impressive quantity is perhaps unmatched anywhere else in the world. And while the Czech Republic isn't exactly known for its culinary culture, it still boasts a plenty of top-notch restaurants. However, places that emphasize the food often don't cater to beer drinkers, and many top Prague beer pubs only serve bar snacks and aren't ideal places to eat dinner. Here's a list of places in Prague where you can both enjoy a delicious meal and wash it down with some of the best beer the Czech Republic has to offer.
A quick side note for prospective diners: locals usually make reservations at popular restaurants in Prague, especially during peak times, so I advise you to book a table ahead of time or try to visit before the dinner rush!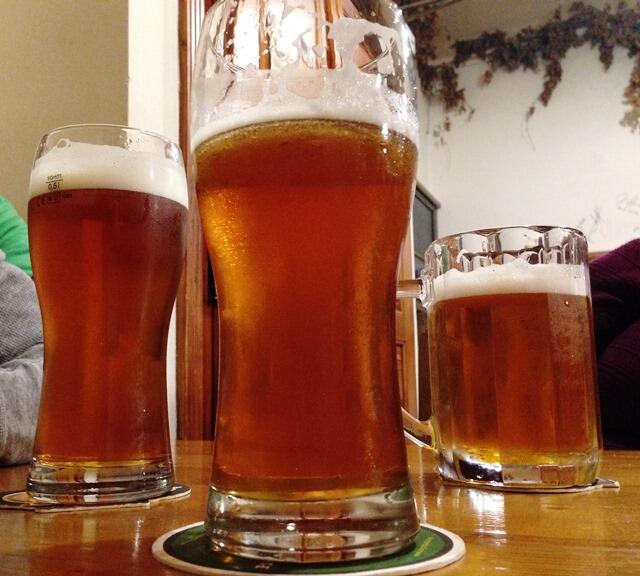 Lokál
A visit to Prague would be incomplete without having at least a glass of the most beloved Czech beer, Pilsner Urquell. While everyone has their own opinion of who serves up the best Pilsner Urquell, many claim the Lokál chain of restaurants holds that honor, and I'm not one to argue with them. Since opening their first location on boisterous Dlouhá street in Prague's Old Town 5 years ago, Lokál has expanded to 5 restaurants scattered around the city. The Pilsner is stored in chilled 500-liter tanks, and every step is taken to ensure it maintains the highest and freshest quality. Although Lokál's menu isn't so expansive, they offer some well-prepared Czech meals, sausages and small dishes like marinated hermelín cheese. Another sign they take their beer seriously at Lokál: sometimes they'll bring you another even if you haven't asked!
Míšeňská 66/12, Prague 1 (pictured below – one of five locations)
+420 257 212 014
lokal-ubilekuzelky.ambi.cz
Open: Mon – Sat 11 am – 1 am, Sun 11 am – 12 midnight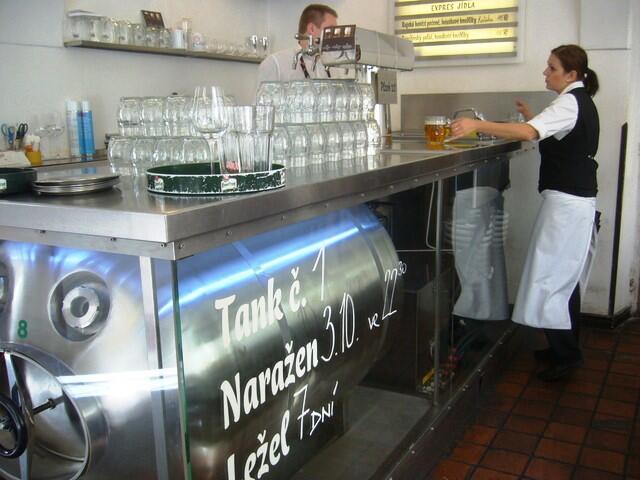 Klášterní pivovar Strahov (St. Norbert Monastery Brewery in Strahov)
For many centuries, beer was brewed by monks in monasteries. The majority of those monasteries closed down over the years, but some, like the one in Strahov, have reopened to continue doing the Lord's work: brewing beer! Since starting back up in 2001, St. Norbert monastery has been producing some of the tastiest beer in the entire country. In addition to a great Czech-style amber lager, St. Norbert also makes a fantastic IPA, a style of beer relatively new to the local scene. It's also a great place to have a proper Czech meal, and the food is priced quite reasonably considering the posh location. Along with a selection of beer snacks, they serve ribs, roasted pork knee, goulash, and other Czech favorites. St. Norbert is a great stop when visiting the nearby Prague Castle.
Strahovské nádvoří 301, Prague 1
+420 233 353 155
klasterni-pivovar.cz
Open: Mon – Sun 10 am – 10 pm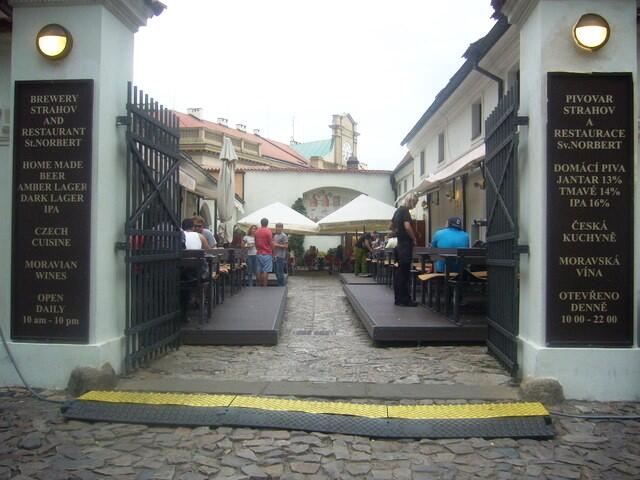 Kulový Blesk
In the past 5 years or so, the Czech Republic has experienced a microbrewery revolution. The larger beer producers still control most of the overall market, but there is an ever-growing number of small breweries that emphasize quality over quantity. Some pubs and restaurants, like Kulový Blesk, only serve beer from smaller, independent breweries that aren't always so easy to find. They have 16 rotating taps which should offer something for every beer lover, and its admittedly meat-centric menu features grilled steaks, burgers, ribs, and steak tartare. Try to get a table in the outdoor garden, which has heat lamps to keep you warm in chilly weather.
Sokolská 13, Prague 2
+420 721 420 859
restauracekulovyblesk.cz
Open: Mon – Fri 11 am – 11 pm; Sat – Sun 5 pm – 11 pm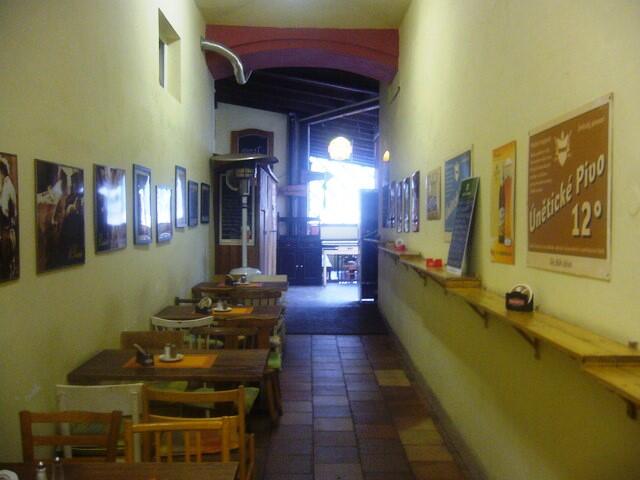 Mozaika
This under-the-radar restaurant in Prague's Vinohrady district is always a trusted place to go for a quality meal. It used to be my favorite burger in town before everyone started making burgers, but it's still a solid choice if you want to treat yourself to something special. Mozaika serves a variety of gourmet burgers and a handful of other dishes like ribs or Czech-style steak tartare. If burgers aren't your thing, Mozaika's Krystal Bistro in Karlin has a unique French-inspired menu, which varies from season to season. And to wash it down, Mozaika serves beer from the highly-regarded Matuška brewery, including a delicious California-style IPA. A bit stronger and more expensive than typical Czech beer, Matuška is the kind you sip while enjoying a delicious meal.
Mozaika Burger & Co.
Nitranská 13, Prague 3
+420 224 253 011
mozaikaburger.cz
Open: Mon – Sat 11.30 am – 11 pm
 Mozaika Krystal Bistro
Sokolovská 99/101, Prague 8
+420 222 318 152
krystal-bistro.cz
Open: Mon – Fri 11 am – 11 pm; Sat – Sun 12 noon – 11 pm
T-anker
I only recently discovered this nifty beer garden restaurant, and I'm not sure how it flew under my radar for so long. Not only does Tanker have 9 rotating taps featuring some great microbrews, but the terrace is located on the roof of an old-school, Communist-era shopping center, providing a great view of Prague's majestic old town while you enjoy your meal. The burger was decidedly average on a recent visit, but a menu featuring octopus, salmon, grilled steaks, steak and salmon tartare, and several salad options should appeal to almost everyone.
OD Kotva – 5th floor, náměstí Republiky 656/8
+420 722 445 474
t-anker.cz
Open: Mon – Sun 11 am – 11 pm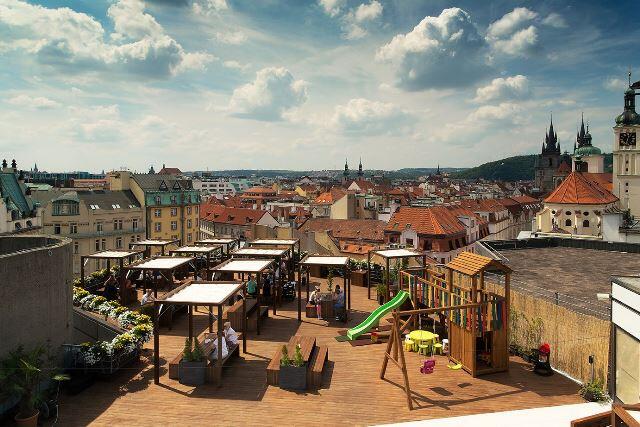 Café Louvre
For those who prefer the cafe scene to smoky pubs, Café Louvre is perhaps the most attractive cafe in all of Prague. Despite the name, Café Louvre has been a cherished Czech institution for over a century. In addition to the cakes and small dishes you would expect from a cafe, they have a bit of everything else, including schnitzel, grilled steaks, poultry, fish, pasta and a nice selection of salads and vegetarian options. Plus, they serve unpasteurized Bernard, one of the finest Czech lagers around. Café Louvre is featured on our Prague Food Tour, about which you can find more information here.
Národní 22, Prague 1
+420 224 930 949
cafelouvre.cz
Open: Mon – Fri 8 am – 11.30 pm; Sat – Sun 9 am – 11.30 pm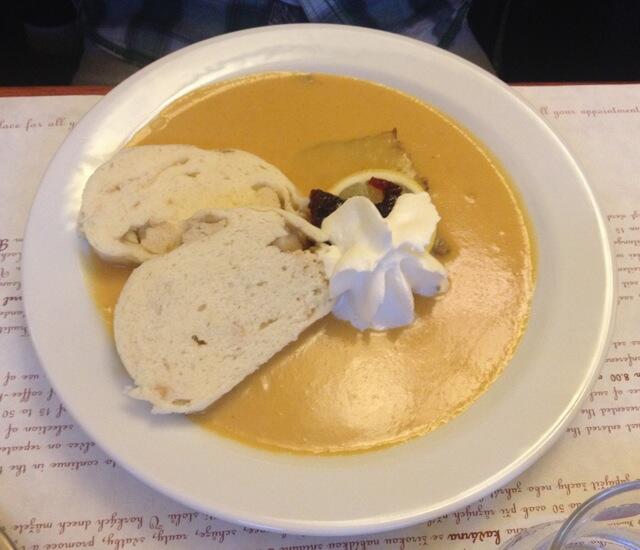 Bašta Brewery and Restaurant
Despite the name of a restaurant mentioned earlier, the most "local" option on this list is the Bašta brewery in Prague's Nusle district. I had been recommended to visit this small microbrewery by several Czech friends, but the place was completely full on my first several visits. Finally, I managed to grab a table on a mid-afternoon visit, and I was pleasantly surprised. The beer was delicious, and the menu included all the local Czech favorites. It is affiliated with the neighboring Pilsner restaurant U Bansethů, but the microbrews can only be found in the Bašta brewery next door.
Táborská 389/49, Prague 4 – Nusle
+420 602 295 403
ubansethu.cz/cz/pivovar/ (website in Czech)
Open: Mon – Sun 11 am – 12 midnight