10428 Views
It's a given that when you come to Prague, you must try at least one traditional Czech dish. Common favorites include: svíčková, slices of pork tenderloin, a rich savory gravy sauce topped with cream and cranberry sauce plus knedliky, which are potato dumplings; goulash, a beef stew-like dish with potato and bacon knedliky; and smažený sýr, which is fried cheese generally served with tartar sauce or ketchup. However, after a long-day of sight-seeing and a rumbling stomach, tourists understandably end up settling for any restaurant that advertises Czech food. Eating a traditional dish should be done in the right atmosphere, in order to fully enhance the experience. Believe it or not, there are several restaurants that are relatively close to the center which tend to be non-touristy. So why not share a meal and throw a few beers back with the locals? It works wonders for softening the language barrier…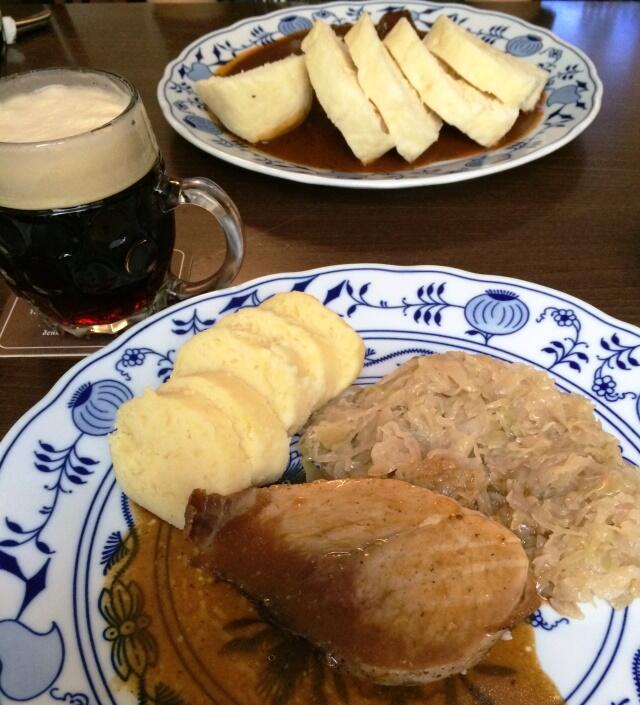 Lokál
Lokál is hands-down one of the most popular Czech food restaurants/pubs in Prague. The name reflects the majority of its customers: the locals. The place tends to be filled with Prague natives and it buzzes with loud, animated, post-work conversations and laughs. Usually, it's only the tourists who have a connection living in Prague who manage to try the Lokál experience. Otherwise, it tends to be randomly stumbled upon and greatly enjoyed. There are several locations throughout the city, most of which are quite central and easily found by newcomers. The menu consists of numerous traditional dishes, as well as burgers, salads and soups. Most of the dishes are pork or beef based with knedliky (dumplings) on the side. If you can make it there for lunch, they have an excellent daily-changing selection that will cost you less than 200 CZK (US$ 8.50).
Dlouhá 33, Prague 1
+420 222 316 265
lokal-dlouha.ambi.cz
Open: Mon – Sat 11 am – 1 am; Sun 11 am – 12 midnight
U Českých Pánů
U Českých Pánů is a medieval-style restaurant that serves a variety of Czech classics. It is said that the original building dates back to the 1300s, hence the medieval décor of the restaurant. One of the traditional Czech soups they offer is called staročeská couračka. It is served in a bread bowl and made of sauerkraut and sausages. They serve all the popular Czech dishes, plus several others such as rabbit leg and dumplings, honey pork ribs, and a platter consisting of ribs, chicken wings, sausages, potatoes, corn and a variety of dipping sauces. So, if you are seeking not only to eat a traditional Czech meal in an authentic restaurant but also to travel through time, this is the perfect place for you.
Školská 695/38, Prague 1
+420 222 231 068
english.uceskychpanu.cz
Open: Mon – Fri 11 am – 11 pm; Sat 12 noon – 11 pm; Sun 1 pm – 11 pm
Kolkovna
Kolkovna is another chain of Czech restaurants here in Prague which attract locals and the occasional tourist. It boasts several restaurants throughout the city, located both in the center and scattered through the less touristy neighborhoods. They offer a daily menu of Czech classics plus a variety of universal dishes. Sip on a Kofola (a Czech soft drink) or beer on tap, and prepare to have a delicious Czech meal. I recommend the beef tartar, which is a Czech classic. Most people would be hesitant to try it but it's actually considered a delicacy here. It is seasoned, raw beef which is served with garlic, shallots and bread slices. A glass of red Moravian wine goes excellently with this dish; just make sure you don't come on an empty stomach because while it's delicious and definitely recommended, it tends to not sit so well if you haven't eaten in a while.
Vítězná 7, Prague 1
+420 251 511 080
kolkovna.cz/en/kolkovna-olympia-12
Open: Mon – Sun 11 am – 12 midnight
U Kozla
At U Kozla make sure you bring an empty stomach for a pint (or two) of Kozel, a dark Czech beer, and large plates of classic Czech cuisine, while soaking up the traditional atmosphere. Of all the previously mentioned restaurants, this is probably the most authentic type of Czech restaurant you can try, sans tourists. It's a little ways out of the center of Prague, in Prague 3. So, if you happen to be wandering around there, then this is one place to check out.
Jana Želivského 4, Prague 3
+420 222 580 405
ukozla.cz
Open: Mon – Sun 11 am – 11 pm