3825 Views
With the rise of the food network and culinary blogs, the term "foodie" has quickly become a part of our daily vocabulary, sprinkled through our conversations like a fine Parmigiano. But what exactly is a foodie? Is it a noun or an adjective, a positive quality or a stab at those considered pompous or snobby? Do you need to know when truffle season is, or the proper temperature to a store a Riesling in order to be deemed a true foodie? Does being a foodie refer to the way you eat, cook, or shop or all of the above?
While the term itself is a bit ambiguous, one thing is for sure: Rome is a haven for food-lovers. Though it isn't difficult to find a hearty, traditional Roman trattoria, it's always a bit more challenging to come across the truly unique or surprising eateries on your own, smaller, more specialized businesses that aren't commonly written up in guide books. Below is a list of some of my favorite "foodie" spots in Rome, spanning from the savory to the sweet and whatever lies in between, some suggestions from a writer who considers herself a cheese addict, pasta snob, and talks about food for a living. Dare I say, a foodie?
Mordi e Vai
Although there are one hundred and three vendors in the bustling Mercato Testaccio, Mordi e Vai's epic lunch line makes it quite easy to spot. Owner Sergio Esposito has made a name for himself by reinterpreting the potentially boring sandwich, offering combinations like veal cooked in white wine with chicory, braised beef known as allesso, and for the more adventurous eaters, tripe. The best news of all? Sergio's panini go for only 3-4 euro each.
Via B. Franklin 12E
Open 8:00 am – 2:30 pm
Closed Sunday
Volpetti
If there is indeed a heaven, I imagine it to be Volpetti. A forty year old business run by brothers Claudio and Emilio Volpetti, this gourmet food store boasts 150 different types of cheese, 60 varieties of salami, and aged balsamic ranging from 5 years old to 100 years old. The best part? Volpetti has a tradition of giving out free samples. Ask for a bite of truffle cheese or a sip of Moscato.
Via Marmorata 47
Tel 065742352
8:00 am – 2:00 pm, 5:00 pm – 8:00 pm (Closed Sunday)
volpetti.com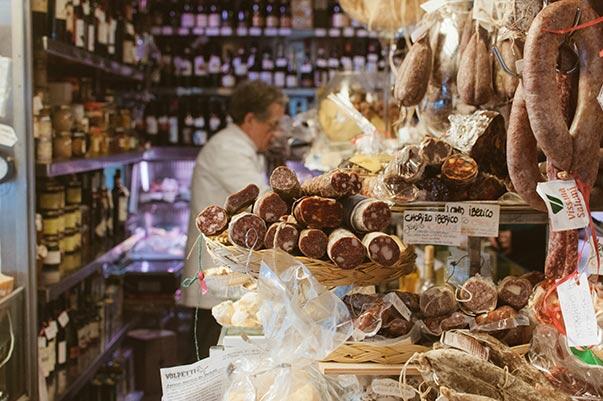 Beppe e i suoi formaggi
Tucked away in the Jewish ghetto, Beppe's specialty is cheese. Not just any cheese, however – the cheese sold here is made on this family run business's farm in Piedmont, and offers an overwhelming (in the positive sense of course) range of goat, sheep, and cow's milk cheeses. Be sure to stop by for one their cheese tastings.
Via S. Maria d. Pianto 9A/11
Tel 0668192210
Tues-Sat 8:30 am – 10:30 pm, Sunday 9:00 am – 3:30 pm
beppeeisuoiformaggi.it
Open Baladin Roma
An enormous list of artisanal Italian beers paired with upscale hamburgers, buns courtesy of the famed Italian baker Gabriele Bonci. Need I go on?
Via degli Specchi, 5-6
Tel 06 683 8989
12:00 pm – 2:00 am
openbaladinroma.it
Flavio al Velavevodetto
This classic Roman osteria is built inside an ancient artificial mound composed entirely of 53 million discarded terracotta containers known as amphorae. Indulge in their swoon worthy carbonara and imagine you're back in ancient Rome.
Via di Monte Testaccio 97
Tel 065744194
12:00-3:00 pm, 8:00-11:30 pm
flavioalvelavevodetto.it
Fior di Luna
While gelaterias are as common as crumbling monuments here in the eternal city, it actually is quite difficult to find one that produces authentic artisanal gelato (most vendors use powder mixes which while cheaper, don't taste nearly as good as the real stuff). Fior di Luna's gelato uses only fresh ingredients, is slow churned, and most importantly is about the best gelato I've ever tasted. Chocolate and fig and white peach are stand out flavors.
Via della Lungaretta 96
Tel 0664561314
Closed Sunday
fiordiluna.com
Dess'Art
Run by pastry chef Costanza Fortuna, Dess'Art is cannoli mecca. For those jaded by the poorly prepared cannoli we've sadly become resigned to outside of Italy, Dess'Art's version will temporarily transport you into a crispy, creamy, pistachio laden food haze. Costanza's secret? Filling the cannoli to order, resulting in a crunchy airy shell.
Via B. Franklin 12D
8:00 am – 2:00 pm
Closed Sunday
* * *
Looking for additional Rome travel tips? View our Rome Travel Guide for the best tips on where to eat, shop, drink and play in the Eternal City
* * *