102 Views
Living in Rome for over a decade has allowed me to uncover the city's well-guarded secrets, especially when it comes to its hidden cafés. Nestled among the cobblestone streets and tucked away in picturesque corners, these coffee shops are the heartbeat of the Eternal City.
So join me on a caffeinated adventure through Rome's rich coffee culture, as we explore the settings, aromas, and flavors that make each of these cafés a cherished part of the dynamic but steadfast tapestry that is Rome.
Whether you're a resident or a visitor seeking an authentic Roman experience, these cafes offer a chance to highlight your stay and create lasting memories.
Antico Caffè Greco
This illustrious 18th-century coffee house sits opposite the famous Spanish Steps on the historic shopping street Via dei Condotti. Antico Caffè Greco is one of Rome's best cafés and my favorite choice when I'm in Rome with someone new and want to make an impression.
Patterned and polished granite coats the floor in brown hues that match the ornate frames of the Roman landscape paintings that adorn the walls. Tiny marble tables are dotted along wide red velvet benches, stretching underneath the expensive artworks.
Indeed a drink here is not cheap, no surprise given Antico's location and popularity, and I wince every time I hand over €7 for a single espresso. But it was a great coffee, to be expected from the imported Ethiopian arabica blend I chose. I was met with the sweet and bitter aroma of caramelised pecans and was left with a surprisingly silky cocoa finish on my tongue.
Leaving Antico Caffè Greco, I have a few close sightseeing opportunities to show potential visitors. If a drink in the café leaves us feeling philosophical, we head to the Keats-Shelley House around the corner.
For some big Eternal City attractions, we find the Trevi Fountain, Villa Medici, and Piazza del Popolo, all within easy walking distance.
But with today's quick energy boost, and missing a companion, I instead enjoyed a pleasant stroll around the hilltop Borghese Gardens.
Hours: Open daily from 9 am to 9 pm
Address: 86 Via dei Condotti, 00187
Website: https://anticocaffegreco.eu/?lang=en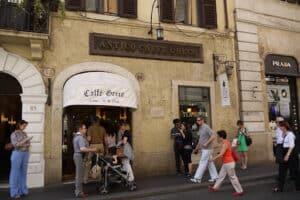 La Casa del Caffè Tazza d'Oro
La Casa del Caffè Tazza d'Oro is a beloved Rome café on the corner of Piazza della Rotonda, a square where tourists wait in line for their turn to enter the free-to-visit Pantheon.
The moment I stepped inside, I knew I had entered somewhere special. The antique décor, with its intricate brass fixtures and marble surfaces, exudes a sense of history and tradition that instantly sets Tazza d'Oro apart from the more contemporary cafes.
While most coffee shops in Rome seem to cater to the growing younger crowd, this establishment feels like a cherished relic from a bygone era.
The café is renowned for its expertly crafted espresso, served in dainty porcelain cups. The rich aroma that fills the air is a testament to the time and care taken in perfecting each shot of coffee.
What makes Tazza d'Oro truly special is its incredible granita di caffè. This chilled concoction of espresso and sugar, frozen to perfection, is a heavenly treat on a hot Roman day.
Sipping on my granita, I relished in its ideal balance of sweetness and robust coffee flavor, helped along by the generous garnish of freshly whipped cream—a touch of indulgence that is quintessentially Italian.
Hours: Open Monday to Saturday 7 am to 8 pm and Sunday 10 am to 7 pm
Address: 84 Via degli Orfani, 00186
Website: http://www.tazzadorocoffeeshop.com/?lang=en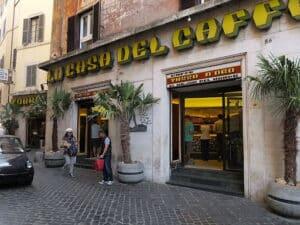 Faro – Luminari del Caffè
Set on the other side of Roma Termini from the rest of the coffee shops on this list, Faro – Luminary of Coffees offers a far more modern take on a coffee bar. Although I consider myself to still be in the prime of my life, I am struck by how young all of my fellow coffee drinkers are here.
The trendy posters on well-lit white walls and Instagram-able coffees, served in cute red cups with simple latte art, have led Faro to become a popular haunt with local students and youthful travelers.
The line was not very long here when I arrived mid-afternoon and it wasn't even two minutes before my order had been fulfilled. Finding an open table, I settled down with a caffè and an enormous croissant stuffed with an ungodly amount of Italian chocolate.
The croissant was crisp and not overly buttery which helped add texture to the cocoa within. The slight bitterness of my coffee undercut the sweetness and washed away the thick chocolate gathering around my teeth.
I particularly enjoy the house blend here as its rich cinnamon and cardamom fragrances lends the coffee a spiced flavor. Although the dark roasted beans gives the coffee an earthy finish, rather than a fake Christmas-like taste.
If you're looking for something heartier, Faro provides a great brunch, with offerings like scrambled eggs with marinated chicken, salmon and guacamole on toast, a fresh fruit and granola yogurt, or a cheeky tiramisu.
Hours: Monday to Friday 8 am to 4 pm, Weekends 9 am to 5 pm
Address: 55 Via Piave, 00187
Website: https://www.instagram.com/farorome/?hl=en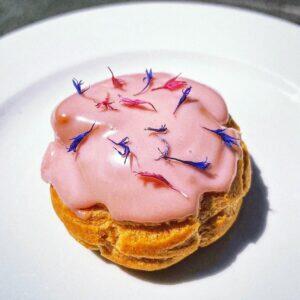 Sant'Eustachio il Caffè
Sant'Eustachio is an artisanal deli and café bordering a narrow stone street between the Pantheon and Piazza Navona. If the crowds around this popular venue don't draw you in, then the rich aromas of freshly roasted arabica beans will do the trick!
As I step into the line leading into the café, I look through the wide entrance to the cozy setting inside. Set against a wood-paneled background is a vibrant display of beans, cafetières, and baked goods, all wrapped in the bright yellow packaging that I instantly associate with Sant'Eustachio.
During my time in Rome, I have visited countless coffee shops, but what I find most special about Sant'Eustachio is not the brew but the charming locals who prepare it. Every barista has a smile on their face and a deep insight into the delicate notes of each of their beans to help you choose the best blend.
The place is owned by Italian brothers Raimondo and Roberto Ricci, who fortunately chose to preserve the café's 1930s style. As I waited for my order, I noticed Raimondo chatting with a few customers and gave him a grateful nod as I left with my hot cappuccino.
There's not much seating area in the small yet well-stocked interior, so Sant'Eustachio's circular tables are scattered on the street outside. I didn't have any luck finding a free chair and ended up strolling to Navona, where I slowly sipped away while people-watching.
Hours: Sunday to Thursday 7:30 am to 1 pm, Friday 07:30 am to 1:30 pm, and Saturday 07:30 am to 2 pm
Address: 82 Piazza di S. Eustachio, 00186
Website: https://caffesanteustachio.com/?lang=en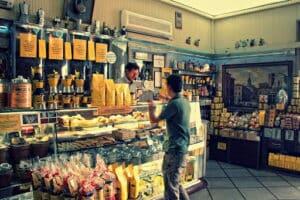 Roscioli Caffè
Roscioli is a coffee and pastry shop, or Pasticceria, in the heart of Rome's Jewish Quarter, across the river from Trastevere. Its wide selection of exquisite Italian pastries has made Roscioli a popular spot for anyone visiting the area.
I smelled the sweet fragrances coming from Roscioli before I saw it and, upon entering, was greeted by a bustling crowd of customers. Amidst the sounds of food orders being offered in Italian, and American tourists chatting in English about how well their vacation was going, I instantly felt at home.
It was undeniably difficult to choose which pastry to get and, knowing it was for an informal review of the café, I needed a large sample size. That meant I walked away with one classic cannoli, cut through with an interesting twist of citrus, and a cinnamon-ended Cannoncino.
Oh, and did I mention the Maritozzo, filled with cream and honey, and the ricotta-rich Sfogliatella? I highly recommend Roscioli's Sfogliatella, a crunchy, delicate pastry whose outer shell encloses tart candied fruit, one of the finest examples of this pasticcio in Rome.
The weather was warm so I grabbed an espresso, made with a delicious smoked and nutty blend, and set myself up in Roscioli's comfortable outdoor seating area before splurging on my treats.
The unsweetened smokiness of my espresso went a long way towards sparing me the from the sugar overload that comes with eating a pile of Italian pastries.
Hours: Monday to Saturday 7 am to 6 pm, Sunday 8 am to 6 pm
Address: 16 Piazza Benedetto Cairoli, 00186
Website: https://www.rosciolicaffe.com/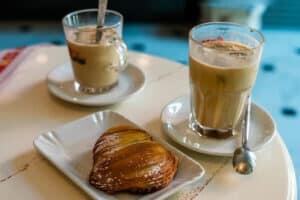 Barnum Cafè
In the city center, close to Piazza Navona, lies the chic coffee shop Barnum. With its rugged whitewashed walls under a dark wood beam ceiling, walking into Barnum on a quiet day feels like stepping back in time to Ancient Rome. Ignoring the high-tech coffee machines, of course.
After going on a tour of the best espressos and cappuccinos in the city, I opted for a different Italian coffee drink here. Caffe Corretto, an espresso paired with an aperitif; today I stuck with my personal favorite addition, a regional grappa.
The sweet fruitiness of the grappa paired perfectly with the cherry notes of the house blend recommended to me by my barista. If you're looking for an unusual and non-alcoholic drink, try a taste of Barnum's cold brew or Aeropress coffees.
But Barnum is not just a place for good coffee. The café's open and friendly baristas are always up for lively conversation, whether you're discussing their special coffee beans or chatting about the history of the neighborhood.
Hours: Open daily from 8 am to 3:30 pm
Address: 87 Via del Pellegrino, 00186
Website: https://www.instagram.com/barnumroma/?hl=en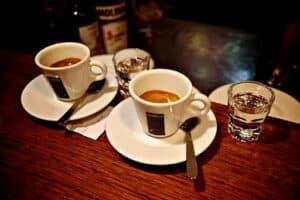 Sciascia Caffè 1919
Stepping into Sciascia Caffè also feels like jumping back in time, but here you've reached America in the 50s. An intriguing roastery, cocktail bar, gelateria, and deli, this Prati café really has it all.
The dark yet cozy wood-lined interior is stocked up and down with artisanal produce from the local region. Drinks are often accompanied by a homemade cake or open-faced sandwich, put on proud display behind polished glass windows.
On this visit, I opted for a caffe latte freddo (iced coffee) accompanied by a bar of Amadei – Cioccolato Acero 95. This Tuscan chocolate is a favorite of mine because, while I usually prefer a more palatable 60-70% dark, this 95% is imbued with maple sugar which adds a dry sweetness and an autumnal aftertaste.
The caffe freddo was dosed with a sprinkling of raw sugar and the silkiness of the frothy milk on top made it taste like a melted coffee ice cream, a welcome treat for a hot day in Rome.
I took my treat outside and found a free table. Picking up a regional newspaper a previous guest had left behind and listening to the sounds of a vespa passing by along the (relatively) wide street, I was reminded of why I had fallen in love with the city in the first place.
Sciascia is an ideal spot for an after-visit bite once you have finished exploring the nearby Vatican City and Museo.
Hours: Open Monday to Saturday 7 am to 9 pm and Sunday 8 am to 9 pm
Address: 80/a Via Fabio Massimo, 00192
Website: https://www.sciasciacaffe1919.it/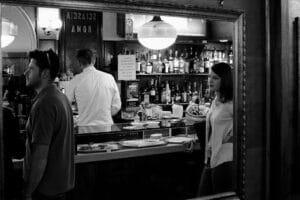 Conclusion
These iconic and historic cafés are my top choices in Rome, but I urge you to take to the winding backstreets of the Italian capital and discover the city's hidden gems for yourself.
For example, there wasn't time for me to talk about Canova Tadolini and its impressive statuary, or the renowned gelato of Giolitti, which we sample on our Taste of Testaccio tour.
If you're only staying in Rome for a few hours and need a latte in the Monti/Termini area, I recommend the rustic Vimi Cafè Roma near Santa Maria Maggiore, one of the earliest churches still standing in Rome.
To get a better understanding of the coffee lingo of Roma, you can also check out our neat Italian coffee guide.