5685 Views

Rome Confidential: The Keys to Unlock the Best Things to Do in Rome
In this 10 part weekly guide to Rome we share the local secrets and tips for savouring the best things to do in Rome.
Italians generally have a lot of cheese rules. And rightly so! Cheese is gold and must be respected! There is a lot to know about buying Italian cheese so we went Volpetti—a shop that carries over 150 kinds of cheese to talk with one of the owners: Alessandro Volpetti.
Alessandro Volpetti is part of one of the most famous food families in Rome. E. Volpetti, the family's gourmet food shop in Rome has been an institution in the city for 39 years. Alessandro joined his father and uncle at the helm of the Italian food shop 15 years ago. He recently sat down with Rome Confidential to help us sharpen our knowledge of Italian cheese.
Here's what he shared with Rome Food Tours regarding the best cheeses in Italy:
Why when you think of cheese in Rome it's always Pecorino Romano?
Pecorino however – as the name in Italian suggests – is made from sheep's milk (pecora in Italian is 'sheep'). Why is pecorino cheese so common here in Rome? It's quite simple really, the landscape, the flora and the climate in Lazio (the region Rome belongs to) are perfect for grazing sheep and we have lots of them! Lazio produces more Pecorino than any other cheese. In terms of production, it is made not only in the Lazio region but also in Sardinia in quantities of approx 30-35kg per wheel.
Pecorino Romano is a key ingredient in all Roman pasta dishes like Carbonara, Amatriciana, and Cacio e Pepe. We like to say that Pecorino Romano has more flavor than parmigiano that's why it's used more here. It also pairs nicely with something sweet like fava beans. That is why in May you will see Romans enjoying a scampagnata – a picnic- accompanied with fresh fava beans and Pecorino Romano. Another delicious pairing is Pecorino Romano with pears or figs and honey.
What cheese from Italy are you recommending in summer?
Well it's so hot here at the moment, so we are recommending fresh cheeses like mozzarella to our clients. Also cheeses that are at the early stages of maturation, known as primosale like pecorino with pistachio nuts.
What about in Rome – what regularly sold cheese should not be missed?
Pecorino di Fossa. This is pecorino that has been produced and then aged underground in a hole – a fossa. It is produced in the Marche and Emilia Romagna regions of Italy. The process takes about 3 months and the Italian cheese is aged underground from about mid-August until the 3rd week in November. That's why we like to go and do our own sourcing. This cheese is unique because it is produced in a complete artisan way with no pieces of Pecorino di Fossa ever tasting the same. And here's a tip – dried figs are the perfect pairing with this cheese- trust me you won't be disappointed.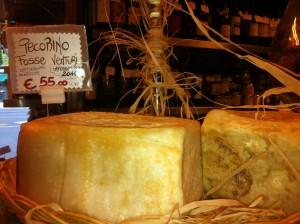 What about burrata? It's so talked about at the moment…
We love burrata and it has been part of the Italian diet for as long as I remember. But it does seem to have taken off as a fashionable choice overseas of late. Here in Italy it is mainly produced in the Puglia region. Basically it's made with the pieces left over from mozzarella production. These cow's milk pieces are brought together and filled with cream – that's why burrata cheese is so soft and creamy! It's a versatile cheese which goes best paired with sweet or savoury and my pairing suggestions are either semi dried tomatoes or chestnuts soaked in mosto cotto or vincotto (cooked wine that has been aged into syrup).
What are your tips for knowing a real quality cheese when you taste it?
We say that a quality cheese really respects the palate. A cheese should not be so overpowering in taste that it leaves an aftertaste in your mouth or cancels out the taste of everything else you are eating. Instead it should give you the desire to want to keep eating it.
I'll bet you didn't know that….
That after 3-4 years of ageing, a Parmigiano Reggiano loses all of its lactose so even if you are lactose intolerant you can enjoy it.
And I'll throw another one in! I'll be you didn't know that ricotta is technically not a cheese! For starters the word ricotta in Italian is derived from the term re-cooked – exactly what ricotta is… left over sheep's milk whey that is cooked for a second time. And ricotta doesn't have the one key ingredient in all cheese – casein (casein – a protein found in all cheese) that means ricotta is not a cheese… on a minor technicality!
__
Thanks to Alessandro Volpetti for sharing his knowledge from working at one of Rome's best gourmet food shops. Do you have a favorite Italian cheese?
Contact us with Rome Confidential in the subject title for any feedback or requests for a topic you want us to cover.
Voted one of the best things to do in Rome, Eating Italy Food Tours offer a Rome walking food tour through one of Rome's oldest and characteristic neighbourhoods.