5478 Views
If you're tired of the crowds but still crave an authentic Roman experience, look no further than Testaccio. Traditionally the working class district of Trastevere, the beauty of Testaccio lies in its versatility. If literature is your passion, be sure to visit the Non-Catholic cemetery, the final resting place of Romantic writers John Keats and Percy Shelley. The antiquity of Testaccio is also sure to please history buffs – its Monte dei Cocci hill (also known as Monte Testaccio) is constructed entirely of broken clay vessels or amphorae that were discarded by the ancient Romans.
You can easily shop the day away at Testaccio's open air market and plethora of eclectic boutiques. And if you're interested in Rome's modern side, peruse MACRO, the capital's contemporary art museum. So much sightseeing, however, is bound to make you hungry, and lucky for you Testaccio is a shrine to Roman cuisine. While chances are your dining experience will be satisfying wherever you eat, we've done the taste testing (poor us) and narrowed down the options. Below, a list of our favorite eateries in Testaccio. If you're feeling particularly hungry, make sure to check out our Testaccio Food Tour, a four hour culinary extravaganza.
Volpetti
Run by brothers Claudio and Emilio Volpetti, this specialty food store and deli has been a culinary institution since it's opening in 1973. In short, Volpetti is a foodie's paradise: high quality meats, cheeses, truffles, wines, and olive oils pack their shelves, and the staff is friendly and well versed in their products (Claudio himself lectured me on the porchetta I sampled). The store also offers delicious take away products (try their homemade pizza) and are happy to vacuum pack their items, allowing you to bring home a bevy of delicious souvenirs.
Via Marmorata 47, Rome
Open Monday – Saturday, 8:00-2:00, 5:00-8:15
Tel 065742352
http://www.volpetti.com/home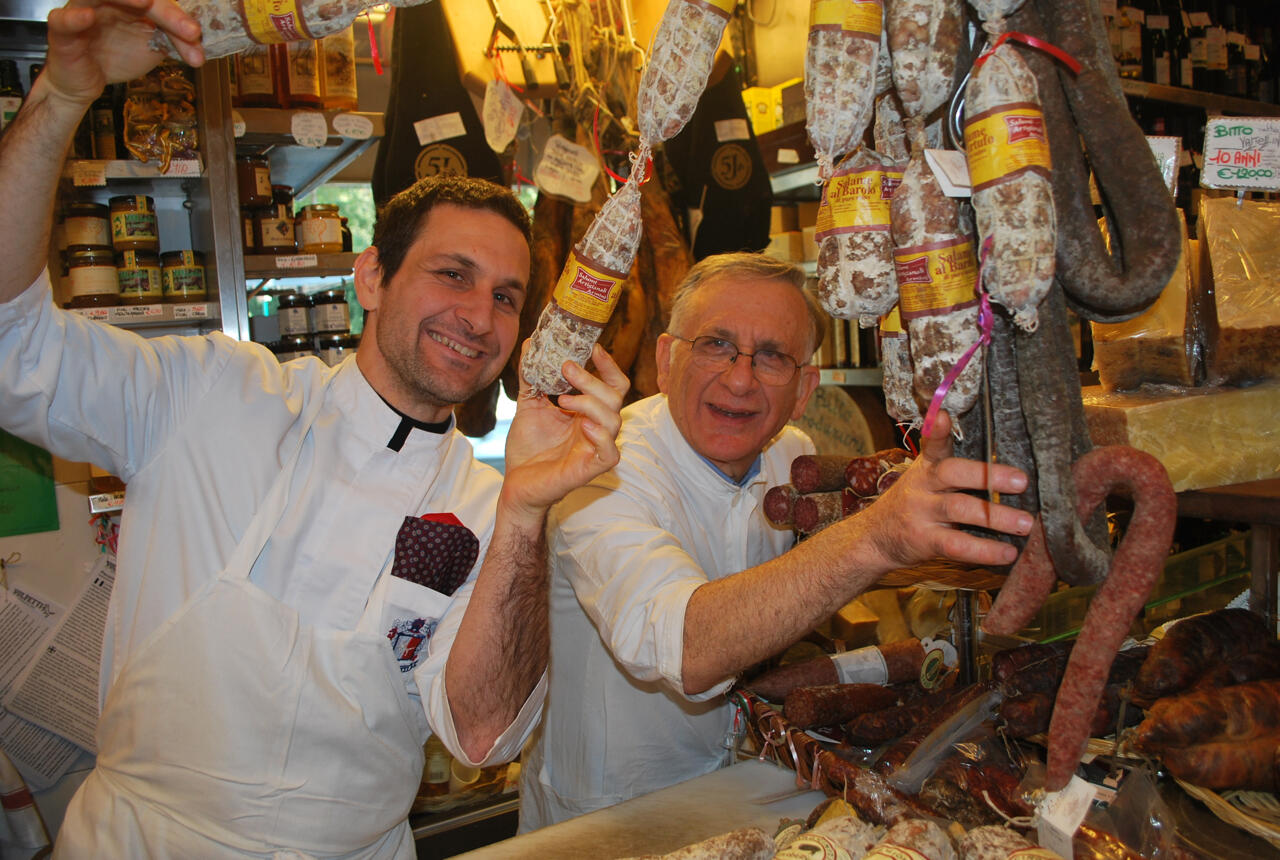 Da Bucatino
If I had to eat one thing for the rest of my life it would be amatriciana and it would be prepared by the chefs at Da Bucatino. Served in a deep bowl, you can truly "dig in" to this dish, each forkful the perfect amount of savory guanciale and perfectly al dente bucatini. If you're feeling more carnivorous, their coda alla vaccinara is hearty and filling. Roman comfort food at its best!
Via Luca della Robbia 84, Rome
Open Monday – Saturday, 12:00 – 2:30, 7:00 – 10:30
Tel 065746886
http://www.bucatino.com/il-ristorante
Flavio al Velavevodetto
While this restaurant's name is pretty complicated (try saying Velavevodetto three times fast) its dishes are simple and classic. Traditional piatti include carbonara, cacio e pepe, and abbacchio, or roast lamb while their house specials are a bit more daring (their meatballs are made with mortadella and nutmeg.) Built into Monte Testaccio, glass panels along the restaurant reveal an up close view of the ancient amphorae hill. A truly Roman experience.
Via di Monte Testaccio 97, Rome
Monday-Sunday 12:30-3:00, 7:30-11:30
Tel 065746841
http://www.flavioalvelavevodetto.it/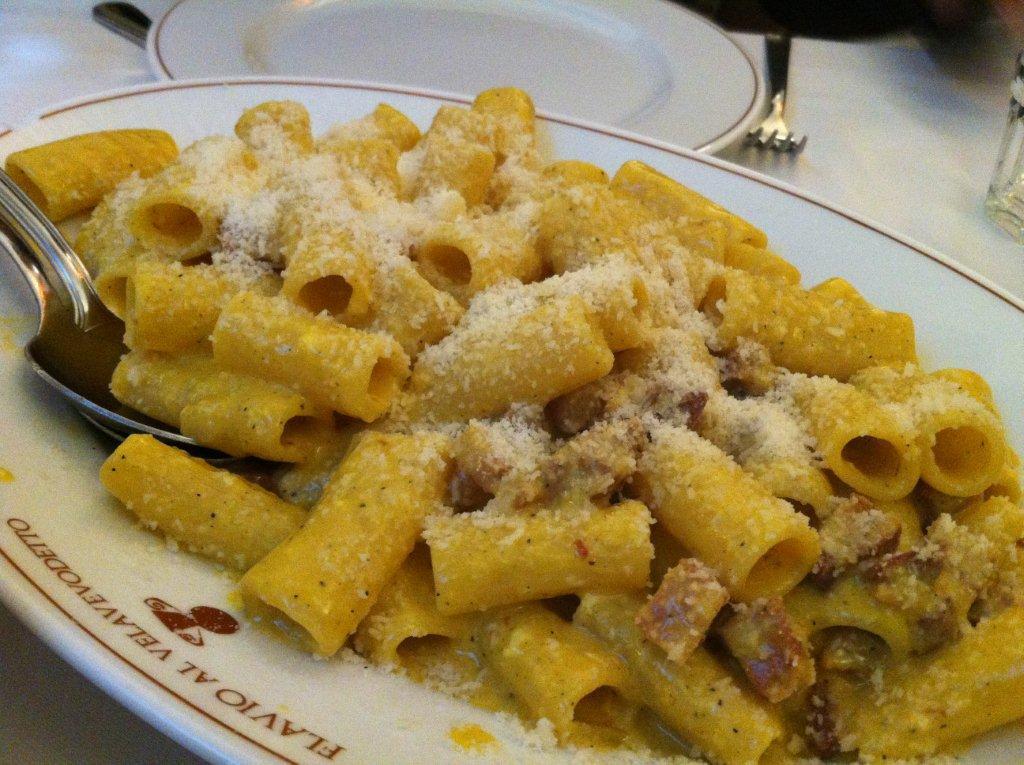 00100 Pizza
The standout dish at this pizzeria is the trapizzino, triangular pouches of dough stuffed with your choice of mouthwatering filling. This isn't your average calzone – 00100 chefs have cleverly reinterpreted classic roman favorites like coda alla vaccinara and cacio e pepe into their trapizzini fillings, while veal tongue and tripe are for more adventurous eaters.
Via Giovanni Branca 88, Rome
Monday-Thursday, Sunday 12:00-11:00 pm
Friday-Saturday, 12:00-11:30 pm
Tel 0643419624
http://www.trapizzino.it/en/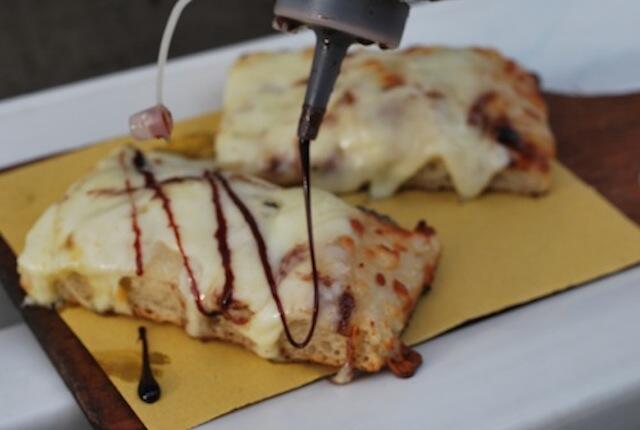 Bar Giolitti
All the goodness of Giolitti's spectacular sweets without the lines of its other downtown location. Try one of their maritozzi, a cream filled raisin and pine nut bun, or indulge in a cone of their infamous gelato. If you're too stuffed from dinner, end your night like an Italian with a perfectly made espresso.
Via Amerigo Vespucci 35, Rome
Monday-Tuesday, Thursday-Sunday 8:00 am – 11:00 pm
Tel 65746006
http://www.giolitti.it/
* * *
View our Italian food archives for more tips on where to eat in Rome.