15025 Views
As soon as you arrive in Strasbourg, you'll notice that the city is unlike any other in France. Everything from the architecture to the language still bears a strong Germanic influence, due to the Alsace region at one point falling under German rule. In fact, Strasbourg only became part of France in the 17th century.
This Franco-German culture can perhaps be seen most clearly in the city's cuisine, where you can find French classics alongside traditional German dishes, and always hearty portions! Here we take you through some of the city's most famous and delicious foods which you must-try during your visit to Strasbourg.
Flammekueche
Also known as tarte flambée in French, flammekueche is one of the most famous dishes in Strasbourg. It is also one of the simplest, and arguably the most most delicious! Flammekueche is made by rolling a very thin dough into a rectangle or circle, similar to a pizza base, covering it with crème fraîche (a slightly sour cream), onions and lardons, and then cooking in a wood-fired oven.
You can also find it with added extras such as mushrooms or cheese (in particular the local Munster cheese, which is a soft, washed rind cheese from the nearby Vosges mountains), or ask to take off the lardons for a vegetarian dish.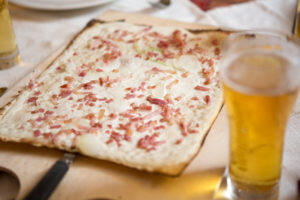 Spätzle
Spätzle is a heavy, dense pasta made with fresh eggs, with a texture not dissimilar to gnocchi. Although spätzle is not unique to Strasbourg (you can also find it in other parts of Europe including Germany, Austria, and Switzerland) the city offers many great places to try this warming comfort food.
Here in Strasbourg spätzle is served with Munster cheese, making it a great option for vegetarians, but you can also find it served with ham, lardons, and other garnishes.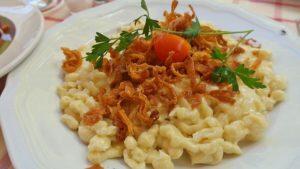 Kougelhopf
The best way to start any day in Strasbourg is undoubtedly with a traditional kougelhopf for breakfast. A kougelhopf has a similar taste and texture to a French brioche, but with the addition of dried fruit and almonds.
It's also baked in a special circular pan, similar to a Bundt mold, giving it a unique shape which you can easily recognise in the windows of bakeries and pâtisseries. If you want to eat it like the locals, then it needs to be served with a strong espresso, but it's equally delicious with tea or hot chocolate.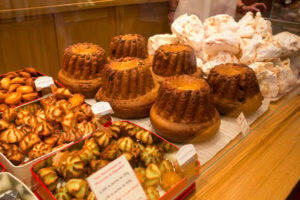 Choucroute garnie
Although you need to come hungry for most meals in Strasbourg, choucroute garnie is particularly filling! Hot choucroute is at the heart of the dish, which is fermented cabbage (sauerkraut) cooked with Riesling and infused with flavours such as garlic and juniper berries.
This hefty serving of choucroute is then accompanied by local sausages (Strasbourg sausage and Morteau are popular choices), cuts of pork, and perhaps a few potatoes for good measure.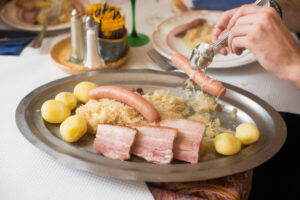 Pain d'épices
Although it's a traditional cake to eat around Christmas time, you can enjoy pain d'épices any time of year in Strasbourg. Similar to a gingerbread cake, it is made with honey, not sugar, and a mix of spices including ginger, cinnamon, cloves, and anise, which together give a warming flavour that is perfect for cold Alsace winters. A thick slice of pain d'épices with a steaming cup of tea or coffee is perfect for a goûter, the French tradition of enjoying a sweet treat and hot drink in the afternoon.
If you want to discover more about Strasbourg's unique gastronomy, then book yourself a place on our A Taste of Strasbourg food tour.