14869 Views
What makes a chef popular or one of our "favorites"? This wasn't such an easy list to compile. Sure, I could list top restaurants or chefs that have achieved the much coveted Michelin star, but this rating doesn't necessarily make a chef popular or loved. Over recent years, television has played a major role in bringing top chefs into our houses, and some have become household names. The internet has also allowed us an access to tutorials or foreign cooking shows that otherwise we may not have known about. The first 6 chefs listed are all UK based, and I'll confess that they were the first names that came to mind thanks to their high international public profiles. But the rest of my top 20 come from all over Europe, and we can't wait to see what European dishes they have in store for us in the future!
Michel Roux Jr (London, UK)
Michel Roux Jr runs the two Michelin-starred restaurant Le Gavroche, and this year celebrates 25 years at the helm. Michel has become well known on TV presenting cooking shows like Masterchef; he is involved in charities and also become involved in an underground farm that grows sustainable, fresh micro greens and salad leaves. His daughter Emily can now be found in the kitchen at Le Gavroche, guaranteeing the continuation of the Roux legacy.
Monica Galetti (London, UK)
Masterchef Professionals UK judge, Monica Galetti is a Samoan born New Zealand chef, who up until March 2015 was the senior sous-chef at Le Gavroche in London, where she had worked for 16 years. She will be opening her new restaurant this autumn in Charlotte St. which will be called Mere. If you're not familiar with Monica, jump onto YouTube and I guarantee you will probably surface a few hours later! 
Gordon Ramsay (London, UK)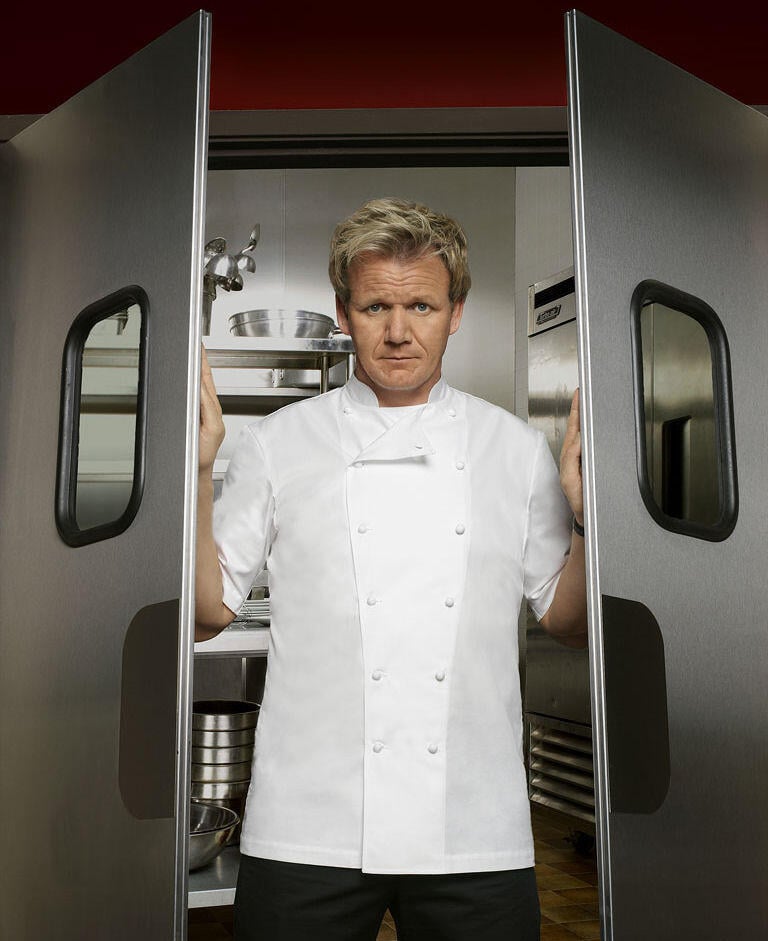 I doubt there is anyone who doesn't know who Gordon Ramsay is. Well known for his bad language and fiery temper in the kitchen, it isn't to be forgotten that his flagship restaurant, Restaurant Gordon Ramsay boasts 3 Michelin stars. He is an acclaimed chef, restaurateur, TV personality and author. The Gordon Ramsay Group has a collection of 14 London restaurants, a total of 30 restaurants globally and 6 Michelin stars, with international restaurants in Europe, USA and the Middle East.
Marcus Wareing (London, UK)
A popular celebrity chef in the UK, Marcus Wareing trained under the likes of Albert Roux and Gordon Ramsay. Excelling and branching out on his own, he now boasts 4 restaurants to choose from in London. Catering to all tastes and budgets, you can experience Michelin-starred dining at Marcus or casual comfort food heaven at Tredwell's in Covent Garden. Marcus Wareing is often a judge for Great British Menu and has succeeded Michel Roux Jr as judge for Masterchef The Professionals.
Jamie Oliver (London, UK)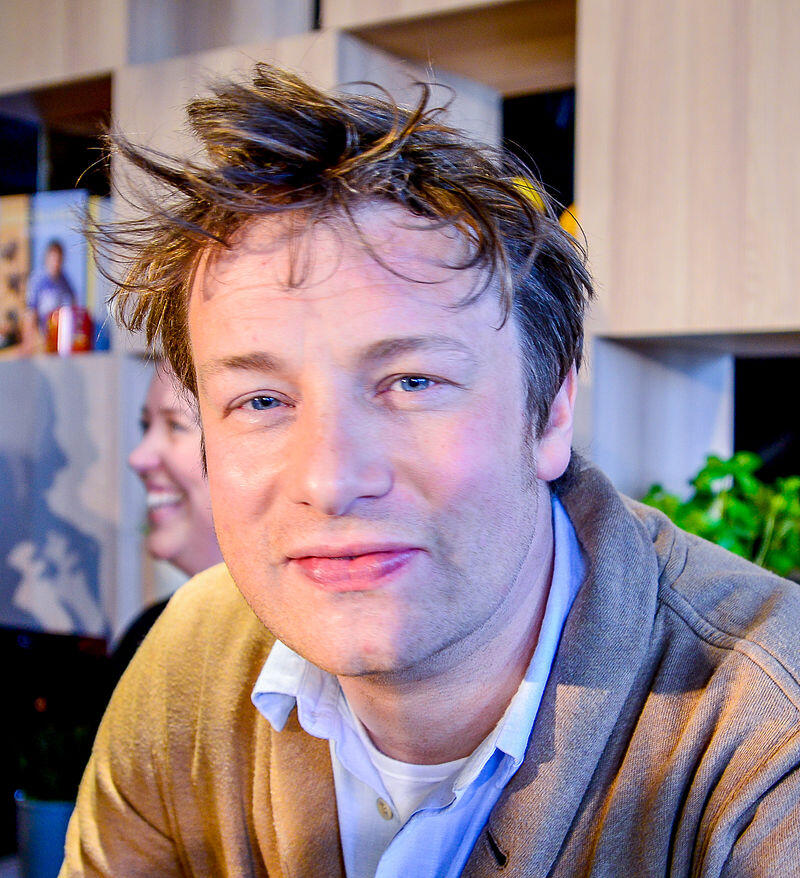 Who doesn't love Jamie? Jamie Oliver has become a brand that we are all familiar with. He is a chef, TV presenter and media personality; the author of many cookbooks, he has an MBE and is also known for his global campaign for better food education. Jamie's restaurant Fifteen, in London, was made famous by Jamie Oliver's TV series in 2002 and continues to train young adults with disadvantaged backgrounds for careers in the restaurant business. Jamie's appeal lies in his ability to relate to just about everybody and demonstrate that cooking doesn't have to be complicated, or require many hours in the kitchen to create delicious, healthy meals for the whole family.
Nigella Lawson (London, UK)
While some might wonder why I've included Nigella in this list, I feel that when we think of favorite chefs, or anyone who has strongly influenced the food industry in Europe and abroad, Nigella Lawson springs straight to mind. Although Nigella doesn't like to be referred to as a celebrity chef, or even as a chef at all (she labels herself as a home cook), she's certainly had a very successful cooking career. She is a journalist, television personality, food writer, cookbook author and businesswoman. Nigella came into our homes via her many television shows, and her sensual style and vocabulary made her a must-see. (I do believe that many men watched their first ever cooking shows after discovering Nigella.) Nigella has a sincere no-fuss approach to cooking. It is obvious that she loves the recipes she cooks and that she wouldn't waste her time making anything she wasn't interested in eating herself. Nigella shows us that you don't have to be a top chef with time for lengthy preparations to create a fabulously creative meal, and I think it's this that has always been key to her success.
Massimo Bottura (Modena, Italy)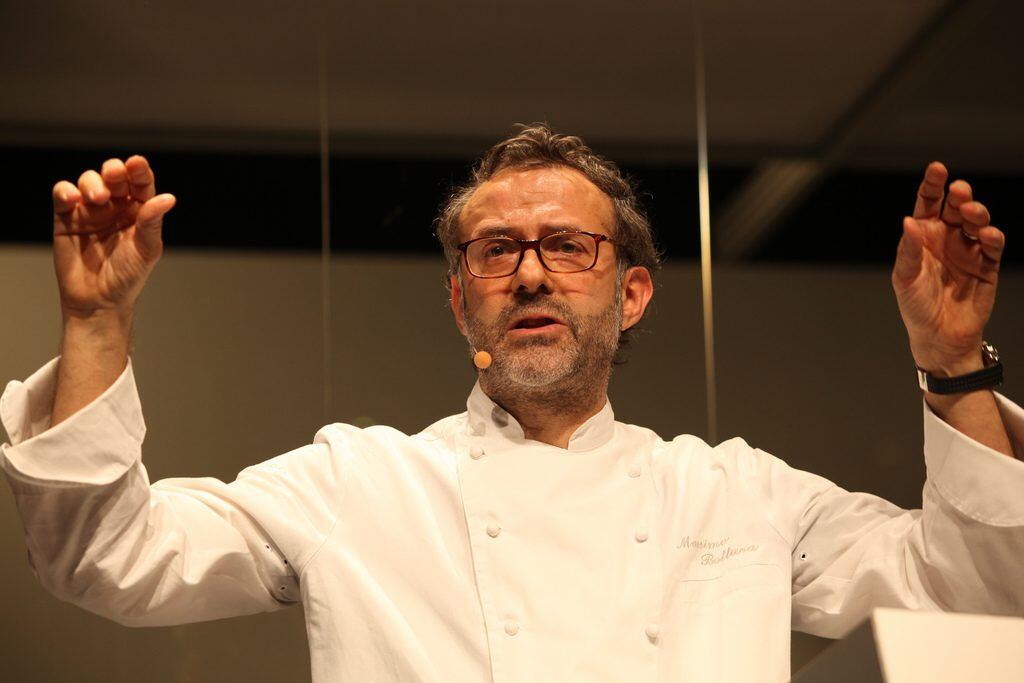 Chef patron of Osteria Francescana boasts 3 Michelin stars and can be found in Modena, Italy. It has been listed in the top 5 of The World's 50 Best Restaurants since 2010. Bottura has worked with Alain Ducasse, and not long after opening Osteria Francescana, he spent a summer at El Bulli with Ferran Adrià. In 2011, he opened Franceschetta 58 with Marta Pulini: a more casual dining experience which even offers a buffet lunch with an "all you can eat" format. Bottura is known internationally and greatly admired by colleagues and clients alike.
Cristina Bowerman (Rome, Italy)
After graduating in Law in Italy, Cristina's studies took her to America. It was here she followed her great passion and achieved another degree, but this time in Culinary Arts at the University of Austin, Texas. After 15 years working in the USA, Cristina returned to Italy and established herself in Rome. Since 2006, she has been the head chef at Glass Hostaria, her restaurant in Trastevere, where she was awarded a Michelin star in 2010. Cristina has another restaurant, Romeo Chef & Baker in the Prati district of Rome, and has also recently opened a stall specializing in Italian street food in the very popular Testaccio market. Cristina has made TV appearances on the Italian food channel Gambero Rosso as well as on Masterchef Italy as guest chef and judge.
Antonino Cannavacciuolo (Piedmont, Italy)
Larger than life Antonino Cannavacciuolo hosts the Italian version of Ramsay's Kitchen Nightmares. Using less colorful language than Gordon Ramsay, he helps bring restaurants back from the risk of closure. This year saw Antonino join Masterchef Italy, concreting his status as celebrity chef. In Italy, he's won 2 Michelin stars, 3 forks from the Gambero Rosso food guide, and 3 chef hats from the guide l'Espresso. He is the Chef Patron of Relais & Chateux Villa Crespi.
Antonello Sardi (Florence, Italy)
Florence-born Antonello Sardi started his career in the kitchen as a dishwasher in 2006. He became assistant chef in 2007 and his career as a chef has climbed quickly and steadily ever since. Impressing customers and colleagues with his Tuscan gourmet cuisine, he was recently awarded his first Michelin star as head chef at La Bottega del Buon Caffè . An absolute must-visit if you happen to be in Florence, the restaurant is located along the Arno River in the very popular San Nicolò quartiere.
Heinz Beck (Rome, Italy)
Who is the most famous German man in Rome, after Pope Benedict XVI? For foodies, without a doubt it's Heinz Beck: Head Chef of La Pergola since 1994, the 3 Michelin starred restaurant of the Rome Cavalieri Hotel. Beck has been adopted by Rome, and he adopted Rome and the Italian cuisine, perhaps thanks to his lovely Sicilian wife. He loves Italian food so much that he recently declared that nothing in his way of cooking stems from his native Germany. He is an exceptionally talented chef, thanks to his long experience as a pastry chef before arriving in Italy. The Rome Cavalieri is thought by many to be one of the most beautiful hotels in the world, and the terrace of La Pergola on top of Monte Mario offers a spectacular view of Rome.
Massimiliano Alajmo (Venice, Italy)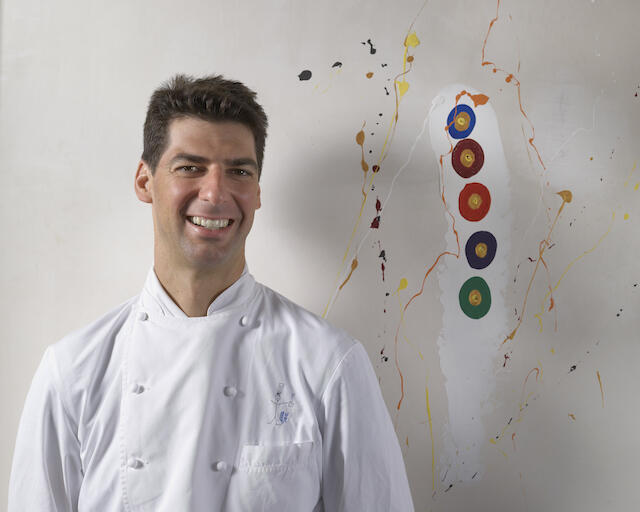 It is no mistake that Massimiliano (Max) fell into a culinary career. He is part of the 5th generation of the Alajmo family self-employed as chefs and restaurateurs. In 1993, he began working at Le Calandre alongside his mother, Rita Chimetto who was the head chef and had already earned the restaurant a Michelin star. Max was appointed Executive Chef in 1994, and in 1997 Le Calandre was awarded its second Michelin star, and in 2002 its third. Max, aged just 28, became the youngest chef ever to obtain 3 Michelin stars. Since 2011, the Alajmo family has taken over Gran Caffè and Ristorante Quadri. Although the menu is created by Massimiliano Alajmo, Quadri's chefs are Silvio Giavedoni and Denis Mattiuzzi. It is the only fine dining restaurant in Piazza San Marco, earning a Michelin star in 2012. Surely there aren't many Michelin starred restaurants that can boast a view as grand and regal as St Mark's Square!
Mara Martin (Venice, Italy)
Mara Martin is the highly respected head chef at Da Fiore. She runs the restaurant with her husband Maurizio and their son Damiano. Many name Da Fiore as the best restaurant in Venice, and those who do are equally in love with the Martin family. Martin grew up learning how to cook from her mother and grandmother who was a well-known chef in Mirano; traditions and recipes were passed down through the generations. Awarded a Michelin star, Da Fiore specializes in seasonal menus. When the lagoon closes for a few weeks twice a year to allow the fish population to replenish itself, so does the restaurant, determined to maintain their standard and philosophy of serving fresh, seasonal and local food.
Arturo Dori (Florence, Italy)
Arturo Dori may be one of Florence's best kept secrets. He is a personal chef, teaches cooking classes regularly, and is a sommelier and a certified cheese taster. He can also sometimes be seen cooking on television for various cooking segments on Italian variety programs. He opened his first restaurant in 1994, Ristorante Cavolo Nero, and managed it until he closed the business in 2009. In that same year he began holding cooking classes for foreigners and working as a private chef. Some of his famous clients include Tony Bennet and the Dalai Lama. Dori has established kitchens, training the staff for prestigious restaurants and hotels in Florence. Arturo teaches at Desinare at Ricardo Barthel, in the most divine cooking school kitchen I have ever seen, which is located inside one of the most amazing shops in Italy for kitchen and bathroom interiors.
Radek Kašpárek (Prague, Czech Republic)
Radek Kašpárek is Executive Chef of restaurant Field, which is located in the old Jewish Quarter of Prague. Previously he worked at the Savoy Hotel, was deputy chef at Coda restaurant at Hotel Aria, and executive chef at Bistro Ola Kala. He has made television appearances on TV Barrandov successful shows Kašpárku vař! (Kašpárek cook!) and Co bude dnes k večeři? (What's for dinner tonight?). Opened in 2014, Field has recently been awarded a Michelin star. Radek is known for his enthusiastic and innovative flair in the kitchen, while remaining faithful to traditional Czech ingredients and cuisine. He loves to revisit well-known dishes, adding his own personal twist, and he changes the menu every 6 weeks.
Zdeněk Pohlreich (Prague, Czech Republic)
Zdeněk Pohlreich is a very popular celebrity chef who has been likened to Gordon Ramsay based on his television shows, whether he's saving failing restaurants, educating the public on healthy food choices, or acting as judge for cooking competitions. He is one of the most influential chefs at the moment in the Czech Republic. Apart from being a renowned chef and TV personality, he is also a best-selling author and entrepreneur. His early culinary influences are credited to his grandmother who taught him how to cook. He has travelled the world to gain experience and returned, implementing a western standard of cooking and service to various restaurants around Prague. He has 4 restaurants: Cafè Imperial, inside the Imperial Hotel where you can see original Art Nouveau ceramic wall tiling and a mosaic ceiling dating from 1914; Italian restaurant Divinis; Japanese restaurant Yamato; and Next Door, a restaurant and bar located inside the Hotel Cosmopolitan.
Oldrich Sahajdàk (Prague, Czech Republic)
Head chef, co-founder and co-owner of the Dégustation Boheme Bourgeoise since 2006, Oldrich Sahajdàk was awarded a Michelin star in 2012. He developed his culinary skills though prestigious courses offered by the Culinary Institute of America. He also gained experience travelling in Portugal, Italy, Germany, even picking fruit in New Zealand to improve his English. Dègustation Bohème Bourgeoise was the first degustation restaurant in the Czech Republic, and specializes in 6- or 11-course tasting menus that are inspired by traditional Czech recipes (referring to an original cookbook from 1849), prepared with modern techniques. He is a great supporter and promoter of Czech cuisine and wishes more young Czech chefs would take pride in their history and traditions through their culinary creations.
Ron Blaauw (Amsterdam, the Netherlands)
Dutchman Ron Blaauw has made a name for himself by transforming some of Holland's traditional ingredients and dishes into a modern, creative cuisine. In 2011, Blaauw moved his two Michelin starred restaurant from Ouderkerk aan de Amstel to Amsterdam; then in 2013, he announced he would close the original restaurant and open Ron Gastrobar at the same location. This new restaurant received its own Michelin star in 2014. Ron Blaauw is also a television personality, participating in several series of the Dutch version of Top Chef.
Akrame Benallal (Paris, France)
Akrame Benallal began his career with a culinary apprenticeship at the age of 14, and cites his admiration for his mother's cooking skills as his initial motivation to become a chef. He has worked with some of the best chefs in the world including Pierre Gagnaire and Ferran Adrià at El Bulli. His restaurant Akrame, which opened in 2011, was awarded a Michelin star in 2012 and a second star in 2014. His food is in constant evolution, and he doesn't like dishes to stay too long on the menu, changing it once a month. Benallal now has 5 restaurants including Akrame. He has another fine dining restaurant in Hong Kong, and 2 Atelier Vivanda bistros and a wine and cheese bar in Paris.
Paul Bocuse (Lyon, France)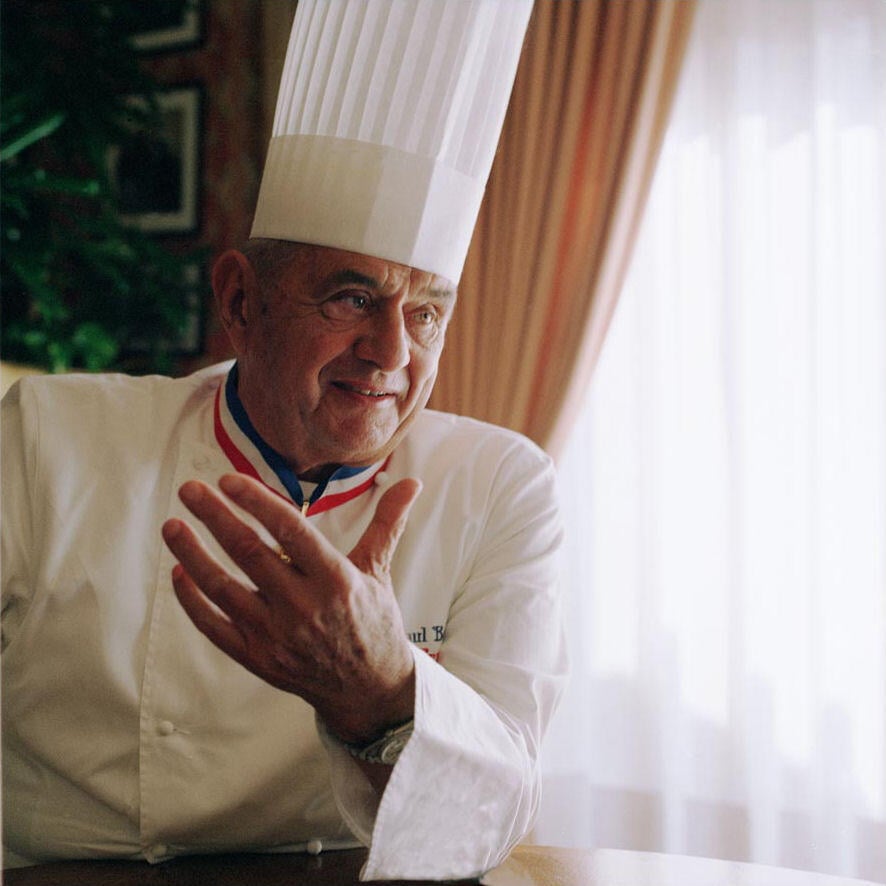 Aged 90, Paul Bocuse is still one of the most prominent chefs in the world today and the Bocuse d'Or is considered one of the most prestigious awards for chefs in the world. Bocuse's main restaurant is L'Auberge du Pont de Collonges near Lyon. It is thought by many to be the temple of classical French cooking, and Bocuse is considered an ambassador of modern French cuisine. His innovative nouvelle cuisine was a style of cooking that emphasized lightly cooked vegetables, sparing use of dressings, sauces made with ingredients low in fat, and a simple yet elegant presentation.
Pierre Hermè (Paris, France)
As one would finish a great meal with something sweet, it's only fitting that I end with an award-winning pastry chef! The "dessert" of this article is Pierre Hermè who is probably most famous for his macarons. He began his career at the age of 14 as an apprentice in Paris with the much acclaimed pâtissier Gaston Lenòtre. At age 24 he became the pastry chef for Fauchon where he remained for 11 years. In 1998, he opened the first of his brand name stores Pierre Hermè Paris in Tokyo. There are now 11 stores in Paris, 10 in Tokyo, 3 in Hong Kong, 3 in London, and an online shop. Apart from his own shops, he also directs 2 Michelin starred restaurants in Le Royal Monceau together with Laurent Andrè. French Vogue calls him "The Picasso of Pastry", and if you've ever been lucky enough to taste one of his creations you will understand why!