3126 Views
Here at Eating Europe, we're proud to announce the launch of our new series of foodie travel guides for Amsterdam, Rome, London and Prague.
Whether you're just in Amsterdam for 24 hours, or are spending a couple of weeks traveling around the Netherlands, you're sure to want to see, do and eat the best that the city has to offer. Our Foodie Guide to Amsterdam offers you insider's tips on how to make the most of your visit. We've gathered together our favorite attractions, restaurants, bars and places to stay in Amsterdam, as well as our very own shortlist of not-to-be-missed food and drinks in Holland! And here is a sneak preview…
Essential Food to Try in the Netherlands
Gouda cheese – The Netherlands' most famous cheese originally comes from a town called Gouda in the south. There are plenty places in the capital to sample Holland's cheese; head to an outdoor market for some of the best and freshest. There are several types of Gouda that range along the age scale. Look for jonge kaas, which means young cheese, if you prefer a lightly flavored and creamy cheese; while oude kaas, which means old or mature, has a strong complex taste and a grainy, sometimes almost crystallized texture.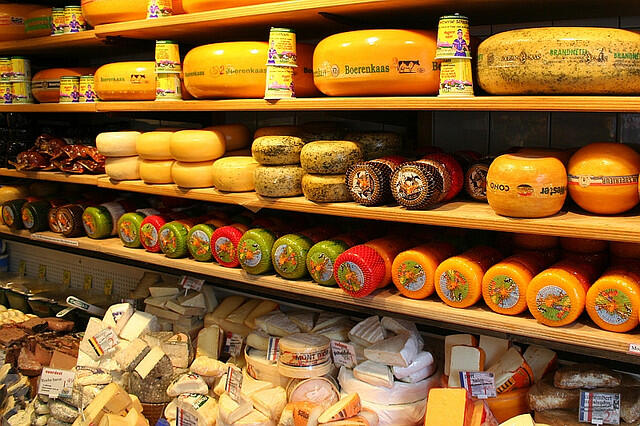 Stroopwafels – If you come across a place serving fresh stroopwafels, don't let the opportunity pass you by! (If you don't, you can still buy a packet of them in the grocery store.) There's nothing quite like a warm stroopwafel: a sandwich of two "waffles" filled with a thick syrup, or stroop. Gooey and delicious, they're proof that Amsterdam sure knows its sweets!
Indonesian Cuisine – Anyone spending any amount of time in Amsterdam should eat at least one meal at an Indonesian restaurant. Indonesia was once a colony of the Netherlands, which brought the country's spicy cuisine to Europe. The most common way to enjoy Indonesian food is a rijsttafel (literally translating as "rice table"): lots of small but sauce-heavy meat, vegetable and fish dishes to share. These are eaten with steamed rice. Just make sure you show up with an empty stomach!
Read about more essential food and drinks to try in the Netherlands in our Foodie Guide.
Amsterdam's Best Restaurants
De Kas – De Kas definitely takes local cuisine to the next level. The venue has its own greenhouses growing fresh vegetables and herbs. There is no menu, as the chef prepares new dishes daily based on the harvest. Whatever doesn't come from the greenhouse, De Kas orders from local farmers.
Kamerlingh Onneslaan 3
+31 (0)20 462 4562
restaurantdekas.nl
Open: lunch Mon – Fri 12 noon – 2 pm; dinner Mon – Sat 6.30 pm – 10 pm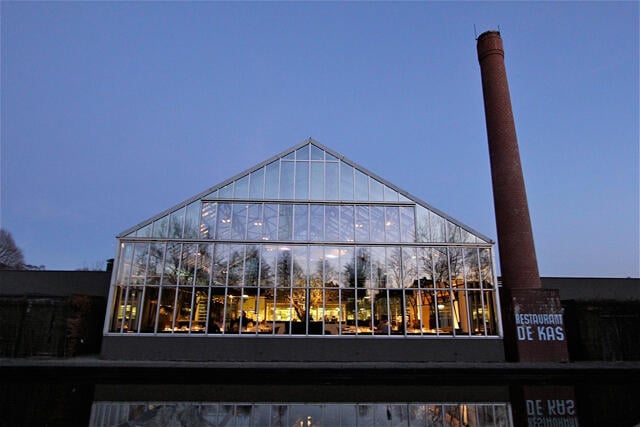 Wilde Zwijnen – All ingredients used in the kitchen at Wilde Zwijnen are grown or bred in the Netherlands, and the dishes are beautifully presented. If you have trouble choosing one dish, order a surprise menu to taste the full potential of this restaurant. The service is great, too!
Javaplein 23
+31 (0)20 463 3043
wildezwijnen.com
Open: daily 12 noon – 10.15 pm
 Café De Ceuvel – Café De Ceuvel is the epitome of minimalism, sustainability and recycling. The surroundings of the café are filled with pieces of old boats, wooden planks and metal sheets that serve as recycled pieces of furniture. De Ceuvel's policy supports the eco-food innovation movement and aims for a zero-waste kitchen.
 Korte Papaverweg 4
+31 (0)20 229 6210
cafedeceuvel.nl
Open: Tue – Thu 10 am – 1 am; Fri 10 am – 3 am; Sat and Sun 11 am – 3 am
 Tempo Doeloe – Things can get a little frenetic at Indonesian restaurant Tempo Doeloe, but that's all part of its charm. Do book a table, and do expect to wait despite having done so. You'll be rewarded for your patience: the rijsttafel (lots of small, spicy dishes to share, served with rice) is great quality and the atmosphere is fun too. Just make sure you have a glass of water at hand – the chilies they use are fiercely hot and not for the faint-hearted! You have been warned…
Utrechtsestraat 75
+31 (0)20 625 6718
tempodoeloerestaurant.nl
Open: Mon – Sat 6 – 11.30 pm
Read more about the best restaurants and cafes in Amsterdam in our Foodie Guide!
Our Favorite Things to Do
Walk around (or boat through!) the canals – The horseshoe shape of the canals, expanding out from the Central Station like ripples, are perfect for walking around. To avoid getting lost, keep Dam Square as your point of reference — most of the sights are within a small radius of this focal point. An especially charming area, slightly to the west of center and good for shopping, is the Negen Straatjes (or Nine Little Streets). You know you're there if you've run across eclectic shops selling clothes, jewelry, and home furnishings (not to mention the famous toothbrush shop!). Alternatively, see Amsterdam from the canals: hop on a canal tour near the Central Station to experience a unique viewpoint on the city. Tip! Our Jordaan Food & Canals Tour includes a one-hour tour of the canals by boat!
Get on your bike! – Spend even just a minute in Amsterdam and you'll realize that everyone and everything is on a bike. Bikes with babies, bikes with dogs, bikes with couples (bike-watching is another fun activity in Amsterdam). The infrastructure that supports all these pedaling riders — the bike stop lights and bike lanes — means Amsterdam is a city to be explored on two wheels. Get comfortable on your bike in the Vondelpark, the biggest open space in central Amsterdam. And once you're stable and confident, join the Dutch biking around town. But beware: the Dutch are very serious about biking, so pay attention to everyone around you and don't be offended if you hear the ding of a bike bell!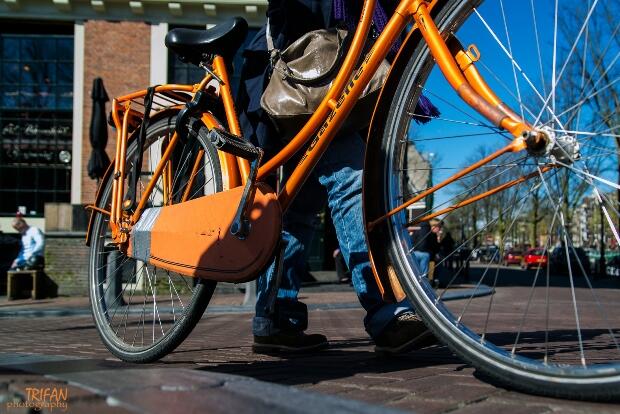 Take in a museum – If you're a museum lover, then Amsterdam is the city for you. With more than 50 museums to choose from, you'll be sure to find something to suit your interests. The Rijksmuseum and the Rembrandt House exhibit some of the best collections by the master artists working in the Dutch Golden Age. At the top of many lists are the Anne Frank House, Van Gogh Museum and the Stedelijk Museum of modern art. Plus, there are several quirky museums around town, including those devoted to bags, cats, sex and – of course – cannabis!
Read about more of our favorite things to do in Amsterdam in our Foodie Guide.
Top Picks for Amsterdam Hotels
Amstel Botel – Located on a large vintage boat near the NDSM Wharf in the Amsterdam Noord area, you really do get the best of both worlds at the Amstel Botel: stay in an up-and-coming neighborhood of Amsterdam while being located right by Central Station. Free ferries shuttle you from the dock near the Botel to Central Station in minutes, and from there it's an easy walk to anywhere in Amsterdam. Back at the Botel, the surrounding NDSM Wharf is home to a burgeoning cultural scene, and the Botel offers a large deck for those who want to take in the sun and views of the city.
NDSM Plein 3
+31 (0)20 626 4247
amstelbotel.nl
Price: €93 per night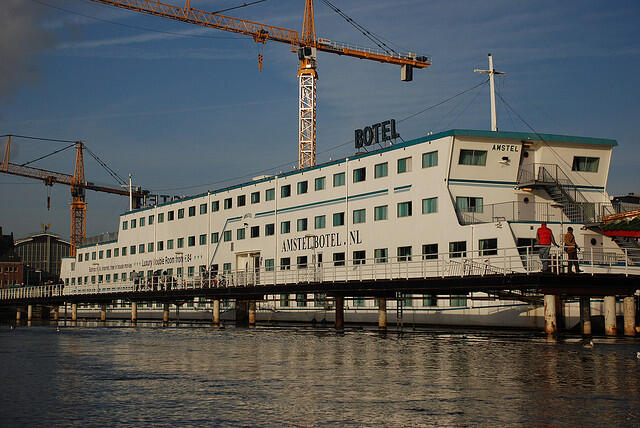 Canal House – This stylish, boutique hotel in the Jordaan is among Amsterdam's most luxurious properties. The brick frontage and elegant porch overlooking the Keizersgracht canal give it a traditional look, which gives way to a glamorous, contemporary and stylish interior. It has 23 spacious rooms in a range of 5 different types. The combination of glamorous décor and classic style runs throughout, with an impressive bar and Great Room, and traditional Dutch artwork lining the walls. The large garden is a rare feature for canal houses in Amsterdam, and is a hidden gem – a relaxing and beautiful attraction to stay at this exclusive Jordaan hotel.
Keizersgracht 148-152
+31 (0)20 622 5182
canalhouse.nl
Price: Double rooms range from €285-€700 depending on room type
Bicycle Hotel – From the time you first see the classic Dutch bicycle hanging outside the Bicycle Hotel, you know you have come to stay somewhere delightfully different. Once inside, you discover that its true signature is its environmentally friendly attitude towards guest accommodation and the great neighborhood it resides in. Through solar panels and an impressive recycling program, the hotel manages to strike the perfect balance between profit and planet, and the surrounding De Pijp neighborhood will help make your stay memorable with its blend of hip and multicultural influences. Budget-friendly bike rentals are also available at the hotel, saving you both time and money.
Van Ostadestraat 123
+31 (0)20 679 3452
bicyclehotel.com
Price: €30 to €120 depending on the season and type of room
 Read about more of the best hotels in Amsterdam in our Foodie Guide!