3421 Views
Come visit some of our favorite places in Rome!
Antica Caciara Salumeria (Delicatessen), Rome, Italy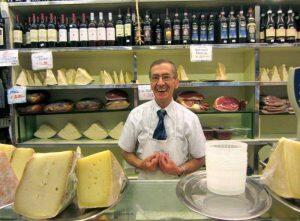 "I started working here in 1963. I was only 13 years old. My dad wanted me to stay in school but I chose this job. Doing it is a labour of love."
– Signore Roberto
One of Trastevere's institutions, Antica Caciara has been run by the Polica family since it opened in 1900. Signor Roberto's wonderful selection of cured meats, salami, cheese and olives is a treat for all the senses. Don't leave without trying his Pecorino Romano, a hard, sheep milk cheese which comes directly from Signor Roberto's uncle's farm.
To find Antica Caciara:
Phone Number: 06 5812815
Address: Via di San Francesco a Ripa 140