5371 Views
Before I even begin telling you Enzo and Lina's story about their alimentari stand in the Testaccio market, I've got to tell you about their delicious hand-cut prosciutto and mozzarella di bufala. If you've done our Taste of Testaccio tour, you'll know this duo and their mozzarella oh so well!
After I talked to them, I bought an etto of prosciutto and three balls of mozzarella for lunch, and all the way back home my stomach grumbled in anticipation for lunch. At home, I unpacked the food and arranged it on a plate with some fresh-cut tomatoes. Then I dug in. The tastes wrapped around my mouth, subtle yet full of taste, and I immediately regretted not buying more.
What makes Enzo and Lina's prosciutto and mozzarella so good?
Well, let's start with the prosciutto, which has two reasons for being so tasty. First, it comes from Norcia, a small town in the hills of Umbria that is famous for its pork products. Throughout Italy you'll find pig-related pastas (pasta alla norcina) and butchers (norcineria) named for this town. Second, either Enzo or Lina hand cuts every slice of prosciutto. They do this because Enzo is from Norcia where he began working in an alimentari when he was twelve years old and later learned the fine art of hand slicing. Because each slice varies in thickness, the prosciutto gains a complexity of flavour usually lost in the uniform slices of the machines.
Then there's the mozzarella di bufala that comes from the Campagna region, to the south of Lazio. The mozzarella tastes so good because it's delivered every morning at 6 a.m. and because it's made from 100 percent water buffalo milk. Unfortunately, Lina says, much of the mozzarella di bufala you find in the supermarkets and from other alimentari are made from a mixture of cow and water buffalo milk. The texture of this mixture is kind of spongy, while 100 percent mozzarella di bufala is firm but springy, rich and creamy it melts in your mouth. (Are you hungry yet?)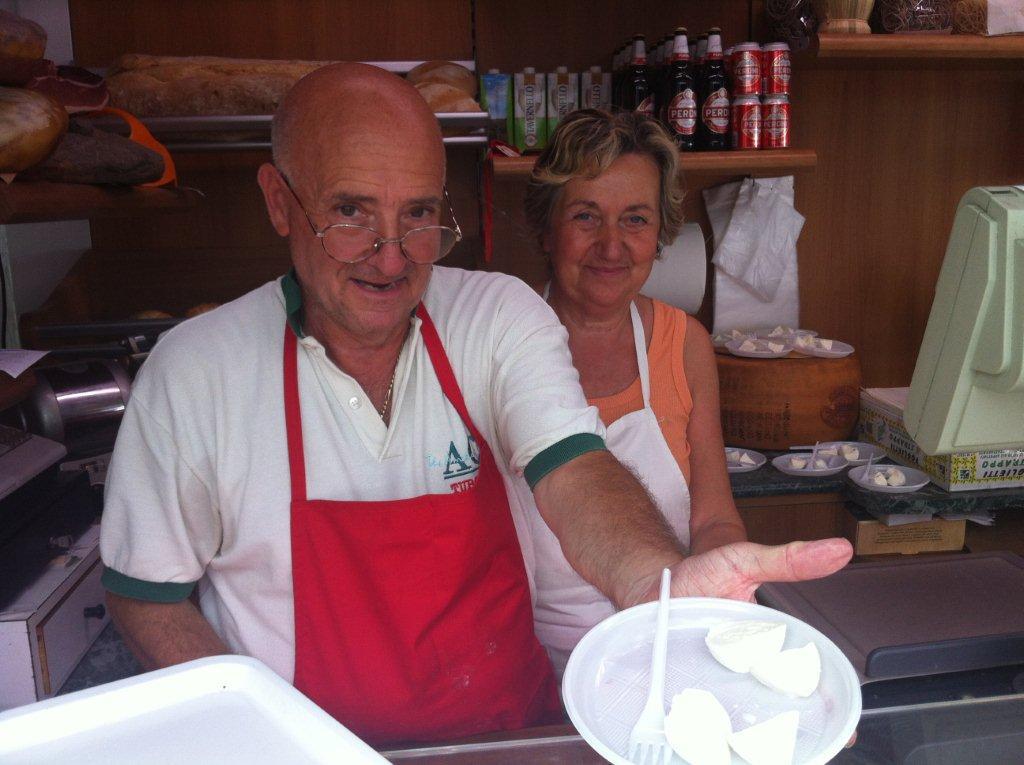 When Enzo and Lina took over the stand in the old, covered Testaccio market, it had been operating for thirty years. Now thirty more years have passed—making this stand one of the oldest in the whole market. But it's current manifestation doesn't look so old. Last year the Testaccio market moved to a new, shiny building opposite the MACRO museum. The couple prefers the old market in Piazza Testaccio for its closeness and community—in this market the stands are very spread out. But they said that the new building, because it has more space, provides lots of opportunities for a variety of new vendors such as the Sicilian bakery nearby.
Enzo and Lina's faithful clients followed despite the move, and standing by as they slice prosciutto or scoop balls of mozzarella di bufala and their liquid into a plastic bag, you feel as if you've been admitted to their close circle of friends. They are both extremely pleasant, and their gentle manners and the deliberation they take with their products show the respect they have for both their clients and products. It's easy to see that for Enzo slicing prosciutto is his natural trade. His profession is his passion, as Lina said about her husband, which means he really cares about what he serves his customers so uses his lifetime of knowledge to decide what products are the best.
Besides from the prosciutto and mozzarella di bufala, the couple sells parmiggiano reggiano from the Emilia-Romagna region that is aged for thirty-two months. There's a variety of salumi and other cheeses and they also sell some food, prepared that morning, for lunch—like the mouth-watering pomodori ripieni (or tomatoes stuffed with rice and served with roasted potatoes) that were being dropped off when I arrived.
If all this talk of mozzarella and prosciutto made you hungry (it certainly has made me hungry!) then I would suggest a trip to Testaccio market to meet Enzo and Lina. I promise, you won't be disappointed!
* * *
Contact [email protected] with Blog Enquiry in the subject title for any feedback or requests for a topic you want us to cover. Voted one of the best things to do in Rome, Eating Italy Food Tours offer a Rome walking food tour through one of Rome's oldest and most characteristic neighborhoods.