17655 Views
If you're looking for the best pasta in Florence, you'll find yourself spoilt for choice. But beyond the internationally famous Italian dishes, restaurants in the Renaissance city have some really special recipes which you won't find elsewhere.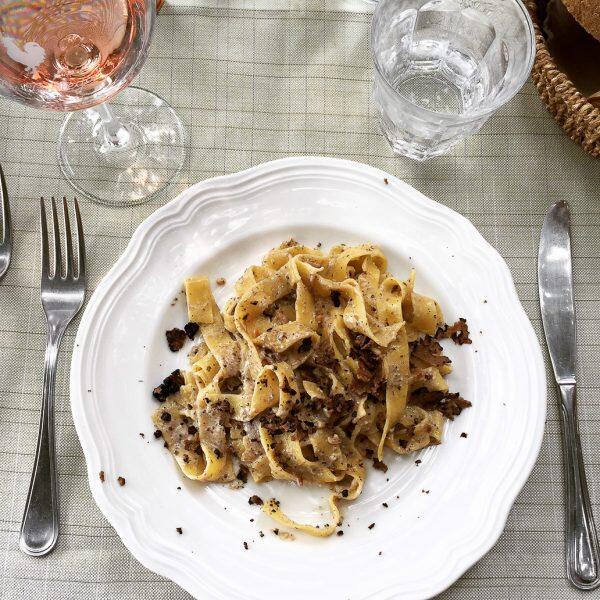 Like all Italian regions Tuscany (of which Florence is the capital) has a strong pasta game, but here it's less about spaghetti and lasagne and more about delectable bowls of pici, tortelli, tagliolini and pappardelle, served in a rich game ragu, or velvety with butter and truffles. Tuscan cuisine is often rich, rustic and perhaps heavier than you might expect, but these dishes are just the thing to refuel on after hours of walking around the city.
Can't wait to dig in and taste them for yourself? Here's our guide to the best restaurants in Florence serving up authentic pasta dishes all year round.
Pappardelle in wild boar ragu
If you like spaghetti in bolognese sauce (ragu bolognese), you really have to try this Tuscan classic. Pappardelle is the name of long, wide, flat, pasta ribbons, much like a bigger version of tagliatelle. They should have a slightly rough and rustic texture that's all the better to hold more delicious sauce with.
And perhaps the most authentic pasta sauce here in Florence is ragu al cinghiale – wild boar ragu. You might never have tasted wild boar before, but here in Tuscany the forests are teeming with them, and this rich, tasty game meat has been a staple throughout the ages. The flavour falls somewhere between pork and venison, although the older the animal, the stronger the taste.
The other ingredients are similar to those in other ragu recipes: onion, carrot, celery, tomato and herbs, such as rosemary, sage, or bay leaves, and perhaps juniper berries.
Most osteria and trattoria-type restaurants will serve some variation on this classic dish. If not pappardelle, then they might have other types of pasta, polenta or gnocchi in wild boar ragu. But one of the best restaurants in central Florence to have this permanently on the menu is the proudly Florentine Osteria Il Brincello.
Tagliolini with butter and truffles
Another thing those Tuscan forests are famous for is their abundance of truffles. In late autumn and winter, almost every authentic restaurant in Florence will be dishing up plates of rich tagliolini pasta, drenched in butter and half hidden under a drift of shaved white truffles.
But if you're visiting in summer, you'll still be able to tastes dishes featuring the more common (yet also delicious) summer black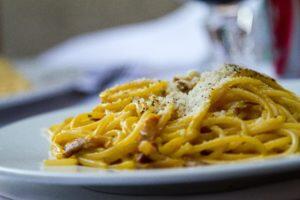 truffle, found here from May to September.
Egg yolk famously brings out the flavour and aroma of the truffles (many people love to eat them shaved over a fried egg, too!) and that's why fresh tagliolini, made with plenty of egg, is the perfect pasta pairing. Butter works much better here than the olive oil used in so many other pasta dishes.
It pays to do some research on your restaurant to make sure they're using the best quality Italian truffle, as unfortunately some kitchens are known to use cheaper imported truffles in their dishes. One highly recommended place to try truffle-infused pasta dishes is at the Osteria de' Pazzi, a relaxed little restaurant run by a married couple who are prone to occasional bursts of song. The menu here makes even the most seasoned foodies swoon with its offerings of truffle tagliolini, ravioli, and even a shaved truffle carbonara.
Pici all'aglione
Never heard of this dish before? It's a local favourite consisting of fat, hand-rolled pasta strands simply tossed in garlic and olive oil. It's rustic, it's hearty, and it's absolutely delicious. Pile on the cheese and pair it with a glass of local Chianti, robust enough to bear that punch of garlic, and you'll be in Tuscan food heaven.
You'll find this pasta dish is done best at rustic, family-run osterias and trattorias. Open for lunch only, the lively Trattoria Sergio Gozzi is always a good bet, and though the menu changes regularly this dish makes a frequent appearance. Ask very nicely and they'll even make things especially to order, if they can.
Potato tortelli with Tuscan sausage and porcini mushroms
You can't go wrong with the classic flavour combination of crumbly Tuscan salsiccia, or sausage, paired with porcini mushrooms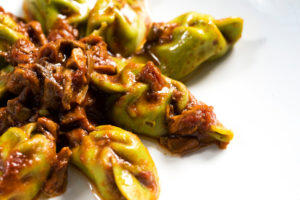 fresh from the nearest forest. Some dishes feature them in a simple sauce, with the two ingredients that are cooked simply with minimum seasoning and perhaps a touch of cream, before being stirred through fresh pasta. Others feature them in a tomato-spiked ragu, which in Florence you'll most often find served with gnocchi, tortelli, or pici.
Tuscan restaurants typically serve up some kind of potato gnocchi or potato-stuffed ravioli or tortelli (like large, crescent-shaped ravioli) and at Trattoria Enzo e Piero you can indulge in their homemade potato tortelli in a rich and slowly-simmered porcini mushroom ragu.
Lampredotto ravioli
If you're curious about local Florentine delicacies like trippa or lampredotto (tripe or cow's stomach) but aren't quite ready to face the hearty, rustic sandwiches stuffed with the meat just yet, why not test out your palate with a plate of lampredotto pasta?
Some innovative Florentine restaurants have started including offal in dishes that are a little more refined than the typical local street food, while making full use of the flavours of these much-loved ingredients.
One such place is Il Magazzino, a down-to-earth Florence osteria famous for being the city's first restaurant to serve up creative dishes based on lampredotto. Their generously-sized ravioli filled with the meat and topped with onion sauce is so good, it might just convert even the most squeamish eater.
There are plenty of other exciting and authentic dishes to try while you're in town. Planning your trip? Taste all of the traditional dishes in Florence by joining one of our Florence Food Tours.